A Guide to Bingo Rules – How to Play the Game
Bingo is a super fun game that is incredibly simple to play. That said, you need to know the rules to get the most out of it. As such, I have created this useful guide to bingo rules. If you want to know how to play, you have come to the right place! If, you were instead looking for where to play and accidentally wound up here, you can head over to my list of the best bingo sites.
Jump to Your Chosen Bingo Topic:
On this page, you will find everything you need to know about the rules of bingo. You will learn the basics as well as how to play numerous different game variants. Read on for the full guide or pick one of the subjects above to jump straight to a topic that piques your interest.
How Bingo Works – The Aim of the Game
There are few games that have such simple rules as bingo. You buy your tickets and mark off your numbers as they are called. If you cross off all the numbers of a specified pattern before another player, then you win. Check out this simple overview of how to play the fun game:
Buy Bingo Ticket(s)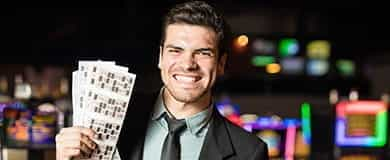 Before the game begins, players place their chips onto the bets of their choosing. At a casino, it is better to let the dealer place the chips for you, so that you don't interfere with other players.
Mark Off Called Numbers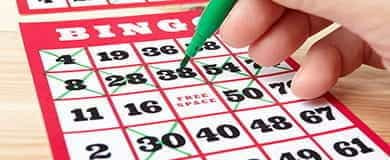 Once the game starts, numbers are randomly drawn and announced by the bingo caller. If you have a called number on your ticket, cross it off. If you play online, your numbers will be automatically marked for you.
Game Result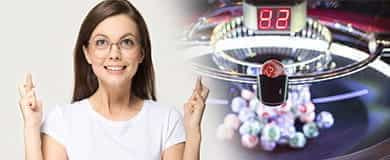 The game finishes when a player ticks off all the numbers on their card in the required pattern. The player shouts "bingo" or "house" and their card is verified as a winner. The prize is paid and the game ends.
Play Again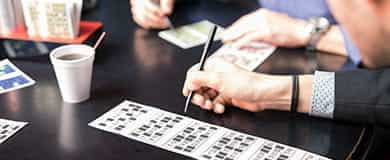 Once a game has ended, the process starts again. You can buy tickets for the next game and get ready to play again for your chance to win.
These are the basic rules, and they describe the way you play and win any game of bingo. In this article, you will learn more detailed rules for playing different types of bingo games. There are slight differences to be found in the different variants. To get a deeper context for the reasons behind these differences, why not check out my page on the history of bingo? Otherwise, read on for a complete overview of how to play all different variants, both in a hall and online.
How to Play Bingo – A Simple Guide
If you want to play with money, then I strongly recommend taking the time to understand the rules. After all, if you are playing with real cash, you want to be certain that you give yourself the best chance of winning. Rest assured that once you reach the end of this page, you will be completely up to speed with the rules and ready to play confidently with real money. Why not start by watching this video, which gives a simple overview of how to play bingo, and introduces the topics covered on this page.
Basic Bingo Rules
Every game has the same basic principles. As such, if you understand the basic rules, you will be in a good position to play any game of bingo. There are slight differences in the way you play in a land-based hall compared to online, but the general rules remain the same. To recap, here are the basic rules of how to play bingo:
1. Find a game to play
2. Buy your tickets for the bingo game
3. Get ready to play the game
4. Mark off numbers on your card as they are called
5. Continue to play until you or another player fills the required pattern
6. The winning card is verified
7. Winnings are paid and the game ends
8. Buy tickets for the next game
9. Play again
As I have already mentioned, there are a few different versions of bingo, and each has its own nuances. Bingo variants differ in the number of balls that are used. Ticket layouts vary depending on how many balls are played with. There are also different ways to win to be found across the variants. The most popular, and widely available games are the traditional UK 90 ball and the American 75-ball.
90 Ball Bingo Rules – How to Play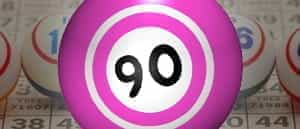 90 ball bingo is the traditional UK game and it is one of the most popular versions of the game worldwide. Numbers from 1 – 90 are drawn at random during the game. When each number is called, you check your ticket and mark off the number if it appears on your card.
To understand how to win, you need to be familiar with the card and how the numbers it contains are distributed. A 90 ball bingo ticket consists of a grid of 27 squares, made up of 9 columns and 3 rows (or lines). Each of the rows on the card contains 5 numbers and 4 empty squares. Each column contains a different set of numbers. The first column contains numbers from 1 to 9, the second contains numbers 10 to 19, and so on.
There are 3 prizes to be won in each game of 90 ball bingo. The first prize you play for is 1-line. The first player to cross off all 5 numbers on any horizontal line wins. The game continues and the next prize is won by the first player to mark all the numbers in any 2 lines. The final prize goes to the player to cross off all 15 numbers on their card. This is known as "bingo" or a "full house".
When you play 90 ball bingo in a hall, you will need to shout "bingo" to alert the caller that you have a win. When you play online, the software will automatically announce the winner. To summarise, here are the rules to follow to play and win 90 ball bingo:
1. Buy your ticket(s)
2. Mark off called numbers on your ticket until you or another player fills 1 line
3. The 1-line winner is verified, and the game continues
4. Mark off called numbers on your ticket until you or another player fills any 2 lines
5. The 2-line winner is verified, and the game continues
6. Mark off called numbers on your ticket until you or another player fills all 3 lines
7. The full house winner is verified, winnings are paid, and the game ends
8. Buy tickets for the next game and play 90 ball bingo again
Bingo tickets are arranged in strips of 6. You can choose to play individual tickets, although many players prefer to buy a strip. In each strip of 6 tickets, all 90 numbers are included. As such, you will mark off a number with every call made in the game. The rules on how many strips you can play with vary from one 90 ball game to another.
How to Play Bingo – 70 Ball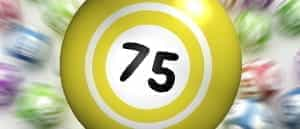 75 ball bingo is a hugely popular variant and is the most common form of the game played in America. It is also much loved and played in the UK and other countries around the world. The caller draws numbers randomly from 1 – 75. Players mark off the corresponding number on their ticket until a pre-determined winning pattern is achieved.
A 75 ball card has 5 rows and 5 columns, with 25 squares. Each square contains a number, except the central one. The middle square is classed as a free square and can be used to complete a winning pattern. You will see the letters B-I-N-G-O displayed along the top of the card, with the 5 columns directly beneath each letter.
Each column contains 5 random numbers from a range of 15. B contains random numbers ranging from 1-15, I ranges from 16 – 30, N from 31 to 45, G from 46 – 60, and O ranges from 61 – 75. As numbers are drawn, the respective letter is also called (e.g. B13, N32). This helps you to quickly and easily locate the number on your card.
In its most classic form, 75 ball bingo is won by the first player to mark off 5 numbers in a line. That can be any line horizontally, vertically, or diagonally. Yet you will more frequently find that different winning patterns are used in 75-ball games. There are over 300 different winning patterns that a provider can make a selection from.
Some of the more popular winning patterns include X, which covers both diagonal lines, and coverall, which covers every square on the ticket. Some of the more extravagant patterns include a champagne glass, an airplane, and a turtle. The provider will inform you of the game's winning pattern before you start to play. Some 75 ball games feature several chances to win. This can include a line, a pattern, and a full house.
Here is a simple step by step guide to the rules of playing 75 ball bingo:
1. Buy your ticket(s)
2. Check what the winning pattern is for the game
3. Mark off called numbers on your ticket until you or another player completes the pattern
4. The winning ticket is verified
5. If the game has more than one prize, the game continues
6. Mark off called numbers on your ticket until you or another player completes the pattern
7. Once all prizes have been won, the game ends and winnings are paid
8. Buy your tickets for the next game and play 75 ball bingo again
As with 90 ball bingo, the rules allow you to play with more than one ticket. In the 75-ball variant, a strip contains 3 tickets, which include every number from 1 to 75. To claim a prize when you complete a winning pattern, you should shout bingo when playing in a hall. Your win will be announced automatically when playing 75 ball online.
Fun Bingo Variants and Their Rules
75 and 90 ball are the most popular and common types of bingo. Yet there are also some other versions that you can play. For instance, 30 ball bingo is a speed variant with a 3×3 grid ticket and super-fast gameplay. 30-ball, 40-ball, 50-ball, and 80-ball each have their own unique tickets and styles. This brings a new twist to classic gameplay. Yet all versions follow the general rules of basic bingo, making them simple to play.
There is also a range of branded games available to play online. Branded bingo games are inspired by TV shows and quizzes. They add an extra element of fun to the playing experience. Most of these fun variants follow the universal rules. Yet they often include extra bonus features or jackpots that reflect the theme. You can find out about some of the most popular branded games and how to play them below.
1/4Rainbow Riches Bingo This unique 40-ball game is played with a ticket containing 8 numbers spread over 2 clovers. You need to mark off just 4 numbers on a clover to win a prize. The full house prize is awarded for completing both clovers first. There are a further 2 prizes, a jackpot and a Wishing Well prize, that can be won by purchasing a ticket.

2/4Coronation Street Bingo Inspired by the much-loved British soap, Coronation Street Bingo is a 90 ball game. It follows the basic online rules, with prizes paid for 1-line, 2-lines and a full house. The game includes a variety of Corrie-themed features, such as the Golden Cobbles progressive jackpot and the Streetcars BOGOF game. The game features video clips from the show, making it popular with Coronation St fans.

3/4The Chase Bingo This 90 ball bingo game takes its theme from the popular ITV quiz show. It is played with standard 90 ball rules, with an added bonus feature when you get a full house. Reflecting the gameshow, the full house winner advances to the final chase, where you take on one of the 5 chasers for a chance to win an additional cash prize.

4/4Deal or No Deal Bingo Deal or No Deal Bingo is a 90 ball game. The rules are standard. There is an additional prize that can be won, with the full house winner qualifying for the Deal or No Deal feature. Like the game show, the player is offered a deal from the banker. They can take the cash prize or opt for the prize in the box. There is also a 75-ball variant of DOND bingo available.
Bingo Prize Payouts and Jackpots
The prizes that you can win when you play depend on the number of players and tickets purchased for a game. The more tickets purchased, the bigger the prize pool. It is possible for two or more players to win a prize in bingo. This happens when players have tickets that meet the prize criteria on the same drawn number. When this occurs, the prize is split in equal proportions between the winning ticket holders.
Some games feature a fixed or progressive jackpot. A fixed jackpot is always available to be won, regardless of how many times it is won. A progressive jackpot, on the other hand, increases with a proportion of all ticket sales until the jackpot is hit. To scoop a jackpot, you need to get a full house within a specified number of balls.
Online Bingo Rules vs Bingo Halls
Whether you choose to play at a hall or online, games follow the same standard rules. You buy tickets, mark off numbers as they are called, and win if you are the first player to complete a winning pattern. Yet there are several differences in the gaming experience between playing in a bingo club or at a site. For instance, you manually mark your tickets in a hall, whilst this is done automatically when you play online.
The Main Differences
Bingo Hall
Online Bingo
Buy tickets with cash
Low ticket prices
Manually mark tickets
Unique game variants
Call "bingo" when you win
Games available 24/7
Standard bingo variants
Bingo bonuses available
Sociable experience
Bigger progressive jackpots
Online bingo offers many fun variants to choose from, including branded games. Whereas bingo halls tend to offer traditional 90 and 75 ball bingo only. It is also more convenient to play online, with games available anytime, anywhere. Online tickets can be bought for as little as a penny. And thanks to the huge number of players in online games, you can win huge progressive jackpots that far exceed those available in a bingo hall.
The Basics – How to Play Online Bingo
When you play bingo online, the basic rules of the game are the same as playing at a bingo hall. Online bingo rules do not differ from land-based bingo rules. Yet there are some differences in the way you play that you should be aware of. Here is a simple overview of how to play online bingo:
1. Choose a trusted bingo site to play at
2. Register a player account
3. Make a deposit and grab your bonus
4. Choose a bingo room
5. Select your tickets and click buy
6. Get ready for the game to start
7. Play bingo!
Bingo games start every few minutes at bingo sites, so you never have to wait long to start playing. You do not need to mark off your numbers as they are called. Thanks to the auto-daub feature, any numbers on your tickets will be automatically marked off. Likewise, you do not need to alert the caller if you win a prize, it will be automatically paid to you. You do not even have to stay in the bingo room to play once you have purchased tickets.
Conclusion – Play Real Money Bingo Online
So, there we have it, we have reached the end of this guide to bingo rules. It really is one of the simplest and most fun games that you can play. Now that you know the rules, why not put your knowledge to good use and play for real money at a verified bingo site? Here is my top recommended online bingo site for you to play at:
Safe & Trusted Bingo Site
Play 90 Ball & 75 Ball Bingo Online
Full T&Cs apply. Minimum deposit of £10, x45 wagering, Roulette and blackjack 50% weighting. Bonus Valid for 7 days. Not available to customers using Moneybookers/Skrill or Neteller as a payment method.
FAQ
Bingo may be a simple game, yet there are questions that are frequently asked by players about online bingo rules and how to play generally. In the following section, you will find the answers to common questions about the rules.
What are the Rules of Bingo?
The basic rules to play bingo start with buying a bingo ticket. When the game starts, a caller draws numbered balls randomly. You then mark off numbers on your card as they are drawn. The first player to mark a set pattern wins the game.
How Old do You Have to be to Play Bingo?
Bingo is classed as gambling, and as such has age restrictions applied to the game. In the UK, you must be 18 years of age or above to play bingo, both in a bingo club and online. This is valid for all real money bingo games so keep it in mind.
How to Play Online Bingo for Money?
To play bingo online with real money, you need to join an online bingo site and make a deposit. You can use options such as credit card and PayPal to fund your player account. Then, choose a game and select the number of tickets you want to purchase. Confirm the ticket choice, then play the game.
How Many Numbers do You Need to Win Bingo?
It depends on the game variant you play. In 90 ball bingo for instance, you need to cover all 15 numbers on your card to win the game. In 75 ball bingo, on the other hand, you need either 5 numbers in a line to win, or you will need to complete a specified pattern, which covers differing amounts of numbers.
How do You Win at Bingo?
To win at bingo, you need to be the first player to mark off all the numbers on your ticket. You can increase your chances of winning by purchasing more than one ticket for a game, which gives you more chances of picking a winning card. You can see the bingo payouts as well.
How Much is it to Play Bingo?
The cost of playing bingo varies depending on the game and where you play. When you play online bingo, tickets can cost as little as 1p. You will find featured games and those with big jackpots tend to cost more, usually not exceeding £1 a ticket. You can see also where and how you can play bingo online.
Is Bingo a Game of Skill?
Bingo is a game of chance. Numbers are drawn randomly, and you cannot influence the outcome of the game. That said, there is a certain element of skill when you play with many tickets in a bingo hall. If you feel like testing our statement, you can check the bingo video that we have.
What are the Bingo Payout Rules?
In 90 ball bingo, prizes are paid for the first player to get 1-line, 2-lines and a full house. If there is more than one winning ticket for any prize, the payout is split equally between the winning tickets. That's how real-money bingo works.