Play 21 Duel Blackjack Online
When it comes to innovative blackjack variations, Playtech have always been the company that sets the standard in the industry. In addition to their impeccable classic games, the developers have created some of the most unique and fun spin-off blackjack games out there. 21 Duel Blackjack is a prime example of the team's creativity and innovative approach to the casino classic. You can try this game out at many Playtech-powered online casinos. You can check out my recommended casino for playing this game below along with its accompanying welcome bonus offer.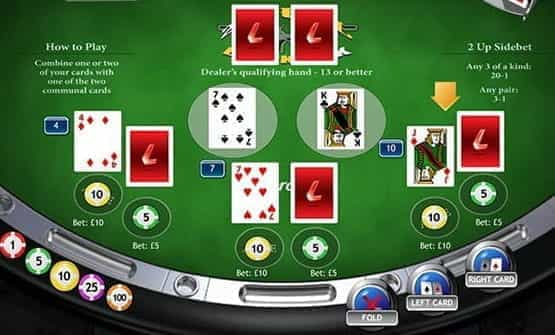 £500 Welcome Offer
Play 21 Duel Blackjack at Mansion Casino and recieve a generous welcome bonus for upon signing up!
Full T&Cs apply. New Customers. 5% cashback on day 1-7 deps, 10% on day 8-14. Max £1000 p/w. Max 1st deposit bonus £200, 2nd max £300. Min £20 deposit. 40x wagering, valid for 30 days. Game weighting, payment restrictions and betting limits apply. Casino Only. 
Before you try out the game, however, you should read our review and decide whether or not this is a game you would like to play with real money. After all, 21 Duel is not your usual blackjack game, and it has some pretty unique features that will take some time to adjust to. In this article, we will share with you everything important about this innovative Playtech title.
Play 21 Duel Blackjack for Free!
While playing 21 Duel with real money is quite the thrilling and rewarding experience, you need to be fully prepared for what the game has in store for you. What better way to do that than to spend some time practicing it for free? Below, you can play a demo version of 21 Duel without betting any real money at all!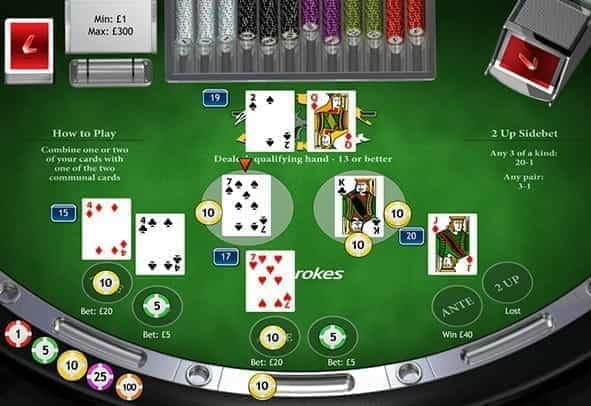 –
After going through our article and testing out the game for yourself, you will be familiar with 21 Duel's unique concept. Only then will you have the knowledge needed to start winning in real-money games. So read on, and see if this is a game worthy of your time and hard-earned cash.
Alternative Blackjack Games to Play for Free
Rules & Special Features
21 Duel's objective is identical to classic blackjack – get a higher point total than the dealer, but not more than 21. It's a multi-hand game, and players can bet on three separate hands simultaneously. However, actions like Insurance, Surrender, Split, and Double are not available in this game, since they will not exactly fit the whole idea.
As soon as you have made your wager, you will be dealt two cards – one face-up, and one face-down. The dealer will also be dealt two cards, both of them face-down. After that, yet another two cards will be dealt at the centre of the table. Those are the 'communal' cards, and they will be used in both yours and the dealer's hands. At this point, you have several options.
Fold – You lose your bet and end the round
Left/Right Card – Choose one of the communal cards to add to your hand. This will also place an additional bet next to the card, equal to your initial one
Hit – Reveal your face-down card and add it to your hand
Stand – Discard your face-down card and keep playing with only two cards
After selecting your action, the points are calculated and a winner is determined.
RTP:

98.38%

Blackjack Pays:

1:1

Decks:

6

Multi-Hand:

Yes

Insurance:

No

Surrender:

No

Split:

No
Re-Split:

No

Hit Split Aces:

No

Double:

No

Double After Split:

No

Dealer Peek:

No

Dealer Hits Soft 17:

No

Side Bets:

Yes
Like any game by Playtech, 21 Duel has great visuals, smooth animations, and outstanding sound design. Combined with the original gameplay, those features make the game a real gem in the developer's catalogue, and a must-play at any online casino that has it. Blackjack fans will definitely be intrigued by this fresh new take on their favourite game.
The 2 Up Side Bet
21 Duel also has an extra side bet, called 2 Up. Each round, you can bet on whether or not your hand and the communal cards will form a pair or a three-of-a-kind. The former will give you a payout of 3:1, and the latter – a whopping 20:1 reward! This side bet has an estimated average RTP of 93.47%, which doesn't make it a very profitable one. However, you can definitely get some big wins off it if you are lucky enough.
Play 21 Duel Blackjack and Win Real Money!
If 21 Duel has sparked your interest, make sure you familiarise yourself with the game's rules before you try it out with real money. The free demo version on this page lets you practice all you want. When you are good enough, visit a reputable Playtech casino and start playing for real! My recommended casino for this game is also one of the top rated online casinos in the UK, you can check out its exclusive welcome bonus offer below.
–
£500 BONUSExclusive Welcome Bonus
Full T&Cs apply. New Customers. 5% cashback on day 1-7 deps, 10% on day 8-14. Max £1000 p/w. Max 1st deposit bonus £200, 2nd max £300. Min £20 deposit. 40x wagering, valid for 30 days. Game weighting, payment restrictions and betting limits apply. Casino Only.