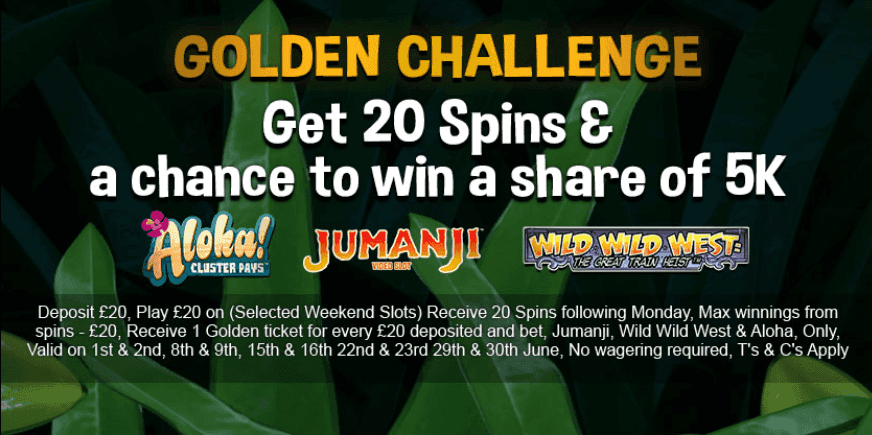 How to Participate in the Love Reels Offer
In order to take part, you must opt-in to the promotion on the Love Reels bonus page in your account, and place bets on particular slots games, depending on the day of the month. Once a player has wagered £20 on an included game, the player can earn 20 free spins worth 10p which will be given to you on the first Monday of June. It's very simple to take part, just follow the next steps:
Step One: Sign in to your Love Reels Casino account.
Step Two: Head to the promotions page and opt-in to the challenge.
Step Three: Wager at least £20 on eligible games (see below).
Step Four: Check your account on 2 July to see if you won.
Step Five: Use free spins and claim up to £20 in winnings.
The three eligible games are Jumanji, Wild Wild West and Aloha, but they are assigned particular days of the month each that you need to stick to. You need to wager on Jumanji on the 1st, 2nd, 22nd and 23rd of June; Wild Wild West on the 8th, 9th, 29th and 30th; and Aloha on the 15th and 16th.
For every eligible wager you place, you will receive a raffle ticket to go into the running for a share in a £5,000 prize pool. A total of 300 prizes are doled out in amounts from between £5 to £500 depending on the order in which your ticket was drawn. All of these prizes are given to players in cash and are not subjected to any wagering conditions.
The Golden Challenge Conditions
In fantastic news, the cash winnings from the free spins are not subjected to any wagering conditions, though the winnings are capped at £20 – which is the same amount as the minimum wager required to claim the spins. The prizes from the £5,000 prize pool are also cash and don't have any playthrough requirements, so they're the real winner in this promotion.
Make sure you log in to your account and check to see if you are a winner of a prize within the first week of July because if you won a prize but don't acknowledge it in that time, you will forfeit the winnings.