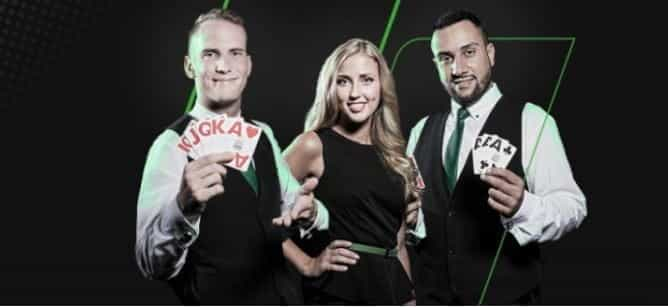 Play for £25,000 Each Week at Unibet
This is the offer on hand today: the chance for players to win a share of £25,000. Each week for four weeks, Unibet is hosting a live casino game tournament, with £25k in the prize pool.
In each tournament, the top 100 players will win cash prizes. All of this sounds pretty good so far, so let's have a look at what the prizes are exactly, before we talk you through how to sign up to the operator site and opt in to the tournaments.
The first place prize in each of the tournaments is £5,000, with second place getting £2,500 and third £1,500. The player who ends up in fourth takes away £1,000, while positions five to 10 net £500. £300 goes to places 11 to 20, £200 to 21 to 50, £100 for 51st to 60th place. The remaining 40 players will be rewarded with £50.
The prizes are certainly something to attract attention, especially when the operator has decided that all prizes in this promotion will be cash prizes and will therefore not have any wagering conditions attached to them.
So, let's have a look at how you can enter the Live Casino Wagering promotion at Unibet.
How Do I Get Involved?
First things first, you need to be a member of the Unibet online casino if you want to play in the tournament. If you have not already created a player account, you can follow this link ,which will take you over to the operator site.
If you don't know much about the operator and are therefore unsure if it's the right site for you, check out our Unibet review to see full details about the operator, or click to go to our Unibet live review to see a full rundown of the live casino offering.
Overall, we have always found the Unibet live suite to be one of the best catalogues around, with top-of-the-range products from Evolution Gaming. There are some brand exclusive titles as well, which makes everything feel a little more tailor made, which is nice in comparison to the off the rack options at most sites.
Once you have signed up, or if you are already a member of the casino, then opting in to this live promotion is nice and easy. Just follow the five steps below and you'll be good to go.
How to enter the Unibet Play for £25,000 Every Week tournament:
Step One: Log in to your Unibet online casino player account.
Step Two: Go to the "promotions" page.
Step Three: Select the promo from among the casino bonuses.
Step Four: Click to opt in to the tournament.
Step Five: Play rounds on any of the live games.
That's it. The winners are determined by turnover, with the highest 100 figures winning a share of the prize pool. As such, only real money bets are accepted and will be counted. Having said that, you can't actually play the Unibet live casino games for free or in demo mode, so this should not be a problem.
Keep reading to find out about the terms and conditions of the offer. We know that small print can seem boring, but we promise you, it is always worth reading T&Cs in full when it comes to casino bonuses. There is just too much of your hard earned cash at stake not to make sure that you understand the deal fully.
The Terms and Conditions
You must be a member of the Unibet online casino and you must be at least 18 years of age and located in Great Britain in order to play at the casino or enter any of these promotional tournaments.
The four tournaments will run weekly, with each running from 00:01 Monday (GMT) until 23:59 Sunday (GMT). Any bets made outside of these times will not count towards the leaderboard for that tournament.
Only real money bets count, and only bets made on selected games will contribute to your points of the leaderboard. Only live games at Unibet online casino are included. All other game types on the site are strictly excluded.
There is a minimum bet of 10p per round or hand in order to make a qualifying wager. You must play at least one qualifying round in order to be eligible in any of the tournaments.
The tournaments each reward the top 100 customers with the highest turnover. These 100 players will share the £25,000 prize pool. The details of how the prizes are split can be seen higher up this page or on the promotions page at Unibet.com.
The cash prizes have zero wagering requirements. As such, as soon as they are credited, they may be withdrawn or wagered however the player chooses, with no restrictions to which games can be played. The prizes will be credited to winning players after the tournament has finished.
All of the standard Unibet bonus terms and conditions also apply. As such, the operator reserves the right to withdraw or prematurely end this promotion at any time.
No employees of Unibet or any affiliated company may enter. Also, entry is limited to once per tournament per player, household or IP address. This is also pretty standard for the industry, with these terms seen on pretty much every online casino bonus.
A live casino bonus, a series of tournaments and the chance to win cash prizes. This promotion from Unibet is as good as it sounds from the headline. We may be a little biased towards live promos, as they are quite rare, but make sure that you understand the small print and we think that you'll most likely find this to be a great promotion.– Courtney Graham, Bonus Expert, Online-Casinos.com