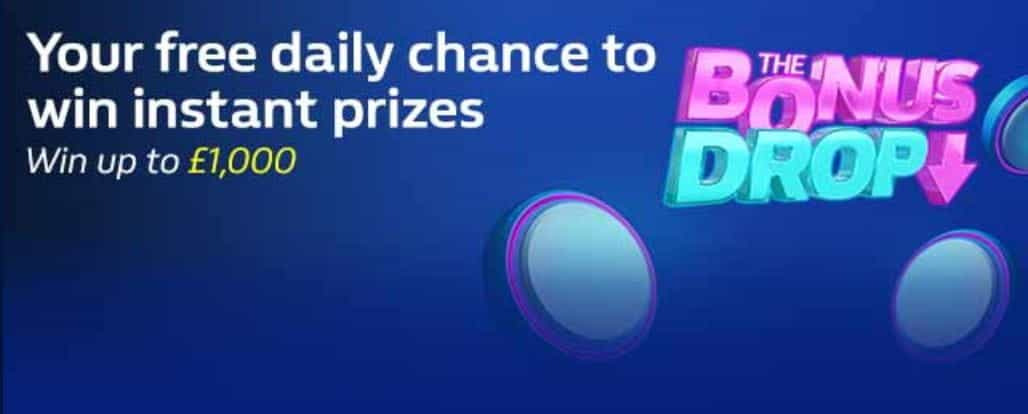 The Daily Bonus Drop from William Hill
You'd be hard-pressed to find a bonus as large and long-lasting as this. The good people at William Hill have launched their Daily Bonus Drop, a mammoth offer which gives players the chance to win a variety of exciting prizes every day until May 31st 2021.
There's no schedule you can check for which prizes are offered on a day-to-day basis, as all potential winnings are randomly generated. In our opinion, this adds to the fun, as every day brings a new surprise. What we do know, however, is that prizes range from free spins, funds for specific games, and cash prizes.
Players should note that different terms and conditions apply for each of the different prize categories, something we'll be covering further down the page. Each prize is available from 08:00:01 GMT until 23:59:59 GMT.
How Do I Get the Daily Bonus?
Opting into the deal couldn't be easier. You should, however, note that you will need to opt in each day, as there is no automatic carry-over from one day to the next. We feel this is sensible, as it allows you to opt into only the daily offers that appeal to you.
To start, you need to be an existing player of William Hill. If you have not yet opened an account with this casino, we recommend that you read our William Hill review to learn how to get started. To be eligible for the bonus, you also have to be a UK resident with an account in pounds sterling.
How to get the daily bonus:
Step One: Check the daily prize on the casino's Daily Bonus Drop page.
Step Two: If the prize appeals, click the link to the offer on the designated page.
Step Three: Read the terms of your chosen prize, and deposit the minimum amount stated.
Step Four: Take note of any wagering conditions for your chosen prize, and the period of validity attached.
Step Five: Start playing to meet your conditions and win your prize!.
About William Hill
If you're a UK resident with any working understanding of the gambling industry, it's highly likely that the name William Hill is already familiar to you. As one of the nation's oldest gambling institutions, you can find countless of the brand's betting shops across the land.
The company's history adds to its trustworthiness and industry clout. There's a reason why William Hill has stuck around so long, and its dedication to the safety and enjoyment of its punters is a big part of it. In addition to its sports betting options, the William Hill online casino is one of the top sites around.
The casino site is packed with games, spanning slots, blackjack, roulette and other table games besides. It boasts an exciting live casino suite, which allows players to immerse themselves fully thanks to crystal-clear streams and courteous croupiers, with whom they can interact.
While much of the above can also be said of the site's competitors, what sets William Hill apart from the rest is its clear commitment to player satisfaction. The Daily Bonus Drop is a clear example of this, and is one of the most rewarding promotions we've come across.
The Terms and Conditions in Full
As we've already mentioned, the terms and conditions vary depending on the kind of bonus advertised on any given day. That's why it's crucial you take a look at the terms for your desired offer on the day before you opt-in, just to be on the safe side.
Beyond the specific terms for each individual offer (which, unfortunately, are only available to view when the offer goes live) some general terms do apply. For starters, you must be aged 18 or older to be eligible for any of the promotions. You will be subject to an ID confirmation to prove you are of age.
While you can enter the daily bonus offer if you are already opted in to another deal on the site, be aware that wagering requirements will be applied in the order in which you opted in. For instance, if you opted into the welcome bonus and then the daily bonus, your gameplay will count towards the welcome bonus first.
Therefore, if you're working towards the wagering requirements of a Daily Bonus Drop offer, it will take you a lot longer to meet those requirements if you're still meeting the terms of another deal. Keep this in mind, as periods of validity still apply, and you run the risk of the deal becoming void before you've met the wagering requirements.
Like other promotions on the site, the Daily Bonus Drop offers can only be opted into by one account per household. If you are found to be using multiple accounts to access the offers, you run the risk of having your account suspended.
You must be a resident of the UK to be eligible for the offer, and your account must be set to pound sterling. If your account is playing with any other currency, you will not be eligible for the offer. Should you win, you cannot share the prize with any other users.
If any of the above terms or phrases are unfamiliar to you, or if you'd like to learn about casino bonuses in greater detail, we recommend that you read our overview of the best casino bonuses. If the above all seems in order, you can opt in by following our link to the Daily Bonus Drop
This is an exciting offer with huge winning potential for players. There's a great degree of flexibility here too, allowing players to opt in whenever a daily prize catches their eye. – Courtney Graham, Bonus Expert, Online-Casinos.com