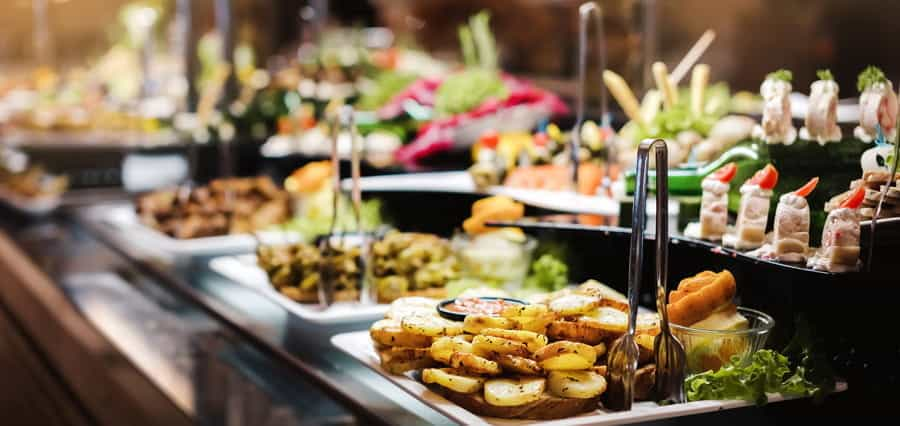 The Six Best Places for Feasting on the Strip
You can find all sorts of buffet establishments at the Las Vegas strip. Whether you want to be pampered with fine freshly caught lobster, caviar and champagne – or perhaps you want to consume the equivalent of a whole days food in one sitting, the following six establishments are some of the best in terms of quality, price and location.
Whilst the city of Las Vegas is mainly an intermingling of restaurants, hotels and casinos, a few of our listed locations it can sometimes be hard to find the very best places to eat. So without further ado, check out our list of the best casino buffet in Las Vegas top six…  
Bacchanal at Caesars Palace
This truly divine selection of over 500 global delicacies forms the wallet-busting array available at the Bacchanal in the Caesars Palace casino. Unlike several other cost-effective options we've outlined in our casino buffet Las Vegas top five, this one will set you back considerably. The high-price is reflected in the jaw-dropping selection of food, including fusion cooking of South American and Pacific seafood, Texas-smoked brisket classics, stone-baked Neapolitan pizzas – this buffet truly has taste and flavors sourced from across the world.
The Bacchanal is not just the best casino buffet in Las Vegas but is widely-considered the best buffet in the world, period. After re-opening in 2012, the freshly renovated venue regularly hosts A-list celebrities, billionaires, government officials and tourists from across the globe. The feast offered at Bacchanal is unrivalled, as the amazing quality of this food will make you never want to leave Sin City.
Garden Court Buffet at Main Street Station
This Victorian-era casino is the perfect balance for those located in the Downtown area of the Las Vegas strip looking for a quality, and cost-effective solution to their hunger. But don't be put off by the budget-option tag, there is a lot to be in awe of at this top choice buffet. Thanks to their business ties to the Hawaiian culture, this hotel regularly serve exoctic dishes from the region including oxtail soup and laulau.
The interior has been expertly designed to offer maximum levels of comfort to all those who step foot into the establishment. With high-ceilings, wide-hallways and a spacious arrangement of chairs and tables, the room is incredibly comfortable. Whilst the food is not up there with the finest gourmet establishments in the city, it is satisfying, comes in large portions and will leave you feeling like you got your money's worth of nosh.
Wicked Spoon inside The Cosmopolitan of Las Vegas
This elegant buffet in the heart of the Las Vegas strip is an excellent place to fill up on energy reserves before a big casino session. This buffet offers customers a massive array of options from across the world, with particular attention placed on Italian and Asian – but there is also a salad bar, carvery and a seafood bar. Make sure you don't fill up too much on the main courses, or you won't be able to sample the simply divine selection of gelato, pastries and cakes.
With elegant décor and tasteful interior design aesthetic, this is a truly wonderful place to enjoy a meal on your trip to Las Vegas. The approach at this buffet is to encourage guests to try as many different flavors as possible, in that spirit portion sizes are on the small side, and you'll be able to take a little bit (or a lot) of a huge selection of international food staples cooked by world-class chefs on site every single day!
Studio B Buffet at The M Resort
Staying very much true to the décor themes of the hotel in which it is situated, the Studio B Buffet at The M Resort is one of the most impressive selections of food on the entire strip, with more than 200 fresh dishes prepared on-site each day. You have the choice of sushi, Spanish paella, pizza from northern Italy and of course the Las Vegas rib-classic. There is an abundance of different flavors to choose from at the Studio B Buffet, and this amazing selection is bolstered by a supreme organization, polite staff and a quality complimentary bar service.
If you think the free beer and wine with your meal was a great feature of this buffet, just wait until you see the architecture and interior of this establishment, it will take your breath away. With a well-balanced combination of natural materials and warm colors, you'll feel like you're sitting at the center of the city. This is exacerbated by the wonderful view from the huge bay windows, offering patrons a view across the city, which at sunset is a sight to behold.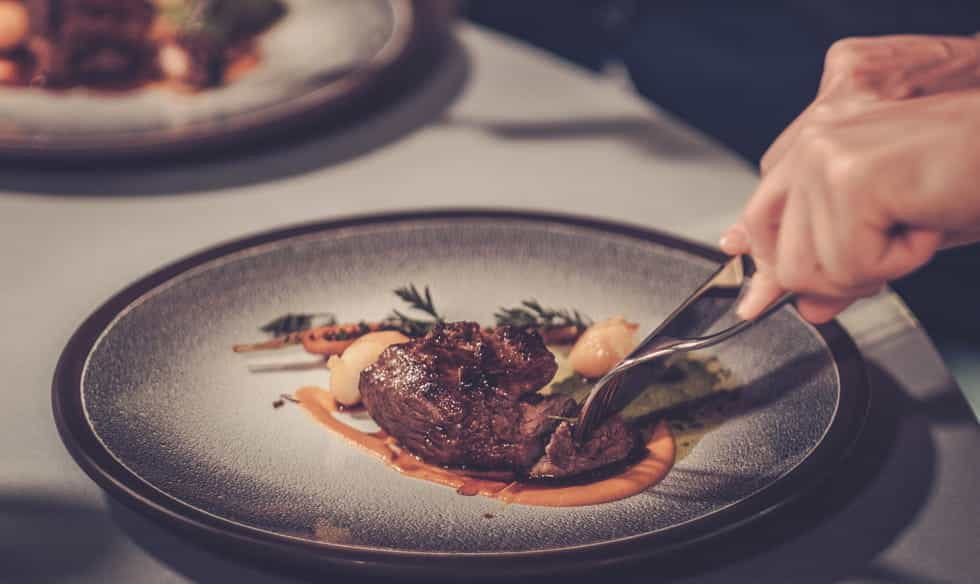 The Buffet at the Wynn Las Vegas
One of the biggest and best casinos on the entire Las Vegas strip is, without doubt, Wynn Las Vegas. But what many people do not know is this fantastic gambling mecca is also home to one of the most fantastic buffets throughout the entire city. Boasting a bright and airy interior, with marble floors, beautiful décor and exuberant canopies draped across each cooking station – this is truly an exquisite place to sit down for a large dinner.
This is far from an average eating experience, the buffet at Wynn Las Vegas accentuates every detail of fine-dining, combining the atmosphere of a world-class restaurant and a traditional buffet selection. On any given day, there are well over 100 dishes to choose from, and you'll be able to eat food from almost every single cuisine imaginable. Some noteworthy aspects of this buffet experience are without a doubt the huge chocolate fountain, the giant rotating griddle and the street taco corner.
Feast Around the World Buffet at the Green Valley Ranch Resort
Green Valley Ranch Resort offers one of the best buffet experiences throughout the entire Las Vegas strip and easily compete with this high-caliber list of fine-dining options we've crafted. The main difference here is you won't be paying the massive premium that many of the other options charge. The Green Valley Ranch Resort buffet boasts an enormous selection of worldwide dishes, with the live-action cooking station, huge dessert bars, Champagne brunch and bottomless milkshakes – this is truly one of the best places to gorge.
The interior is diving and the décor is Mediterranean inspired, creating a comfortable and airy atmosphere for you to dine. When it comes to buffets Las Vegas casinos, the premium price can usually put people off. That is the strength of this location, a much cheaper alternative without any sacrifice on the quality of food -  a win-win situation by any standard!
Conclusion: Dominance of Buffet Dining in Las Vegas
With millions of tourists arriving from across the world each year, Las Vegas is a city built to entertain and provide luxury at scale. One of the most efficient ways to feed people, whilst maintaining a fine-dining atmosphere is with the buffet format of eatery – for that reason, the buffet will always dominate Las Vegas.
If this list has whet your appetite, we hope that you can find some excellent grub nearby while you plan your trip to Vegas. If you are hoping to get some gambling done before you go, have a look at our recommended casino sites.
If you want to try a wide selection of foods from around the world whilst taking a break from the intense concentration required when at the tables of the casinos – the buffet selection in Las Vegas is a perfect respite.  It's a must-do if you visit this city, and be sure to take a loose-fitting pair of jeans or sweatpants for your epic meal-time adventure, no judgement from us. If you're worried about being thrown out of the buffet for eating too much, then don't. The aforementioned establishments are built to serve those with even the largest of appetites, Bon appetite!