Tennessee Passes Sports Betting Bill
Tennessee Governor Bill Lee has allowed a bill legalising sports betting in the state to pass without his signature, despite his own reservations on the matter. The new bill, SB0016, will allow betting both online and via remote kiosks in Tennessee.
The bill will come into effect on 1st July 2019. It cleared the House by a vote of 58-37 after passing through the state Senate by a vote of 20-12. It will replace a previous version of the bill (HB0001) after the House agreed with a number of amendments made by the Senate.
Governor Lee has previously spoken out against any plans to legalise online sports betting but has said that he is willing to let this bill pass into law. In a statement he said: "I do not believe the expansion of gambling through online sports betting is in the best interest of our state, but I do appreciate the General Assembly's efforts to remove brick and mortar establishments. This bill ultimately did not pursue casinos, the most harmful form of gambling, which I believe prey on poverty and encourage criminal activity. Compromise is a central part of governing, but I remain philosophically opposed to gambling and will not be lending my signature to this cause."
He did continue to make clear that this bill is the exception and not the rule in his mind, saying, "Let me be clear: any future efforts to expand gambling or introduce casinos in Tennessee will assure my veto."
Tax revenue from the sports gambling industry is projected to bring in an estimated $50 million per year. These funds will be used for education about gambling, as well as local government and gambling addiction treatment.
The Bill
SB0016 includes key measures such as a requirement for operators to pay $50,000 to apply for a licence and £750,000 to secure a permit. The sports betting tax rate will be set at 20% which is double what it was in the original version of the bill.
When offering betting services, operators will only be permitted to use official data from sports leagues. There is an exception to the rule, but only if a licensee can prove that the governing body of a sport (or other equivalent organisation) could not provide the official league data for live betting "in accordance with commercially reasonable terms, as determined by the board".
Professional sports leagues will be able to request that betting or certain types of bets on select events be prohibited. However, this type of request will only be granted if it is clear that the bets under discussion would be "contrary to public policy, unfair to consumers, or affects the integrity of a particular sport or the sports betting industry".
To place a bet, you must be in Tennessee, despite the bet being placed online. Online locations will be the only places to make bets, as land-based casinos will still be illegal. When the bill becomes law on July 1st, sites will require users to enter the state they are based in, in order to place bets.
The bill also requires gamblers to be at least 21 years old. A number of people are also banned from wagering, including team owners, athletes, those in charge of the gambling operations, and anyone who could influence a game or event's outcome. Anyone placing a bet who is prohibited to do so could be charged with a misdemeanour.
Gambling in Tennessee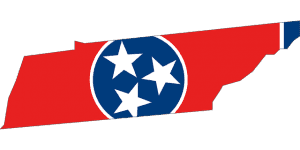 Tennessee gambling law is some of the toughest in the USA. Prior to this bill, legal gambling has been restricted to a state-wide lottery, a few regional lotteries, some horse racing, and extremely limited charitable gambling. The regulations are very strict and do not even make exceptions for social or private games played in homes.
This state defines gambling as "risking anything of value for a profit whose return is to any degree contingent on chance, not including lawful business transactions" (Tennessee Code 4-36-101). Other states have ruled that online poker is not included in anti-gambling laws as it is a game of skill, not chance. Tennessee does not uphold this distinction.
There is a state lottery in Tennessee, although only since 2004. There are six lottery draw games, as well as hundreds of different scratch cards. The lottery has not taken off as people expected though; participation rates in the state lottery are among the lowest in the country.
Similarly, while the Tennessee Liquor Control board licenses a number of venues that provide horse race betting, total revenue from all the horse race bets in the state has never reached beyond $10 million, and attendance at the tracks has been down since the early 1990s.
Groups recognised by the state as non-profits supporting a political, religious, or civil cause are allowed to run certain types of raffle games as long as 100% of the proceeds go to the cause. This exception only applies to raffle-type games; charitable groups may not run bingo games, poker tournaments, casino night events, or any other form of game.