21Nova

Playtech-Powered Streaming
Interesting Live Variants
Multi-Table Option
A Comprehensive 21Nova Live Casino Review
Over the last decade, it has become vital for every aspiring online casino to feature a high-quality live gaming section. With this detailed review, I will put the 21Nova live casino to the test to find out if it can meet this tall order. The review will focus on the software provider, the quantity and quality of games, as well as the breadth of the table limits available for the players.
Dear players, we regret to inform you that 21Nova Casino is closing. We would like to recommend you try your luck at William Hill Casino. Thank you.
21Nova Live Dealer Suite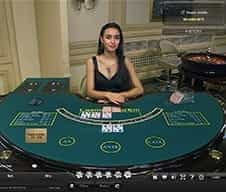 6+ Casino Games and 24 live tables
Multi-Game Options Play roulette, blackjack & baccarat
Exclusive Blackjack Tables VIP & Royal Blackjack
Innovative Variations Dual Play Roulette & Unlimited Blackjack
The objective of this review is to provide you, the readers, with a realistic depiction of what you can expect by signing up to play 21Nova live games. I will highlight what the casino does really well and never sugar coat any of the areas I feel can be improved. Alternatively, I will recommend other casinos that may perform better in 21Nova's lagging areas. So, enough jibber-jabber, let's get stuck in and kick off this guide with an overview of the live games on offer.
The 21Nova Live Games Collection
The 21Nova casino live game collection features all of the casino classics you have come to expect such as blackjack, roulette, baccarat and Casino Hold'em. The games are provided by software giant Playtech, one of the best live games providers in the industry today. Do not be put off by the initial appearance of the live games section of the 21Nova casino website. At first glance, it may only look like there are four games to play. However, once you click on these games, you will be transported to the Playtech live suite and have access to over 20 different games. The games available are constantly rotated in order to keep things fresh, but at the time of writing, the suite featured nine roulette games, five blackjack variants, four styles of baccarat and two Casino Hold'em games. It's by no means the best live games collection on the web today, but certainly enough to keep you entertained.
Unique Game Variants
The 21Nova live game collection features a decent range of variants of your casino favourites, offered at different times throughout the day. The roulette section features off-shoots including French Roulette and Dual Roulette, plus lesser-known variants such as Prestige Roulette, Aphrodite Roulette and Vesta Roulette. Other variants include Unlimited and Exclusive Blackjack, Mini Baccarat, 3 Card Brag and Hi-Lo – the popular game inspired by the Play Your Cards Right game. There is also a Multi-game option, which allows you to play three different live tables of your choice all at once. The best kind of multi-tasking! For players looking for more of a high-roller experience, you can select the 'Grand Royale' experience, which features higher table stakes. All in all, the live gaming selection on offer is really quite good!
1/4Prestige RouletteZoom in on the action and observe the ball up close, in slow motion, and from every angle. Prestige Roulette gives you a vantage point like never before!

2/4Grand Royale BaccaratLive baccarat fans won't be disappointed: you can now play an elevated variant of this classic game in the Grand Royale Lounge, complete with high limits and a swanky ambience.

3/4Live Video RouletteDouble up on video roulette in this 2-for-1 rendition of the minimalistic live variant. Play two wheels at once, have twice a chance to win!

4/4Live Hi-LoEnjoy this rarely-seen live game at this casino, courtesy of Playtech, now with improved streaming quality to boot! Simply guess the next card by clicking on one of the 10 spots.
Table Limits for Live Games
If you are looking for a casino with a really wide selection of table limits, the 21Nova live casino probably isn't for you – and this can be said of the non-live casino games at 21Nova as well. That said, the operator's table limits are still functional enough to offer an invigorating playing experience. All of the roulette game variants have a minimum bet size of £1 whilst the maximum is capped at £50. The limits for blackjack are a lot more varied with minimums as low as £2.50 and £10 for Unlimited and Exclusive Blackjack, respectively. The maximum table limit for most blackjack games is £100, whilst Unlimited Blackjack is only £25. The maximum for side-bets such as dealer or players pairs is £100. With regards to the baccarat game table limits, they tend to range from a £2 minimum up to a £100 maximum bet. The side bets for both the blackjack and baccarat games are capped at £100. Finally, the Casino Hold'em games range between £1 and £50 whilst the Hi-Lo game features the highest betting limit of up to £1,000 – should you be feeling lucky. For a full round up of the individual table limits for each game, you can check out the table below.
All Live Tables at 21Nova
Roulette Games
Roulette Table Limits
Even Money Bets
Mobile Available
European Roulette
8
£1 – £50
£1 – £50
Speed Roulette
1
£1 – £50
£1 – £50
French Roulette
3
£1 – £50
£1 – £50
Prestige Roulette
1
£1 – £50
£1 – £50
Slingshot Roulette
2
£1 – £50
£1 – £50
Dual Roulette
2
£1 – £50
£1 – £50
German Roulette
1
£1 – £50
£1 – £50
Vesta Roulette
1
£1 – £50
£1 – £50
Blackjack Games
Blackjack Table Limits
Side Bets
Mobile Available
Blackjack
8
£2.50 – £100
£100
Unlimited Blackjack
1
£2.50 – £25
£100
Exclusive Blackjack
3
£10 – £100
£100
Baccarat Games
Baccarat Table Limits
Side Bets
Mobile Available
Baccarat
2
£2.50 – £100
£100
Mini Baccarat
2
£2 – £100
£100
Grand Baccarat
1
£2 – £100
£100
Table Games
Table Limits
Side Bets
Mobile Available
Casino Hold'em
1
£1 – £50
£50
3 Card Poker
1
£1 – £50
£50
Hi-Lo
1
£1 – £1,000
n/a
As mentioned before, the table limits are not as varied as you might see at some of the other live casinos in the UK market. It should be noted, however, that, in general, table limits tend to be a bit higher than in the regular casino versions of these games. Whilst there are surely some deviations from this tendency, the live versions bring in a unique aspect to online casino gaming and can also make great go-to games for high rollers.
No Mobile App
At this point, I am very sorry to report that 21Nova does not currently have a mobile application for its casino. If you were to open up the casino on your mobile web browser, it would simply redirect you the William Hill mobile casino, since 21Nova is a William Hill subsidiary. While the shared mobile platform gives you something to work with, it goes without saying that this is a glaring negative for the 21Nova brand, with the growing trend towards mobile gaming in the market today. If mobile gaming is an absolute must for you, I would recommend checking out my guide to the best mobile casinos in the UK today. If this is due to change, I will update this page.
21Nova Casino Live Dealers
If you're looking for live dealers who know how to keep things fresh and entertaining, then the 21Nova live casino is a great place to start. The software provider, Playtech, is responsible for all of the live games currently on offer at 21Nova. Based out of its world-class live casino suite in Riga, Latvia, the 21Nova casino live dealers deliver a faultless, casino experience. All of the dealers speak perfect English and do a really good job at creating a light-hearted, enjoyable experience. In order to give you more of an insight into the type of characters you'll be interacting with at the online casino, I've included a few profiles of the best 21Nova casino live dealers. You can check out their names, favourite games and where you can find them below.
21Nova Live Dealers: Pleased to Meet You
Noela

Favourite Games:

Roulette

Baccarat Squeeze

Stass

Favourite Games:

Casino Hold'em

Speed Roulette

Lora

Favourite Games:

Slots

Single Deck Blackjack

Amira

Favourite Games:

Stravaganza

Age of the Gods Roulette
Bonus for Lives Games
Unfortunately, it is not yet that common for casinos to offer specific bonuses on live gaming and 21Nova falls under this category. That said, this should not discourage you from playing at the 21Nova live casino. If you're interested in finding out more about casino bonuses in general, you should check out my guide to the best casino bonuses in the UK today.
Live Gaming Software Providers
As I have mentioned throughout, the 21Nova casino live gaming collection is provided by the industry behemoth, Playtech. Picking up three of the headline awards at the prestigious eGaming Review B2B Awards, the software provider secured its reputation as one of the top providers in the industry. Whilst Playtech may still lag behind Evolution Gaming based on the live gaming experience, it's fair to say that it has really closed the gap with the investment into the world-class live casino suite in Riga that I mentioned before. The centre has been in operation since early 2017, and has left many players very impressed so far.
The streaming quality is far better than it was before and the user interface has been drastically improved to allow a seamless transition between the different games you are playing. Unfortunately, I have noticed a few issues of the live games crashing when you do spend too much time on a particular game. This has never affected my playing winnings and has only ever happening when playing on the web-browser mode. The live casino suite worked perfectly in the downloaded software version.
Conclusion
In a very short space of time, the 21Nova live casino developed and improved dramatically due in part to the vast developments of its software partner, Playtech. The quality is fantastic, and the variety of games on offer is really good including some speciality live titles such as Hi-Lo. The 21Nova casino live dealers are really friendly and help generate a positive atmosphere in which to gamble. In addition to this, the multi-play functionality is a big plus for players who don't mind multi-tasking across various games.
Review Summary for 21Nova Live Casino
Major Strengths
Live Hi-Lo
Multi-game option
Major Weaknesses
No mobile app
Minor Strengths
Dual Roulette and Speed Roulette
Unlimited Blackjack
Minor Weaknesses
Low overall number of tables
Full T&Cs apply. New Customer only. 18+. www.begambleaware.org.
Unfortunately, the lack of mobile app for the entire casino is a real weakness. The operator is still in its early days however, and it can only be considered a matter of time before the 21Nova casino games will be available to play on your mobile or tablet devices. If you can't wait that long, I'd recommend the InterCasino mobile app, which currently has my top-rated mobile casino on the web today. Overall, I would say that the 21Nova live casino holds up well with the other live casinos out there, but improvements can still be made.
Questions and Answers
Within this review, I have tried to cover all of the major things I felt you needed to know about the 21Nova casino live dealers. Whilst I tried to make it as comprehensive as possible, you might have a couple of questions that I had not thought of. If so, please do not hesitate to contact me at contact@online-casinos.com and I will get back to you as soon as I can.
Are there any special bonuses for live games?
As I mentioned before, unfortunately there are currently no bonuses available from this casino to use on the live games directly. However, the casino does feature a lot of fantastic bonuses. You can find out more information on those in my 21Nova casino bonuses review.