Video Poker Strategy Trainer – Strategy Cards, Cheat Sheets & More
Welcome to your one-stop-shop for all things video poker strategy. Consider this page your personal video poker trainer, as it covers the most common need-to-knows, how to up your game and common strategy myths. You can skip to the most pertinent sections by using the navigation below.
Jump to Your Chosen Video Poker Rules Topic
Our comprehensive PDF charts can be downloaded directly onto your device, so you can have them on hand whenever you play your chosen title. We've provided the math behind some of the most tried and true strategies online, so you can get the very most out of your video poker games.
Video Poker Strategy Explained
Video poker was first introduced to the gambling market in the 1970s. The earliest machines consisted of CRT screens and pretty primitive processing units. These machines boomed in popularity throughout the 1980s, as casino-goers found them more comfortable to play at than at tables with other people. The version of the game found on these consoles, and in most online video poker titles, is based on Texas Hold'em. Its exceptionally easy to play, which is key to its enduring popularity over the decades.
How it Works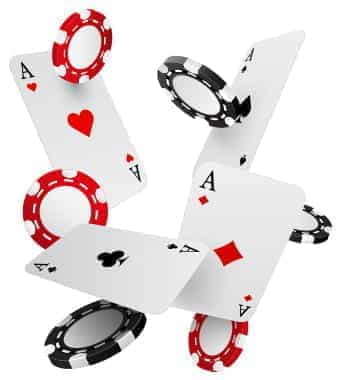 It's important to note that no two video poker games are the same. Each one will have its own RTPs, betting limits, house edges and pay tables. What you can depend on, however, is that every game works on a fixed set of mathematical rules, which you can use to your advantage when playing. If you don't have a head for numbers, don't fret. There are plenty of handy charts that you can follow, so you won't have to do any of the math yourself. You can even download them as helpful PDFs on this very page.
Be warned, though, there's no such thing as a guaranteed win. Strategies can't ensure you'll be rolling in dough, but they do help boost your edge a little bit. And when it comes to tipping the RTP slightly more in your favour, every little helps. We won't be getting into the dense, mathematical nitty gritty here – thankfully that's all been worked out by people far smarter than you and I (no offence). To get into the swing of video poker strategies, all you have to do is follow our video poker trainer and the checklist we've laid out below. Do that, and you'll be utilising video poker strategy in no time.
Basic Video Poker Strategy Checklist of What to Do
There is hardly a player that never thought of how to improve his gameplay and to grant himself a win. Unfortunately, there is no such a thing like granted win. Still, there are some simple tips and tricks to get the ball rolling when using any basic video poker strategy. In this section we'll be covering all the steps you can follow in order to improve your odds.
Play Max Coins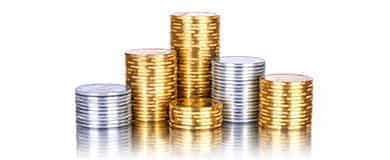 It sounds pretty basic, but you'd be surprised by how many gamblers don't select max coins. Playing with coins bumped up to the max is the only way to win the maximum payout of the game.
Check the Pay Tables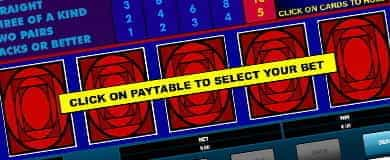 Always check the pay tables before playing. This will let you know whether or not a game is worth your while before you start laying down your cold hard cash.
Apply the Correct Strategy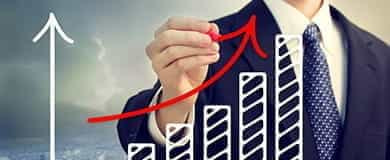 There is no one-size-fits-all strategy when it comes to video poker. Therefore, you have to take special care to ensure that you've selected the right strategy for the variant you're playing.
Practice Before Betting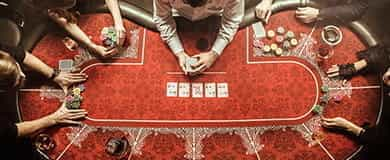 As the old saying goes, practice makes perfect! One of the biggest perks of playing online video poker is that you have the opportunity to try out your chosen strategies in free demos.
Though much of the above probably sounds like common sense, it really can't be stressed enough how much these four simple steps can improve your overall video poker experience. Before you dip a toe into the strategy charts and cheat sheets, it's important to have these tips nailed down first.
Video Poker Trainer, Tips & Cheat Sheets
If you've come here looking for a video poker trainer, cheat sheets, strategy charts and more – this section is the main event. To start things off, we'll be giving a crash course on how to read a strategy chart. If you're already accustomed with them, though, you can scroll on to the next sections.
How Does A Strategy Chart Work
Reading a video poker strategy chart is far easier than many beginner players anticipate. To put it simply, strategy charts will show you various possible hands you could be dealt in the game. The list will always place the best possible hand at the top, then second best and so on and so forth. This means there's really no way you can mess up when following a chart.
All you have to do is look at the list, and work your way down until you find your hand. Once you've got a match, you know you can hold onto your current hand and play it. It really is that simple. The list of hands have been mathematically determined, so there are no curve balls. See below for an example of a strategy chart, in this instance relating to 9-6 Jacks or Better.
An Example Strategy Chart for 9-6 Jacks or Better

Now that you have an idea of how to read charts, it's time to learn how to put them into action. In the next section we'll be looking at how you can use strategy charts to improve your game, by examining a number of hands that you can expect to be dealt in 9-6 Jacks or Better.
Video Poker Strategy Example in Action
To give you a good visual example of how you can put your dealt hands in action, we've illustrated some samples below. Based on the rules of 9-6 Jacks or Better, we'll advise you on which cards you should keep in order to boost your chances of winning.
To use your hand and really make the most of the strategies outlined below, it's absolutely imperative that you have some understanding of basic video poker rules, especially rules when it comes to winning hands. If this is something you're still not clear on, feel free to pop over to our dedicated video poker rules page for a refresher course.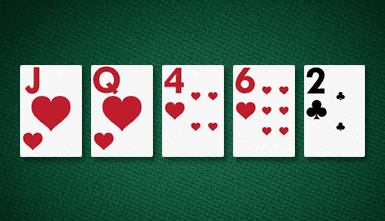 Jacks or Better Simple Strategy
Using the simple strategy for Jacks or Better will theoretically result in an RTP of 99.46%. All you have to do is find out the best ways you can play your first hand. Obviously, this will depend on the cards you've been dealt. For example, in the hand shown here, your best option would be to keep the 4 and go for a straight flush. Other options include keeping the lowest pair or keeping the two suited cards. However, these other options are not as high paying as a straight flush, which pays 50. As stated before, charts are your best friend when it comes to determining which hands will work best in your favour.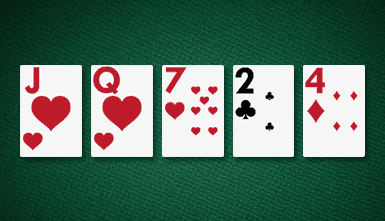 Jacks or Better Intermediate Strategy
If you've played using the simple strategy before and want to challenge yourself more as a player, then you can move onto the intermediate strategy. When utilized correctly, it can result in a theoretical RTP of 99.52% – a noted increase on its simple alternative. This strategy differs in that it does not follow the same order of value as the previous one. When playing at the intermediate level, you need to keep an eye on the hand strength. So, with the sample hand shown here, you could either go for a straight flush with your three or keep two and go for a royal flush.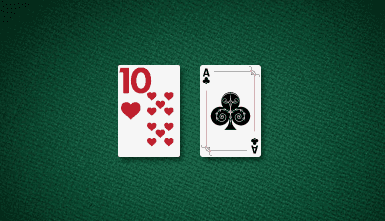 Jacks or Better Optimal Strategy
The third and final strategy when playing Jacks or Better is the optimal strategy. Playing while utilizing this can up your theoretical RTP to 99.54%. In some ways, this tactic is easier to put into play than the intermediate, as all you have to do is look up a chart again. Charts for optimal strategy will lay out all your options for playing a hand in order of highest payout to lowest. There are a number of hands, however, that are never played – such as the sample hand shown here. For example, in the hand shown here, your only move would be to keep the Ace and discard the rest.
List of All Video Poker Game Strategy Charts
By now, you should have a pretty decent understanding of how to use the cards you've been dealt. Don't worry about learning the hands by rote, as the strongest hands can vary from game to game. After all, you can always save the strategy charts for future reference to help you with your games.
Below, we've prepared a list of video poker strategy card pdfs that you can view or download at your leisure. The list below reflects six of the most popular video poker variants currently on the market. If your desired game isn't listed below, be sure to check back regularly. We're always updating and improving this page, and your favourite title could be included in the near future.
9-6 Jacks or Better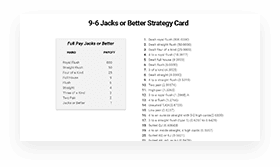 PDF Download
9-5 Jacks or Better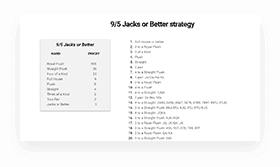 PDF Download
8-6 Jacks or Better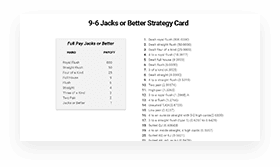 PDF Download
Strategy Myths to Avoid
Gamblers are a superstitious breed. We all have our own rituals and beliefs when it comes to the art of the game, but sometimes these can fog your thinking. This is especially the case when it comes to strategies. It's important not to fall into the trap of buying into any myths when it comes to the power of strategies. We've outlined some of the most pervasive myths below so you can steer clear.
1/4 Gambler's Fallacy Perhaps the best-known myth of them all. Gambler's Fallacy refers to players who fall for the age-old myth that previous games will determine outcome of their current one, for example "Red has won four times already, so black will definitely win next!"

2/4 Card Counting While card counting is both legal, fair and can improve your edge, it's not a surefire way to win. Many players make the mistake of believing that counting cards will make them rich.

3/4 Get Lucky While many gamblers believe in luck in some form, the cynical reality of most games is that they have more to do with mathematic probability than anything else. The good news is, this can help you improve your edge.

4/4 The Curse of the Cash-Out If you're a die-hard online poker player, you've probably heard of the cash-out curse. Some gamblers believe that players are "punished" for cashing out, with the website rigging their subsequent games against them. This, of course, is both illegal and false.
The main thing to remember is that strategies exist to support winning – but they do not guarantee you'll win. There's no such thing as the perfect strategy, and at the end of the day the house always wins. But if you keep your wits about you, video poker strategies can help you to improve your edge and better your odds. Think of them as an extra element to spice up your game, and you'll get along just fine.
Start Practicing Your Video Poker Strategy Today
Well, there you have it. If you've made it to the end of this page, you should by now understand the fundamentals of video poker strategy and how to put it into practice. If you're ready to start putting these charts to the test, check out some of our favourite video poker games below. Each of these reviews feature free demos so you can try out everything you learned here.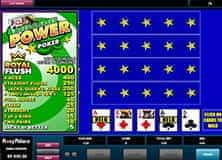 Aces and Faces
Super Simple
Bonus Payouts
No Jokers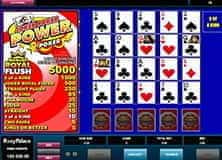 Joker Poker Power Poker
Perfect for Beginners
Double Feature
Includes Jackpot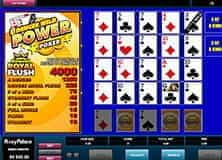 Deuces Wild Power
Easy to Play
Wild Cards
Double Feature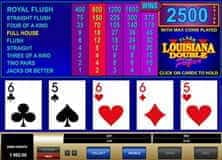 Louisiana Double
Super Fun
Great for Novices
Fantastic Strategy
If you've exhausted the free links on the pages above, or if you didn't find that any of them were to your liking, there's plenty more where they came from. To find more demos and variants, head on over to our main video poker page. Once you're ready to start playing for real money, you'll find links to our top picks of the best online video poker casinos on any of the game pages.
Frequently Asked Questions
We sincerely hope that this page helped clear things up for you when it comes to playing video poker with strategies. If there's anything you feel we missed, take a look at our most frequently asked questions below. These queries come directly from gamblers like you and we have answered them as good as possible. So, hopefully, they will cover any lingering doubts you might have.
How can I win at video poker?
While there's no sure-fire way of winning at video poker, using even basic poker strategies can significantly boost your edge. Again, this does not mean you'll have a guaranteed win, but it will improve your chances.
How do I play using video poker strategy?
Playing while using video poker strategy is remarkably simple. All you have to do is download one of our poker strategy charts and follow it to find the best hands to play.
What are some tips on how to play video poker?
You can read our tips in more depth further up the page, but what they boil down to is – practice your game on as many free demos as you can and make sure you're using the appropriate strategy for your level.
How do you win at video poker every time?
As we said above, it is impossible to guarantee a win at any gambling game. The important thing is to use strategy in order to reduce the house edge and to remember to have fun while playing.
Your Opinion is Valued
Other Interesting Video Poker Topics