The Best South Africa Online Casinos – The Top 2021 Casino Sites for South African Players
When you are looking for the best online casinos in South Africa, you will come across a lot of misleading or downright false information. Right at the start of this page, let us make it clear that there are no legal South Africa online casinos. There are no exceptions to this and any website with a review that tells you otherwise should be not be trusted. Keep reading for more information.
What You Will Find on This Page:
Best South African Online Casinos
Best South African Online Casinos
Why You Can't Play Online
Is Any Online Gambling Legal in South Africa? 
As well as giving you the full explanation of the laws surrounding online casinos South Africa based players need to know, this page will look at the general gambling landscape. This will include land-based establishments, the history of gambling in South Africa and what the current industry is like. We will also answer some of the most frequently asked questions in this area.
Why Can't We List the Best South Africa Online Casinos?
As we said at the top of the page, South African online casinos are illegal. This will come as a disappointment to many. Also, this may come as a surprise as there are many sites out there telling users that you can legally and safely play on offshore sites. This is simply not the case, and betting at a foreign site from within SA is as illegal as gambling at a South Africa online casino. As such, all sites giving you a list of the top South African online casino sites are scamming you and trying to take advantage of the lack of clear information out there. We will go into more detail in the next section.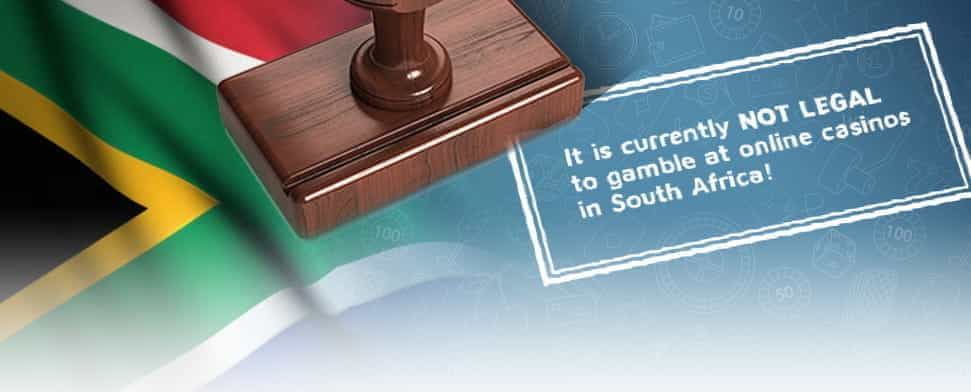 Is Gambling in South Africa Legal?
Since 2004, when the National Gambling Act was enacted, all online casinos in South Africa were outlawed. While it would seem like there is a loophole allowing for players to place bets on sites that are based in other countries, there was a clarification published in 2010. This statement from the High Court, made it inarguable that this was permitted. Instead, foreign sites are prohibited from marketing to players in SA.
While there are no licensed online casinos in South Africa, there are ways to gamble legally. You can play at numerous land-based casinos, some of which are world-renowned resorts. There is also a state-run lottery, which is extremely popular with players all around the country. Both of these are overseen by the national gambling regulator, the National Gambling Board, who has issued a Gambling Act outlining all current national policies on gambling. This was established by national law in 1996. Its scope and powers were then extended in 2004, when the new gaming laws came into force. As such, South Africa gambling is strictly and effectively regulated, and all operators are required to maintain certain standards.
Criteria for Searching for a Quality Online Casino
If you are disappointed to hear that you can't legally gamble at online casinos in South Africa, you may well want to try your hand when you are travelling abroad. Many countries around the world allow visitors to play at legal and licensed sites when within their borders. In order to make sure that you safe while gambling, keep these tips in mind when picking an operator. You can also find out more general information about online casinos and the countries where you can play legally by heading to our homepage.

1. Is the casino legal and safe for you?
2. Is there a large and varied game selection?
3. Does the casino have an attractive welcome bonus?
4. Are there quality developers behind the casino software?
5. Can you play the games on mobile and tablet devices?
6. Does the site accept major payment methods?
7. Are there good options for contacting customer support?
The first thing to do is to check and make sure that you are legally allowed to gamble online where you are. This differs from country to country, and even state to state in some federal countries. The USA, for example, has great variance between each state in terms of the gambling laws.
Next, if there is a gambling regulator in the jurisdiction, remember to confirm that any site you use is correctly licensed, allowing them to operate and market their services without breaking the law. Any company not doing so should be treated with the same suspicion as a blatant scam. It is also a good idea to check out what the customer support is like and see what contact methods are offered, just in case something goes wrong.
Once you have made sure that you can play legally and safely, the next thing to have a look at is the games selection. Ultimately, this is the reason why people play at casinos online, so it is important to know that the site has as large and interesting a library of games as possible. Often, you will find operators that stock hundreds of slot games. It is also worth double checking that live games are offered, though this is pretty much a given in today's industry.
Along with the rise in popularity of live dealer games has been the continuing shift towards mobile play. If the site that you have chosen hasn't made a good range of products available for use on smaller screens, it's not a great sign that it has the customer in mind first and foremost.
The last thing to think about is whether the bonus deal that is offered suits you, your budget and your playing habits. Although many offers can seem really attractive, it isn't a good idea to get locked into a promotion that is going to require you to bet three times more than you had planned just to complete it. Knowing what you want from a site before beginning is the most important thing.
Online Casino Games
At the online casinos available in many countries around the world, the games carried tend to be fairly similar. I guess it is reasonable to say that classics are popular for a reason. Pretty much anywhere that you play, video slots will dominate the collections, while blackjack and roulette are the most popular games in live casino suites.
Slots
Baccarat
3 Card Poker
Roulette
Scratch Cards
Caribbean Stud Poker
Blackjack
Craps
Video Poker
Sic Bo
Keno
Casino Hold'em
Overview of Gambling in South Africa 2021
The most widespread type of gambling in South Africa is sports betting. Operators have been able to get licences to open legal bookmakers for a number of years in the country, and so this has grown into a major industry. There are lots of land-based bookmakers spread throughout South Africa.
In addition to this, you can also play a number of different games at one of the land-based casinos in South Africa. The majority of these are located in Johannesburg and Cape Town, though other cities do have some establishments, and there are the likes of Sun City, which is a massive resort in the north of the country. You can play roulette, blackjack, casino poker and place bets on slot machines at land-based casinos in South Africa.
Although it is not the oldest nor the largest legal gambling market in the world, the industry still makes a lot of money every year. In a recent study, it was found that the average total gambling revenue in South Africa was R26 billion. For a nation of 56 million people, this is a pretty significant amount. In terms of responsible gambling, the country reportedly has around 2.5% of its adult population as identifiable problem gamblers.
Gambling in South Africa Overview

| | |
| --- | --- |
| Land Based Casinos | 14 |
| National Gambling Act | Passed in 2004 |
| Gambling Regulator | National Gambling Board |
| Problem Gamblers | 2.5% of adult population |
| Annual Gambling Revenue | R26 billion |
| Gambling Winnings Tax | 15% on winnings over R25,000 |
History of Gambling in South Africa
As with many ex-colonies, the history of gambling in South Africa starts during its occupation by Great Britain. In 1673, all forms of gambling were outlawed in the territory. Gambling remained illegal in the independent South Africa. Since this time, numerous small casinos started to be opened in the Bantustans. These were independent territories within the borders of South Africa, which were home to the native people of the country and were inaccessible to white people.
Since the fall of apartheid, the new democratically elected government legalised all forms of gambling. This was done through the 1996 National Gambling Act. For eight years, things remained the same, despite some clear issues with the legislation. In 2004, this was updated with a new National Gambling Act. This allowed for strict licensing to be brought in and also outlawed all forms of online casino gambling. As mentioned earlier on the page, this extends to overseas sites marketing to those in South Africa.
Land-Based South Africa Casinos
With a huge tourism industry and wonderful weather pretty much year-round, it should come as no surprise that South Africa is home to luxurious, world-class resorts. All of the most famous casinos in South Africa are of this variety; you'll find them alongside four and five-star hotels, spas, conference centres and more glitz and glamour than you can shake a stick at. Here are the three best casinos in South Africa.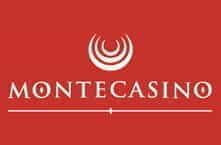 Montecasino
The Montecasino is a large complex located in Sandton, Johannesburg. Styled after Monte Cassino and with the entire site modelled to look and feel like a hilltop Tuscan town, the establishment is certainly striking visually. It contains the largest theatre in South Africa, the Teatro, as well as a casino, with the site attracting roughly nine million visitors every year. The casino itself houses 1,860 slot machines and 70 different gaming tables, offering roulette, craps, baccarat, poker and blackjack.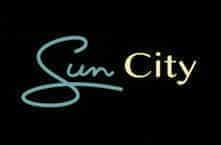 Sun City
Perhaps the most internationally famous resort in South Africa, Sun City was thrust on to the international scene by its place in the cultural boycott of South Africa during apartheid. When the UN imposed the boycott, the hotel owner Sol Kerzner offered large fees to musicians who would play at the resort. Many famous artists disregarded the boycott and performed, including the Beach Boys, Frank Sinatra and Queen. In post-apartheid South Africa, Sun City has grown in popularity and is seen as one of the premier destinations in the country, with a large and lavish casino on its site.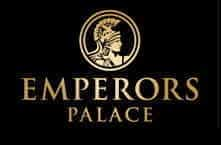 Emperor's Palace
Situated next to OR Tambo International Airport, on the outskirts of Johannesburg, Emperor's Palace is a huge complex of hotels and entertainment facilities that includes one of the country's most famous casinos. Guests can play at any time of day, with everything open 24 hours a day, seven days a week. There are 850 slot machines in the main casinos, with lots of different styles and games to choose from. In addition to this, there are eight roulette tables, five blackjack tables and twelve poker tables, as well as some extra tables in smaller smoking rooms.
Famous South African Gamblers
Although South Africa gambling laws are quite strict in some ways, there has always been legal land-based gambling in one form or another. This means that there are a number of famous gamblers who hail from the country. The majority of these individuals, as you would expect, have made their money and fame through poker. Here are the most famous South African poker players.
Raymond Rahme
A veteran of the poker tour, Raymond Rahme was born in 1945. He grew up in Johannesburg and first played poker in illegal gambling dens in the outskirts of the city. He has made more money from poker than any other African player, having raked in well over $3 million. The vast majority of this came from a World Series of Poker Main Event in 2007. Finishing third earnt him a huge sum of money. Currently, he plays poker online as a member of Team PokerStars, however he has stated publicly that he does not enjoy online poker.
Mark Vos
Born in 1983 and having started his professional poker career in 2004, Mark Vos has been seen as one of the rising stars in the international scene. He has earnt over $1.2 million from live events, and plays extensively online, meaning that his overall winnings are far higher. However, he has spoken to the press of his disinclination to devote his life to poker and his lack of motivation for the game. As such, it is unclear whether his career will amount to the heights that his early performances promised.
South Africa Player Questions
While we hope that this South Africa online casinos guide has provided all of the information that you might need so that you know where you stand, it is of course possible, that you will have some questions left. In order to try and help out, we have answered some of the most frequently asked questions below.
Is online gambling legal in South Africa 2019?
All online casinos are illegal in South Africa. This includes overseas sites that are not based in the country. However, you can bet on legal and licensed sports betting sites. Additionally, other forms of gambling comprise a thriving segment of the industry.
Which online casino is best?
This is a subjective question at all times. However, the point to be made clear here is that there are no good online casinos in South Africa. Any site marketing its services to players in SA is breaking the law and should not be trusted.
Are casino winnings taxable in South Africa?
For any gambling earnings below R25,000, then you do not have to pay any gambling winnings tax. However, for all money over this threshold, even from the lottery, you will need to pay a 15% withholding tax. Click here for a full overview of the gambling situation.
Is online gambling safe?
As long as you stick to legal and licensed sites, then online gambling is very safe. The thing to remember is that, as there are no legal online casinos South Africa players can access, playing online casinos games cannot be safe for you.
Do online slots really pay?
The same thing must be said here. While online slots from legal and licensed operators around the world do pay, there are none of these in South Africa, so you cannot guarantee that a site will not scam you.
Conclusion: Don't Trust Any Best Online Casinos South Africa List
At the end of this guide, you may still be disappointed not to have found a list of the best online casinos in South Africa. We really would love to be able to bring you the top South Africa casino sites but doing so would be a massive disservice to you. The reason is simple: all online casinos are illegal in South Africa.
This does not mean that you cannot gamble legally and safely in the country. There are lots of excellent land-based casinos, with even a few world-class resorts, and you can play the lottery or bet on sports. If you want to visit a bookie, you can even do so online. The sports betting industry is safe and regulated in South Africa, making it a great option for gambling.