The Best French Online Casinos – The Top 2021 Casino Sites for French Players
There are very strict laws surrounding all of the gambling industry in France, which has deemed online casinos to be too addictive and therefore banned the operation of any such sites. You should not trust any operator claiming to be the one of the best online casinos in France as it is both lying and operating illegally. There are other forms of gambling that are legal in the country, including sports betting and land-based casinos, which are a much safer way to enjoy the hobby.
What You Will Find on This Page:
Best Online Casinos in France
Best French Online Casinos
Why You Can't Play Online
On this page, you'll find information detailing the legislation that deems which kinds of gambling are legal in France, as well as a historical overview of the activity in the country. I'll also give you information to use to identify good online sports betting sites in France, and the overview of what to look for in an online casino should you choose to play from other countries. On top of this, I've also included some statistics about gambling in France and the options available in terms of land-based resorts.
Avoid Lists of the Best French Online Casinos
All online casino games of chance are illegal in France under the 2010 piece of legislation, the French Gambling Act, which was actually introduced to open up the online gambling sector for sports betting and online poker. Therefore, any review website claiming to offer a list of the best online casinos in France is ignoring the law and offering you the chance to do the same. For more information about which sites you can legally use, continue down the page.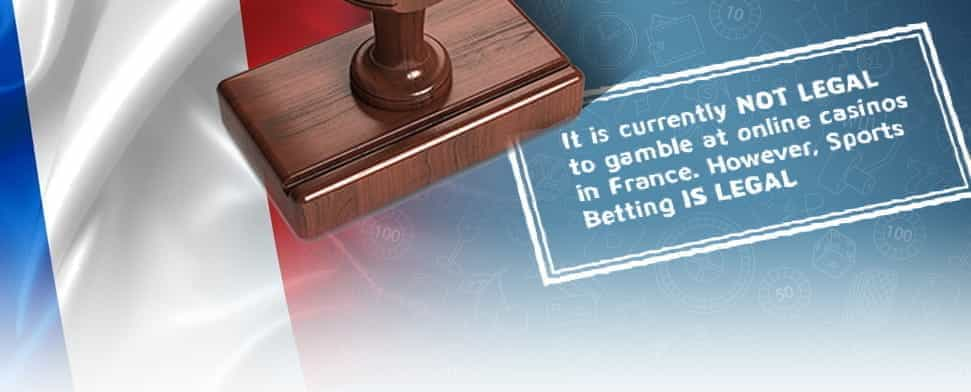 Sports Betting Safety and Licensing for France
We will only recommend that you place sports bets at legally operating sites in France, which need to have a licence from the ARJEL (the 'Regulatory Authority for Online Games'). There are a few different rating criteria that we use when judging whether a licenced bookmaker is worthy of your attention and money, including what kind of promotions it has available, its security software and the types of payment methods you can use.
France's TOP 3 Online Sports Betting Sites

| Best Bookmaker | Bonus Offers | Highlights | Rating/Review | Secure Link | T&C's |
| --- | --- | --- | --- | --- | --- |
| William Hill | No Bonus | Multi-bet options | | PLAY HERE | Full T&Cs apply. New customers only. Opt in required. 1x per customer. Max 50 free spins with 20x wagering. Stake £10 stake & get 100 free spins on completion with 20x wagering. Selected slots only. Free spins expire 24 hours after issue. Eligibility rules, game, location, payment method and currency restrictions and terms and conditions apply. |
| BetVictor | No Bonus | Great Odds | | PLAY HERE | Full T&Cs apply. New Customers. £70 Bonus = 2 x £20 bonus +3 x £10 bonuses for selected games up to 60x wagering. Bonuses expiry 3 days. Card payments only and wager £10 within 7 days of registration. Please Gamble Responsibly. |
| Betway | No Bonus | Lots of Lifestyle bets | | PLAY HERE | Full T&Cs apply. New customers only. Opt-in required. 100% Match Bonus up to £50 on 1st deposit of £10+. 50x bonus wagering applies as do weighting requirements. Debit Card & PayPal deposits only. This offer is valid for 7 days from your new account being registered.  Irregular gameplay may invalidate your bonus. |
Is Gambling in France legal?
There are different bodies responsible for the regulations of gambling in France, with the land-based gambling industry split into the Pari Mutuel Urbain (PMU) for horseracing, and the Française des Jeux (FDJ) as the authority for lotteries and sports betting. The online sports betting is under the gaze of the Autorité de régulation des jeux en ligne ("Regulatory authority for online games"), or ARJEL. The ARJEL was created in 2010 with the implementation of the French Gambling Act, which opened up the market to online betting operations while simultaneously outlawing all online casino gaming activities.
The differentiating factor that the French Government came to when creating these laws was that there is no skill involved in games of chance like roulette, while sports betting involves some sort of input and knowledge in order to play successfully. As such, there are no legal online casinos in France, so the only way to enjoy a hand of blackjack or roulette is at one of the land-based casinos in the country.
Sports betting, both online and offline, is incredibly popular with horseracing the leading choice, followed by wagers on the football. You can also partake in poker games both online and offline, as following the same thought process to the sports betting legalisation that poker involves some skilful effort. Take a look at this handy legality breakdown in France to see what is and isn't allowed, and under what circumstance.
Criteria for Searching for a Quality Online Casino
Looking for a way to gamble at online casinos while you're overseas? There are a few things to do before you dive right in, much like you've already done with the perusal of this here article. You'll need to follow much the same steps when selecting how to play online no matter where you are in the world, so I've put together this easy-to-read guide to choosing the best online casino for French players outside of France.

1. What is the legal situation, are you breaking the law?
2. Can you be entertained by the selection of games?
3. Does the operator have any good promotions?
4. What companies have developed the games?
5. Can you access the games from your mobile?
6. What are the options for payment methods?
7. Are there customer support options in English?
The basic steps to choosing an online casino may sound like a lot of things to look at, but they all make a crucial process for creating a safe and satisfying experience. We've collated a list of the world's best online casinos for you to select between, which we have put together through reviewing the world's leading operators and ranking them to this exact same criteria that we recommend to you.
First of all, before you even get to the nitty gritty of how to compare casinos to each other, you need to look at the legal situation of the country in question. Many have laws that are hard to understand whether or not you are able to legally play online, that require some solid researching. Often there are review sites with top ten lists of operators proclaiming to offer the best online casinos in France, or Singapore, or other countries where online casinos are illegal.
Once you've clarified if you're in the clear, legally, double check if the operator is also working within the jurisdictions by holding a license from the regulatory body. Then, check the safety and security measures in place by looking if the casino website is encrypted and using trusted financial service providers to make sure that your personal information and banking details will not be shared with any third-parties or be vulnerable to hackers.
Once these safety and legality criteria are fulfilled, you can move on to the personal criteria, which is arguably much more fun part of the selection process. Have a look through the collections of games, check out whether any of the slots, roulette and blackjack or poker games appeal to you. There are countless options so there should be no reason to settle for anything less than an extraordinary casino that also can be accessed on your mobile or tablet.
It's also worthwhile checking out the customer service options to make sure there are options in English, if you're unfamiliar with the local language, and investigating the payment methods to make sure there is an option you can use that will accept Euro. They may also have a welcome bonus or other promotions up for grabs that could be claimed, but check out the terms and conditions of any offers to see if you are eligible.
Online Casino Games
Different regions will have their own selections of casino games that you will be able to find online, as the laws sometimes only allow for some options. The most popular options worldwide are the likes of slots, blackjack and roulette, with countless variations of each becoming available, too. Depending on the online casino's offering, it could also have some of the following options in its portfolio – the more the better!
Slots
Baccarat
3 Card Poker
Roulette
Scratch Cards
Caribbean Stud Poker
Blackjack
Craps
Video Poker
Sic Bo
Keno
Casino Hold'em
Overview of Gambling in France 2021
The legal gambling age in France is 18 for both land-based and online sports betting, with more than two million player accounts active as per a report from the ARJEL in Q4 2018. The offline sports betting industry is massively widespread and saw a huge increase in participation from 2017 to 2018, when the French team's success in the FIFA World Cup prompted an increase of 40%. As such, football is the most popular sport to bet on (outside of horse racing), with the Ligue 1 typically as the most popular competition alongside the Champions League. The NBA Championship is also increasing in popularity among French gamblers.
Gambling in France Overview

| | |
| --- | --- |
| Land Based Casinos | Over 200 |
| Average Spend on Gambling | €328 |
| Gambling Regulator | Autorité de régulation des jeux en ligne (ARJEL) |
| Gambling Participation | 42% |
| Most Popular Sport Betting | Horse Racing |
| Legal Gambling Age | 18 |
History of Gambling in France
France has a long history not only of loving gambling, but also contributing to its creation. For example, the deck of cards as we know it today, crucial to many of the different casino games that you can play, has a Queen in the deck thanks to French influence. Previously to the Queen's introduction in the 1500s, the deck was all male with a Nobleman in its place.
It was also a French man, a mathematician, who invented the roulette wheel in the 17th century, leading to the creation of the game itself. The game is still very popular in the country, though it can't be legally played at any French online casinos, as it has been deemed 'too addictive' by the French government for its citizens.
Land-Based Casinos in France
With such a long history of gambling and a great pride in caring for historical locations, its no surprise that France is the home to some of the oldest and greatest casinos in Europe. There are more than 200 casinos in the country of various sizes offering French citizens and visitors over 18 access to numerous types of games. The operation hours are also dependent on the types of games, but general hours for the bigger casinos are around 10.00 – 03.00 for slots and roulette.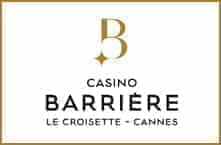 Le Croisette – Casino Barrière de Cannes
One of the largest casinos in Cannes is Le Croisette Casino Barrière, situated in the gorgeous area along the Mediterranean. It has hundreds of slot machines, electronic games and tables for card games such as blackjack and baccarat, plus roulette wheels and dedicated poker rooms. There's even slot machines in the bar, named after the games, while the restaurant and café caters to the casino's elegant clientele. The resort also holds the hotel, conference rooms and meeting spaces, as well as a theatre that holds concerts, dinner shows, plays and musicals.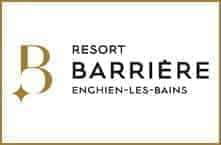 Casino Barrière d'Enghien-les-Bains
A mid-size casino in the outskirts of Paris, this decidedly more casual location still charges an entry fee for players looking to enjoy its collection of slots, roulette, blackjack, punto banco, baccarat and sic bo tables. Unfortunately though, it doesn't have any poker rooms, and the card table games open at 15.00. The resort also has a number of restaurants, bars, event spaces and a hotel that combine together to create a glamorous façade, also facing in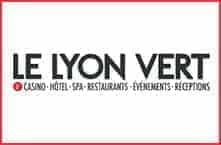 Casino Le Lyon Vert
As one of the 18 casinos in the Lyon region, the Casino Le Lyon Vert is also the third-largest in France in terms of revenue. It's found in the glorious Charbonnières Park and has been there since 1882, and has the largest selection of games out of any of the land-based casinos in France. You can choose from over 400 machines for poker and slots, and then there are also scores of roulette tables, blackjack, baccarat and more. Outside of the casino proper, the resort also includes the Michelin-starred restaurant, La Rotonde, and another option of La Cascade.
Famous French Gamblers
There are a fair few French people who have made names for themselves for their professional gambling careers, particularly in the poker circuit. The long history of gambling in France has also meant that a lot of famous names we wouldn't generally associate with gambling also are associated with the activity. Check out a few of the most famous French gamblers in the section below, which is merely a small collection of a hugely popular industry.
Fabrice Soulier
Fabrice Soulier made his name by playing in the World Series of Poker tournament, winning his first in 2011. That year, he took home $10,000 in the H.O.R.S.E Championship but was already a well-known name, having been deemed France's Number One Poker Player in 2001 and 2006. As of 2011, he had accumulated over five and a half million US dollars in poker tournament winnings, which included a 2013 runner-up placement in the European No Limit Hold'em Main event, and a first place in the 2014 No Limit High Roller event.
Bertrand Grospellier aka ElkY
Bertrand Grospellier has a varied career in professional gambling, though his career in live poker tournaments is certainly a highlight. He has participated in over 50 live tournaments, taking home a World Series of Poker bracelet in the 2011 Seven Card Stud Championship, also winning a Wold Poker Tour and a European Poker Tour competition in 2008. Alongside his poker career, he is also a distinguished Starcraft and Warcraft III player, under the pseudonym ElkY. Grospellier also set a Guinness World Record in the Most Online Poker Tables played in one hour, sitting at 62 Sint-n-Go tables for an hour.
Claude Monet
French impressionist painter, Claude Monet, was also a successful gambler. His game of choice was the French lottery, which he played regularly. Unlike most lottery players, though, he actually won a substantial prize of what would be around €15,000 at the time, which he used to quit his day job and focus on his painting.
France Player Questions
There are of course many things to understand about the complicated French gambling laws, particularly since there are some types that are encouraged and legal, meanwhile all online casinos are completely banned. We've collected many of the most common questions and answered them here for your ease of understanding.
What is the best online casino to play?
There is no best online casino in France as it is completely illegal to offer gambling games to players in France. There may be many websites that claim to be the top French operator; however these companies are acting against the law and should be avoided. If you happen to travel to a country where online casinos are legal, these casino criteria are a good starting point for choosing the right site.
Can you win money playing online slots?
A lucky player can win money playing online slots in countries where the activity is legal. However, the games are programmed with a set of rules to how they pay out winnings, which give the house the edge. Therefore, in the long run, you will lose money.
How do I make an online casino account?
There are usually three simple steps to creating an online casino account, including sharing your personal information, contact details and payment details. However, if you are based in France, you should not sign up for any online casinos as gambling online is illegal. Find out more about the legality of gambling in France here.
What kind of casino bonuses are available?
Some of the land-based casinos in France offer new players some additional chips for playing on roulette, though there are no constant deals that we have identified. Welcome bonuses are more common online, though in France there are no legal online casinos.
How do I withdraw money from an online casino?
To withdraw funds from an online casino account, you will need to sign in to your account and request a withdrawal to a confirmed payment method based on the operator's Withdrawal Policy. Make sure you have completed any bonus wagering conditions before attempting to do so. Remember that online casinos are illegal in France. So the only online bonuses you can enjoy in France are for sports betting sites.
Conclusion: The Best Online Casino Site for France
As I hope I have made it clear throughout this article, the act of playing and offering casino games online is illegal in France. You should steer clear of any websites that offer you a list of the best online casinos in France as they are breaking the law. If you would like to gamble online, you'd be better off sticking to betting on sports, and if you want to play casino games then you should visit one of the more than 200 land-based locations instead. It's easy to enjoy gambling responsibly by understanding the legal situation.