The Best Online Casinos in Turkey – The Top 2021 Casino Sites for Turkish Players
If this is your first time visiting our site, welcome! Here you'll find all the best, up-to-the-minute information and reviews on online casinos in your country. Our pages are always thoroughly researched and regularly updated, so you can count on receiving updates on local and national legislation as they happen. Unfortunately, all online casinos in Turkey are currently illegal. To skip to a specific section on gambling in Turkey, please click on any of the buttons below.
What You Will Find on This Page:
Best Turkish Online Casinos
Best Turkish Online Casinos
Why You Can't Play Online
On this page you'll find in-depth information about the history of gambling in Turkey, recent changes in the market and all the need-to-know facts about the current gambling laws. In addition to this, we'll walk you through our specific review criteria for choosing the best online casinos. It may not be of use to you right now, but should Turkish online casinos become legal in Turkey in the near future, it will serve as a handy guide on how to stay safe while playing online. For answers to common questions click this link and jump down the page.
Avoid Best Turkish Online Casinos Rankings
As mentioned above, gambling is unfortunately not legal in most cases in Turkey. Casinos have been banned since 1998, and non-state online gambling was banned in 2006. This means that you cannot legally play at any online casinos in Turkey. It is one of the strictest and most highly regulated markets in the world and the government is continuing to crack down on illegal gambling activities. You can learn more about the country's laws and regulations later in the page, where we will break down the market in detail.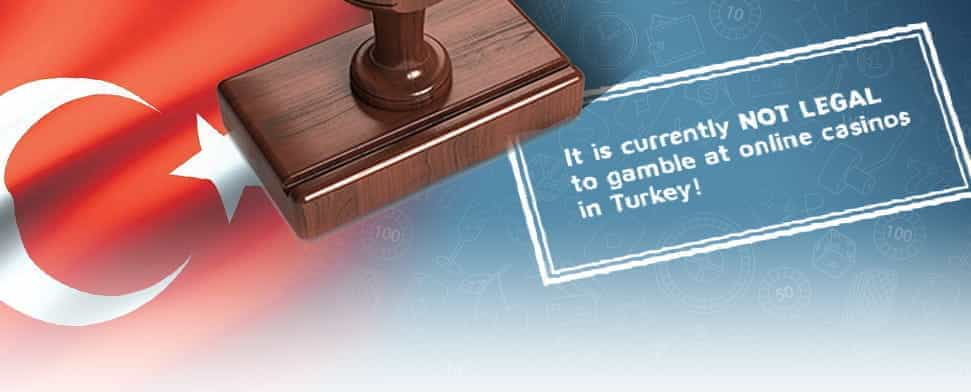 Is Gambling in Turkey Legal?
In most cases, gambling in Turkey is completely illegal. For a comprehensive summary, take a look at this legal overview of gambling in Turkey. All casino gambling, both online and offline, is strictly off-limits, meaning there aren't any land-based casinos, either (at least not legal ones). This means that even off-shore gambling sites are forbidden and cannot be accessed legally from Turkey. Despite this, many illegal operations are still present and the government is working hard to stamp them out. For example, in 2009 it was revealed that a quarter of Betsson's profits came from Turkey, despite online gaming being illegal. Today, there are harsh penalties in place for breaking these laws.
However, it's not all bad news. There are some legal forms of gambling in Turkey. For instance, a state lottery – the Milli Piyango – operates legally and is popular. Likewise, Turkish citizens can place bets online on sports games by using the state-run IDDAA, which is the only Turkish company legally permitted to facilitate betting. At present, these are the only ways you can gamble while staying on the right side of the law.
Criteria for Searching for a Quality Online Casino
Though gambling is currently outlawed in Turkey, that doesn't mean this will always be the case. Laws regulating online casinos are constantly changing and adapting to the demands of the market, so there could be legalization in Turkey sometime in the near future. If it does happen, it's important that you know how to find legitimate sites that are safe, secure and have your best interests in mind. Below are our criteria for choosing the best online casinos.

1. Is it safe & legal to play at the casino?
2. Are there enough quality games to keep you entertained?
3. Do the casino bonuses provide enough added value?
4. Is the casino software from a quality provider?
5. Is the platform optimized for mobile?
6. Are the best payment methods available?
7. Is the customer service there for you?
Your first priority when seeking out online casinos should always be security. This is the absolute most important thing to consider and should never be taken for granted. All of the operators we recommend on this site have been fully licensed by the appropriate national regulatory bodies. In addition to this, they all come with safety and encryption certification from the world's leading software security companies. To check whether a site is safe or not, simply scroll down to the very bottom of the page. This is where you'll typically find an overview of its licensing and encryption information, as well as links to problem gambling organizations.
Another important factor to be aware of is that each operator usually offers a welcome bonus for new players. These bonuses can vary wildly in terms of value, and they can be difficult to navigate sometimes for new players. For instance, though an offer may claim to reward players with a large amount of money, often you will have to wager a lot more than you'll receive in return. In cases like that, opting into the deal might not be worth your time. That's why it's important to be educated on how such deals operate before settling on an operator.
Today, most online casinos will have either a dedicated mobile app or a fully optimized site to allow for gaming on the go. This is definitely something to look out for when finding your chosen casino. A good mobile casino will offer a wide variety of games and be easy to navigate with a handheld device. It's also a clever idea to seek operators with the widest possible array of payment methods. The best operators will allow you to make payments with debit or credit cards, e-Wallets, pre-paid cards and more.
Online Casino Games
Another very important factor when considering where to play is the game selection. In this regard, you want to keep an eye out for both quality and quantity. The best online casinos will not only carry titles from the most successful and well-known game developers in the business, but also ones from independent up-and-comers. They should also provide a healthy mix of products from different studios, instead of relying too heavily on just one or two companies. Below are some of the games to look out for.
Slots
Baccarat
3 Card Poker
Roulette
Scratch Cards
Caribbean Stud Poker
Blackjack
Craps
Video Poker
Sic Bo
Keno
Casino Hold'em
Overview of Gambling in Turkey 2021
Despite the stringent laws currently in place, gambling in Turkey still enjoys a high level of popularity – both legally and illegally. As previously mentioned, the state lottery and state-run sports betting company IDDAA provide all the legal outlets for gambling in the nation. On the other end of the spectrum, many players still illegally access gambling sites and online casinos regularly. As of 2013, the Turkish government has been seeking to crack down on illegal online activities by prosecuting individual players instead of the operators themselves. They are the first country to do this.
Gambling in Turkey Overview

| | |
| --- | --- |
| Land Based Casinos | None |
| National Lottery | Milli Piyango |
| Sports Betting | IDDAA |
| Casinos Banned | 1996 |
| Online Casinos Banned | 2006 |
| Most Popular Game | Lottery |
History of Gambling in Turkey
Contrary to what you might think, gambling laws were not always so strict in Turkey. Betting on horse races was officially legalized in 1984, with casinos being legalized in 1990. The first restrictions on casino legislation were introduced in 1996, when opening hours were limited to 8 hours a day and it was decreed that all winnings had to be paid in cheque only. Then, in July 1996, so-called "casino king" Ömer Lütfü Topal was assassinated. Topal was a well-known businessman who, at the time of his death, had accumulated a fortune of about $1 billion through owning various gambling ventures.
In response to his assassination, and to crackdown on accusations of money-laundering within the nation's casinos, the government abruptly banned all casinos in 1996. However, this new legislation was hotly contended, and as a result did not take effect until February 1998. A ban on Turkish online casinos followed ten years later, in 2006.
Land-Based Turkish Casinos
As mentioned above, land-based casinos have been illegal in Turkey for over 20 years. As such, we currently don't have any Turkish gambling resorts or establishments to recommend to you. If you do happen to stumble across a casino in the country, be aware that it is operating illegally and that you should steer clear for your own safety. If the laws in Turkey change, you can expect to find an updated and thoroughly research list of the nation's best resorts here.
Famous Gamblers from Turkey
Due to the fact that gambling is so strictly regulated and prohibited in Turkey, there are no famous gamblers that we can mention. After all, to become famous as a gambler in Turkey would be to out oneself as a criminal. Should the laws change in the future, maybe the country will have some famous players of its own. For the time being, however, there's nothing to report. Check back to this page regularly for any updates or changes to this section.
Turkish Player Questions
We always do our very best to cover every conceivable point of interest on our pages. Now and then, we miss a piece of information that people really want to know. If there's anything you feel we didn't cover on this page, take a look at some of the most frequently asked questions by Turkish players below.
Is gambling legal in Turkey?
By and large, no, gambling is not legal in Turkey. Turkish citizens can legally play the national lottery or place sports bets via the government-run IDDAA portal, but all other forms of gambling are outlawed.
Will online casinos ever be legal in Turkey?
That remains to be seen. For now, it appears as though the government is becoming more strict on the topic of gambling, so legal online casinos might not appear for some time. If they ever do become legal, there will be some criteria a good online casino should fulfill. Be sure to check back here for further updates.
Can I go to a casino in Turkey?
The short answer is no. While land-based casinos might operate in Turkey, they would be doing so illegally. Therefore you should not visit them under any circumstances.
Can I only play the lottery in Turkey?
No, you can avail of the lottery, sports betting and some other games. The Milli Piyango website offers a selection of different lottery-type games that can be played online. These are the only legal forms of gambling, however.
Conclusion: The Best Online Casino Site for Turkey
We hope this page has educated you about the gambling laws of Turkey, and what forms of gambling are and are not permitted in the country. As mentioned throughout, laws of this nature are always subject to change. We pride ourselves on staying up to date on the latest developments, and updating our pages to reflect any changes. With this in mind, you can count on finding the latest information regarding gambling in Turkey by checking this page frequently.