The Best Online Casinos Poland Offers – The Top 2021 Sites for Polish Players
Here at online-casinos.com we aim to point people towards the best online casinos so that they have a safe and fun gaming experience. That's why we only ever recommend sites that operate legally in Poland. At this time, Poland's government has a monopoly over the industry and has made it illegal to play at online casino sites in Poland. If a site claims to be one of the best online casinos Poland has, you are not playing at trustworthy operator.
What You Will Find on This Page:
Best Online Casinos in Poland
Best Online Casinos in Poland
Why You Can't Play Online
This page will review the most important aspects of online casinos in Poland. I will discuss the legality of gambling in Poland, its history and more. Although online gambling is illegal, I've included some handy sections about the basics of online casinos, so that you are ready to find the perfect site if the country ever decides to legalize the activity.
Best Poland Casinos
Unfortunately, online gaming is not currently legal in Poland. Until, the activity is legalized, the best places at which to play are one of the handful of land-based casinos in Poland that are scattered throughout the country. If you visit some of our other country pages, you'll notice that our top casinos list often differs by region. This is because each country has its own set of laws, which dictate the characteristics of casino sites. Each operator will be different in each country.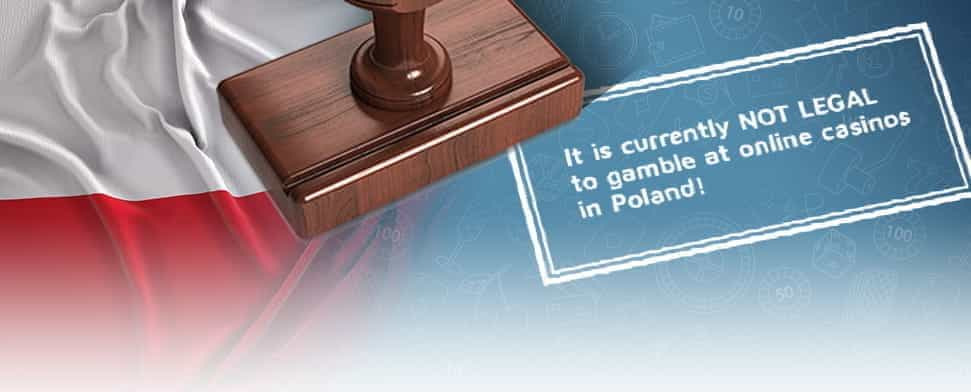 Is Gambling in Poland Legal?
Gambling is a legal activity in Poland, however it is limited to offline versions of casino games. Online gambling is limited to one state-owned lottery operator, Totalizator Sportowy. There were rumours that the Ministry of Finance would allow some online betting operators to add slots to their offering, but the government backpedalled on that thinking. The Polish government ruled that slots are "one of the most addictive forms of gambling" and that is why they panned the games.
Currently, gambling is overseen by the Ministry of Finance who is tasked with making sure people are informed about illegal sites. There are numerous untrustworthy operators that market their products to Polish players and even let users bet in złoty. However, these sites are operating illegally in Poland and don't offer any player protection.
If you find yourself playing at a site that accepts Polish players or a site claims to be one of the best online casinos Poland has, you should check to make sure it is operating legally. The best way to do this is to go to the Ministry of Finance's official list of blacklisted sites. The list includes some of the best casinos available online. Although they are regulated in markets like the UK, these site operators can't be accessed from within Poland.
How to Find a Quality Online Casino
Just because online casino gaming is currently outlawed, this may not always be the case. If the country decides to allow online casinos in Poland, you'll be happy to know how to find a top online casino site. Below is a simple guide for finding a quality and trustworthy operator. Head over to our general online casino page, for a comprehensive look at the topic of online casinos. If Poland decides to regulate casinos in a similar fashion to other legal markets, you'll want to look for the following:

1. Is casino gaming legal in Poland?
2. What types of games are available online?
3. Do the casino bonuses have reasonable wagering requirements?
4. Is the casino software from quality providers?
5. Is the platform optimised for mobile play?
6. Are popular payment methods available?
7. Is the customer service knowledgeable?
There are a few basic things that every site needs before it can be considered one of the best online casinos in Poland. First, it needs to operate legally. At this time, no operators meet this criterion. In legal markets, operators are often obligated to possess gambling licences to ensure that everything is up to standard. Licences cover everything from player safety to game fairness and security.
The best online casinos will typically offer some sort of welcome bonus, whether that is free spins or bonus funds. Typically, casino bonuses will come with some form of wagering requirements, which set a minimum amount that players need to spend before they can withdraw bonus funds. When accepting a bonus, read the offer's T&Cs so that you are certain wagering requirements are reasonable or not.
Almost all casino sites are completely mobile optimised, which means you'll be able to play all of your favourite live and digital casino games from your smartphone or tablet. In addition to games, good apps will also include all the same features (payment options, support channels etc.) that the desktop site offers. In terms of casino payments, top online casinos will accept payments from a handful of the world's most popular and safe banking platforms. Accepted methods typically include credit cards, bank transfers, and e-wallets like PayPal.
One of the clearest indicators of a quality operator is a great customer support team. Online gaming is pretty straightforward, but you may still encounter the occasional problem when playing. Perhaps your internet connection dies, or you have trouble understanding a game's rules. Whatever the issue, a knowledgeable support team will help to find solutions to any issues you encounter.
Online Casino Games
Casino games are typically what draws most players to a particular site over another. In legal markets, you'll find hundreds and sometimes over a thousand games available at online casinos. The typical games library will be made up of slots, table games (roulette, poker, blackjack) live games and a few others. Below is a list of the standard online casino games found at the world's best online casino sites.
Slots
Baccarat
3 Card Poker
Roulette
Scratch Cards
Caribbean Stud Poker
Blackjack
Craps
Video Poker
Sic Bo
Keno
Casino Hold'em
Overview of Gambling in Poland in 2021
Poland doesn't have the most liberal stance towards the gambling industry when compared to countries such as Germany and the UK. Nevertheless, gambling remains quite popular in the country. It is estimated that the Polish market generates over five billion PLN each year. However, 90% of the market's revenue is generated by unauthorised casino sites. When compared to other regions, Poland has fairly high taxes on gambling. There is currently a 12% tax on sports betting turnover, which seems to dissuade many companies from breaking into the market. There is no Polish gambling commission for now.
Gambling in Popular Overview

| | |
| --- | --- |
| Land-Based Casinos | Seven State-Run Casinos Poland |
| Online Gambling Revenue | 5 Billion PLN |
| Gambling Regulator | Ministry of Finance |
| Winnings Tax | 10% |
| Table Games | Blackjack, Roulete, Poker |
| Most Popular Game | Slots |
History of Gambling in Poland
Gambling has been around for decades in Poland. In the 80s and 90s, the country took a very Laissez-faire approach to regulating the industry. During this early period, the industry developed independently of regulation. Thousands of shops opened throughout Poland. Sports betting was by far the most popular gambling activity even though winnings were taxed 10%.
The first major regulation was 2009's Polish Act on Gaming, which was then amended in 2011. These laws made online gambling illegal except for sports betting. Today there are a few licensed sportsbooks that can operate legally, but they must be based in Poland to do so. Football gambling remains the most popular activity in the country.
Land-Based Poland Casinos
Unfortunately, due to the state's monopoly over the industry, there aren't really any famous land-based casinos in the country. Most of the country's seven land-based casinos are marketed to foreign visitors, as evident by their attachment to international hotel chains. If you wish to legally play casino games in Poland, you can visit Warsaw, Wroclaw, Lodz, Krakow, Katowice or Bielsko-Biala to play. At these land-based casinos you'll find your standard games, which include slots, blackjack, American roulette, and poker, among others.
Famous Polish Gamblers
Similar to other gambling markets that are modest in size, Poland has a smaller player pool. This has resulted in fewer prominent Polish gamblers. Nevertheless, there are a few poker players of note who stem from Poland. Poker's highly competitive nature has made it an exciting spectator sport. For this reason, successful players have developed loyal fanbases. Below are some recognisable Polish poker players.
Dzmitry Urbanowicz
By far the most well-known and successful Polish poker player is Dzmitry Urbanowicz. Although he was born in Belarus, his parents were Polish, and he spent a significant portion of his childhood in the country. He currently lives in Poland. Dzmitry sits atop the all-time money list for polish players. Throughout his career, he has earned over $5,000,000 in prize money. His most successful outing earned him $1,500,000.
Dominik Panka
Dominik comes from Brzesc Kujawski. His career started during the mid-2000s online poker boom, during which he played under the pseudonyms gardze_wami, odom_pl and odompi for various poker sites like Poker Stars, 888poker and Party Poker. Throughout his career, Dominik has earned over $3,000,000 with his biggest prize number over one million USD. His career earnings have given Panka the title of Poland's 2nd most successful gambler.
Polish Player Questions
Perhaps you're just looking for some quick answers. Below you will find the most common questions we've received from players from Poland. Before you contact us with any questions, you should look below to see if the question has already been answered.
Is there a way to gamble legally in Poland?
There are a few ways in which somebody can legally gamble in Poland. The country has legal sports betting and legal casinos. However these are limited to land-based establishments. All seven casinos in Poland are owned and operated by the state and are named Casinos Poland.
Are online casinos legal in Poland?
No; no form of online casino gaming is currently legal in Poland. Players can play the lotto online, but most of us don't technically consider it gambling. There were rumblings that the country would open itself to foreign casino brands, but quickly retreated from this line of thinking. Find out more by clicking here.
Is it possible to win money online by playing slots?
Yes, it is totally possible to win real money when playing slots online, as long as you are gambling legally. There are two requirements, however. First, you must be in a market with legal online gambling and second, you must first deposit real money funds. Only by wagering real money, can you expect to win real money.
Some sites are claim to accept Polish gamers. Is it possible to play at these sites?
Sites that accept players from Poland are not doing so with the expressed permission of the Polish government. Of course, it is difficult for the government to prevent people from accessing these sites. However, you should be warned that you are not protected from fraud, and you aren't playing at a legal site. If sites ever become legal in Poland, check out our guide to picking a safe and trustworthy casino.
What is a casino bonus?
There are many different types of casino bonuses, but the most common one is what is known as a welcome bonus. In legal markets, these are offered to new players who have yet to make their first casino payment. Welcome offers come either in the form of bonus cash, free spins or a package that includes both.
The Best Online Casino Site for Poland: TBD
Those who came to this page looking for the best online casinos Poland has to offer are sadly going to leave empty-handed. That is because the Polish state currently has a monopoly on the gambling industry. As a result, the only legal way to gamble is by visiting one of the state-operated land-based casinos or sports betting locations.
Online you will find loads of sites that claim to offer the top online casinos in Poland, but I assure you that these sites are purposely trying to mislead players who lack knowledge about the country's legal situation. Until Poland changes its stance towards foreign casino operators, we cannot recommend the best online casinos for Polish players.