The Best Hong Kong Online Casinos – The Top 2021 Casino Sites for Hong Kong Players
Currently, most forms of gambling are strictly illegal in Hong Kong. There are some exceptions, which we will cover in this page, but it is important to note that any site telling you that you can legally bet at overseas sites is untrustworthy. Almost all forms of casino gambling, whether online or land-based are outlawed for people in Hong Kong. Because of this, it is impossible to bring you details of the best online casinos in Hong Kong. Read on for a full overview of the situation.
What You Will Find on This Page:
Best Hong Kong Online Casinos
Best Hong Kong Online Casinos
Why You Can't Play Online
This page will cover the Hong Kong gambling laws, the history of betting in the region and interesting related facts and stories from the casino world. We will also give you some advice about how to find a good quality casino so that, when traveling, you may be able to tell the difference between good operators and those who wish to scam you. Lastly, we will answer all the frequently asked questions we receive about online casinos in Hong Kong.
Why You Can't Find the Best Hong Kong Online Casinos
As we have already said, there is only one way to gamble at a casino legally in the region. To do so, you must bet through the Hong Kong Jockey Club. You can do so via its online portal or in person. Other than through this organisation, the ban covers land-based establishments, online casinos based in the Chinese Special Administrative Region, and all foreign sites that are accessible for players located in HK. For more information on the laws, click here. Alternatively, feel free to jump ahead to read more about Hong Kong gambling. Should the online casino laws in ever change, you can return here to find our reviews of the top operators in the country.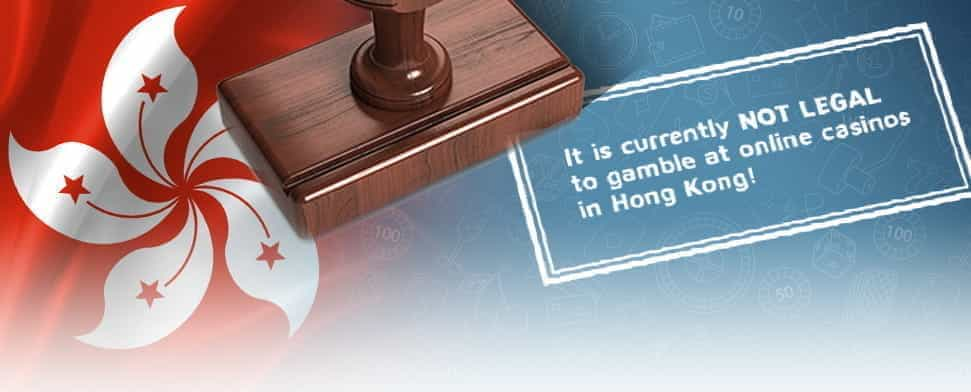 Is Gambling in Hong Kong Legal?
The simple answer here is no, although there is one exception. There is only one way to place a bet legally in Hong Kong. Since 1977, gambling has been restricted to certain authorized locations. These are run by the Hong Kong Jockey Club. The HKJC has a state-granted monopoly on all bets on horse races, football matches and lotteries in the region.
This state of things was brought about in the late seventies, when the region was still under British rule. The piece of legislation that regulated betting is known as the Gambling Ordinance. Although there have been some updates in the intervening years, on the whole the situation has remained the same ever since. You can read the details of the Gambling Ordinance here.
The situation is pretty simple, if a little unusual in comparison to other countries around the world. You can either visit one of the registered HKJC venues in order to place bets or go through the HKJC online portal in order to gamble. Social gambling is also legal, as long as neither the host nor any players make a profit. Those are your only legal options to gamble in Hong Kong. You can find out more information on the Hong Kong Jockey Club website.
As an alternative, many residents in the region visit Macau, which is another Special Administrative Region of China, previously owned by Portugal. Its history is, in many ways, similar to that of HK. The relevant difference here, however, is that you can gamble legally in casinos in Macau. Because of this, it is a very popular destination for people from Hong Kong or mainland China.
Criteria for Searching for a Quality Online Casino
Although you can't gamble at online casinos in HK, it is quite possible that you may wish to gamble while in foreign countries where it is legal. So, if you are traveling and find yourself in jurisdiction where you can legally gamble, use these tips to make sure that you end up on a good-quality and trustworthy site. You can also find lots more information on the online casino industry around the world by clicking the link.

1. Check that playing at online casinos is legal where you are.
2. Is your chosen site licensed and legitimate?
3. Are there lots of games from good quality providers?
4. Does the site have generous bonus offers for new players?
5. Are the games available on mobile devices?
6. Are the best payment methods accepted?
7. Is the customer service there to help you?
Of course, the first thing to check is what the gambling laws are like where you are. You can do this by checking to see if there is a regulator in the country. Many nations choose to strictly regulate the industry. If this is the case, you will then need to check that your chosen site holds all appropriate licences.
Next, you should consider whether or not the operator is offering any welcome bonuses that you may want to accept. It is important to think about how much money you wish to spend before signing up. This will enable you to look at the wagering conditions and time limit of the promotion with good perspective. Often, casino bonuses will ultimately pressure you into spending more than you would like in order to complete the playthrough requirements.
Although it's not an essential component, a good mobile casino should be a given for any quality modern site. If the operator does not make its products available for users on all devices, it may skimp on other aspects as well. So, even if you only ever intend to play from a desktop or laptop, good mobile optimisation should be seen as a must.
In line with this, it is important that an online casino accepts a number of different major payment methods. Gaining players' trust by allowing them to use their favourite payment services that they know are safe is a clear sign of a legitimate and responsible company. Having good customer service options also points to an operator that genuinely puts its users first.
Online Casino Games
If you are playing at online casino while you are outside Hong Kong, then you may find an excellent range of casino games to choose from. Unfortunately, your access to these in HK is pretty much zero, with the only option being through the HKJC. Below are some of the most popular online casino games around the world.
Slots
Baccarat
3 Card Poker
Roulette
Scratch Cards
Caribbean Stud Poker
Blackjack
Craps
Video Poker
Sic Bo
Keno
Casino Hold'em
Overview of Gambling in Hong Kong 2021
Although the HKJC has a monopoly on betting, the region generates the biggest horseracing betting turnover in the world each year. To put this into perspective, while the average takings per race in the United States of America amounted to $250,000 (HK$1.9 million) in 2009, HK bettors staked and average of $12.7 million (HK$99.6 million). This figure was six-times larger than the second largest average takings, recorded by the French.
This might seem surprising, but there are a couple of ways to look at the state of things that may help clarify this. Firstly, gambling is severely restricted all across China. The exceptions to this clampdown in Macau's casinos and the Hong Kong Jockey Club provide legal outlets for those Chinese citizens who wish to gamble. Many of these individuals are incredibly wealthy, so will often be placing large bets at a time.
The second thing to remember is that most countries allow for online betting. This means that a large percentage of punters wishing to place a flutter on their favourite horse will do so through one of the many online bookies on the market. This in turn reduces the takings at the racetracks. Indeed, it is arguable that this is one of the reasons why the monopoly in Hong Kong has continued: to protect the interests of the HKJC.
Gambling in Hong Kong Overview

| | |
| --- | --- |
| Gambling Ordinance | 1977, Cap. 148 |
| Hong Kong Jockey Club | Founded 1959; annual turnover HK$216.5 billion |
| Locations | Happy Valley Racecourse + 108 betting branches |
| Average Takings per Race | $14 million + (HK$109 million) |
| Famous Races | Hong Kong Cup, Hong Kong Mile, Hong Kong Vase, Hong Kong Sprint |
| Stanley Ho | Chairman and CEO of HJKC 1989 – 2010 |
History of Gambling in Hong Kong
As you might expect, the British occupation and rule of Hong Kong in the days of the Empire affected all aspects of life in the then colony. In the 1800s, horseracing had become immensely popular, which led to the setting up of the Happy Valley racecourse and the Hong Kong Jockey Club.
Aside from the colonial and therefore Western gambling traditions, Mahjong was legalised in the mid-20th century. However, in the intervening years, many of the schools that were set up for this game have closed. This is partially due to the changing culture in the city and the increase of its metropolitan multiculturalism.
There is also a long history of illegal gambling in Hong Kong. In advance of the 2010 FIFA World Cup, the local police force set up a dedicated task force, designed to curtail illegal football gambling. As part of this operation, 25 people were arrested and charged for their involvement in a gambling ring.
Land-Based Hong Kong Gambling
As most forms of gambling are illegal in Hong Kong, there aren't any famous casinos to tell you about. However, this doesn't mean that there aren't any famous gambling destinations or noted gamblers in the region at all. Any visit to the city would be incomplete with at least seeing a particular destination, tucked up in the hills of Hong Kong island.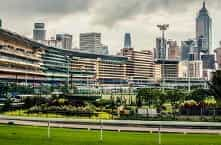 Happy Valley Racecourse
First built back in 1845 and now able to accommodate 55,000 spectators, the Happy Valley Racecourse is both the most famous gambling destination and most celebrated sporting facility in HK. It was built upon the only flat piece of land suitable for racing on Hong Kong island and since has sat in place as the city has expanded around it. Races usually take place on Wednesday evenings, and the four major races in the region are all held here annually.
Famous Hong Kong Gamblers
Due to the fact that casino gambling is illegal in HK, and has been for a long time, there aren't really any world-famous gamblers or poker players to have come out of the region. However, there are a couple of figures that have dominated the industry in Hong Kong and Macau. Stanley Ho and Yip Hon both built multi-million-dollar fortunes running gambling corporations and building huge casino and sports betting empires.
Hong Kong Player Questions
This page is designed to give you all the necessary information about gambling in Hong Kong. Below, we've answered more of the most frequently asked questions about the subject.
Can you gamble at foreign online casinos from Hong Kong?
It is illegal to gamble at online casinos in Hong Kong, no matter where that site is based. The only exception to this is through the Hong Kong Jockey Club online portal. Penalties for breaking the law can be severe.
What is the best sports betting site in Hong Kong?
As with casinos, there is only one option for sports betting in Hong Kong. The only way to make bets on football and horse racing is to do so through the HKJC. This can be done in any of its land-based outlets or through its online portal.
Can you win money playing online slots?
While you can win money playing slots online in general, the opportunity to do this in Hong Kong is very limited. You can access some slot games through the HK Jockey site. You can see all the games currently available in the country here.
Why are online casinos illegal?
It is always difficult to say why online casinos are illegal in any country or province. Protecting citizens from addiction and avoiding crime that is often considered to be a part of gambling are the usual arguments. In Hong Kong, the influence of the HKJC is also paramount, with its monopoly on betting possibly a big part of the picture and the nation's gambling history.
What online casinos accept PayPal?
Currently, there are no online casinos in Hong Kong that accept PayPal. This includes the Hong Kong Jockey Club online site. Any website telling you that you can gamble with PayPal from HK should not be trusted.
Conclusion: Online Casino Sites for Hong Kong
Hopefully, by this point in our guide to Hong Kong online casinos, it's pretty clear that the reason you can't find the best ones is because they are all illegal. If you come across a site telling you that you can gamble at overseas sites, then you can take our word for it that they are lying to you. As with mainland China, the penalties for breaking this law can be pretty severe.
Although there are currently no suggestions that the landscape will change, we keep our ears open for any news at all times. So, if gambling does become legal in Hong Kong, we will make sure to update this page immediately. Check back here if you hear any rumours and you can be sure that we will bring you all the correct and corroborated information.