The Best Israel Online Casinos – The Top 2021 Casino Sites for Israeli Players
Currently, online casino gaming is illegal in Israel. Although there are a handful of online operators that offer games to Israelis, these are operating against the wishes of the national government. Here at online-casinos.com we only recommend reputable Israel online casino sites. Due to the country's stance towards online gambling, we can't recommend any operators at this time. Any site claiming to have the best online casinos in Israel, is simply trying to mislead its users.
What You Will Find on This Page:
Best Israeli Online Casinos
Best Israeli Online Casinos
Why You Can't Play Online
On this site, you'll only find casino operators that operate legally. The country has officially banned gambling. Although the 1977 law doesn't officially mention online gambling, it is widely accepted that the law also applies to online gaming. Although these sites are accessible to Israelis, the state has tried to block access. We recommend avoiding any sites that advertise their products to players in the region. Because there is no licencing agency in Israel, players cannot be guaranteed that they will have a safe and secure gaming experience.
Best Israel Online Casinos Ranked
To reiterate, online gambling in any form is not legal in Israel. There are dozens of sites marketed towards Israeli players, but all of these are operating illegally, and the state is currently looking for ways to make them accessible. Thus, we can not recommend any top online casinos for Israel. To learn more info about the state of gambling in the country, read the following sections that provide a sort of overview of Israel's situation.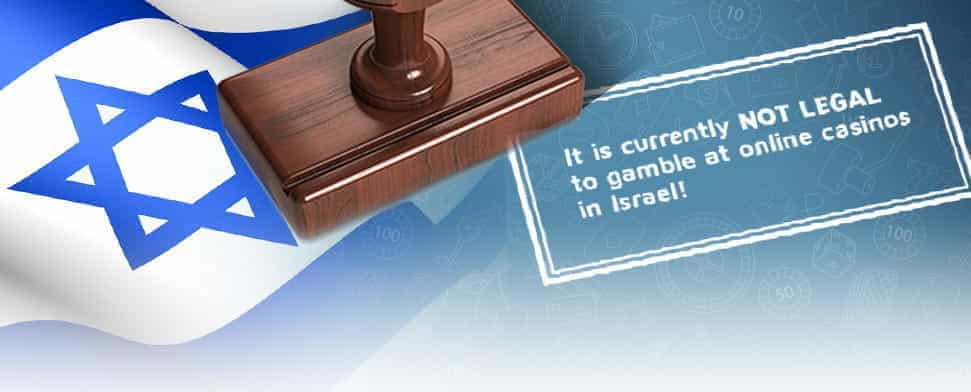 Is Gambling in the Country legal?
There are currently only two forms of legal gambling in Israel, none of which can be played online. These are the lottery and sports betting, which are both controlled by the state government. All other forms of gambling are banned according the Israeli Penal Law 5737 which has existed since 1977. And, as a result, you won't find any land-based casinos in Israel. Due to the time of its creation, the law didn't mention online betting. However, in 2005 the government decided to close all online operators that were based in Israel making its interpretation of the law pretty clear. Here is a quick summary of the gambling laws in Israel.
There is no licensing body for on or offshore casino operators in Israel. There are many offshore sites that can be accessed by Israelis, but these are technically not Israel online casinos. If you choose to play at one of these sites, you are doing so at your own risk. Not only is the government clear about the illegality of the activity, but you will also have no player protection should you play at an offshore site. As a result, there will be no way to lobby a complaint should you have trouble withdrawing funds.
Criteria for Searching for a Quality Online Casino
Just because online casinos are banned in Israel, doesn't mean this will always be the case. Outlawing online gambling has proven to be an ineffective solution for preventing citizens from players. All it has led to is a thriving underground market, in which none of the profit goes to Israel. Should the country follow trends of other nations, it is likely that Israel will try to legally regulate the activity. Should this happen, you can refer to the following 'how to find a good Israel online casino guide.' Additionally, in the future we will provide specific Israeli operator reviews for your country.

1. Is online casino gambling legal in your country?
2. Does the casino have a licence to operate legally in your country?
3. Does the site carry safe and fair games?
4. Does the software come from trustworthy providers?
5. Does the site offer a welcome player bonus?
6. Are popular payment methods available?
7. Is the customer service there for you?
It may go without saying, but there is no possible way to game safely if gambling is not legal in your country. It doesn't matter how trustworthy a casino appears, if you are gaming illegally, one may face severe punishments coming in the form of jail time or fines. In legal markets, players should look for some form of licencing. A licence guarantees that operators are 'playing by the rules' when it comes to the fairness of its games and the protection of players sensitive data. Sites that don't have licences usually don't meet the minimum criteria to be considered a trustworthy casino.
Another sign that you are playing at one of the best casinos is that it carries popular games from the industry's top software developers. Companies like Microgaming and NetEnt have their games audited to ensure that they are not scamming players. Check out our page on the best casino software providers to learn more about the top casino games.
Most of the world's best online casinos offer welcome bonuses to new players. These are a great way to familiarise yourself with a new game, however most offers come with a long list of conditions, which must be met before withdrawing bonus money. If you are at a site that offers a bonus, you're most likely gaming outside Israel. If this is the case, I'd recommend not accepting the offer. Welcome promotions are typically only available to full-time residents of a certain location.
Gambling isn't just about entertainment. When playing online for real money, you are going to need to make payments. Reputable online casinos will accept payments from the secure services like Visa, Mastercard, PayPal and more. Should you run into any issues when playing, you'll need to contact an operator's customer support. That is why it is essential to choose a casino that has a responsive and knowledgeable support team, so that your problems get solved as quickly and easily as possible.
Online Casino Games
If online casinos excelled at anything, it would probable be in the realm of game variety. The best online casinos will carry hundreds and sometimes over a thousand unique slots and table games. Games like Baccarat, Blackjack and Roulette are also available in live-dealer formats. Live games drop you straight onto the game room floor of some of the world's premier land-based casinos. Look below at some of the games available online in regions that have legalized online casino gambling.
Slots
Baccarat
3 Card Poker
Roulette
Scratch Cards
Caribbean Stud Poker
Blackjack
Craps
Video Poker
Sic Bo
Keno
Casino Hold'em
Overview of Gambling in Israel for 2021
Israel is a fairly young nation when talking from a legal perspective. It wasn't long after achieving statehood that the country banned all forms of gambling. As a result, there aren't really any figures with regards to the activity. It is known that betting is popular amongst some players, otherwise you would read stories about illegal gambling dens being busted or you wouldn't find sites that offer games in shekels. Nevertheless, there are no legal ways in which to play at this time.
Gambling in Overview

| | |
| --- | --- |
| Land Based Casinos | No Legal Casinos |
| Average Spend on Gambling | Statistics Don't Exist |
| Gambling Regulator | Currently Unregulated |
| Gambling Banned Since | 1977 |
| Closest Legal Market | Egypt |
| Israel's Population | 8.7 Million |
History of Gambling
Because gambling is not legal inside Israel, there isn't really an official history of gaming in the country. Of course, betting is one of the oldest human activities, and there is an informal history of wagering in the region. However, this wouldn't discuss gambling as we know it today, specifically sports betting and casino games. The most popular way for Israelis to gamble is to go to a neighbouring country with legalized gaming.
Land-Based Israel Casinos
There are a few places that come to mind when people think of world-famous casinos. Places like Las Vegas, London, Malta and Macau are home to renowned gambling halls that attract patrons from all over the world. Casino gambling is not legal in Israel. As a result, there are no famous land-based casinos or casino resorts in Israel. Israeli gamers often go to places like Egypt to get a little taste of the casino high life.
Famous Israeli Gamblers
Although gambling isn't legal in the country, there are a few poker players have made a name for themselves on the international poker scene. The most successful Israeli born poker player is Amir Lehavot, who tops Israel's all time money list with a strong five and a half million dollars. Throughout his career Lehavot has reached a cash prize in over 20 World Series of Poker Events and has even earned himself a WSOP bracelet. The poker player currently resides in Miami, Florida.
Frequently Player Questions
With this page, I've tried to address all of the key topics that players should know about when looking for a top online casino, at which to play. However, not all questions can be answered, otherwise we'd have a page too long for anyone to read. Below we have compiled a list of the most common questions we receive from Israeli players, or those who are travelling to the country.
What are the best online casinos Israel has?
Casino gambling is illegal in Israel, and this extends to the online sphere. As a result, there are no top online casinos Israel can offer. There are a few sites that market their products to players in the region, however, we can assure you that these sites are doing so illegally, and without the permission of the Israeli government. If you're a country where online casino gaming is allowed, I'd encourage you to come back and review my criteria for choosing a good online casino.
What is an online casino bonus?
A casino bonus is a promotional tool used to attract new players to a particular site. A typical bonus comes in the form of either bonus cash, or free spins. However, these usually come with strings attached. Typically, promotional offers will come with wagering requirements, which require that a player spend a certain amount of cash before withdrawing winnings.
How do I know if an online casino in Israel is safe?
The mark of a safe casino is its possession of a valid gambling licence. To obtain these, operators are held up to a standard of accountability. However, there are no 100% safe online sites in Israel due to the fact that there currently isn't an online gambling regulator in the country.
What casino game has the best odds?
As a general rule, table games usually have the best odds of all casino games. This is due to the rules of the tables and because players can affect the outcome of these bets somewhat. In the end though, they are still luck-based. The best RTPs can be found in blackjack and roulette games.
Can you win money by playing online slots?
Yes, you can win real money by online casino games, just not in Israel. In countries with legal online gambling, licensed online casinos will award real money for any winnings earned when wagering real money funds. Slots are the most popular online casino games around the world.
Conclusion: The Best Online Casino Site for Israel
Hopefully by now it has become abundantly clear that online gambling is illegal in Israel. There are ways for Israelis to access offshore casino sites, but we at online-casinos.com can't stress enough that players should avoid these sites. Although they may not be scams, there is no way to guarantee you will get paid if they do in fact try to scam you. If you want to gamble online, the only way to do it legally is on holiday to a country that has legalized the activity.