The Best Australian Online Casinos – The Top 2021 Casino Sites for Australian Players
At this time, online casinos in Australia are illegal. Websites claiming to be the best online casinos Australia has to offer are false as offering any type of casino games to people residing within Australia is completely illegal. If you are in the country, you will not be able to legally access any forms of casino gambling online and should steer clear of any dodgy websites – no matter how legit they look – as they are operating against the law.
What You Will Find on This Page:
Why You Can't Find the Best Australian Online Casinos
Best Australian Online Casinos
Why You Can't Play Online
On this page, you will find a clear explanation of the laws surrounding all online gambling activities in Australia, including both the completely illegal online casinos in Australia and the legal sports betting options. As there are a lot of rogue operations out there claiming to be the best Australian casino sites, we have put together this page to provide the proof that these websites are acting against the law, and therefore could be out to simply steal your money or personal details.
Avoid Any Best Australian Online Casinos Ranked Lists
As online casinos are banned in Australia, any websites claiming to offer a ranked list of the best online casinos for Australian players are disregarding the law. The blatant disregard for the nearly-20-year-old law is only serving to confuse ambitious enthusiasts who are looking to expand their gambling activities. Part of this confusion could be explained due to the fact that online sports betting is legal, and there are a couple of land-based casinos sprinkled throughout the country. In this page, you'll find clear descriptions of how to stay on the right of the law and safe from crooks.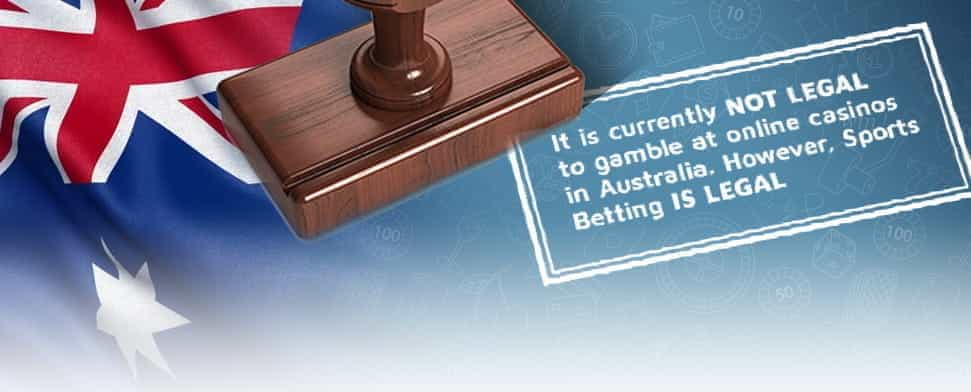 Casino Safety and Licensing for Australia
The one form of online gambling that Australians can legally participate in is sports betting. The licensing laws for the bookies differ from state to state, so it will depend on where you live as to which online bookies you can use. Always double check that the operator holds a licence for South Australia or the Northern Territory, for example, before attempting to place any bets, even with reputable providers. Here are some of the leading sports betting operators in the country attached with complete reviews.
Australia's TOP 3 Sports Betting Sites

| Best AU Casinos | Bonus | Bonus Validity | Rating | Secure Link | T&Cs |
| --- | --- | --- | --- | --- | --- |
| William Hill | No Bonus | Multi-bet options | | Play Here! | Full T&Cs apply. New customers only. Opt in required. 1x per customer. Max 50 free spins with 20x wagering. Stake £10 stake & get 100 free spins on completion with 20x wagering. Selected slots only. Free spins expire 24 hours after issue. Eligibility rules, game, location, payment method and currency restrictions and terms and conditions apply. |
| Betfair | No Bonus | Great Odds | | Play Here! | Full T&Cs apply. Minimum deposit of £10, x45 wagering, Roulette and blackjack 50% weighting. Bonus Valid for 7 days. Not available to customers using Moneybookers/Skrill or Neteller as a payment method. |
| Ladbrokes | No Bonus | Lots of Lifestyle bets | | Play Here! | Full T&Cs apply. 18+. New Casino players only. Deposit required. Bet £10+ on qualifying games. 40x wager reqs (bonus only) on selected games. Accept Bonus within 14 days. Bonus valid for 30 days. Certain deposit types excluded. Player restrictions and T&Cs apply. |
Is Gambling in Australia legal?
Australia has very clear-cut gambling laws that allow some forms of online wagering, such as sports betting, while others like casino games and lottery are only available in land-based outlets. You can walk into one of many TAB outlets in any state, for example, and put a bet on the horses or the next AFL or NRL game. You can also place these bets online, and often the bookies are the same brand both online and offline.
In terms of in person gambling, most state capitals operate with a few options of gambling houses, such as the Crown Casino in Melbourne and Perth, and the Star Casino in Adelaide, Sydney and Canberra, Mindil Beach Casino in Darwin, and the Treasury casino and Hotel in Brisbane. I've added a brief review of the main ones further down the page. There are no online casinos Australia players can access legally, so you'll have to make do with these fancy establishments for the likes of table games like blackjack, roulette or baccarat.
However, if you're looking for the pokies, you can poke your head into basically any pub, club, RSL or bistro and find a collection of machines. These are some of the most popular games for Aussies, raking in billions in revenue every year. Each different state has different gambling authorities, so always be sure to check for a local licence before you partake in any sports. To see an example of what rights and obligations tend to be prescribed, you can skim through Queensland's casino gaming rules, updated in 2018.
Criteria for Searching for a Quality Online Casino
If you find yourself outside of Australia and wish to partake in some legal forms of online casino gaming, there are a number of things you can look out for. Just because you can't participate in the sites while you're at home doesn't mean you can't have a go when you're on holiday. There are different rules for each country, of course, so we've created a checklist of things to look at when you're on the lookout.

1. Does the casino meet local licensing requirements?
2. Does the casino have lots of different games?
3. Are the welcome bonuses as good as they appear?
4. Which software firms provide te games?
5. Can you play on a smartphone or tablet device?
6. How easy are payments to make?
7. What customer support is available?
First and foremost is making sure that you are able to legally play at a licenced online operator that meets the local jurisdiction's regulations. The rules for all countries are different and can be rather difficult to understand in many cases, so to get an overview of good options I'd suggest reading our guide to the best online casinos worldwide. This will give you further resources to check the legality.
Then, once you're sure you'll be acting within the law, you can also use our suggestions for the top operators based on the criteria that you see above. These online casinos all have hefty portfolios of different casino games including blackjack, poker, roulette and blackjack, and of course, heaps of pokies – which are usually known online as slots. There are thousands of high-quality options and heaps that you can have a crack at for free, depending on the website. Check out a few before you splash the cash.
You'll also probably want to make sure that the website is going to work on your phone, so you can play the games on the aeroplane Wi-Fi or wherever you want. Most of the well-known websites will do this no worries, but worth checking. There's always going to be a few processes to take care of too, like signing up for an account and making payments. Make sure that the casino will accept Australian dollars, and that it's not going to charge you exorbitant currency exchange fees.
Of course, you're always best of checking if there's going to be people available to help you from the casino's point of view if you have any problems. Double check the customer support is available in English, for example, which may not be a given depending on where you're going. The better options out there will do so and have lots of options for you to choose from like phone lines, live chats and emails.
Online Casino Games
Though I've mentioned a few different types of online games above, that's really the tip of the iceberg. There are stacks of different games you can play at legal online casinos outside of Australia, as of course, there are no legal operators in Australia. Here's a quick overview of some of the most common categories. What's most interesting, though, is that there are heaps of variations on each of these games thanks to the ingenuity of the world's best casino software providers.
Slots
Baccarat
3 Card Poker
Roulette
Scratch Cards
Caribbean Stud Poker
Blackjack
Craps
Video Poker
Sic Bo
Keno
Casino Hold'em
Overview of Gambling in Australia 2021
Gambling is incredibly popular in Australia, with recent statistics showing that more than 81% of adults in the country like to partake in some form of wagering. Although there are no legal online casinos in the country, casinos still rake in the majority of the revenue across all types, around $17 billion in 2018. Of that amount, $12 billion are coming in through the pokies, a massive plight on the countryside with the machines more common than ATMs. Aussies are also betting the most money per person per year out of any country in the world, at over a grand each.
Gambling in Australia Overview

| | |
| --- | --- |
| Land Based Casinos | 20 major resorts, hundreds of small houses |
| Average Spend on Gambling | $1,200 per person per year |
| Gambling Regulator | State-based |
| Number of Poker Machines | 196,177 as of June 2017 |
| Gambling Winning Tax | 0% |
| Online Gambling Law | The Interactive Gambling Act 2001 |
History of Gambling in Australia
Betting has long been popular in Australia, with the already prevalent games coming over with the English settlers. Possibly the most interesting tidbit about the Australian gambling history is about Two-Up. Essentially a game of coin toss that involves flipping two coins from a 'spinner' paddle and betting on the outcome. Currently, Two-Up is only legal to play on Anzac Day, and you can usually find games being held in local RSLs to honour the Diggers.
Sports betting has also continually grown in popularity since the country's first official horse race was held in 1810. Though betting on the races is still one of the most favoured – with both Melbourne and Canberra getting public holidays just to do so – now the popular betting options also include the footy and rugby, as well as betting on outcomes of reality TV shows and even the federal elections.
Land-Based Australian Casinos
There are 20 major land-based casinos in Australia, which doesn't sound like a lot in the grand scheme of things, but they're bolstered by hundreds of smaller establishments and the nearly 200,000 pokies that are everywhere. The biggest players are all parts of massive corporate resorts, usually only one per capital city and including more than just tables and pokies.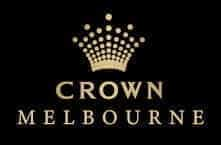 Melbourne Crown Casino
Taking up an entire city block and therefore given its own postcode in the south of Melbourne, just across the Yarra river from the CBD, is the Crown Casino. The entire complex covers 510,000m2 of land and includes three hotels, a dozen bars, three nightclubs, a pub, a full Village Cinema, a stack of restaurants including from Hesten Blumenthal, as well as enormous ballrooms, event halls, an entire luxury shopping centre including shops like Louis Vuitton, Prada and Harrods. The maze-like complex covers five stories and boasts balconies with fantastic views over the Yarra and the fire-column clock along Southbank, which blasts plumes of flame on the hour after dark.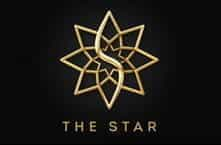 Star Casino Sydney
In the heart of Sydney's Darling Harbour is the Star Casino. The enormous complex offers phenomenal views over the harbour, offering a collection of bars, restaurants, nightclubs, luxury retailers, plus a high-class hotel, gym and swimming pool. Its main casino is split over two floors and hosts several thousand tables, including blackjack, roulette wheels and pokies, but a highlight are the high-roller rooms. The Vermillion Room and the Sovereign Room provide the VIP experience by invitation only. Poker rooms are also prevalent, with the Star hosting weekly tournaments as well as the World Series of Poker contest.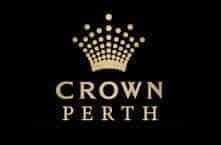 Crown Casino Perth
Another Crown Casino stands proudly on the Swan River in Perth, bringing the west its biggest gambling house. It holds not only the 220 playing tables and 2,000 pokies, but also is a massive resort with three hotels, convention rooms, ballrooms, 32 restaurants and bars and a theatre. It's the only place in Perth that is allowed to have pokies, which are clearly a massive drawcard for Aussies. There are 12 poker rooms and a private baccarat room for high rollers.
Famous Australian Gamblers
Due to the popularity and accessibility of casinos, there are a number of Aussie punters that have been able to make names for themselves with huge wins or careers in gambling. Many are merely the country's richest names with the cash to back-up their millions of dollars in wins and losses, and others have built professions from wagering on horse races or card counting in casinos. The next section will describe a number of Australia's most famous gamblers.
Kerry Packer
The late Kerry Packer was born into a life of casinos, and the cash that comes with the billion-dollar industry. Inheriting over $100 million in assets from his father in the 1970s, these assets included casino investments, which until recently have kept the Packer family flush. Highlights of Packer's gambling career including losing $28 million in one month during the 1990s, then winning $33 million in a single week. A run of good luck at a baccarat table saw him win 20 hands in a row – with each hand worth $115,000.
Zeljko Ranogajec
Zeljko Ranogajec built himself a career in the gambling industry by starting out as a croupier at the Wrest Point Casino in Tasmania. During this time, he learnt to card count and then took his new skills to the main stage to kick off a successful life as a gambler. On top of his blackjack pursuits, which have seen him banned from most big casinos in Australia, Ranogajec is also a prolific horse racing enthusiast, and also once took home $7.5 million from a Keno jackpot.
Lloyd Williams
Lloyd Williams is the founder of the Crown Casino in Melbourne, which he sold to his close friend Kerry Packer in 1999. The businessman also owns a number of racehorses, many of which have won the Melbourne Cup. His horses, Just a Dash, What a Nuisance, Efficient and Green Moon won the cup in 1981, 1985, 2007 and 2012 respectively, which are the main part of his gambling life.
Australian Player Questions
Hopefully this article has been able to very clearly pass on the information that there are no legal online casinos in Australia, though many readers still have unanswered questions about the industry. We've gathered the most common ones here to give you some more facts.
Which is the best online casino in Australia?
There are not any legal online casinos in Australia, so any website claiming to be so is acting against the Australian gambling law. Avoid any site claiming to be the best Australian online casino as it is blatantly acting illegally and is potentially a scam.
Is it safe to play at an online casino?
No, there are no safe ways to gamble at online casinos in Australia. Though it is not illegal to play at an online casino from Australia, it is illegal for any website to offer you casino games, so any page doing so could be shut down at any moment, taking your deposited funds with it. We recommend you stick to the legal land-based casinos across the country.
Can I play at an online casino in Australia?
You may be able to access online casinos in Australia, and it is legal for you to play at them. However, it is illegal for any person or company to host online casino games of any kind for Australians, so they are breaking the law and likely to steal your money.
Can you win money playing online slots?
The concept of online slots and the way they are programmed using Random Number Generators (RNG) means that they are guaranteed to pay out in a fair way, but the house edge means that over time, you are guaranteed to lose.
Can I play blackjack online for real money?
You cannot play blackjack, or any other casino games, online in Australia with real money stakes, as offering the games is illegal under the Australian law. If you wish to play these games, you must go to a land-based casino.
Conclusion: Avoid Even the Best Online Casino Site for Australia
As offering casino games to Australians, either from on- or off-shore websites is completely illegal, there are no best online casinos for Australian players. As with many other illegal activities, many companies have decided that it is still worth it to break the law in order to make money from people, so you will certainly find online casinos in Australia. However, we recommend that you avoid these sites as there is no guarantee that your money, winnings or wagers will be honoured. If you're looking for a gambling alternative, sports betting is legal and regulated by the government.