The Best Singapore Online Casinos – The Top 2021 Casino Sites for Singaporean Players
The first thing to make clear in this guide to gambling in Singapore is that there are no legal online casinos Singapore-based players can access. We will get into details as we go through the page, but you should be extremely wary of any site promising that you can play blackjack and roulette online, or saying that you can legally play at overseas online casinos. This is simply not the case. Read on for full details of the legal situation.
What You Will Find on This Page:
Best Singapore Online Casinos
Best Singapore Online Casinos
Why You Can't Play Online
As well as covering the full legal situation regarding gambling in Singapore, this page will take you through the history of betting in the country as well as give you some background information about all aspects of the industry in the island nation. One thing to say before we continue is that you will not find any casinos listed on this page as we only list licensed and legal casinos for any country we cover. Unfortunately, with Singapore, this means we cannot list any operators.
Online Casino Gambling in Singapore Is Illegal
We really cannot make this clear enough: you cannot legally gamble at an online casino while in Singapore. This is true for visitors as well as for nationals. The penalties for breaking the law, either as an operator or as a private individual simply placing a bet can be very severe. We will go into more detail about the specific laws shortly, but it is important to take this on board, as there are many sites out there that will scam you and will have review pages of the best online casinos in Singapore.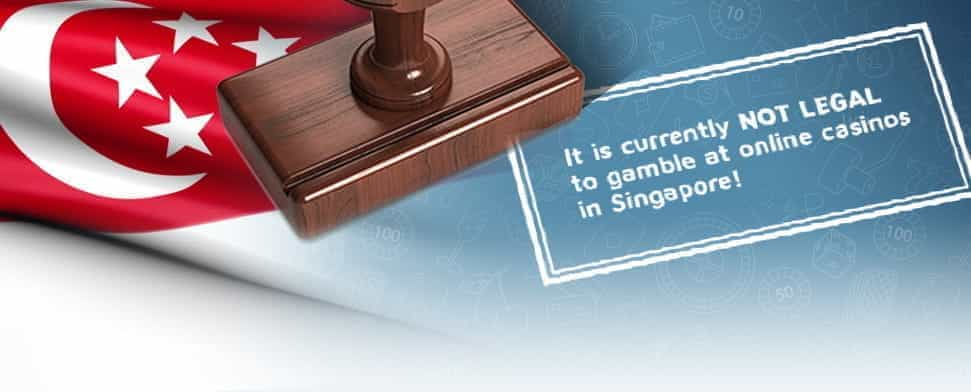 Is Gambling in Singapore Legal?
Almost all forms of gambling are outlawed in Singapore. There is an outright ban on all casino games, with the exception of a very few land-based establishments. We will cover these casinos further down the page. The ban also covers overseas sites that may technically be accessible within the Singapore borders, whether they are online casinos or sports betting sites.
There are only two ways that you can legally gamble in Singapore. The first is through a government website. Since 2014, only the Singapore Pool and Singapore Turf Club (which have since merged to form one organisation) are allowed to offer online gambling. Through this service, citizens and visitors to Singapore can bet on sports, horse racing and play the lottery. Check out more in this section. All other forms of gambling, like blackjack and roulette are not permitted under any circumstances online.
The current situation is the product of the 2014 Remote Gambling Act. While sweeping and very effective in its measures, this act did not drastically change the reality of the situation as previous laws effectively forbad all forms of online gambling. You can read more about the history of gambling in Singapore down the page.
Playing at An Online Casino When You Are Outside of Singapore
Although you can't currently play any casino games in Singapore, it is quite possible that you may find yourself outside of the country, somewhere that you can access casinos legally. If this is the case, it is important to know what to look for in a site, so that you can have the best online gambling experience. Use the tips below to pick your site when playing in a legal jurisdiction. You can also find out more information about the world's best online casinos by clicking the link.

1. Is it safe and legal to access the casino site?
2. Does the casino have a good and diverse range of games?
3. Are there generous welcome and loyalty bonuses?
4. Do the products come from top-quality developers?
5. Can you play at the casino on mobile and tablet?
6. Does the casino accept major payment methods?
7. Is there an experienced customer support team?
Before you start gambling online, you will need to find a site at which to play. The first thing to do is to familiarise yourself with the laws in the country. If gambling is legal and regulated, then remember to check whether any site that you choose has valid and correct licences, allowing it to market its services to you.
Once you have verified that it is safe to play, next you have to consider what you are hoping to get from the site. If you know that you want to play slot games, then choose one of the many sites out there that carries hundreds of the most popular slot titles from the world's most experienced and skilled software developers.
Alongside this, have a think about how much money you realistically want to spend at the casino, and how often you would like to play. This will help you to pick an operator with an appropriate bonus offer for you. Oftentimes, players are drawn in by the promise of large sums of cash, only to find that they need to spend more than they are comfortable with in order to complete the promotion.
Next, you may want to make sure that the site is fully optimised for mobile play. If it is, you can enjoy your favourite games while on the go. However, not all sites make that many games available for the smaller screens, so you may well find your options limited if you don't do your research first.
All good online casinos accept major and trusted payment methods. Remember that casino sites are not small operations, and that seeing only unfamiliar and dodgy-looking payment options is a strong indicator that the operator is not a legitimate and serious company.
Although, hopefully nothing will go wrong when you are playing online, but it is always good to know that there are multiple ways to get in touch with customer support if you need help. Live chat is pretty common at sites now and tends to be the easiest and quickest way to get in touch and get small issues sorted out in a flash.
Online Casino Games Around the World
You will find that most online casinos around the world tend to stock the same types of games. This is because there are some classics that are popular with nearly all players. Although you can't currently play any of these products online while in Singapore, the table below will give you an idea of what you can access in other countries.
Slots
Baccarat
3 Card Poker
Roulette
Scratch Cards
Caribbean Stud Poker
Blackjack
Craps
Video Poker
Sic Bo
Keno
Casino Hold'em
Overview of Gambling in Singapore 2021
As was mentioned above, there are only a couple of ways to gamble in Singapore. However restricted, betting is very popular in the country. The best thing to do if you are wanting to place sports bets is to visit the official site of the Singapore Turf Club for details. Playing on 4D and Toto is most easily done in person at one of the many retailers located across the city.
The country has the second highest average annual gambling loss per person, after Australia, at S$1,189. Although the reported number of problem gamblers in Singapore is fairly small – the official figure is around 1% of the population — there is genuine concern.
The National Council on Problem Gambling has launched a number of campaigns over the years in order to combat problem gambling. The most famous of which even gained the attention of John Oliver in a segment of his show Last Week Tonight.
Gambling in Singapore Overview

| | |
| --- | --- |
| Land Based Casinos | The Marina Bay Sands, Resorts World Sentosa |
| Annual Spend on Gambling | S$9.5 billion ($7.2 billion) |
| Gambling Regulator | Casino Regulatory Authority of Singapore |
| Gambling Participation Rate | 52% of 18+ Population |
| Most Popular Gambling Games | 4D, Toto |
| Average Annual Individual Loss | S$1,189 ($863) |
History of Gambling in Singapore
Singapore gambling history is long and storied, with various different chapters. However, in terms of its influence on the modern situation, the most important moment came when the British rulers of the region outlawed cockfighting and gambling dens in the early 19th century. There was limited success from this measure and licences for operators were issued first in 1820.
Ever since then, gambling has been restricted and controlled by the different governments in control of the city. The other moment that had most impact on the industry came in 2014. The Remote Gambling Act formally outlawed all online casino gambling in the country. This precludes anyone from placing a casino bet online, even on foreign sites. This law did not change the reality, as other laws prohibited such actions already, but it made the law much clearer.
Land-Based Singapore Casinos
If you are looking for the best casinos in Singapore, things are nice and easy. There are a couple of great resorts that offer casino gambling both to residents and to visitors. The next couple of sections will take you through these destinations so that you know what to expect if you head along. Be aware that if you are a Singaporean citizen, you will need to pay S$150 to enter either establishment or pay an annual fee of S$3,000 for unlimited visits.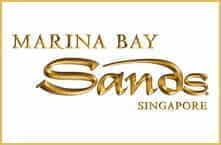 Marina Bay Sands
Located on Bayfront Avenue, right next to the Gardens by the Bay, The Marina Bay Sands is one of the premier hotels in Singapore. It is also home to one of the two legal casinos in the country. It is owned by the Las Vegas Sands corporation and was billed as the world's most expensive standalone casino when it opened in 2010. The building itself is world-famous, featuring a massive cantilevered platform on top of three towers. This platform roof has bars, gardens and infinity pools. The Singapore casino itself houses 1,000 tables and over 1,400 different slot machines.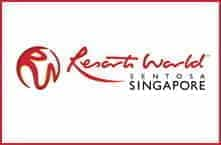 Resorts World Sentosa
Like the Marina Bay Sands, the Resorts World Sentosa was one of the most expensive buildings ever constructed. The complex cost around $6.32 billion and was completed and opened to the public in 2010. You will find a number of different things in the resort, including a theme park, a water park and an aquarium. The casino, which is capped by law at 15,000m2, contains more than 500 gaming tables and in excess of 2,400 slot machines and electronic games.
Famous Singapore Gamblers
Given the restrictive nature of Singapore gambling laws, it may come as no surprise that there aren't that many gamblers of international note to have come from the country. However, there are a couple. Perhaps the best known is poker player Kenneth Kee Wee Kiang. In 2018, he won the Triton Poker Series in South Korea. For this, he received $3.9 million, propelling him to world poker fame. Given the fact that poker is restricted in Singapore, Kiang spends most of his time travelling around Asia to play in tournaments elsewhere.
Singapore Frequently Asked Questions
This page has hopefully given you the information that you need regarding the status of gambling in Singapore. However, we receive lots of queries from players, so we have answered the most common below.
Are online casinos legal in Singapore?
No. Online casinos are not legal in Singapore. There are no exceptions and this covers overseas sites that you may be able to access from within the country's borders. Find out more here.
Is online poker legal in Singapore?
No. As with online casinos in Singapore, online poker gambling is strictly prohibited in the country. There are no legal sites that you can play at, no matter where they are based.
How many casinos are there in Singapore?
There are currently two casinos in Singapore. They are the Marina Bay Sand and the Resorts World Sentosa. Both citizens and visitors to the country may play at either, though citizens must pay to enter the casinos.
What is remote gaming?
Remote gaming refers to playing casino games and other gambling products through the internet, without being on the premises of an operator. This covers online casinos , poker, bingo and sports betting sites.
Are online slots safe?
As long as you are playing in a country where online slots are legal and you are playing on a site that holds the necessary licences, then you can rest assured that you will be safe while playing. However, you cannot legally play online slots in Singapore, so any site telling you that you can do so safely is lying to you.
Conclusion: No Legal Online Casinos Singapore
At the end of this guide to online casinos in Singapore, the main takeaway that we hope has become clear is that all online casinos Singapore are illegal. While you will find many websites out there that will try to reassure you that some statements of fact are merely rumours, the laws of Singapore are strict and clear on this matter.
If you would like to gamble in Singapore, you can either place sports bets or play the lottery on one specific site, which is run by the government, or you can visit one of the two land-based casinos in the country. These resorts are popular with both residents and visitors to Singapore.