Lottery Reviews for the Best Lottery Sites Online
The world of online gambling contains many outlets for entertainment, from slots to casino poker, and everything in between. And, luckily, it's also not limited to only the obvious casino game choices. Those who prefer something more low-key and familiar might turn to lottery. Gone are the days of shuffling down to your local corner shop to get a fresh ticket – online lottery casino platforms let you do exactly the same thing but with way less effort. To make it even easier, this page will give you all the right pointers about this unique game and pinpoint just where exactly you should head to if you want to play lottery online.
Not to be confused with casino keno, online lottery betting often uses the results of local and national lotteries. As such, you won't actually need to visit an online casino to gamble on this game of chance. Rather, explore the betting platforms above for the go-to resources of thousands of lottery players weekly.
How Did I Find the Best Place to Place Lottery Bets Online?
I've got some excellent online lottery reviews for you right here, but you most definitely are welcome to venture out on your own and expand your horizons. If you do so, there's a set of guidelines to follow if you want to find a reliable site where you can play lottery online. I've compiled these factors into a concise summary – this will point you in the right direction no matter whether you're an occasional player or a repeat lottery fan.
The Best Lottery Games Online
When I speak of lottery sites, it's not quite in the same sense as the other casinos on this website. Since, depending on which game you choose, the lottery is usually sanctioned and run by the national lottery board. This is typically a no-profit organisation that was set up to fund worthy causes across the country. Special online portals have since capitalised on its popularity and offer third-party betting on the draws themselves. When it comes to online lottery games, you'll have a choice of dipping your feet into various draws. While they are all essentially the same game, some versions are divided by draws in different countries. You can't bet on the UK lotto draws, however, as it has been outlawed. If you want to enter the National Lottery Lotto, you will have to do so via the official website.
The Best Lotteries Online!
The games above represent a selection of the international lottery draws you can choose to participate in. This is, technically, not quite the same as if you were living in that country and betting and collecting your prize from there. Instead, you're betting on an outcome, instead of actively participating in the draw – even though the format looks the same. This may sound confusing at first, but it's essentially the same thing.
1/5US PowerballThe US PowerBall draw takes place twice a week – on Wednesdays and Saturday eveinings. The game reached a jackpot of $1.6 billion in 2016. You can't win that unless you are in the US, but you can bet on the results of the draw. Simply choose five numbers bwteeen 1 and 69 plus a 'PowerBall' between 1 and 26 to play. A single line bet costs just £3.

2/5US MegaMillionsThe US MegaMillions draw takes place in Atlanta, Georgia, every Tuesday and Friday. Unlike PowerBall, MegaMillions uses balls numbered 1 to 70, with a mega ball numbered 1 to 25. It costs £3 per line bet to play. The odds of winning MegaMillions are better than PowerBall, but the prizes are smaller. You can also boost non-jackpot prizes by 5x for an extra £1.

3/5Irish LottoThe Irish Lotto boasts low minimum wagering options and has an option for an extra two chances to win for wagers above a certain threshold. It is drawn every Wednesday and Saturday at 8 pm. The odds of cashing in this one are just 1 in 29, way lower than most lotteries. The main draw offers a minimum jackpot of over one million.

4/5Cash4LifeCash4Life is a unique draw that offers a prize of a certain amount a day for the rest of your life. There's also a second place prize offering a grand a month for life. Simply choose five number from 1 to 60 and a cash ball from 1 to 4. Match everything and you will win the top prize. The odds of winning are 1 in 21 million.

5/5Bitcoin LottoA relatively new addition to the lottery scene, Bitcoin lotto offers the chance to be part of the Bitcoin buzz. Entry can be paid in your chosen currency, with a jackpot of more than 1,000 Bitcoin. The value of the jackpot is, of course, subject to the rise and fall of the cryptocurrency. You can claim your winnings in either Bitcoin, or regular currency.
Are There Any Lottery Bonuses?
In short – no. Unlike with online casinos I have reviewed, the National Lottery and any 3rd party platforms like the ones I mention in this article do not tend to offer anything extra. So, if you're after a welcome reward, you're best off sticking to casino gambling. Though you might also find slots and table games on some lottery platforms, as well as scratch cards and keno, these are aimed more towards those wanting to fill up their time rather than do any extensive gambling.
Nevertheless, you can often score a small discount on your tickets if you go for a bundle as opposed to a single ticket.
The Biggest Lottery Game Wins
Since the way to play lottery online involves the same rules as buying and filling out a physical ticket, there's only a limited set of odds you're facing with each draw. You choose six numbers, out of which you can match anything from zero to six – and exactly this will determine your final payout. Hungry for the big win the comes with a full six-number match? Then you're looking at odds of 45,057,474 to one. No big deal, right? Your best chances at winning lie with a match of four numbers, where you're looking at a sweet 2,179 to one. This does sound daunting, but there have been many lucky players in the history of the lottery, whose proverbial lucky strike came at the most opportune moment.
Biggest Lottery wins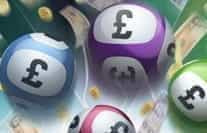 Free Line Bets
2 for 1 Line Bets
Bitcoin Lotto Game
Sum
Date
Winner
Place
£469 million
March

2012

Anonymous
Kansas, USA
£66 million
January

2016

David and Carol Martin and an anonymous ticket holder
Hawich,

Worcester

£42 million
January

1996

Three

anonymous

tickets
n/a
£35.1 million
April

2016

Anonymous,

single

ticket
n/a
£22.5 million
June

1995

Paul Maddison and

Mark Gardiner

Sussex
£20.1 million
July

2004

Iris Jeffrey
Belfast
£18.2 million
July

2005

Tesco syndicate
Driffield
So, as you can see, there's a lot of cash to be had if luck is on your side. But, to be realistic, you shouldn't hold your breath for the next massive win to come your way. Nevertheless, the enjoyment comes from participating and knowing that you've at least got a small shot the big paycheck. "Que sera, sera", as they say – just sit back, play and let fate take the wheel.
The Advantages of Online Lottery Games
Playing lottery is incredibly easy as it is, so why make it even easier, you ask? Well – because you can, and also because we live in the 21st century and there are actually only a few activities nowadays that don't have an online variant (like grabbing a drink with friends or going to the dentist). In any case, lottery games played online are not only convenient because filling out the virtual ticket is an absolute breeze, but you can take advantage of some additional lottery functionalities such as the Lucky Dip, where the RNG randomly selects your numbers for you. This will come in handy for the indecisive ones of us, or those who prefer to just shoot randomly and see what sticks. Many lottery sites also offer a host of other games, including casino games like top online slots titles, which you can explore before or after filling out your ticket. Having lottery and casino gambling in one place is a huge plus!
Syndicates: How Do They Work?
Another cool perk of playing lottery games online is the possibility to join a syndicate. Haven't got a clue about what these are? Well, to put it short, imagine you want to play but you'd also like to improve your chances of winning. You can only pick so many numbers per ticket, but you can also form a group of like-minded lottery fans and pool your tickets together. This means a bigger spread of numbers among you, and, consequently a bigger likelihood of landing a big sum. The only drawback? If you do win, you've gotta share the prize, much like the group of 22 Dublin bus drivers who pocketed equal shares of the £20.1 million win in July 2016.
Legality Issues and Taxation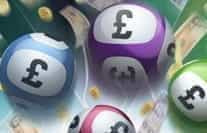 Winning big is easier in some countries than in others, as far as the implications go. In the UK, for example, you can rest easy and know that taxes won't start haunting you the second you win a prize (unlike in Germany, for instance). That means that whatever you pocket from that sky-high lottery win is yours to keep. Nevertheless, there is such a thing as the inheritance tax, so be careful about what you do with your winnings if it's above a £325,000 threshold. Should you deposit it, it becomes part of your estate, making it taxable. After all, nothing is sure in life but death and taxes. To make sure you're on the right side of the law, it's a good idea to look into the taxation of gambling winnings in your country.
Legality-wise, third parties are not allowed to sell tickets for the National Lottery draws in the UK. However, you can bet on the outcomes of other foreign lottery draws by following the formula I described earlier. I must be clear, you are betting on the outcome of the draw rather than actually participating in the draw itself – though you can absolutely take part in Lotto Italy if you up and move there! For now, though, relying on this third-party loophole is the best choice at hand.
The Future of the Lottery and News
Lottery draws have a long history behind them, so, if I were to predict a future, I'd say they will be just as eventful as in the past. There are no signs of people losing motivation to bet on luck, and this is evident in just how online casinos thrive and games like online baccarat only pick up speed alongside their more established counterparts. With the ascent of apps, lottery games are already incredibly easy and accessible, so I can't imagine other ways this could go, save for the potential opening up of participation in international draws as if you were actually living in the other country. Though, that's more a question of legislature and administrative and financial boundaries rather than the gambling market itself, so a big question mark looms over the pesky legislation questions. What you are bound to see, time and time again, are headlines of wins or perhaps bitter stories of syndicate members leaving just before a huge win.
Online Lottery Reviews: The Conclusion
Online lottery is to gambling what eating cereal is to breakfast: easy, quick and sometimes there's a surprise at the end. Unlike with online poker, for instance, you don't need much skill or strategy to succeed – it's all up to Lady Luck, and that's a beautiful thing. Pick your pet's birthday, the numbers on your neighbour's licence plate, or the number of eggs you still have left in the fridge – whatever the approach, the lottery odds are a true enigma and you've just got to ride it out till you win. Or better so – join a syndicate at one of my recommended lottery sites and up your chances this way. Lottery has never been easier! For a change of pace but still keeping you on your toes, you might want to explore the world of sports betting, as an alternative.
Lottery Online: The Roundup
Major Strengths
Easy to get and fill out
Mobile app
Minor Strengths
Lucky Dip option
Major Weaknesses
Not the same as casino gambling