The Best Russia Online Casinos – The Top 2021 Casino Sites for Russian Players
If you are looking for the best online casinos Russia has to offer, the internet can be a tricky place. There are lots of sites out there that are peddling myths and straight out lying to you about the situation. The basic truth is that online casinos are illegal in Russia. There are no exceptions to this. Read on to find out more information or use the buttons below to skip ahead to a particular section.
What You Will Find on This Page:
Best Online Casinos in Russia
Best Online Casinos in Russia
Why You Can't Play Online
Is Online Gambling Legal in Russia?
Checklist for Legal Casinos
This page will cover the Russian gambling laws, as well as explaining in detail how you can legally bet online from the country. We will never recommend that you break any laws, and all the online casinos that we recommend on this website are both legal and worthy of your trust. It is this approach that precludes us from giving you a list of the best online casinos in Russia.
Why You Can't Find the Best Russian Online Casinos
Unfortunately, there is no way to legally bet at online casinos while in Russia. There are no exceptions to this. Even if you use a VPN and access foreign sites, this is a criminal offence in the Russian Federation, and you can be prosecuted for such activity. It is also illegal for any site – whether domestic or international – to market its casino products to anyone in the country.
However, there is good news if you are a fan of online gambling. You can place bets at licensed online bookmakers. You can find out more information about this in the next section. However, it is worth knowing that there are exceptions to this and you can only play at sites sanctioned by the state. In order to make sure that you stay on the right side of the law, check out information about gambling laws in Russia before you head to any sites.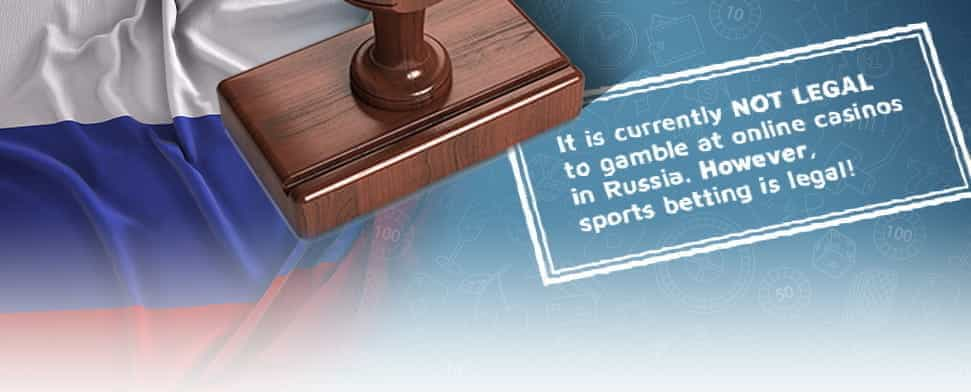 Legal and Licensed Sports Betting Sites in Russia
If you are looking to place sports bets online in Russia, you need to make sure that the operator is legal and safe. All companies need to hold a valid licence, and no foreign site is allowed to accept players from Russia. Having thoroughly tested all appropriate operators, we can present to you one of the best sports betting operators in the country.
Is Gambling in Russia Legal?
The first and most important thing to reiterate here is that online casino gambling is illegal in Russia. It is prohibited for an organisation to market online gambling products to players in Russia but is also illegal to place bets on games of chance, and it is possible to be prosecuted for doing so. If you are interested in the details, you can have a look at the legislature for yourself here.
Online sports betting is allowed, as long as the operator holds a licence from the state authorities. However, online sports betting is prohibited in certain regions – Dagestan, the Chukotka Autonomous Region, the Republic of Tyva, Ingushetia, Tambov, Kaluga, Ryazan and Irkutsk – with the restrictions having come into place in 2019. Further to this, there are certain bookmakers that have been blacklisted.
It is illegal for all foreign sites to market their gambling services to people located in Russia. This is true for sports betting as well as for casinos. The position on this was clarified by the government in an update to the federal law. As such, a large and ever-growing number of big-brand online casinos and sportsbooks from overseas are listed on the government's blacklist of sites. This means that it is illegal to access them from within Russia, and all internet providers must block access to them.
Criteria for Searching for a Quality Online Gambling Site
Whether you are looking for an online bookmaker, or if you are travelling outside of Russia and looking for the best online casino site, you need to know how to separate the wheat from the chaff. We have years of experience in our team, reviewing and ranking operators using strict criteria. Here is an insight into how we go about it so that you can keep yourself safe while gambling online.

1. Is it safe & legal to play at the operator site?
2. Are there enough betting options to keep you happy?
3. Does the site have generous bonus offers?
4. Are the casino games made by a quality software provider?
5. Is the site optimized for mobile use?
6. Which payment methods are accepted at the site's cashier?
7. Is the customer service helpful and friendly?
The first (and arguably most important) thing to do whenever you consider a new site is to check that it is legal and safe. We don't want to sound overly repetitive, but if you don't take the time to ensure this, you will be gambling your money without any protection and also running the risk of being prosecuted for playing at an illegal site. Having a look to see what payment methods are accepted is also a good way to determine whether or not it is a trustworthy operator. If there are no well-known and internationally trusted methods available, this should be taken as a very bad sign.
Once you have done this, the next step is to look at what is offered by the site. For online casinos, have a look and see what the games selection is like. Before you dig in, know that the best sites will typically offer several hundred slot games, with a reasonable number of table games like roulette, blackjack, baccarat and casino poker. In addition to these, you will often find a smaller collection of virtual scratch cards, lottery and instant win products. For bookmakers, it is a case of looking at the sports that are offered and the type of bets that are accepted. While the top sites will have a massive range of special options, there are lots of inferior operators out there that will ultimately leave you disappointed.
Once you have determined that you are looking at a site that will give you enough choice and quality to keep you entertained in the long run, have a look to see what the bonus offers are like. While you never have to accept a casino bonus, they can be a great way to get you started and to reduce the house edge while you play with bonus funds. Lastly, if you think that you are interested in playing on different devices and enjoying the freedom that mobile casinos or bookmakers can give you, it is best to have a look at whether or not there is a downloadable app. Some operators don't offer a dedicated app but have instead made an optimized version for mobile and tablet.
Online Casino Games: What to Expect in Other Countries
If you are in a country where online casinos are legal, you will find that sites have an excellent and ever-growing range of products for their members to enjoy. The table below gives you an idea of what is out there. However, remember that Russian online casinos are illegal.
Slots
Baccarat
3 Card Poker
Roulette
Scratch Cards
Caribbean Stud Poker
Blackjack
Craps
Video Poker
Sic Bo
Keno
Casino Hold'em
Overview of Gambling in Russia 2021
Gambling is heavily restricted in the Russian Federation. You will find licensed bookmakers throughout the country, but casinos are confined to non-built-up areas in four specific regions. many people also gamble online, accessing legal bookmaker sites. Despite a widespread legal and political clampdown on gambling in the country, there is evidence to suggest that more Russian citizens gamble on illegal sites than on those sanctioned by the government. Part of the reason for this may well be the challenges of registering with legal sites, with rural communities being far from certain necessary facilities. This has also led to a large number of illegal casinos, operating outside of the permitted zones. You can read more about the sanctioned casinos here.
Gambling in Russia Overview

| | |
| --- | --- |
| Land-Based Casinos | Located in Altai, Krasnodar, Kaliningrad and Primorsky |
| Foreign Gambling Sites Banned Per Year | 130,000 |
| Gambling Regulator | Federal Executive Body |
| Online Casinos Banned | 2007 |
| Last Update to Legislation | 2017 |
| Regions with Online Gambling Banned | 8 |
History of Gambling in Russia
Russia has a long and storied history of gambling and restriction of betting within its borders. As might be expected, the moments of change often coincide with the major shifts in the politics of the nation. In 1927, gambling was determined to be at odds with the morals of the communist regime and so all forms of gambling were outright banned by 1928.
Towards the end of the USSR, gambling was permitted once again, with the first casinos appearing in Moscow in 1989. As the regime fell, interest in activities from the West began to become more and more popular. This led to a rapid rise in the popularity of poker. The first sanctioned professional poker tournaments took place in Russia in the late 1990s.
Land-Based Russian Casinos
There are currently only four regions that allow land-based casinos in Russia. These are the "specially arranged zones" in the Altai, Krasnodar, Kaliningrad and Primorsky regions. In addition to this, all casinos must be placed away from pre-existing settlements. In short, this means that there are no legal casinos in any Russian city or town. While it is certainly true that there are gambling houses outside of these areas, these are all illegal houses, often at least semi-disguised as clubs or bars. You can read more about the most famous legal Russian casinos below.
Sobranie Casino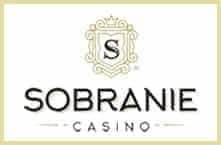 As one of the four regions that is allowed to hold licensed land-based casinos, the Kaliningrad Oblast is home to a number of gambling establishments. The most famous and luxurious of these is the casino Sobranie, which is located near the city of Kaliningrad, on the Baltic coast. It has a range of games on offer for patrons, including American roulette, blackjack and various different poker variants. The casino is highly popular with locals and international travellers alike, with one user describing it is a "wonderland".
Casino Sochi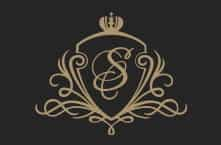 Despite its name, this establishment is not actually located in Sochi itself. This is in accordance with the law prohibiting gambling houses in towns or cities. Instead, you will find this resort 50km or so northeast of the 2014 Winter Olympics host city. Therefore, you can combine your visit to Casino Sochi with a visit the famous Arboretum or the city's beaches, both just a short taxi ride away. The casino itself is a glamorous destination, which offers classic games like roulette, blackjack, baccarat and several different poker games.
Famous Russian Gamblers
Although casino gambling is heavily restricted, poker has long been a tricky area. While some politicians view it as akin to casino betting, others see it as a sport. As such, although international poker tournaments are not often held in Russia, there is a large and competitive field of professional poker stars who hail from the Russian Federation. Here is a selection of the most famous Russian gamblers alive today.
Ivan Demidov
Born in 1981, Ivan Demidov has been a young star of Russian poker since he emerged on the scene in the mid-2000s. He gained widespread fame in the industry by becoming one of the original "November Nine" by making it to the final table of the World Series of Poker (WSOP) Main Event in 2008. In this tournament, he finished in second place, earning $5,809,595. These winnings were to be split with his Russian financial backer, Demidov stated after the event. Demidov is also known as a Warcraft III player, who competes who plays under the name "SouL".
Alexander Kravchenko
Hailing from Arkhangelsk in northern European Russia, Alexander Kravchenko has found success on the WSOP tour since 2007. In that year, he finished fifth at the inaugural WSOP Europe tournament. This success has helped him on his way to cashing more than $4million in tournament winnings. In 2007, he was the highest-earning Russian poker player of all time. Since then, he has been overtaken, and currently stands 4th. Kravchenko was also the first Russian player to win a WSOP bracelet. In addition to his live successes, he has recorded several large online victories, winning his first World Championship of Online Poker (WCOOP) bracelet in 2010.
Russia Player Questions
Although this page aims to give you all the information you might need on gambling in Russia, it's quite likely that you'll still have some questions at this point. We have collected lots of queries from users and answered the most common below.
Is gambling illegal in Russia?
Gambling is legal across Russia, although there are strict restrictions. Casinos can only be built or run in four specific districts of the country. Also, no online casino gambling is allowed, but bookmakers can get licences to run online sites.
How many casinos are there in Russia?
There are a few dozen land-based casinos spread across the four legal districts. These are all located away from built-up areas, as is required by law. Getting a licence requires going through a stringent process, so it is unlikely that many more will open.
How many casinos are in Sochi?
There is one casino near Sochi, but none within the city itself. This is because, as previously mentioned, no casinos are permitted to be within towns or cities and must be removed from residential areas as much as possible.
Is online poker legal in Russia?
Currently, online poker is legal in Russia, though it has been the topic of debate for many years. Some politicians see it is akin to casino gambling, which would therefore mean that it should be outlawed. However, it has been deemed not to be a pure game of chance, and thus is currently permitted. However, as with everything, foreign sites are banned.
Conclusion: The Best Online Casino Site for Russia
At this point of a guide page, we would normally bring you our recommendation for the best casino site in Russia. However, since it is entirely illegal to gamble at an online casino from within the country, we simply cannot do this. You will find some suggestions for great online bookmakers in our section on sports betting, as this is legal across almost all of Russia. We regularly update this page, so if anything changes in the law, you'll be sure to find the latest details here, so if you are hoping to play at Russian online casinos in the future, check back to see if you can do so.