How to Play Baccarat – A Simple Guide to the Rules of the Popular Card Game
Welcome to our complete guide on how to play baccarat. It's a classic casino game that is popular the world over, but which can often appear like it's complicated and intimidating for new players. However, we're here to show you that it's a very simple game to play and take you through baccarat rules, one step at a time.
Jump to Your Chosen Baccarat Rules Topic
In this baccarat guide, we'll go through the basics so that you can get started, the standard payouts, and introduce you to some common side bets and variants. You'll also learn relevant vocabulary for the game, so that you won't be unsure about playing next time you pass the table in a casino.
The Basic Baccarat Rules – Learn to Play in Less than 5 Minutes
The fact that James Bond plays the game, and that it is common to see it in luxury hotels in places like Monaco, has tended to make it seem inaccessible to new players. The reality, however, is that casino baccarat is one of the simplest games out there, and that there aren't too many decisions to make, meaning that you can master it pretty quickly. But first, let's talk basics.
The Objective of Baccarat
In online baccarat, almost all games will work in pretty much the same way. There are three main bets that you can make. You can bet on the player's hand to win, the banker's hand to win or on the two tying. The way to win baccarat is to bet on the winning hand. In essence, there's nothing more that you have to do. The winning hand is that which gets the highest number. There is a maximum score of nine in a hand, but we'll explain more about this in the next section.
The Three Main Bets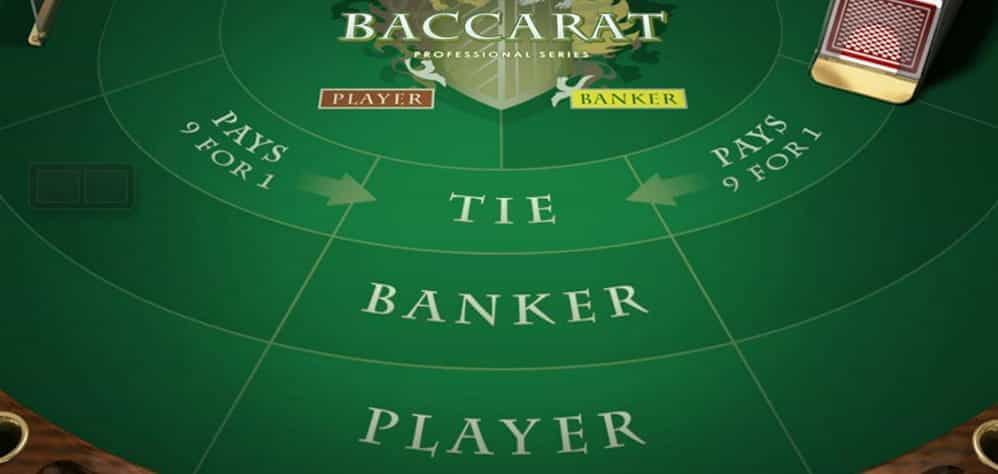 Baccarat Card Values
Both player and banker are initially dealt two cards. All numbered cards are worth their face value. For example, a seven will count for seven. Jacks, Queens and Kings all count 10, while an Ace is valued as one. If the score is going to go over the maximum of nine, the score starts again from zero.
This can be a little confusing at first. However, you will get the hang of it after one or two hands. For example, if the first card received is an eight and the second is a three, the score will be one. This is because the count would go: eight, nine, zero, one. Another way to think of it is that as soon as the score reaches 10, it reverts to zero and the counting can continue. You can also take a look at the page dedicated to baccarat tips.
Baccarat Card Values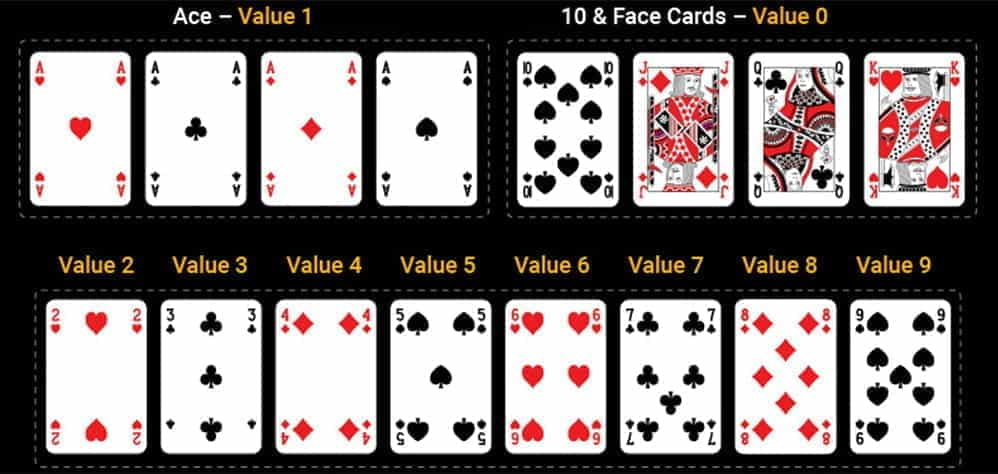 The Baccarat Board
Almost all baccarat tables look the same. The important things are the playing cards, chips and the boxes drawn on the table itself. There will be one marked "BANKER", one labelled "PLAYER" and a third saying "TIE". These boxes are where you place your bets. If you think that the banker's hand will win this round, place your chips directly into the box that reads "BANKER".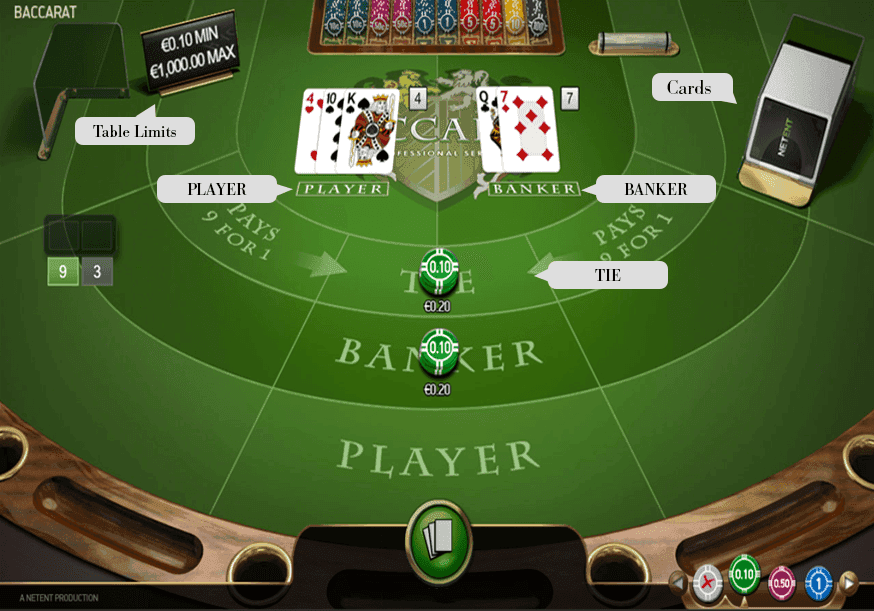 CARDS:
Standard decks are used baccarat and most online versions use six or eight decks.
TABLE LIMITS:
The minimum and maximum bets per hand should always be clearly labelled and displayed.
PLAYER:
Placing chips in this box puts your wager on the player's hand winning the following round.
BANKER:
Alternatively, you can stake your money that the banker will win by placing bets in this box.
TIE:
Lastly, you can also wager that the two hands will tie in score. This usually pays out at a higher rate than the other two bets, often 8:1.
Although it can be nice to see new things, the baccarat board is rarely changed and so remains reassuringly familiar. No matter which variant you play, or which developer produced it, you will see the same things on the table, so there shouldn't be any confusion.
How to Play Baccarat: A Simple Hand Explained
A hand always begins with you deciding what to bet and how much to stake. Player and dealer are then dealt two hands each. The scores are calculated, and you will get your winnings if you chose correctly. Follow the simple steps to playing online below.
Place Your Bets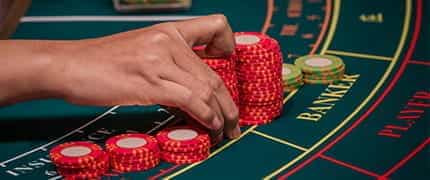 Pick the bet that you want, between PLAYER, BANKER or TIE. Then decide how much money you want to stake and place your chips in the correct box.
Cards Are Dealt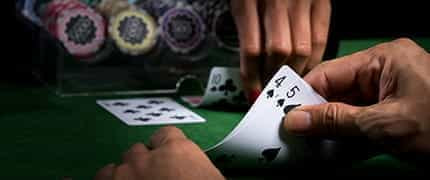 Both PLAYER and BANKER are each dealt two cards. If the PLAYER has certain scores, then a third card will be dealt to that hand; likewise for the BANKER.
Scores Are Counted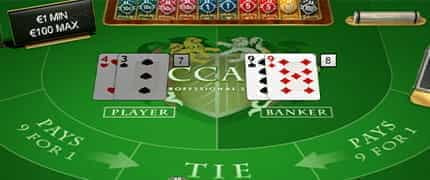 The hands score according to basic baccarat rules, with nine being the highest possible score. Tens and face cards value zero.
Winnings Are Paid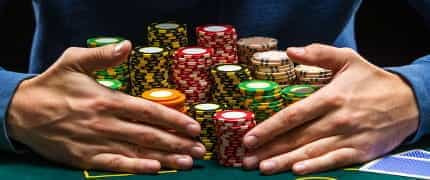 All players who bet on the correct hand to win that round win their bets. This is the final thing to happen in the round.
Although this may seem almost too simple, these are the basic rules of baccarat. As you continue further down the page, you will learn that there are some things that you should know that are a little more complicated. However, nothing will take you very long to grasp. Some variants add twists to the baccarat terms, but if you want to keep things simple, there are dozens of straightforward options out there for you.
Baccarat Rules Video
It's now time to have a look at a few hands being played, rather than just trying to imagine it all in your head. It is always a good idea to make sure that you have a confident grasp of the rules of any game before you start betting, so as not to risk your hard-earned cash. You can even have a look for a free demo to try out first.
Next Step: Pay Tables, Drawing Rules & Decisions
Unfortunately, life isn't always just as simple as you'd like. Although baccarat never gets to tricky, there are a couple of other things that you need to get to grips with before you can start betting online. The next few sections will take you through everything else in the rules of baccarat. This includes the payouts and what happens to your money if there is a tie.
The Pay Tables
Since there are only three main bets possible, the pay tables are usually pretty clear. These detail the amount of money that you stand to receive on each bet if you win. Of course, the rules of baccarat variants and individual games means that these shouldn't be viewed as universal. However, in general, a bet on the player's hand pays out 1:1 and a tie pays 8:1 or so. If you win a bet on the banker's hand, it will typically pay 1:1 with a 5% commission taken for the house. This is because the return to player rate (RTP) is always higher on the banker's hand thanks to the way that hands develop under certain circumstances.
An Example Baccarat Pay Table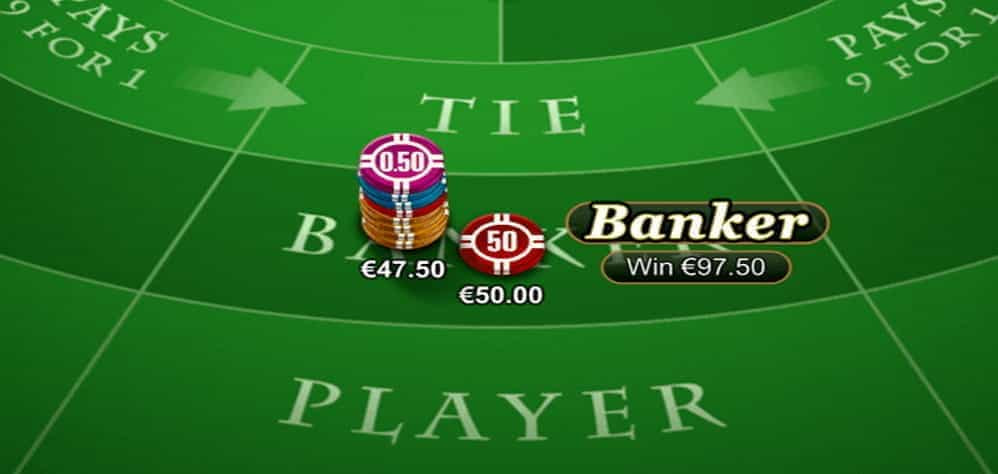 The Tie Bet
If, at the end of a round, the banker and player have the same total score, then the hand is tied. If you bet on a tie, then you will receive the respective payout. This bet usually has a much higher payout than those on either hand winning. Often this is around 8:1, but this depends on the particular variant. If you bet on either hand, your bet will usually be pushed. This means that it will be returned to you, with no gain or loss. There are some games that view this as a lost bet, but the vast majority will simply return your stake to you in the event of a tie.
The Third Card Draw
Many hands will end with both having two cards. However, sometimes either one or both will receive a third card. In general, if the player scores five or less, they will receive an extra card. If the player stands after two cards, then the banker will hit on five or less as well. However, if the player receives a third card, then whether the banker hits or not depends on the value of the player's third card. To make it a bit easier for you, below you can check when the player hits.
When the Player Hits in Baccarat

| Value of Player's First Two Cards: | Action: |
| --- | --- |
| 0, 1, 2, 3, 4, 5 | Hits |
| 6, 7, 8, 9 | Stands |
So, these are the rules of baccarat governing drawing third cards. What is almost always true, however, is that if either hand scores a natural eight or nine, both stand. A natural score is one that comes from the first two cards dealt. And now, let's visualise when the banker hits during the gameplay, which is a bit more complicated as a chart.
When the Banker Hits in Baccarat

| Value of Banker's First Two Cards: | Draws When Player's Third Card Values: | Stands: |
| --- | --- | --- |
| 0, 1, 2 | 0, 1, 2, 3, 4, 5, 6, 7, 8, 9 | |
| 3 | 0, 1, 2, 3, 4, 5, 6, 7, 9 | 8 |
| 4 | 2, 3, 4, 5, 6, 7 | 0, 1, 8, 9 |
| 5 | 4, 5, 6, 7 | 0, 1, 2, 3, 8, 9 |
| 6 | 6, 7 | 0, 1, 2, 3, 4, 5, 8, 9 |
| 7 | | 0, 1, 2, 3, 4, 5, 6, 7, 8, 9 |
Baccarat Side Bets
As with most table games, there are some side bets that you will see in certain games. They are not always the same, and some online versions that have no side bets allowed. The thing that is unusual is that you can bet on side bets in baccarat without also placing a main bet. This distinguishes the game from the standard rules of blackjack for instance. Check out the most popular and common options in the next sections. All of the payouts and RTPs are based on a baccarat variant using six decks of cards.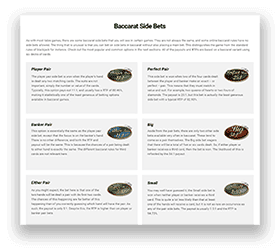 This downloadable sheet takes you through all of the most common baccarat side bets, so you know what to expect from them.
Player Pair
The player pair side bet is won when the player's hand is dealt any two matching cards. The suits are not important, simply the number or value of the cards. Typically, this option pays out 11:1, and usually has a RTP of 88.46%, making it statistically one of the least generous of betting options available in baccarat games.
Banker Pair
This option is essentially the same as the player pair side bet, except that the focus is on the banker's hand. There is no other difference, and both the RTP and payout will be the same. This is because the chances of a pair being dealt to either hand is exactly the same. The different baccarat rules for third cards are not relevant here.
Either Pair
As you might expect, the bet here is that one of the two hands will be dealt a pair with its first two cards. The chances of this happening are far better of this happening than of you correctly guessing which hand will have the pair. As such, the payout is only 5:1. Despite this, the RTP is higher than on player or banker pair bets.
Perfect Pair
This side bet is won when two of the four cards dealt between the player and banker make an exact – or perfect – pair. This means that they must match in value and suit. For example, two queens of hearts or two fours of diamonds. The payout is 25:1, but this bet is actually the least generous side bet with a typical RTP of 82.93%.
Big
Aside from the pair bets, there are only two other side bets available very often in baccarat. These tend to come as a pair themselves. The Big side bet wagers that there will be a total of five or six cards dealt. So, if either player or banker receives a third card, then the bet is won. The likelihood of this is reflected by the 0.54:1 payout.
Small
You may well have guessed it; the Small side bet is won when neither player or banker receives a third card. This is quite a lot less likely than that at least one of the hands will receive a card, but it is not as rare an occurrence as any of the pair side bets. The payout is usually 1.5:1 and the RTP is 94.73%.
Baccarat Variants
Although the question of "what is baccarat?" has now been fully answered, there is work yet to be done. In order to play the game, you need to actually pick an online title. To get the best one for you, you need to think about which variant best suits your tastes. Here are some of our favourite baccarat variants.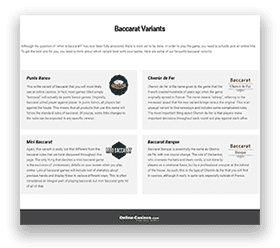 This sheet gives you details of the most popular baccarat variants you will find at online casinos.
Punto Banco
This is the variant of baccarat that you will most likely see at online casinos. In fact, most games titled simply "baccarat" will actually be punto banco. Originally, baccarat pitted player against player. In punto banco, all players bet against the house. This means that all products that use this name will follow the standard rules of baccarat. Of course, some little changes to the rules can be expected in any specific version.
Mini Baccarat
Again, this variant is really not that different from the baccarat rules that we have discussed throughout this page. The only thing that denotes a mini game is the exclusion of unnecessary details on your screen when you play online. Many variations will include lots of statistics about previous hands and display these in various different ways. This is often considered an integral part of playing, but mini baccarat gets rid of all of that.
Chemin de Fer
Chemin de Fer is the name given to the game that the French created hundreds of years ago when the game originally spread to France. The name means "railway", referring to the increased speed that the new variant brings versus the original. This is an unusual variant to find nowadays and includes some complicated rules. The most important thing about Chemin de Fer is that players make important decisions throughout each round and play against each other.
Baccarat Banque
Baccarat Banque is essentially the same as Chemin de Fer with one crucial change. The role of the banker, who oversees the bets and deals cards, is not done by players on a rotational basis, but by a professional croupier at the behest of the house. As such, this is the type of Chemin de Fer that you will find in casinos, although it really is quite rare, especially outside of France.
Our Suggestions for Playing Baccarat Today
Now that you know how to play baccarat, it's time to think about finding a specific online game to play. With years of experience in the online gambling industry, we have surveyed the options at the world's best operator sites, and included our picks for online baccarat products below.
For Beginners
For Fun
For Real Money
For Something Different
Each review gives you a run-down of the specific rules of the game in question, as well as giving you a chance to try out a free demo. Even if you are familiar with the rules of baccarat, trying out some free hands of a particular product before playing for real money, so that you be completely comfortable with everything.
Factors to Consider when Selecting a Baccarat Game
As we suggested above, the first thing to think about when looking for the best baccarat game for you, is what exactly you want from your experience. Also, think about how experienced you are. There are also some other things to think about to help you make your choice.
What is the Standard RTP Rate of the Game?
While online baccarat tends to have pretty generous return to player rates, usually in the high 90s, as with most blackjack and roulette games. It is always worth checking each product description first to see the exact return rate, so that you can avoid ungenerous titles.
Are There Any Side Bets Associated with the Game?
While it is not a given, lots of baccarat variations have side bets. If you want to bet on such options, obviously it follows that it's best for you to find a product with your favourites included. As with side bets on all casino games, remember that they tend to have the biggest house edge.
What Player Strategies Can be Applied?
Baccarat strategy is a bit of a misnomer. There is no real playing strategy to speak of, as you only choose which hand to bet on and then have no further actions to complete during play. Instead, betting strategies are important. Check out our page dedicated to strategies suited to baccarat.
Helpful Resources
While this page is designed to give you all of the details you'll need about the rules of baccarat so that you can get playing – and hopefully playing well – there are other resources that we have created in order to help you optimise your gambling experiences. You can also check out this glossary of baccarat terms.
Downloadable Baccarat Help Tools
You can always come back to this page any time that you need a brush up on the terms and the requirements of baccarat. However, you can also download or print these sheets to make accessing the info a bit quicker and more convenient for you.
Baccarat Variants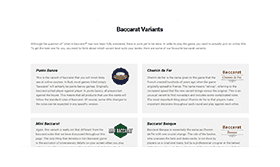 PDF Download
Side Bets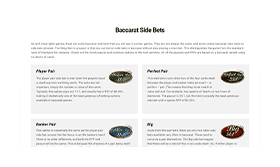 PDF Download
Scorecard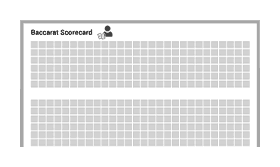 PDF Download
The rules and side bets information are the same as you will find further up this page, just formatted for a downloadable sheet. You can also download, print out and use a handy baccarat scorecard, making it nice and simple to keep track of scores as you play online.
A Brief History of Baccarat
As one of the absolute classic casino card games, there's no surprise that the history of baccarat is long and storied. Its origins are usually traced back to medieval Italy, meaning that you can imagine yourself as one of the nobility from yesteryear as you play. The name comes from the Italian word for zero, as the tens and face cards scored as zero.
When the game spread to France, it gained the name Chemin de Fer (meaning "railway"). It was so-called because the version that spread was quicker in pace than the original Italian game. Baccarat has since spread around the world, and even to the majority of online casinos. It has remained popular among players from numerous countries, in part due to its classy appeal and in part to the widespread association with one of the classiest characters of all time: Mr James Bond.
Baccarat News
Below, you can find out what the latest developments in the industry are and read baccarat news stories. Of course, there aren't always new developments in this industry niche, so we will also include some more general news from casino and online gambling.
If you follow any of these links, you will find yourself in our news section. Our team of writers update this regularly, in order that you don't miss any important shifts or announcements. Feel free to check back and see what the latest scoop is. Alternatively, you can quickly and easily browse dozens of complete articles from the news hub.
Frequently Asked Questions
We hope that this simple baccarat guide has been helpful to you and ease you on your way as you find out how to play baccarat. Of course, it is more than likely that you will still have things that you would like answers to. That's why we've answered some of the most frequently asked queries about the baccarat and its rules below.
How do you play the card game baccarat?
Playing the game is nice and simple, and it won't take long to learn how to play baccarat. In essence, all you need to do is choose which hand to bet on (player or banker), or if you want to bet on a tie. Then the cards are dealt, and you see whether or not you win.
Can you count cards in baccarat?
The technical answer is that yes, you can count cards in baccarat. In practice, though, even the statistical advantage that you could theoretically garner from doing so is not worth the time. If you want to count cards, have a look at counting cards in blackjack.
Is there any strategy to baccarat?
There isn't really any strategy to baccarat in terms of playing. However, you can take in account certain factors in baccarat that can reduce the house edge. The aim is either to minimise your losses or even maximise any profits as much as possible.
Is baccarat a game of skill?
Baccarat is not considered a game of skill. The only decisions you need to make are which hand to bet on and how much you will stake. You can theoretically use card counting with this game, which requires a lot of skill, but this is not very effective.
Your Opinion is Valued
Other Interesting Baccarat Topics