Complete 6 in 1 Blackjack Review – Including Free Demo Game
Most blackjack games have a side bet available. Some have two, giving the player plenty of exciting options. But when you play 6 in 1 Blackjack, you can choose to place up to six side bets per hand. You can also play up to three hands at once, so you can have twenty-one bets on at one time. Is that number a coincidence? You'd have to ask the folk at FELT to be sure… In this 6 in 1 blackjack review I'll be taking a look at the ins and outs of this exciting game.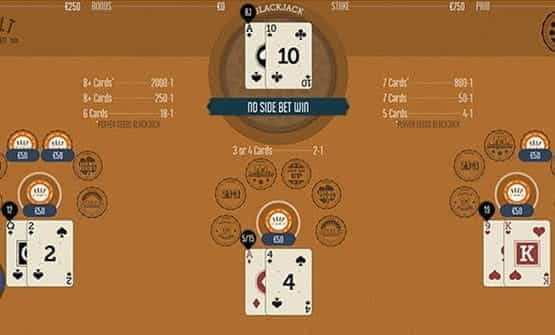 6 in 1 Blackjack
Developer: FELT
Up to £100 Bonus
Play 6 in 1 Blackjack at Mr Green to get your welcome bonus!
Full T&Cs apply. New players only. 35x wagering on Deposit Bonus and Free Spins. Starburst Free Spins credited after deposit & wager of £20+ on slot games. 18+. begambleaware.org.
Because this variant has several side bets, in this 6 in 1 Blackjack review I will explain all of the rules in detail. It's best to be familiar with the basic rules of blackjack before you take on a game with so much going on.
Play the 6 in 1 Blackjack Demo Game Here
I always recommend that players give a game a go with a free demo before betting with real money, just so that they are fully comfortable with the 6 in 1 blackjack rules, controls and gameplay. This reduces the chance of making any mistakes. It is really important that you give yourself time to get familiar with the rules, because of the six side bets.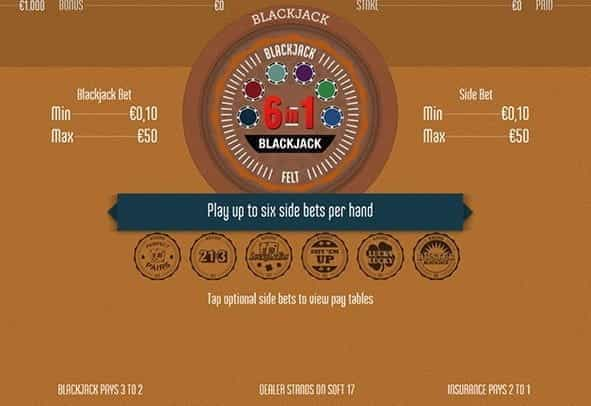 –
As well as giving the 6 in 1 blackjack demo a go, I'd recommend having a read of my breakdown of the rules before you play online for real money. I'll give you all the info you need and, of course, I will pay particular attention to all the add-ons that I've mentioned.
Alternative Blackjack Games to Play for Free
The Full 6 in 1 Blackjack Rules
There's not much to report when it comes to the 6 in 1 blackjack rules. You can play up to three hands at the same time, and all of the rules are pretty standard for blackjack. You can double down after your first two cards are drawn, and you can split if you are dealt two cards of the same value. You can't hit again after doubling down, or on split aces. If you feel a bit lost, and would like some advice on playing, I have compiled a general strategy guide. When it comes to individual variants, where you really need to pay attention is the side bets (though, of course, you don't have to stake anything on any of them to play).
RTP:

99,80%

Blackjack Pays:

3:2

Decks:

6

Multi-Hand:

Yes

Insurance:

Yes

Surrender:

No

Split:

Yes
Re-Split:

No

Hit Split Aces:

No

Double:

Yes

Double After Split:

Yes

Dealer Peek:

Yes

Dealer Hits Soft 17:

No

Side Bets:

Six Side Bet Options
Working clockwise as they are laid out on the table, here are all of the details for the side bets. As you will see, the bets can overlap, meaning that it is possible to win numerous side bets with one hand.
Perfect Pairs
If you get a pair dealt to you in your first two hands, then you win this bet. A mixed pair pays 6:1, while the "perfect pair", or identical cards in value and suit, will return at 25:1.
21 + 3
This is a popular side bet for blackjack games, and basically turns your two dealt cards plus the dealer's face up into a game of three card poker. The winning hands are: a flush, a straight, three of a kind, a straight flush, and suited trips. The payouts range from 5:1 up to a generous 100:1.
Lucky Ladies
Here, it's all about the girls. Find a queen and you double your wager. The other way to win this side bet is to be dealt a value of 20 between your first two cards. The top paying hand is a pair of Queens of Hearts, which pays 100:1.
Suit'em Up
The clue is in the name for this one. Get two of the same suit and you are a winner. The highest paying cards for this bet are a suited blackjack and suited aces, which pay 10:1 and 50:1 respectively.
Lucky Lucky
Combining your first two cards and the dealer's face up, you can either win with a total value of 19, 20, 21, or by getting 6-7-8 or 7-7-7. If a 21-value hand, or triple 6 or 7 are suited, then the payout jumps up massively.
Buster Blackjack
You can get a bonus if the dealer busts. The more the dealer draws before going bust, the more the payout is. If it is 3 or 4 cards, the payout is 2:1, but it can be as high as 2000:1. Beware that for this payout, the dealer must draw 8 or more cards and you must have blackjack.
Play the Game for Real Money
The side bets can add a lot of fun to a game, and with so many on offer, you can have pretty regular wins. However, you need to outlay quite a lot of capital to do this. The RTP of 6 in 1 blackjack online is an extremely high 99.80%, while the side bets are significantly lower. So, if you are playing just for fun, they add something to the experience. But if money is your main concern, then side bets are rarely a good option. Now that you have the full rules under control, you can take on the full game and play with real money. If this 6 in 1 Blackjack review hasn't quite left you feeling like a master, then you can check out the full rules in the game itself. It's quite a long read though, so don't say I didn't warn you. If this title just isn't ticking the boxes for you, head over to my main blackjack page where you can check out plenty of other options.
–
Up to £100 Bonus For all new players at Mr Green!
Full T&Cs apply. New players only. 35x wagering on Deposit Bonus and Free Spins. Starburst Free Spins credited after deposit & wager of £20+ on slot games. 18+. begambleaware.org.