Cashback Blackjack Review – Game Overview
One of my favourite things about blackjack is that there is a combination of both strategy and luck involved. You are offered choices if you want to hit or stand, and can make strategic decisions based on the information available at each turn. However, regardless of how 'smart' you play, you are still at the mercy of lady luck for how the cards are dealt. This Cashback Blackjack review will show how the variant from Playtech gives fate a voice through additional luck-based bets and offers you more choices on how you play. If you're already keen to dive into the action, click through to my recommended casino in the table below and have at it!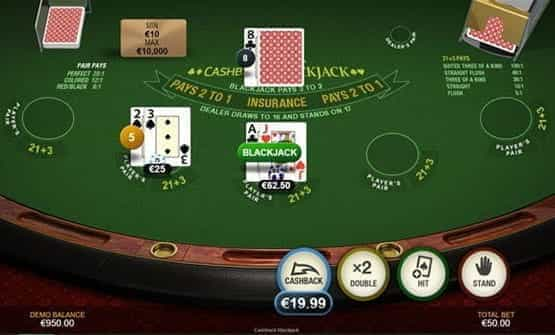 Up to £500 Bonus
Play Cashback Blackjack at Mansion Casino and receive the welcome bonus.
Full T&Cs apply. New Customers. 5% cashback on day 1-7 deps, 10% on day 8-14. Max £1000 p/w. Max 1st deposit bonus £200, 2nd max £300. Min £20 deposit. 40x wagering, valid for 30 days. Game weighting, payment restrictions and betting limits apply. Casino Only. 
This is one of many different options for where you can play this version of Cashback Blackjack online. This is a fantastic variant of the game for both the adventurous type of online player who prefers to spread their luck across the side bets, as well as for the more tentative types.
Try the Cashback Blackjack Game for Free
If you are a bit more of a cautious type – which is generally wise when it comes to gambling with real money online – then it could be in your interest to first continue reading this Cashback Blackjack review, which will help you understand what makes this game different. I've even got a free demo version for you to practice on right here!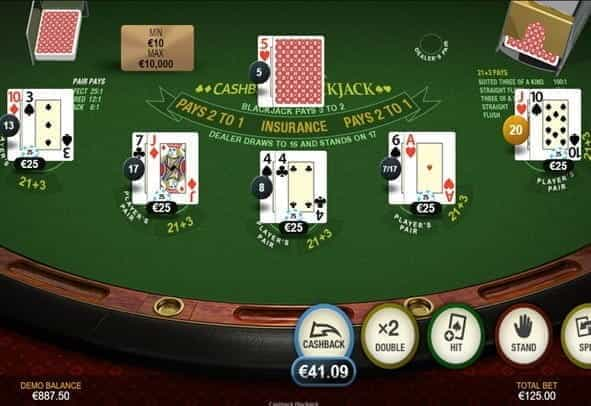 –
If you've had a quick play of Cashback Blackjack online, you'll see that there are a few standout features to this game. To make sure you understand all of the Cashback Blackjack rules, keep reading on and I'll explain all the most important things for you. Soon it will all become clear!
Alternative Blackjack Games to Play for Free
Cashback Blackjack Strategy and Features
This game uses the most common, six-deck set up, with the entirety of the cards shuffled after each round. While the main game uses standard blackjack rules, wherein the dealer hits on 16 and stands on a soft 17, the cashback feature is the game's main drawcard – hence the name. After the first deal is complete and the player's hand holds two cards, the game will offer you a unique 'cashback' amount. The amount is determined by your likelihood of beating the dealer based on the cards that are visible and offers you a chance to take the money and run. This is where a specific Cashback Blackjack strategy is required, as the offer may be more than your initial bet – netting you a profit before the game is over. However, the higher the cashback offer is, the more likely it is that your hand will beat the dealer – ah, conundrum. Take the small winnings and risk missing that big win, or wait it out and potentially lose it all? The theoretical return to player (RTP) percentage of the main game is 99.55% which sounds really high and is in fact on the higher end of standard across blackjack.
RTP:

99.55%

Blackjack Pays:

3:2

Decks:

6

Multi-Hand:

Yes

Insurance:

Yes

Surrender:

No

Split:

Yes
Re-Split:

No

Hit Split Aces:

No

Double:

Yes

Double After Split:

No

Dealer Peek:

No

Dealer Hits Soft 17:

No

Side Bets:

Pairs, 21+3
As well as the main game itself, in which you can play between one and five hands simultaneously, there's also a selection of side bets that you can make. You can put money on a prediction for pairs on any hand that's dealt, including the dealer's, which pays back at 25:1 for a perfect pair, 12:1 for a coloured pair, and 6:1 for a mixed suit pair. The 21+3 side bet is an increasingly common side bet for blackjack variants and is offered as part of Cashback Blackjack online. This side bet follows poker rules, using the two cards you are dealt and the dealer's face-up card as the 'hand'. Here, finding a flush, straight, three of a kind or straight flush will pay out. Please note that the theoretical return to player (RTP) percentage for the side bets is much lower than the main game at only 95.35% for 21+3 or an even worse 93.89% for the pairs bet.
Play Cashback Blackjack Online
The Cashback Blackjack game adds another layer of choice, and of luck to the game. I'm not a big fan of the side bets in general, but if you're feeling lucky amidst some mediocre odds then it's nice to have the option. The cashback feature is neat, too. I like having the option to chicken out of a bet should I have a bad feeling or take a small profit when possible and count it as a win. However, relying on the feature to give you an idea of your odds of winning can also be a distraction from properly assessing the game as it stands, so don't let it cloud your judgement. If you enjoyed what you read in the Cashback Blackjack Review, click below to play for real money.
–
Up to £500 BONUSFor all new players at Mansion Casino
Full T&Cs apply. New Customers. 5% cashback on day 1-7 deps, 10% on day 8-14. Max £1000 p/w. Max 1st deposit bonus £200, 2nd max £300. Min £20 deposit. 40x wagering, valid for 30 days. Game weighting, payment restrictions and betting limits apply. Casino Only.