Odds and Best Craps Strategy
The dizzying speeds of dice being rolled, bets being placed and celebratory shouts of craps enthusiasts at glitzy casinos is enough to confuse any newcomer to the game. Don't let the atmosphere confuse you, it's actually easy to learn the best craps strategy with the help of an expert guide to the exciting dice game.
Jump to Your Chosen Craps Strategy Topic
By the end of this article, you will understand all of the different types of bets you can place and their odds, as well as apply a basic craps strategy to your land-based or online gambling pursuits. You'll know when to place your wagers and where, and even get a chance to review some advanced craps strategy options.
Craps Strategy Explained
The most important thing to understand before you begin reading this craps strategy guide is that the only strategic moves you can make in the game are when and how to place different types of wagers. Craps is 100% a game of chance, with the outcomes resting purely on the roll of the dice.
No strategy will have any effect on how the dice are rolled and what number they rest upon. There are many craps myths giving advice on how to predict and effect the dice but believing these is a recipe for disaster.
How it Works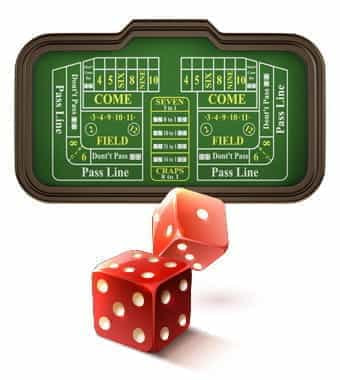 No matter whether you play craps online or in a land-based casino, the gameplay will always follow the same general rules. Some house rules do apply depending on the casino you're in, or on the variant that you play.
Some live dealer versions of craps will differ from their random number generator (RNG) counterparts, so it is always worth checking out the rulebook before starting any real money craps wagers. There is some mathematical probability that can be applied to the different wagers, however, giving you some insight into which bets are more likely to win.
Of course, it's also worth knowing that no matter the strategy you implement or the mathematical probabilities you understand, it will only make a fraction of a difference to the game's overall return to player (RTP) percentage.
If you need a refresher on basics of how craps works, have a read through my basic craps rules introduction. If there's some terminology that is leaving you confused, my craps terms article is worth a glance.
Basic Craps Strategy Checklist of What to Do
Once you've got a grasp on all of the terminology and the general flow of the gameplay, it's time to look at which craps betting strategy options you should take and why. There are no "wrong" answers in which bets you want to place, but we will only recommend the statistically-best craps strategy.
Play Pass Line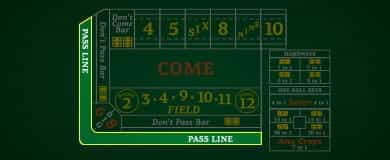 Playing the Pass Line means that you are playing alongside other players and can share in their celebrations as opposed to betting against them on the Don't Pass line. Even in online games alone, the Pass Line offers better opportunities and payouts.
Play Pass Odds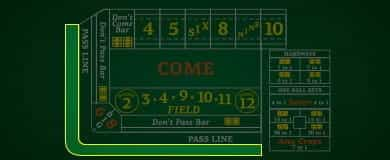 Pass odds are a sort of side bet played after the first roll which increases your wagered amount and potential winnings of the Pass bet. Always play the odds on a pass line bet. There is no house edge on these bets, so they pay the exact odds of the wager.
Play up to two Come Bets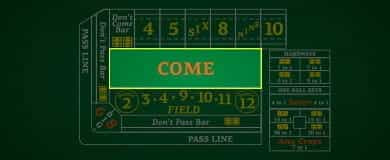 Once the pass bet becomes a point bet, you have the opportunity to place a come bet. This essentially acts like a new pass bet on the next roll, so more numbers on the dice can result in a winning throw for you. Place up to two of these at any one time.
Don't play long bets/proposition bets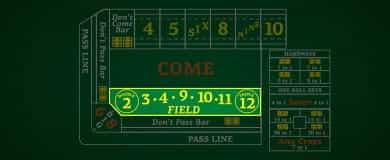 The long bets/proposition bets/field bets are statistically a terrible choice to make when placing craps wagers. These include bets like the Hard 8, which has less than 3% chance of being rolled. The high payouts of these seem tempting but are unlikely to be awarded.
This checklist gives you an idea of the best craps strategy to follow in a general craps round and why. Of course, you are always free to make your own choices and all bets will be accepted. Some types of bets appeal more to the high-risk gamblers with their potential huge payouts, while others prefer the lower volatility wagers.
Craps Strategies, Tips & Odds
The following section of this guide to craps strategy will tell you how to identify good strategies from the bad, and how to apply them to your gambling experience. I'll share some examples of basic and advanced options, plus explain some of the more intimidating statistics like odds tables and payouts.
Basic Craps Strategy
Once you've got a handle on the rules, you can start to play with a craps betting strategy. This involves a couple of different decisions and steps to playing on the table, many of which have been outlined in the checklist above. Let's assume that you will be playing in an online casino game, and therefore have no interference from other players. Place your pass line bet to begin your rounds of wagers, then make the come roll.
Once the come roll is made, assuming that the result is not craps or a winning roll, the resulting number will become the point number. Then this becomes your desired roll, and therefore you should play the odds and increase the potential payout should you get the result you want.
At the same time, you should also place a come bet, which will effectively act as a new pass line bet and follow the same rules if the roll is a four, five, six, eight, nine or ten. Do the same thing one more time if a ten, or neither of your new points are rolled.
Craps Advanced Strategy
Once you've got a handle on the basic craps strategy, you can proceed to the different advanced craps strategies. Due to the fact that there are a large number of different wagers that you can make on the craps table and they can be placed at various times and values, there are a huge number of different advanced craps strategies out there.
The important thing to do is to investigate all of the aspects to the craps betting strategy to see what the payoff will be. For example, one advanced craps strategy suggests placing bets on the pass line, the numbers five, six and eight, and a 3-way bet to cover the craps.
Essentially, the strategy cannot fail because you have bets on every single outcome of the dice. However, you will also absolutely lose many of the bets that you place, so the amounts wagered must be enough to cover all of the lost funds with the profits from whichever result actually wins.
What are the Odds on Craps Bets?
Different bets have different odds, so they will pay out in different ways based on which phase of the roll is taking place. Which payout to expect could be part of your advanced strategy if you are playing to cover the table.
It's always a good idea to know how much to expect back from each bet that you make, and these amounts are always directly correlated to the chance of the result occurring. Check out the table below for more information about the payouts.
Payouts of Craps Bets

These are the general craps payouts that you should expect from any online or land-based version of the game. If you see payouts that are different, I'd recommend you exit the game and find another. As you'll need to refer to these odds frequently, we've put them into a downloadable resource to keep handy. No need to memorise any numbers.
Craps Strategy Example in Action
There has been a lot of information provided about the types of bets you can place and when to do so, but much of this could still be confusing if you aren't expertly aware of the craps table layout. There is plenty more information about this in our main craps rules page and we recommend you get started on that page.
The following section will outline where on the craps table each of the different bets can be placed. The great news is that you don't have to memorise these placements as they are always labelled, and in online games you can hover over the placements where they will be highlighted if they are possible to make.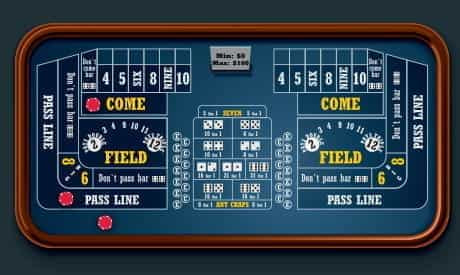 Pass (plus free odds) and Come bets
The outside circle of the craps table, named the pass line, is the main placement place for bets. The come bets are placed in the centre of the table where it is labelled 'come', and odds bets are placed on the outside of the table, behind where the pass line bet is placed.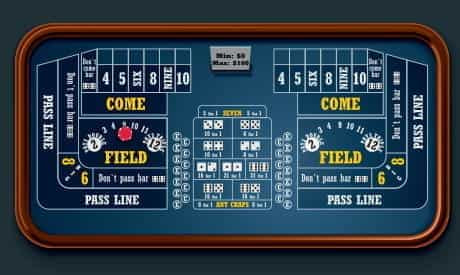 Field Bets
A field bet is a common and popular wager that can be made on the craps table and is essentially the player choosing one number they want to be rolled. You can't choose a six, seven or eight, as these have good odds of being rolled as there are many combinations to result in these. The odds of each of the numbers differ and pay out better for snake eyes or boxcars.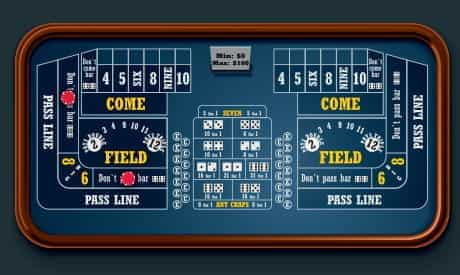 Don't Pass
The don't pass bar is often found near the pass line and is effectively a wager that a craps roll will be the next result. If a two, three or 12 are rolled, you will win the don't pass bet. Making this wager is considered bad etiquette in a live casino as it can be seen as a bet against the interests of all of the other players.
Craps Betting Strategies
When it comes to betting strategies in craps, it could refer to a few different things. So far in this article, we've been discussing the types of wagers that can be placed on a craps table, when to do so and why it's a good idea.
However, we also need to discuss the strategic moves around the values of the wagers that you can make. In some of the most publicised and well-known betting strategies, the value of the wagers is the entire system. This includes betting strategies like Martingale and d'alembert, which effects how much money you put on the table in each round of the roll.
The best advice I can give you is to ignore any and all betting strategies. These wagers only affect the profits and losses that you can expect with each round and has zero effect on the outcome of the dice roll. All that can happen is that your wagers can increase beyond your budget in a quick time span, or that you can incorrectly assume your next wager will return all of your losses.
Strategy Myths to Avoid
There are lots of different myths floating around in the online craps industry. There are a lot of misconceptions that gamblers choose to believe about the game in an effort to think they have control over the roll of the dice, which are entirely false.
Gambler's Fallacy is a real issue and can lead to overspending on any types of gambling experiences, so it's important to understand the different myths and how they are not going to affect your game.
1/4 Craps Dice Control Some gamblers profess to have an ability to be able to control the way they roll the dice. This is a complete lie as the variables of the dice roll makes it impossible to control, especially with the rule caveat that the dice must be bounced off the back wall.

2/4 Blow on the Dice Brought into fabrication through Hollywood movies, the myth revolves around the roller offering the dice to a nearby gambler or observer to blow air onto, believing that it would bring good luck to the roll.

3/4 Women are Luckier than Men Again, there is no logical reason why dice that are handled by a female roller would have any different outcome than dice handled by a male roller. It is likely a myth invented for use as an ice-breaker at live casinos.

4/4 Online Craps are Worse This myth says that online craps are 'worse' for the player than playing in a land-based casino. This is inaccurate, as the return to player (RTP) rates can vary from one game to another and are often worse in the real gambling houses.
As with these myths, so too are strategies just a selection of suggested wagers that will not in any way affect the outcome of the next roll. Thinking along the lines that "there hasn't been a seven in the last ten rules, it has to be a seven this time" is called Gambler's Fallacy and is a dangerous way to assume a win is on the horizon.
Start Using Your Craps Strategy Today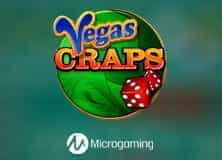 Microgaming Vegas Craps
Vegas Rules
Clear Design
Excellent Atmosphere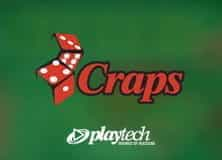 Playtech Craps
Good RTP
Nice Graphics
Wide table limits
Now that you've made it through this guide to the best craps strategy, it's time to put what you've learnt into practice. Though many an online casino will offer the game for low-barrier real money stakes, the better option is to play it for free.
Follow the links below to test out your strategy in a risk-free manner. This way you can experience first-hand the futility of some of the long-shot wagers or practise your turn-by-turn moves purely for the fun of it.
This is a selection of RNG-based craps games that are available for a free play demo but is nowhere near a full list of the available craps variants that are available for real money gameplay.
You can find even more options at our main craps page. We also recommend you check out the live dealer suite versions of the game, which merge the atmosphere and the social spirit of the land-based casinos with the convenience of playing at home.
Frequently Asked Questions
There is a lot to explain in a complicated game like craps, especially when there is so much different terminology about the types of wagers and a more fluid, ongoing gameplay style. We've collected some of the most common questions about craps in this section for your convenience.
Why is the pass bet better than the don't pass bet?
The pass line bet is made in solidarity with the other players at the craps table, and therefore fosters a sense of cameraderie. In online games, it's also better to make pass bets than don't pass bets in an online game as the payout odds are better.
What is the best craps strategy to win?
A simple craps strategy is the most recommended way to play as it keeps things from being confusing or frustrating. It also keeps the action exciting, as you will have a few different wagers that will provide positive outcomes.
How do I win at craps?
No matter which wagers you place on the craps table, you will not be able to ensure that the outcome of the dice will result in the number that you want. There is only advice on how to place the most statistically probable wagers, but there are no definite ways to win.
Is a seven lucky or unlucky?
A dice rolling a seven is good news if you have a pass line bet, and bad news if you have a point bet. So it will draw exclamations of both happiness and dismay simultaneously from a full craps table in a land-based casino as there will be both types of wagers made. In online craps games you only need to worry about your own wagers.
Your Opinion is Valued
Other Interesting Craps Topics