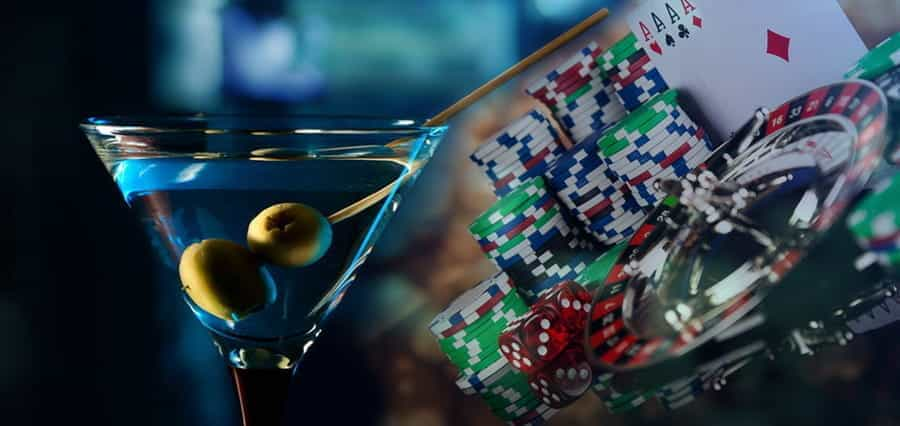 5. Dry Martini
A vodka martini is the most iconic casino drink. It's the drink of James Bond, it oozes class and sophistication. There are some things to work through though.
First off, Bond actually originally drinks a cocktail of his own creation, which is called a Vesper (after Vesper Lynd, whom he meets in Casino Royale), which is three measures Gordon's gin, one measure vodka, 1/2 measure Kina Lillet, shaken over ice and served with a slice of lemon.
Fans of the ever-cool spy need not be intimidated by this heady mix, however, as in later novels, Bond tends to drink vodka martinis – still shaken – or occasionally gin martinis.
The reason that this entry can't top our list of the best casino drinks is simple: martinis are strong and often expensive. They're not to everyone's taste, can get you drunk pretty quickly and, if you are paying, may not suit everyone's budget. However, if you have a taste for a powerful and classy casino cocktail, you can't go far wrong with a dry martini.
4. Old Fashioned
The Old Fashioned is one of the oldest and best-loved cocktails around. It's usually made with bourbon, angostura bitters and sugar, served over ice with a twist of lemon. The history of the drink goes back to the 1880s and the Pendennis Club in Louisville, Kentucky.
As with a martini, this is a drink to sip slowly, otherwise, it's got a serious kick to it. Thankfully, as the ice melts, the cocktail will dilute, giving you different intensities as you drink, which is one of the joys of the Old Fashioned.
As a favorite drink of Don Draper, this is another cocktail that will help you to look slick as you play cards or roulette. Only its strength stops it from being the ultimate casino drink.
3. Wine
Wine is a classic drink for all occasions. We can't think of many situations where a glass of wine would be a weird order. Given its popularity and that it is relatively easy to drink, it's a great choice for your next casino drink.
As everyone will know, the variety of wines out there is staggering. You'll find that a decent casino bar should stock a reasonable range of whites and reds, covering all of the major grape varieties. If you're lucky, or if you head to one of the fancier establishments in the world, you'll probably be surprised by the size of the wine list at the bar.
Of course, these wine lists will tend to have as wide a range of prices as they do in terms of their note and body. But, on the whole, wine can be a great option, mixing affordability and the possibility to pace yourself easily.
2. Gin and Tonic
Gin has had a massive revival in popularity in the 21st century, inspiring the term "ginaissance". As such, you have a lot of choices when it comes to this beloved long drink. The gin and tonic has been a staple in bars for years, first being drunk by British soldiers in India during the early 19th century.
With the resurgence of gins around the world and the rapid growth of small-batch designer gins being brewed, you can have pretty much whatever you want. If you love the original, then try out a Gordon's and tonic with a wedge of lime. Or to freshen things up, try a Hendrick's with a slice of cucumber.
But the options go way beyond that; for a complex taste of the exotic, try Opihr gin, mixed with Fentiman's herbal tonic and garnished with chili. Though it might at first seem like gin and tonic is just one drink, hopefully you're starting to see that the limits are almost endless. That's why it's one of the best casino drinks out there.
1. Beer
Beer is the best casino drink. This might surprise some readers, but to us, there is no question. What you really want in a beverage for gambling is something that you enjoy, something that lasts a while and doesn't get you too drunk, and something that won't take up too much of your gambling budget. Beer ticks all of these boxes.
Of course, you will find casinos that charge you through the nose for bottles of beer, and you will find Belgian brews that will knock your head off. But if you stick to options that you know and like, you can't really go wrong.
Especially if you are gambling in the UK or other countries where you have to buy all of your drinks in casinos, drinking cocktails can get a bit pricey. But more than anything, the reason that beer is our recommended drink for casinos is the same reason that it's most people's go-to in bars: it's loved by most drinkers around the world.
Best Non-Alcoholic Casino Drinks
It's not a crime to just go for a tea, coffee or any other non-alcoholic drink. These types of drinks are very often offered free of charge, so you can save your money and keep a clear head. Gambling while drunk is never a good idea. So, whether you are teetotal, you fancy a night off of drinking, or you just want to mix things up a little, we've got you covered.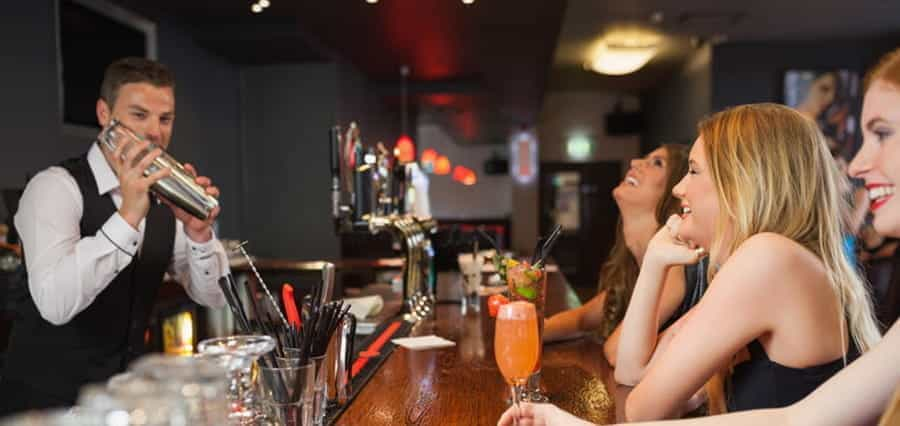 The best non-alcoholic drinks to order in a casino:
Pomegranate Negroni
Monte Rosso
Erdinger Alcohol Free
Latte
Cola
Bad Choices
If you don't like what's on our lists, we've got some general pointers for you. So, let's go through some of the worst choices you could make. Some of the drinks on this list might surprise you. Remember, we're talking about casino drinks, not just your average bar. This is not the place to lose your head, or you might pay dearly.
We'd say that the worst alcohol choice you can make is overindulgence. If you want to keep a poker face, downing beers like there's no tomorrow isn't going to help you out one bit. You might be having a whale of a time, but other players will see straight through you. Bear in mind that the same logic goes even if you are sitting at home, pouring yourself drinks and playing at one of the best online casinos in the world.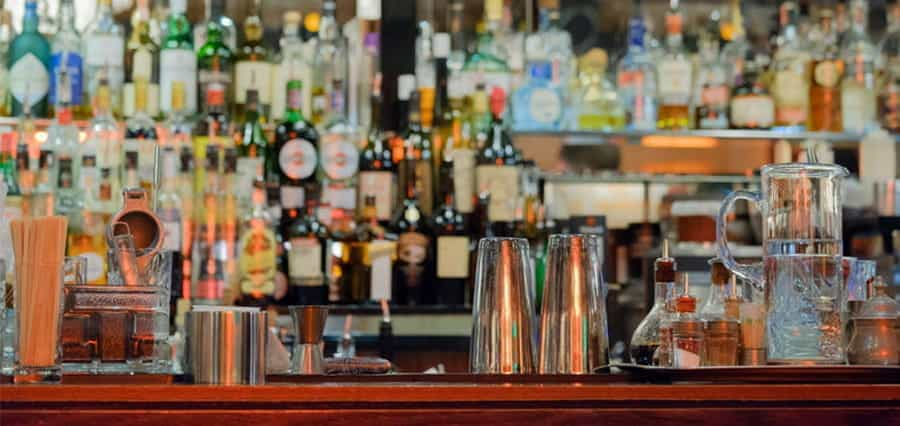 Go for low-proof cocktails if you want something fancy. The most alcoholic cocktails often have a clue in the name. Death in the Afternoon, invented by Ernest Hemingway, is sure to make you feel pretty woozy after a few. It's simple but deadly – just champagne and absinthe. Ordering a Zombie is just as likely to drag you over to the other side. It's got three types of rum in it, Pernod, angostura bitters, grenadine, falernum, lime juice and a mix of cinnamon syrup and grapefruit juice!
These cocktails might be a recipe for an amazing night out but could definitely bring your casino outing to a premature ending. Plus, too much Dutch courage could get you in quite a lot of bother and bleed your wallet dry.
Good Choices
We've gone through what not to drink, and it might feel like there are few fun drinking options left. That's not the case at all! You don't have to be content with alcohol-free drinks like tea and coffee. Plenty of cocktails have mixers in them and are delicious to boot. They can also look very fancy and lend you that aura of mystique that you're after. Let's take you through some classy cocktails that you can drink without getting totally loaded.
If gin is not your tipple and so you don't fancy a gin and tonic, then a rum or vodka and coke could go down just as well. With long drinks like Cuba Libres and Moscow Mules are also popular options. and Just remember not to get enticed by ordering lots of doubles, or you might as well be drinking something much heavier.
If you're going to go for a more complicated cocktail, then it's always good to have a few options. Sometimes casinos won't be able to offer you your drink of choice if they don't stock a key ingredient. Have a backup option handy and this will save you awkwardly having to thumb through a drinks menu on the spot.
Casino Drinks Top Tips
Let's simplify things. Whatever you want to order, there are some good things to keep in mind. Above everything else, make sure that you know your limits and make sure that you have fun while playing.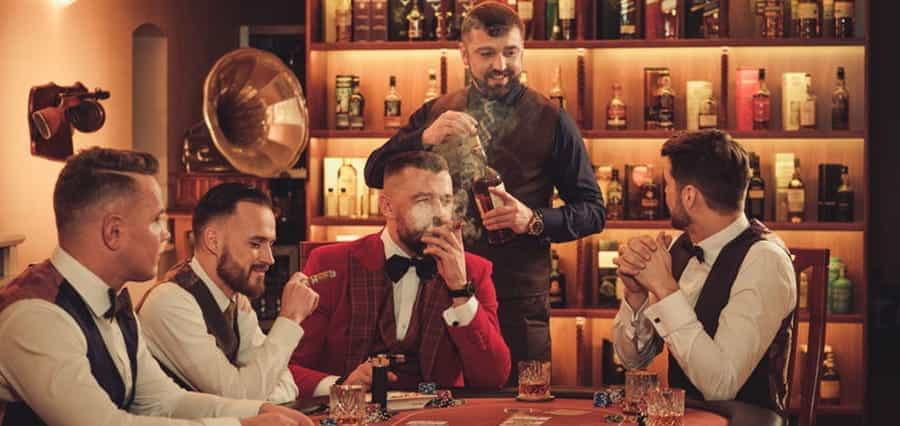 Here are our tips for ordering drinks at a casino:
Keep it simple and order drinks that you like.
Remember that you can always ask for a virgin cocktail.
Beer is usually cheaper and less alcoholic than cocktails.
Pace yourself and know your limits.
Simple drinks with mixers are a solid option.
Drink water between alcoholic beverages.
Stop gambling if you feel drunk.
Only order a martini if you know that you'll enjoy it.
Remember to tip your bartender.
Our Complete List of the Best Drinks to Order at a Casino
Of course, if the idea of choosing specific casino drinks is all too much of a deal-breaker, there is one very convenient solution: stay at home. Why not just play online from the comfort of your own sofa, with your favorite casino drink in hand. Grab on of the available online bonuses or visit a great live casino. You might miss out on the glamor of the casino setting, but you could have a much more casual and relaxing night of fun. Keep the good times rolling and invite your mates round too for some mobile gambling. Let's wrap up with a toast from Homer Simpson, booze enthusiast – 'To alcohol! The cause of – and solution to – all of life's problems!'
Here are the best drinks to order at a casino:
Beer
Coffee
Cola
Cuba libre
Gin & tonic
Lemonade
Long vodka
Martini
Monte Rosso
Moscow mule
Non-alcoholic beer
Old-fashioned
Pomegranate Negroni
Vesper
Vodka tonic
White wine spritzer
Wine
If we've whet your whistle, you can read some of our other popular guide posts below. Or, you can always mix yourself a drink, relax on the sofa and log in to one of your favorite gambling sites. If you're looking for suggestions, why not read our lists of the best slots casinos, top live sites or try one of the operators with the best bonuses. Just remember to gamble and drink responsibly.