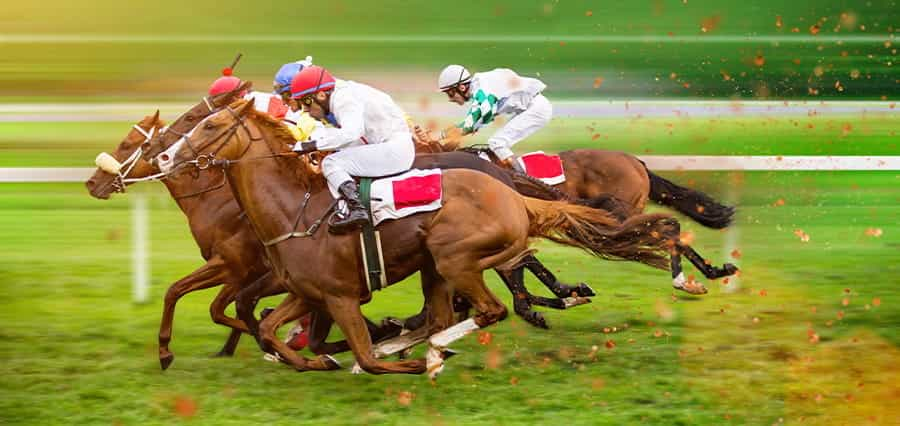 The Most Famous Jockeys
Grading and assessing fame and success is a tricky thing, and can cut a number of different ways. Judging the best and most famous jockeys is an extremely subjective exercise, and we therefore aren't claiming our list to be in any way definitive (as there are some downright legends we've left off), but definitely indicative of great success.
Measuring the success of famous horse jockeys can be performed using various crucial factors of excellence. Total prize money won during their careers is a big one, as is the number of big-scale horse races won. There are also those stories and partnerships that make our hearts sing that won't ever be forgotten.
Before we get to the list, if you are looking to bet on horse racing, then you should check out our list of the best horse racing betting sites, or read our more general page on top online bookies.
Taking all these factors in, we've compiled a list of 10 incredible jockeys that all deserve a huge amount of recognition for their achievements, from all across the globe, and in no particular order. Let's go!
1. Frankie Dettori
Born: 12/15/1970, Italy
Career Wins: 3,000+
Main Circuit: United Kingdom / Europe
Earnings: £155,000,000
Alongside pasta and great wine as incredible things to come out of Italy sits Frankie Dettori, a champion jockey who is known for his charismatic dismounts and his success across Europe. Born in Milan to a horse-focused family, Frankie got started early, moving to the UK at fourteen to apprentice at Newmarket racecourse.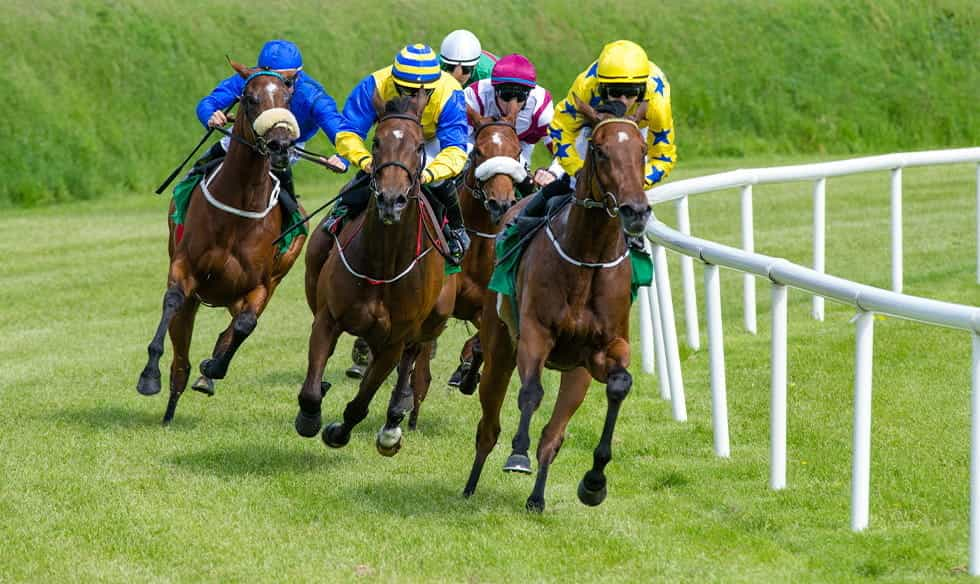 He's had some stellar partnerships with a collection of champion horses, and has won Prix de l'Arc de Triomphe, France's top race, a record six times. His crowning achievement was in 1996, when he won seven out of seven races at the Royal Ascot Festival, which is a feat that is unparalleled to this day. His wins and earnings will continue to rise as he continues to race.
2. Russell Blaze
Born: 08/07/1958, Canada
Career Wins: 12,844
Main Circuit: USA
Earnings: $199,334,219
The Canadian giant's achievements could be the subject of a whole essay. In fact, they probably are, considering he is one of the most accoladed North American jockeys ever!Hailing from Vancouver, Blaze quickly made a name for himself, moving to Washington state and winning his first races there as a teenager.
Among his greatest of achievements is simply put, the sheer amount of wins he's gathered. In 2006, Blaze overcame the world no.1 to have the most career wins in history, a record he still holds. This 10-time US Champion Jockey is now retired, but his records are in no danger of being usurped, and his legend status is well and truly certified.
3. Lester Piggott
Born: 05/11/1935, UK
Career Wins: 4,493
Main Circuit: UK
Earnings: N/A
Hailing from an old jockey family out of Oxfordshire, Piggott is so renowned in the horseracing world he even has a British awards ceremony named after him, The Lesters. He has won record titles at the Ascot Gold Cup, July Cup, and more, and had an illustrious career that spanned into his late 50s, achieving his last victory at the ripe age of 59!
4. William 'Bill' Shoemaker
Born: 19/08/1931, USA
Career Wins: 8,833
Main Circuit: USA
Earnings: $123,375,524
The man, the myth, the legend, Bill Shoemaker was born to be a jockey, with his underweight infant frame leading doctors to fear the worst. Maturing to a height of 4 feet, 11 inches, Shoemaker capitalized on his size, and began his lifeline career on the track.
Within a year of professional racing, Shoemaker was named the US Champion Jockey, and began a journey of collecting all the titles he fancied. His legend status was certified very early on, as he was inducted into the National Museum and Racing Hall of Fame only nine years into his career.
5. Sir Tony McCoy
Born: 04/05/1974, Northern Ireland
Career Wins: 4,358
Main Circuit: UK
Earnings: £40,000,000+
This Northern Irish jockey is a straight up knight, which is perhaps one of the most awesome titles one can get whose job it is to ride a horse for a living. He began his career in 1992 with a bang, launching onto the National Hunt (jumps) scene and has dominated the British arena ever since.
McCoy is the most prolific and celebrated National Hunt jockey ever. He has won the British Jump Racing Champion Jockey 20 times, in an unbroken streak from 1995/96 to 2014/15, and holds many records for the sport. He received his Order of the British Empire in 2016, officially becoming a knight.
6. Ruby Walsh
Born: 14/05/1979, Ireland
Career Wins: 2,770+
Main Circuit: UK
Earnings: €24,000,000
Another National Hunt superstar of the scene, Ruby Walsh sits behind Tony McCoy in career wins, but is just as prolific. He holds the most wins of the Cheltenham Festival, the second biggest National Hunt competition, and was top jockey at the premier festival a record 11 times.
7. Jerry D. Bailey
Born: 29/08/1957, US
Career Wins: 5,893
Main Circuit: US
Earnings: $296,000,000
This illustrious Texan made a name for himself in the 1990s, winning four times at the Dubai World Cup and others on the international circuit, but respectfully balanced them with just as many prestigious winnings on his home turf in all the American Classic Races. He was the highest-earning jockey in the States for six seasons!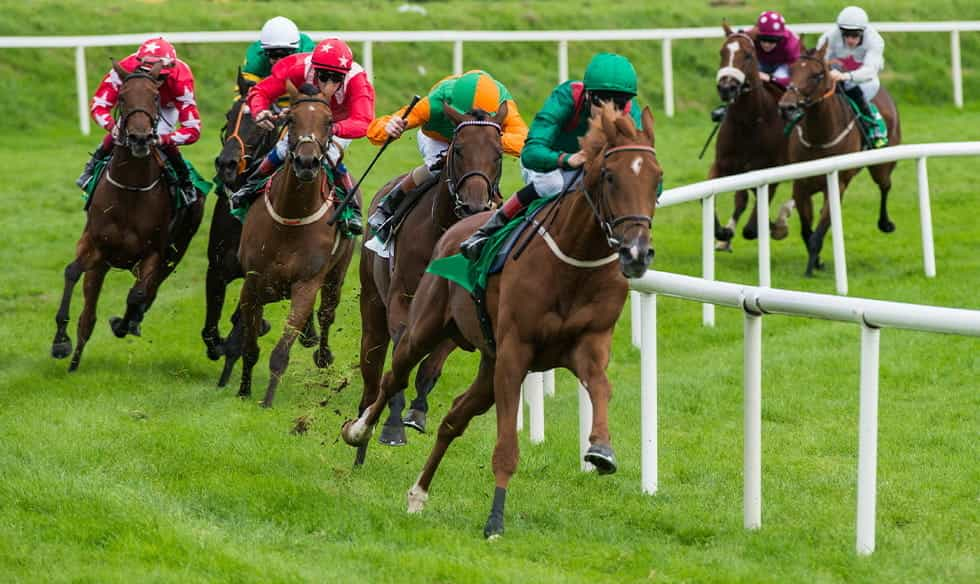 More than just his achievements, Bailey made history in 2006, when after a Louisiana bill was passed to legalise advertising in the Kentucky Derby, he went on on the racetrack bearing his sponsors in patches on his silks. This significant moment was the culmination of a plight by Bailey to allow for advertisements at the event.
8. John Velazquez
Born: 24/11/1971, Puerto Rico
Career Wins: 6,165
Main Circuit: USA
Earnings: $415,609,389
If we were to base this list on earnings alone, John Velazquez would take the cake, as the Puerto Rican jockey has earned more money than any other jockey in history, at a cool $415 million and counting. He overcame the record in 2013 with $298 million, so he is pretty untouchable now.
His achievements across the US circuit are still amassing, and he seeks to earn his Triple Crown. The title is awarded to those jockeys that win the Kentucky Derby, the Preakness Stakes and the Belmont Stakes in a single year. All the best to you John!
9. Mike E. Smith
Born: 10/08/1965
Career Wins: 5,559
Main Circuit: USA
Earnings: $382,329,509
This famous horse racing jockey makes our list for his significant winnings in the racing arena, close to Velazquez but unlikely to surpass him due to his advanced age. He's proof that age is just a number, with 2020 marking his 54th year and he's showing no signs of slowing down.
His achievements include winning the esteemed Breeders' Cup a record 26 (!) times, achieving the most American Grade 1 successes, a feat he achieved in 2019, and being the oldest jockey to claim a Triple Crown, which he did in 2018. Not bad for an old man!
10. Laffit Pincay, Jr.
Born: 12/29/1946, Panama
Career Wins: 9,530
Main Circuit: USA
Earnings: $237,120,625
What list would be complete without this famous horse racing jockey, the esteemed Panamanian Lafitt Pincay, Jr. From another era, he dominated American horse racing in the 1970s, moving to the States after making a name for himself in Panama.
A prolific rider, Pincay achieved the Triple Crown in 1978, and won just about every race in the States at least once to amass the most career winnings, at the time. He has since been surpassed by Russell Blaze, but his legacy will never be forgotten, as recipients of the Laffit Pincay, Jr. Award will attest.
Frequently Asked Questions
Whenever we make a list like this, we get bombarded with questions regarding omissions of favorites and exciting details about classic wins. You just can't please everyone! We've compiled the most commonly asked questions here, and answered them for you, as we do in all our guides.
Who is the most famous horse jockey?
The most famous jockey is arguably William 'Bill' Shoemaker, for the legacy that he left following his passing in 2003, and for bringing the prestigious sport into the modern era. Plenty others have come after and earnt and won more than him, but none have changed the game so significantly, much like mobile gaming has changed the online casino scene.
Who is the richest horse jockey?
The title of the richest American jockey goes to John Velazquez, for his over $400 million earnings taken from races in his career. If you are interested in following the fortunes of current jockeys, you can bet on current races at the best horse racing betting sites.
Who is the greatest flat jockey of all time?
That depends on who you ask, but between you and me, Lester Piggott takes the cake, as he was not of the traditional jockey build, and had to fight his way to the correct weight each time he rode. Whether he is the greatest sportsman of all time is another question. One that doesn't have any easy question. We can answer which the top sports betting sites are, however!