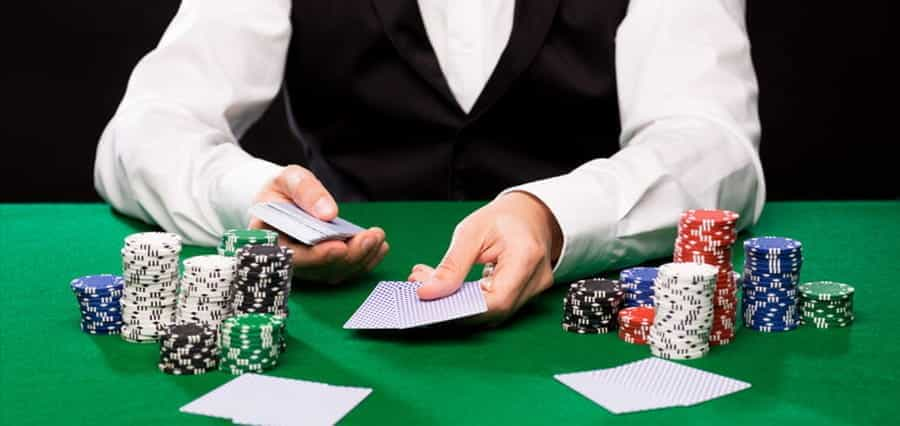 The Croupier Job Description
It would be easy to assume that the sharply dressed, cool and often attractive dealers and croupiers of the casino world are living a dream existence. I mean, they usually look pretty satisfied. Especially the ones at the live casinos. Winning all day would probably do that to you. But is it all just dealing and winning with no hardships, or is there a lot more going on behind the scenes than we can see? To best understand what that could be, it's important to know what attributes and characteristics one not only needs to get work as a croupier but thrive in it.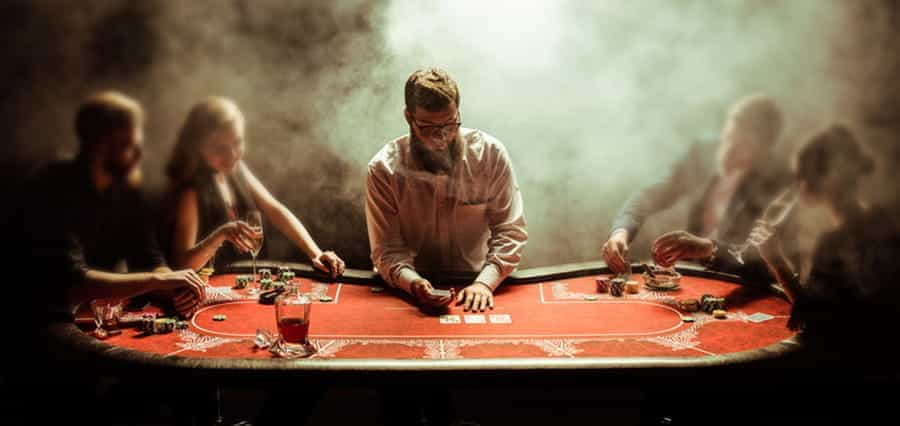 There's nothing more important in this line of business than being personable. That means being approachable, kind and welcoming to your guests no matter who they are. You also need to be extroverted – it's your job to entertain the players as well as to deal to them. In saying that, you don't want your enthusiasm to be overbearing, because, at the end of the day, you are in a serious position that will determine if people potentially win a lot of money or not.
Stress cannot be something that throws you, as games can and do get very tense. You need to be fast and quick-witted to keep the game moving smoothly. On top of all of this, it doesn't hurt at all to be attractive. This is probably the easiest way to have players approach your table, a bonus for you so you show off your skill and personality. Do this well and you could earn yourself a nice tip. You may be wondering if it's wise to tip the dealer and the answer is, of course! It can't hurt to have the only person in between you and the house like you, right?
The Types of Croupiers
Different games require different skills from their dealers, so it's important to distinguish who these dealers are and where their experiences lie. Nowadays, it's more common that croupiers will be well versed on a number of table games, but it's still not unheard of for croupiers to just specialize in one game. The differences don't just stop there. The last century has brought on two new forms of dealers that we will be discussing; cruise ship dealers and live dealers.
Cruise Ship Dealers
The days of having a dealing residency at one terrestrial place for your whole career are long over. Meet the cruise ship dealer, the croupiers that take their gambling skills to the seas and travel the world while they do so. Not only do they get to visit exotic locations and meet people from across the globe who are usually more relaxed, but they are some of the best-paid croupiers there are. This is not just because the salary is better and the tips are bigger, but because being in international waters means that your pay comes to you tax-free. Not only that, your meals, board, and washing tends to be included in the benefits too. The biggest downside is that you may spend months away from loved ones back at home, but if you can look past this and embrace the adventure, this is perhaps the hottest gig available.
Live Dealers
Since the advent of online gaming, gambling websites have been trying to find ways to bring the live casino experience into the comfort of their gamers homes. With the live dealer or real dealer, they have found the ultimate solution. The live dealer is more of an entertainer than a standard croupier and is streamed live when hosting the game. Although they don't need the same quick-mathematics skills that regular dealers do (this job is taken care of by computers), it's important that they are likable enough to keep players seated and coming back for more. Find out more about playing live games here.
The Pros and Cons of Professional Dealing
So far, we've delved into a lot more positives of the position than the negative, but like any job, there has to be downsides. To many, these might not seem like downsides, but for the purpose of fairness, we present the advantages and disadvantages of being a casino croupier. Whether it's croupier for a landbased operation, one focused on live roulette casinos or live blackjack casinos or something else.
The Pros
Your working environment is bright, colorful, often cheerful and includes a revolving set of customers every single day. It can feel more like working in the entertainment industry than the service sector.
Land a cruise ship croupier and you can travel the world while being paid. Your pay is tax-free and you land good tips. If travel is still your thing but you'd rather be on land, job opportunities exist everywhere, and usually in the most desirable locations.
The tips, the tips, the tips!
Your attitude determines how much you get paid and how well the players at your table respond to you. If you are good, you control the mood and spirit of the game like no other and can provide a truly memorable experience.
It's a job that you can start from the bottom and work your way up. You don't need to know an insane amount about gambling before you start but in time, you can learn everything you would need to know.
It gives you an amazing insight into how the pros play.
The role offers flexible working hours. Whether you're a morning person or a night owl, the 24 hours a day 7 days a week opening times of a casino will suit your lifestyle. Chances are, you'll be working more in the later hours, but the possibility for morning shifts is still open.
The Cons
Before you begin, you will need to have completed some form of education and bring a qualification to the table. You will have to pay for this yourself and courses usually run for between 6 and 8 weeks. There are many across the USA, but the best are located in Las Vegas. See here for the top ten in Vegas.
If you intend on traveling with your croupier training, there are some countries that require you to have a license to do so. Even in the USA, you will need a different license to deal in Atlantic City than the sheriff's card needed for your work in Nevada. This can cost upwards of $500 for an application.
There are occasions when you might find yourself under threat by angry, losing gamers. It is not unheard of for croupiers to be abused by players. Even live dealers can become the target of harassment by sneaky players able to record certain "pranks" and broadcast it for all to see.
There is an increased risk of cancer and other occupational health hazards involved with being in an environment where smoking is allowed. There is also an increased risk of developing a gambling addiction.
The role is too important for you to never not be at the top of your game. This may be exhausting, but you must never show signs of fatigue to players and must always stay focused on the game at play.
Your first job may start at the minimum possible salary. Although it may take a while to climb the ladder and you may have to work at establishments that don't initially thrill you, it does take time to get to a role that pays as well as the more prestigious casinos in Vegas.
The occasional late hours may affect your sleeping pattern and your personal relationships may suffer from it if you are often tired and on a different waking schedule.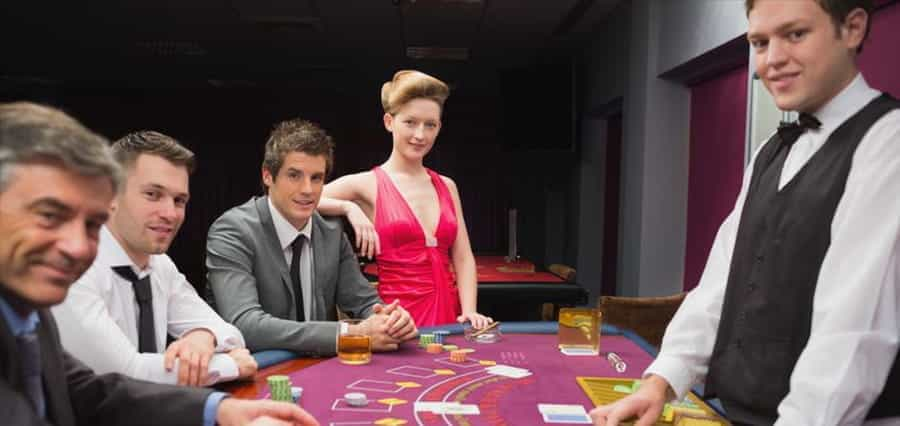 Frequently Asked Questions
Does the world of casino gambling still sound too mysterious for you to grasp? That's okay, below we've answered a few questions that you may have wanted to ask a croupier but have never had the opportunity.
How Do I Become a Casino Croupier?
I like your attitude! If you feel as though you meet the skills and have the characteristics as we have listed above, then you are in luck. The most common way in the USA is to complete the 6-8 week training course to learn the basics. Then if you apply for a vacant entry-level position at a land-based casino, where if you are successful, you will be invited to host a live game while the room manager watches and grades your performance. We recommend spending a bit of time at your local or favorite casino getting to know the games and finding out why you like it there, taking notes on how the best dealers run games and even ask them advice on how to get a job there. If you want a qualification that is recognized by most casinos around the country, we recommend the 12-week course at href="https://www.thecasinoinstitute.com/"_blank">The Casino Institute which costs around $1,800.
Should I Tip the Dealer?
Like with any service industry, it is completely up to you whether you tip the dealer or not. In saying that, just like any other service industry, their salaries may not be particularly high, so to acknowledge their work with a gratuity could go a long way to show them that you're happy with how they've hosted the table. If they aren't particularly good, then don't feel obliged to tip, but if they have impressed you and made your experience that much better, not only is it a good way for them to line their pockets but it also shows to them that they are doing a good job and are on the right track. If you are to tip, the rule of thumb is about 30% of your bet.
How Much Do Croupiers Make From Tips?
As croupiers in the USA quite often make their living mostly from their tips, there's no limit as to how many croupiers can make. The average croupier can make anywhere between $10 an hour to $30 an hour. It's standard for most casinos to pool all the tips that their dealers have earned, and then divide them by how many hours they worked that month. If croupiers are working full-time on a $6 an hour rate (a standard wage), it's likely that with tips they'll be taking an average wage home of $22 an hour, which in the service industry is quite exceptional.