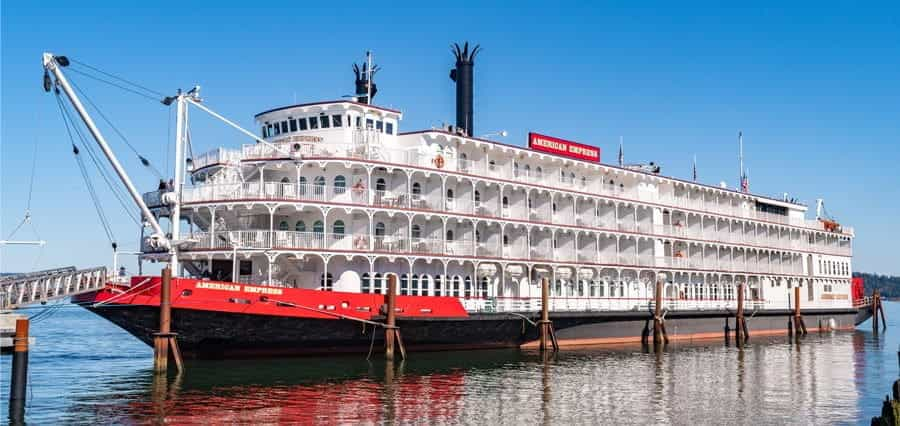 History of Gambling on Riverboats
We can think of no better place to begin our journey than by painting a picture of the history and heritage of riverboats and gambling. Back in the 1800s, the situation for gambling in the USA was a bit different than today. The Mississippi Great River was the lifeblood of American industry and commerce. Thanks to advances in transportation technology, traders were no longer content to load up their horses and carts and instead took full advantage of the connections that river transport could offer.
If you've ever read anything about sailors, you'll know that traveling over water can be a long and tedious endeavor, which is why boats and game of chance have a long illustrious history. In order to pass the time, passengers and merchants on these riverboats would gamble onboard to keep themselves entertained on long voyages.
The Big Muddy
Before you knew it, riverboats began to entice professional gamblers and those seeking to keep a low profile. This was in part due to states prohibiting gambling ashore, making the use of riverboats a clever means of sidestepping local gambling laws as the water freeways were largely unregulated.
As the Mississippi River bordered several different states, it was the perfect legal grey area. This led to riverboats becoming popular entertainment destinations that mixed live music, dancing, and gambling, if only for a few hours. However, the rise of the railroad and the American Civil War in the latter half of the 19th century saw the popularity of water transport and riverboat casinos decline significantly.
It wasn't until 1904 when several states softened their hardline stance on riverside gambling. The first 'legitimate' riverboat casino, the City of Traverse, set sail on Lake Michigan which signaled the start of riverboat gambling becoming an organized commercial operation. As you may know, whenever there's money to be made, it isn't long until the government wants to get involved.
The Road to Regulation
Early riverboat casinos were quite restrictive in terms of what they were legally allowed to do. Gambling could only take place during a short cruise that lasted several hours. In 1951, Lyndon Johnson drafted the Transportation of Gambling Devices Act, which made the transportation of gambling devices illegal across state lines unless it was legal in the next state.
It wasn't until the late 1980s that the idea of revitalizing this golden era of riverboat gambling re-emerged. As a result, several states introduced laws which allowed gambling on water vessels and set the legal framework with which they still operate in today. Iowa was the first state to legalize riverboat gambling in 1989. Nowadays you can gamble on riverboat in the following states:
Iowa
Mississippi
Illinois
Indiana
Louisiana
Missourii
In many ways, it was a win-win situation, states could earn money from riverboat casino revenues through taxation without the pressure of offending the righteous by having the temptations of on-land casinos everywhere.
Riverboat Casinos and Local Economies
By 2010, there were a total of 17 riverboat casinos in operation. By 2018, there were a total of 63 riverboat casinos operating across these six states, suggesting the appeal of maritime gambling is continuing to grow according to this latest data. For the entire states of Illinois and Missouri, these riverboat casinos made $382.5 million and $152.million in state tax revenue alone.
A major way that a riverboat casino collects revenue for the state is through taxation of winnings, although be sure to consult the gambling legislation in the state you're playing in. For example, in Iowa, if you win more at $1,200 there you must pay over 5% in taxes. Whereas in Illinois, a larger 15% of your winnings return to the state, and a further 5% to the local community.
Vocal supporters of riverboat casinos argue in their favor that they actually increase employment rates in the communities that host them, and this does indeed seem to be the case. Although the impact of the global Corona pandemic on riverboat casinos remains to be seen, we predict that this industry will continue to grow.
Interesting Trivia Surrounding Riverboat Casinos
Before we give you some riverboat recommendations, we'd like to give you some riverboat casino trivia and historical facts that you might find intriguing.
Firstly, when riverboat gambling was legalized in the early 1990s, different states demanded different cosmetic requirements. For instance, all Louisiana vessels were required by law to look exactly like the 19th-century paddlewheel steamboats. In Indiana, riverboat casinos legally had to be 150 feet long and able to accommodate at least 500 passengers.
Riverboat gambling also comes with a history of violence. Modern historians have found sources that report on individuals taking the law into their own hands to punish cheaters and thieves. The most famous incident occurred in Vicksburg, Mississippi when five gamblers were lynched in 1835 after they were discovered to be cheating.
Initially, in most states, players were only allowed to gamble when the riverboat casino was in motion. However, due to unpredictable and terrible weather, boats occasionally couldn't leave the shore for safety reasons. After Hurricane Katrina, most states require riverboat casinos to stay docked to the barge to prevent damage and accidents.
Riverboat Casinos in the Modern Day
Today the Mississippi river retains its reputation for being the home to many extravagant riverboat casinos. This section will take a look at some our top three picks for the best riverboat casinos out there that we wholeheartedly recommend you visit.
Casino Queen Marquette – Iowa
Situated in the heart of Marquette, Iowa, the Casino Queen Marquette promises visitors an unforgettable experience of "high rollin' on the river". This remarkable riverboat has plenty of floor space, 17,514 square feet to be exact! Gamblers can also enjoy over 566 slot machines and table games such as blackjack and Texas Hold'em. If you'd like to immerse yourself with the locals, you can enjoy a few rounds of Mississippi Stud poker too.
Treasure Chest Casino – Louisiana
Located in the cultural capital of Louisiana, New Orleans, the Treasure Chest Casino offers players a beautiful gaming experience alongside the breathtaking Lake Pontchartrain. It boats 24,000 square feet of floor space hosting classic table games, slots, and an exciting event showroom. Highly recommended for tourists traveling through the American South East, visitors can also experience traditional Southern hospitality and cuisine including Po'boys, crawfish, and gumbo.
Ameristar Casino – Mississippi
Found on banks of the famed Mississippi, the Ameristar Casino can be found in Vicksburg and contains a massive poker room, café, restaurant, and even a highly recommended hotel. It was designed to retain the appearance and atmosphere of the 19th-century traditional steam paddle riverboat. Visitors can enjoy this nostalgic character whilst simultaneously enjoying table games, over 1,400 slot machines, and even sports betting kiosks, meaning there's something for everyone who visits.
Frequently Asked Questions
If this article has piqued your curiosity enough to set sail on a raft down the Mississippi to find the best riverboat casinos, we're happy to hear it! However, if you should still have some unanswered questions about riverboat casinos, we've got you covered. Featured below are the most commonly asked questions by our readers.
If you'd like to enjoy the full experience of a riverboat casino without having to go near the water, then be sure to check out our extensive range of in-depth gaming guides that will give you all the insight and tips you'll ever need when it comes to playing all of your favorite games online or at a live casino.
Are there still riverboat casinos?
Of course, modern riverboat casinos have been popular since the early 1990s. Iowa was the first state to legalize riverboat gambling, with several states bordering the Mississippi river like Mississippi, Missouri, Illinois, Indiana, and Louisiana jumping on the bandwagon shortly after. If riverboats aren't your thing however, there are plenty of great new online casinos popping up all the time.
Why are there riverboat casinos?
Riverboat casinos arose as a solution to legally grey areas regarding state gambling laws. They were seen as a way for the state to increase its revenue by taxation while also preventing illegal behaviors. Riverboat casinos offered a steady flow of income without citizens worrying about a flurry of on-land casinos popping up in their area. Today they are mostly docked to the harbors and offer entertainment, music, table games, and sports betting options.
How many riverboat casinos are there?
According to the latest figures provided in 2018, there are currently a total 63 riverboat casinos operating across the states of Iowa, Mississippi, Illinois, Indiana, Louisiana, and Missouri. All of these are packed with entertainment options and many classic casino games such as blackjack and roulette.
How much does a riverboat casino cost?
Riverboat casinos have been reported to cost anywhere between $7 million and $20 million. This is without even taking into consideration the additional cost of installing gambling equipment for its patrons. Typically installed by shipyards, additional gambling equipment such as slot machines can run up further bills of up to $6 million.