Former Hockey Player Wins Big at WPT Borgata
After five days of intense action, Donald Maloney managed to scoop up $487,874 along with his first World Poker Tournament trophy at the Borgata Poker Open. This was no small feat for a $3,500 buy-in tournament with more than 1,156 entries all competing for a share of the $3,700,356 prize pool.
Heavy Competition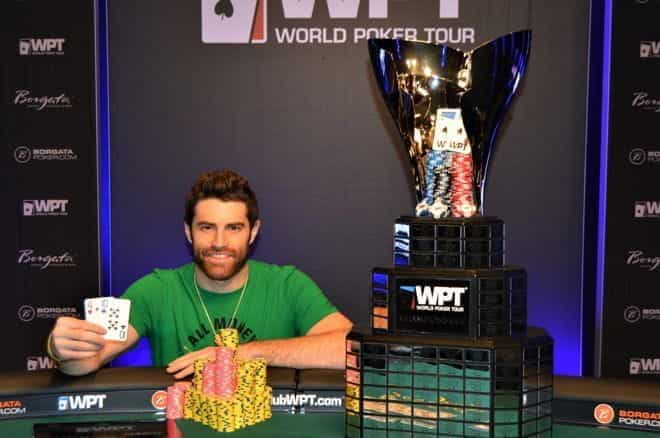 Such a large sum of money, not to mention the coveted trophy, is bound to attract some of the biggest names on the circuit. Included in this competition were Cliff Josephy, Tony Dunst, Victor Ramdin and Jonathan Little, who all offered a notable challenge to Maloney.
Perhaps the most well-known challenger this time around was Vannessa Selbst, who gained acclaim for becoming the all-time winningest female player. Even though she retired a few years ago to wrestle in the world of finance, she came back to the felt and managed to climb her way up to 14th place with winnings of $130,000.
An Uphill Battle
Following the first four days, few would have expected Donald to come home with the trophy. Dave Farah was the leader as the morning began. He had managed to take home an impressive 14,325,000 chips at the end of the fourth day, over 5.5 million more than anyone else. In comparison, Donald Maloney held a meager 6,000,000 chips.
Farah's lead didn't last long, however. Kevin Albers revealed trips, which managed to take a huge portion of Farah's chip lead.
In the end, Donald Maloney was the one to knock Farah out of the game. Farah held queen-seven with a flop of queen-seven five and went all-in against Maloney. With his pocket fives though, Maloney claimed the pot. It wasn't all bad for Farah, he still went home with $227,077 of the winnings, which isn't something to complain about.
Time to Call It Quits
Once Jerry Maher and David Farah were out of the picture, it seemed that the others were ready to pack their bags and head home. The remaining three took an unscheduled break and worked out a deal, deciding on adjusted payouts. Maloney took home the largest pot with $487,784 while Dauti and Albers went home with a very satisfactory, $464,338 and $378,664 respectively.
"The guys had decided that they were exhausted and really didn't want to play anymore, so we decided to do a flip."
As always happens with the payouts confirmed, the only thing left up for grabs was the trophy. The three players went all-in blind in the next hand. Maloney, who seemed to just have the luck of the cards, managed to catch a runner-runner straight for the title and the biggest result of his poker career to date.
The 2019 WPT Borgata Poker:
Donald Maloney: $487,784* (officially $616,186)
Uke Dauti: $464,338* (officially $410,787)
Kevin Albers: $378,664 (officially $303,903)
Dave Farah: $227,077
Jerry Maher: $171,386
Victor Ramdin: $130,000
(*after the deal)
Deal or No Deal
This deal came as a surprise to many. The WPT was originally created with a "no deals" rule. The tour creator Steve Lipscomb thought that deals tarnish competition and take away from the sporting aspect of the game. Since the newest tournament director Matt Savage stepped up, deals have still not officially been made in the tournament. Although, Mr. Savage did state that there "is no longer a no deals rule in effect".
This has caused many to question why the WPT doesn't make these kinds of deals official, like the EPT has always done. If there are going to be unofficial deals like what occurred with this most recent competition, then why not make them out in the open.
A Life of Heated Competition
Poker it seems is just one of Donald Maloney's talents. Before the Glendale Arizona native ever started gambling professionally, he had tried his hand at another kind of competition. He was a professional hockey player taking a page from the book of his father, Don Maloney Sr., who was also a professional player and is now vice president for the Calgary Flames.
Donald Maloney Jr. played hockey for a number of years up to his last season with the Peoria Rivermen in 2015-2016. As happens to many hockey players, he was forced into retirement because of injury. Although, it doesn't seem like retirement was an endpoint for Maloney now that he has successfully transitioned into a career in poker. It seems even injury can have a bright side.
A Satisfying Conclusion
Even today, Donald has a warm place in his heart for both sports.
"I feel like hockey and poker are my two greatest talents," he said. "I still skate all the time and they are pretty much my two biggest hobbies. I'd like to get back into hockey at some point if I can. I've got to not be injured to start a year one time, that would be fun. Other than that, I'd like to get into management potentially just like my dad did."
When asked if Maloney had any final words he said, "Poker is great and I love playing tournaments, I plan to be back and hope to be back in the winner's circle."