Find the Best Online Poker Strategy & Learn Playing Tips
Poker is the most famous and played game around the world. In the last couple of decades, the game has become a real phenomenon all over the world and millions of people started to learn how to play it. Nowadays, the casino game is played not only for entertainment but as a profession too. Playing poker professionally is not an easy job and players have to learn and use different kinds of poker strategies in order to be successful. In this guide, we'll be giving you a thorough overview of online poker strategy with a goal towards improving your gameplay.
Probably, there isn't a single professional poker player who hasn't played online poker. The Internet is filled with poker websites and platforms and picking the right site for you is not always a simple task. That's why, for your convenience, we have done the research for you and we list only the best poker operators available online. You can check out our devoted article about the best online poker sites & poker rooms where you can find valuable information about playing poker online and pick one of the top poker platforms that we recommend.
Tips, Tricks and Strategies for Playing Online Poker
In the following article, we will speak about some of the most helpful online poker strategies that you can use. Most of them are simple tips on how to improve your game when playing poker online. Being able to clear your game of small mistakes and useless actions from the start can be very beneficial and can help you boost your poker career from the very beginning. Every player is looking for an online poker winning strategy to follow and make their sessions profitable. We have listed some basic online poker strategies and tips, that we think will be extremely helpful to those of you who are still new to the exciting and challenging world of online poker.
You Can Never Know Enough
Of course, before you start reading our online poker strategy guide, you have to be totally aware of the basic rules of the game. If you still don't feel confident enough about a term or a rule in poker, then give online poker rules a look.
Don't forget that poker is one of the most difficult and complicated games to learn how to play properly. Even professional poker players claim that you should never stop learning and upgrading your skills because there is no such thing as "I know everything about playing poker" . So, don't think that after you read this article and learn how to use our online poker strategies you will jump straight into the final tables of online poker tournaments and you will have only highly profitable online poker sessions. It's a long and bumpy road and there aren't any shortcuts. The important thing is to try to play as much as you can in the correct way, have a plan and a poker strategy to follow, and with time success will come.
Outs Counting and Odds Calculating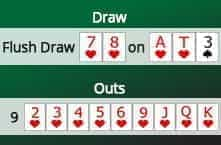 An out is a term in poker used to describe a card that you can hit that will improve your hand. For example, if you have 2 clubs in your hand and the flop contains two clubs and a heart, then you have a flush draw on the flop. There are 13 cards of each colour in a single deck. That gives you 9 cards (13-4=9) that will make you a flush and you can count them as outs. Converting the number of outs you have to odds is very simple and doable, even by the amateur poker players. The best and easiest way to calculate your percentage is to use the 2/4 rule. Every card that is one of your outs is equal to 2% over one street and 4% over 2 streets. For example, if you have 5 and 6 off-suit and the flop is 7, 8, K rainbow then you have an open-ended straight draw. If a 9 or a 4 comes, you make a straight. There are four 9s and four 4s in the deck, which makes 8 cards that are your outs. That gives you 32% to hit the straight on the turn or on the river (8×4%=32%). The number isn't exact, but it's close enough.
Bluffing in Online Poker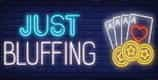 Bluffing is certainly not for everybody but the ability to win pots when you don't have the best hand is crucial for being a successful poker player. You can't rely only on having the best combinations all the time, in order to win pots. Take advantage of your late positions and use a lot of semi-bluffs. Try to avoid river bluffing as sometimes it's too obvious. Don't bluff every hand and pick the right time carefully.
Key Advantages: Frustrate your opponents and give yourself a loose image. You can win a lot of small hands by "stealing" the pot.
Key Disadvantages: It is the most difficult poker skill to master. Must learn when to let the hand go, even if you have already invested in it. If players often catch your bluffs, they will become harder to kick out of the hands.
Successful bluffs, regardless if it is on a live poker table or online, are about consistency. If you feel like the moment is good for a bluff and you can steal the hand, without having a good combination, then go for it. But try not to get attached to a bluff that is going nowhere. If you start your bluff at the beginning of the hand, but you are being called until the river, let the hand go. Your opponents aren't buying the deception, or they are way too strong to fold, so swallow your pride, give up the pot and cut your losses.
Another valuable online poker tip that we can give you is that the semi-bluff is the most effective bluff online. When you're in one of the best positions (button, cut-off, a late position as a whole) and you have a relatively marginal hand that has some connection with the board, then bet strongly and try to steal those chips that no one else seems to want.
Play Fewer Hands
Very often, new poker players like to play nearly every single hand they get. That is definitely not a good idea. You should always try to limit the range of hands you play. Being able to control yourself and fold more hands preflop will not only keep your bankroll steadier but will teach you that you don't have to get involved in every hand in order to win a lot of pots. Don't play every hand just because you are bored and be patient, good cards will eventually come.
Start Small
If you are just starting out in the online poker world, take it slow and start from the lower limits. We understand that it might be a bit boring to play with $4 – $5 and you might feel the urge to raise the limits, so you can gain a profit of at least $50 – $100 in case of winning session. But don't forget that it is more likely for you to have losing poker sessions in the beginning and loosing too much too quickly might make you give it all up. Remember, great achievements require time. Give yourself a chance to gain some experience at the lower levels, without crushing down your bankroll and with time you will raise the stakes.
Position
One of the most overlooked components for a profitable poker session is the position. Many new players underestimate the importance of the position and don't know how to take maximum advantage of players sitting in the worst positions. The dealer button is the most advantageous position on the table because you always have to act last and you are able to observe the actions taken by the rest of the players. The spot on the right of the dealer, aka cut-off is the second-best position on the poker table and so on, in descending anti-clockwise order. Play more aggressively and a wider range of hands when you're on those positions and try to avoid getting into hands from the worst positions on the table as much as you can.
Keep Track of Your Hands and Results
We understand that it is impossible to remember every hand that you have played. Usually, players remember only the bad beat hands or the ones that have earned them a lot of money. But being able to save your poker sessions or at least some poker hands can be very helpful, as later you can evaluate those hands and learn from your mistakes. Normally, all of the online poker providers have hand history sections, so you will be able to keep track of your most interesting hands.
Another valuable online poker strategy is to keep track of your results for every poker session. You can use simple programs like Excel or Notepad and write down the profit/loss, the number of played tables, the limits, rebuys (if any) and the time spent playing.
Use the Helper Tool by Online-Casinos.com for Texas Hold'Em
Hold'em Helper is a "passive-aggressive" strategy based on proven Hold'em techniques. Systematically play and bet the right hands at the right times and maximises your profits off opponents' mistakes, while minimising your own. You can use Hold'em Helper right here in the browser or download the same tool for your PC absolutely free.
Use the Poker Odds Calculator
The usage of a poker odds calculator will definitely help your decision-making skills. Even a lot of experienced poker players use poker odds calculators, as they help them determine the chances for winning. For those of you who are still new to the poker world, we strongly advise you use a poker calculator (there are more than enough available online) so you can make more accurate decisions about your hand strength and odds. We already told you how to calculate your outs and establish the odds for winning after the flop, but this method takes time to get used to and is not as helpful as a poker calculator in more complicated hands.
Avoid Distractions
Playing poker from the comfort of your own home might seem easier to concentrate, but that is not always the case. You should create a distraction-free zone and pay attention only to your poker session. Many online players find different ways to fill the time in between hands. Watching television, surfing the web, eating or talking to a family member are the typical distractions, which will often cause you to sit out a hand, make a mistake or miss out on some info about the opposing players.
Put Off Aside a Proper Poker Bankroll
Good bankroll management is key for a successful poker career. When you look to build a bankroll, you should start by deciding how much you are prepared to invest and set aside just for poker. You shouldn't count the money in your bank account which you would spend on bills and daily expenses. For some it might be $20, while for other $1000. After you've decided the sum, you should play poker games only suitable to that bankroll. A common rule among professional poker players is to have at least 20 buy-ins (some players prefer 40). This means that if you want to play one table with 0.10-0.20 NL blinds and buy-in with $10, your poker bankroll should be at least $200.
Play a Single Table for Starters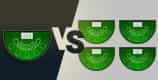 A very common practice among online poker players is to "Grind". A grinder is a player who plays multiple poker tables (most of the times more than 6) simultaneously. More often than not, these kind of players play a very small range of hands. The time frames for making decisions are very small so that's why usually players play only the top pre-flop hands and positions. We strongly recommend you start playing just a single table at first and gradually add more tables if you feel comfortable and able to monitor them all at once.
Learn From the Best
If you are willing to spend some money on your poker education, then at least you should learn from a true poker champion. We think one of the best courses online is the Daniel Negreanu's Poker Masterclass. Before you purchase it, check out our devoted article about the masterclass, so you understand what the course is all about, what is the structure and how will improve your poker skills.
FAQs About Online Poker Strategies
We have answered some of the most commonly asked questions by new online poker players. Keep in mind that you shouldn't be afraid to ask questions, even if you have played poker for a while. Always try to learn some new interesting poker strategy, watch professional tournaments and try to learn something from the way a poker pro plays a particular hand. New questions will never stop emerging, that is one of the main reasons why this game is the most popular and played card game in the world. Remember, the moment you think you know everything about poker, that is the moment other players will start to surpass you.
What is the Maximum Number of Tables I can Play Simultaneously?
This depends on the poker platform you are playing at. Usually, poker operators allow you to play from 12 to 18 tables at the same time. Some poker sites have no limit on the number of tables. Anyway, playing on more than 8 tables at a time can be a bit frustrating and we recommend the single tables.
Do I Need Special Equipment to Play More than 6 Tables at the Same Time?
In case you want to play a lot of tables at the same time, you will definitely need a large size monitor (or more than one small) with high resolution. Playing a lot of tables at once can be frustrating and your eyes might get tired quickly. And you really need to know your odds in poker.
How do I Arrange the Poker Tables?
You can manually size a table by moving your mouse to the corner of the table, hold and drag until you are satisfied with the size. The most famous ways to organise your screen when playing on multiple poker tables are "Tile" and "Cascade". Also, consider your position on the table.
What Strategy to Use to Win at Online Poker Every Time?
Well, we'll be honest with you. There is no such thing as "win every time". Poker is a complex game and it is next to impossible to win every single time. Even the best players in the world lose hands and enter bad rolls. The important thing is to follow a certain online poker strategy, play smart and be patient.
Is it a Good Idea to Show My Cards After a Successful Bluff?
It depends on what kind of image you want to set for yourself. Don't be afraid to show your cards to your opponents from time to time, as you will earn some bragging rights for stealing a pot and you might anger some of your opponents as well. To smarten up your game, read how to bluff in online poker.
Conclusions
There's truly no other game quite like poker. It is no wonder that the game is being considered now as a sport and there are live tournaments and poker events all over the world nearly every day. There are millions of online poker players trying to outsmart and outplay each other and attempting to reach that promised land of calling themselves professionals. Our online poker strategy guide will surely help you upgrade your poker level and as long as you have discipline, a bit of luck, good bankroll management and patience you will be able to reach the next level in your poker development.
Try Your Favourite Strategy at the Top Online Poker Site
With special promotions and exclusive tables for poker
£20 Bonus
No Deposit Needed
Full T&Cs apply. UK new players only • £20 free bonus: Full T&C apply • Bonus will be granted in Tournament Tickets gradually over 7 days after the claim date • Each Tournament Ticket will expire 24 hours after it was granted • Deposit bonus: Full T&C's apply • First deposit only • Min. deposit $10 • The bonus will be granted in $10 chunks subject to wagering restrictions of 100 Bonus Points per chunk • Bonus wins are capped at $500 • Valid for selected games only, when playing Casino • Wagering req. vary by game • Bonus expires in 90 days
It is up to you if you want to share these online poker strategies with your friends or keep them to yourself and use them at tournaments to get their money next time you gather and play. The tips and strategies are most useful for online play, but you can try to use them at live games as well. In case you feel ready to check out what you have learned, then hit the poker tables at 888poker. It is one of the biggest poker platforms in the world and you will find poker games regardless of the day or time. On top of that, the welcome bonus is lovely, so hurry up and join the action!