Play Turbo Roulette Online – Intuitive Design and Fast Paced Game Play
With Turbo Roulette online, Gamevy has developed an excellent game for lovers of roulette who thrive on fast gameplay. All special features focus on speed, allowing players to experience one of the fastest titles in the market.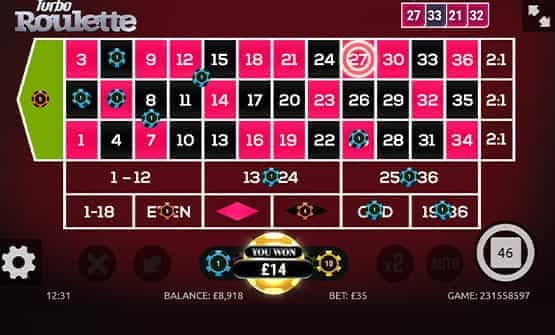 Turbo Roulette
Developer: Gamevy
Up to £200 bonus available
Claim NetBet's welcome bonus when you register as a new casino member!
Full T&Cs apply. *New players, £10+ deposit, no e-wallets/prepaid cards,50x wagering on Vegas Free Spins, 40x wagering on Casino Free Spins.
If you think a good game is a fast game, then read our Turbo Roulette review to discover top tips and hints to getting the most of your play when taking on this fast-paced title. We will also let you know where you can play a demo of Turbo Roulette for free, so read on to learn more.
Play Turbo Roulette for Free
When trying a new format; or playing any new game for the first time it is always best to try a demo version of the game. Players are able to play Turbo Roulette for free with this review, as we are offering a complimentary demo below.
Demos are also incredibly useful for players of all levels as it allows them to get to grips with the game without having to risk real capital. As Turbo Roulette online has several special features and faster gameplay than standard online roulette it is definitely worthwhile taking up the opportunity to play a free demo before raising the stakes.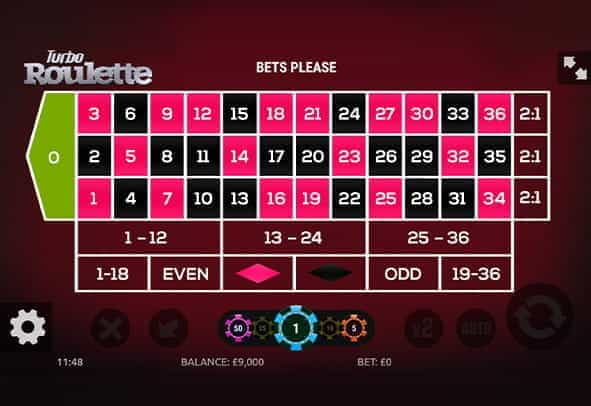 Turbo Roulette
The visuals that Gamevy has created for Turbo Roulette online is similar to other recent games they have developed such as 10p Roulette. With bright visuals and a clearly demarcated board players will easily get to grips with where key elements are located upon opening the demo.
The format of the game screen coupled with the good design from Gamevy allows players to easily navigate their way around the Turbo Roulette game screen. Betting chips are located in the bottom centre of screen, each chip denomination is clearly differentiated with each chip a different bright neon colour. The colourful chips are clearly visible on the gameboard, making it easy to quickly track what bets have been placed.
Rules and Special Features
Following the rules of traditional European Roulette, the rules of Turbo Roulette online are very easy to grasp. In order to win a spin players must correctly predict where the ivory ball will land on the roulette wheel. With 37 possible pockets in which the ball can fall into there are several betting variations that you can select when attempting to predict where the ball will land.
With a theoretical RTP of 97.3%, players will be happy to know that even though game play is speed up in Turbo Roulette this doesn't increase any betting risks normally undertaken when playing. However, it should be noted that the range of chip values are higher than other games on the market, ranging from £1 – £50, meaning that this game is more likely to appeal to advanced players wanting higher stakes.
Turbo Roulette

| | |
| --- | --- |
| RTP | 97.3% |
| House Advantage | 2.7% |
| Roulette Type | European |
| Special Feature | No wheel spin |
| Bet Limits | £1 – £1,000 |
| Racetracks | No |
| Called Bets | No |
| Fast Play | No |
| Auto Play | Yes |
| Best Turbo Roulette Casino | NetBet |
Not for players who relish the established thrill of watching the ivory ball slowly find its way into a pocket, Turbo Roulette instead removes the ball spin element from the game entirely. Instead, whenever a player clicks on spin the wheel's result with the ivory call already in its final resting place is immediately displayed on the screen.
Further living up to its name, Turbo Roulette also includes several other special features that allow players to further increase the pace of game play. At the end of each spin the gameboard does not reset, allowing players to immediately replay the previous spin or add to it.
Additionally the inclusion of Autoplay allows you to automatically play a set betting pattern for a selected number of uninterrupted rounds, this would appeal to advanced players with established table betting patterns to skip the extra time resetting in between spins.
Plus, for those really wanting to really raise the stakes Gamevy has included a double the bets special feature, this allows players to double all bets already placed on the table in one click – really raising the stakes for those who wish to increase the excitement even more.
Play Turbo Roulette for Real Money
With an incredible offering coupling intuitive design and fast paced gameplay, Turbo Roulette online is the game for those who want to really raise the stakes at a high pace. Completely removing the wheel spin from game play coupled with special features focusing on increase the pace of gameplay, this version should really appeal to advanced players who love a fast game.
Now you've had an opportunity to learn where to play Turbo Roulette and hopefully taken advantage of a free demo game. If you like what you've read and enjoyed a demo game then it's definitely time to raise the stakes and play Turbo Roulette for real money!
If you've caught the roulette bug and want to discover more about the game, strategies you can adopt or other versions of the game make sure you check out our dedicated page to online roulette casinos.
Turbo Roulette
£200 BONUS FOR ALL NEW PLAYERS AT NetBet
Full T&Cs apply. *New players, £10+ deposit, no e-wallets/prepaid cards,50x wagering on Vegas Free Spins, 40x wagering on Casino Free Spins.
Alternative Roulette Games to Play for Free