The Best Casino Apps for Blackjack Players
Although you will find plenty of blackjack apps available for download, they are mostly for free play, or allow chips to be bought through in-app purchases. Either way, they do not offer the chance to win and withdraw any actual money. If you want to play blackjack for real money on your mobile phone or tablet, then you are best opting for a casino app. You will find the best ones, with the best games right here.
Which Blackjack Games Can be Played on the Go?
When it comes to playing blackjack online there is a world of choice. There are many interesting and innovative variations, with different side bets available too. In addition to the classic version, you can also play Blackjack Switch, Surrender, Spanish 21, Double Attack, 21 Dual, Double Exposure, Progressive, Atlantic City, and the list goes on. Yet if you want to play on your mobile, then the choice becomes much more limited. Some casino apps only offer a few variations of the classic game, whereas some provide no card games at all, with their focus being primarily on mobile slots.
Another version of the card game which has proved to be hugely popular with players is live blackjack with real dealers. The great news here is that a large number of casino apps include live games. Yet when it comes to live blackjack, there are few variants that deviate from the classical blackjack game rules. There are some live games however that include side bets, such as 21 + 3 or Perfect Pairs. Despite the lack of variants with different rules, live blackjack is undoubtedly the most entertaining and immersive ways to play the game on your mobile. My personal favourite is the 888casino app, which boasts over 20 live blackjack tables, which are provided by the multi-award winning Evolution Gaming. The games also include the aforementioned side bets.
Apps that Let you Play for Free
Most online casinos allow you to play games for free in demo mode. Unfortunately, this is not always the case with mobile casinos. Demo mode is useful for the times when you want to try out a new game, or if you simply have a few minutes free and you just want to play for fun. If you are the type of player who likes the option to play in demo mode, then you should consider the following app. Just bear in mind that if you want to play live games, you will not be able to do so in free play mode. Live casino games can only be played for real money.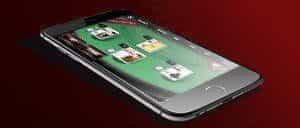 Free Play Demo Mode
Many Blackjack Games
Great Touch Operation
What Else you Should Know about Playing Mobile Blackjack
If you enjoy playing blackjack online, and want to try it on your mobile, there is nothing in particular that you need to be aware of. The game and the rules remain exactly the same whether you play on desktop or mobile. The only difference you will notice is that when you play on the app, the game is optimised for touch usage and the smaller display. This is particularly noticeable when playing on a phone, as the significantly smaller screen size means you have relatively little space where the details can be seen. Therefore, the balance between usability and the game overview becomes more significant. One other minor difference is that the graphics may be slightly less detailed on the app. However, this is hardly noticeable, and it helps to improve the performance of the game.
An option that can be quite important and impact on your mobile playing experience is a rebet + deal option. Where this option exists, it will save you a lot of extra clicks on the touch screen to launch a new game and to place bets. This makes the playing experience more user friendly and as such, more fun. You will find this feature on many of the best mobile apps.
The Blackjack Table Adjusted for Mobile Devices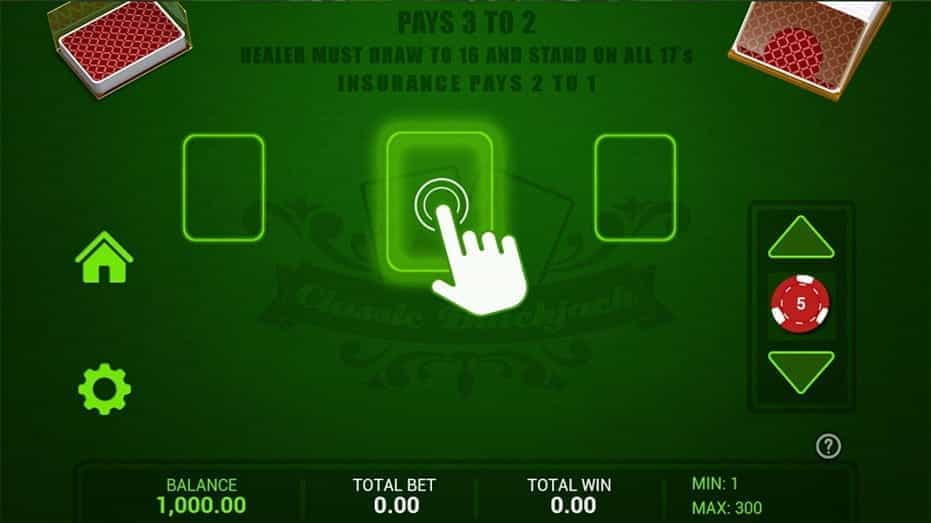 The layout of the table for smartphones and tablets is simplified and limited to the essential controls.
Can I Play using Strategy Tables on my Mobile?
When you play blackjack online, it is always advisable to use strategy tables, to reduce the house edge as low as possible, and in turn maximise your profits. The same is true when playing on your mobile. Yet, when you play on a PC, it is very simple to open the strategy table in a separate window, and refer to it with each hand you play. When you play on your smartphone or tablet, it becomes a little more difficult and inconvenient to switch between the game and the strategy table.
Play Blackjack using the Web App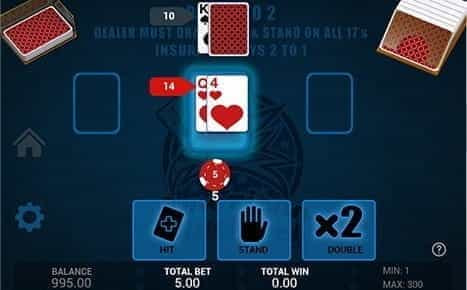 Open the casino web app in the browser of your mobile device. When your hand has been dealt, check the basic strategy table to see the best move to make to maximise your potential of winning.
Open the Strategy Table in a Separate Tab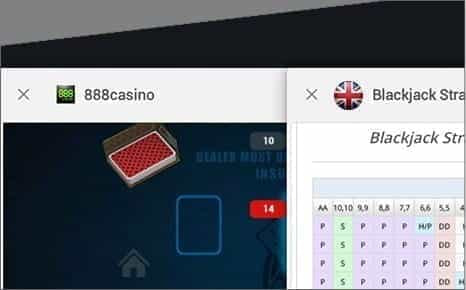 Open the strategy table in another tab in your browser. You can now switch between the 2 tabs as you play to consult the table to find the optimal move based on your cards.
It may be more difficult, however, it is not impossible. The easiest approach to take is to play the game on the web-app in your browser, rather than using the native download app. Then you can open another tab in your browser where you can open the webpage with the strategy table. Now all you need to do is switch between the two tabs as you play your games. I would recommend trying a couple of different browsers, to see which you find easiest to use. Another option is to try using the downloaded casino app to play the game. You will need to check that you are able to minimise the app in order to check the strategy table (which is open in the browser) and that you can return to the app, without automatically closing or ending the current game.
Software Requirements for Blackjack Casino Apps
There are hardly any requirements that need to be met in order to play mobile blackjack on your phone or tablet. If you wish to download the native iOS app, then you will find the minimum operating system requirement in the iTunes App Store. As for downloading an Android app, or playing in the browser, there are usually no further requirements. In principle, the games will run more smoothly and look sharper the newer your device is. Yet these games are relatively undemanding on the resources of your mobile. So regardless of whether your device is quite old, you should have no problems playing blackjack on the go.
Best Android Casino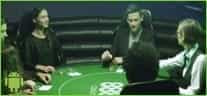 Good Game Selection
User Friendly Layout
For Many Devices
Are there any Minimum Requirements for my Device?

| Casino | Android | iOS | Windows/Blackberry |
| --- | --- | --- | --- |
| 888casino | Ver. 4.0 (Ice Cream Sandwich) | 7.0 or later | Not Supported |
| InterCasino | Ver. 4.4 (KitKat) | 9.3 or later | Windows Phone 8.1 |
| Betway | Ver. 4.0 (Ice Cream Sandwich) | 8.1 or later | Only Live Casino |
| 32red | Ver. 4.4.2 or later | 9.0 or later | Windows Phone 8.1 |
| leovegas | Ver. 4.4 (KitKat) | 8.0 or later | Windows Phone 8.1 |
| williamhill | Ver. 4.4 (KitKat) | 9.0 or later | Windows Phone 8.1 |
| Ladbrokes | Ver. 4.0 (Ice Cream Sandwich) | 7.1 or later | Not Supported |
| mrgreen | Ver. 8.0 (Oreo) | 9.1 or later | Not Supported |
| 777Casino | Ver. 4.0 (Ice Cream Sandwich) | 7.0 or later | Not Supported |
| Betfair Casino | Ver. 4.1 (Jellybean) | 8.0 or later | Not Supported |