Our Detailed Review of Player's Suite Blackjack Online
If you are looking to trial a new online blackjack game, then we suggest you look no further. In our Player's Suite Blackjack online review, we have put this popular game to the test and listed our favorite features about this new take on the classic game.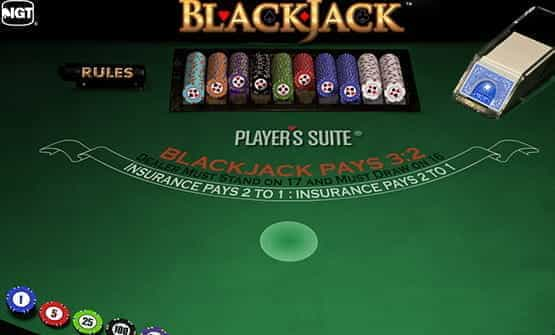 Player's Suite Blackjack
Developer: IGT
Up to £20 Welcome Bonus
Play Player's Suite Blackjack at Grosvenor and receive the welcome bonus.
Full T&Cs apply. First deposit only. Min £20 deposit. 5X wagering. See the operator's promotions page for full details. Always gamble responsibly.
In this review, you can expect to learn about the basic rules of Player's Suite Blackjack, what makes it different to other offerings and the perks of playing the game for free. We believe that this game offers a unique experience, so before you jump in to playing, make sure you keep reading to make the most out of it.
Play Player's Suite Blackjack for Free
There are a number of perks to playing this game for free. While playing for real allows you the chance to win real money, playing for free allows you to understand the rules of this version and gives you an opportunity to try out blackjack strategies without any financial risk.
Another perk of playing the free version is that you can make sure that the game's individual design is to your liking and that the setup is something that allows you to play to your full potential. Everyone is different in their gaming preferences, and although we are confident that this should be an easy enough game to pick up, it's not guaranteed.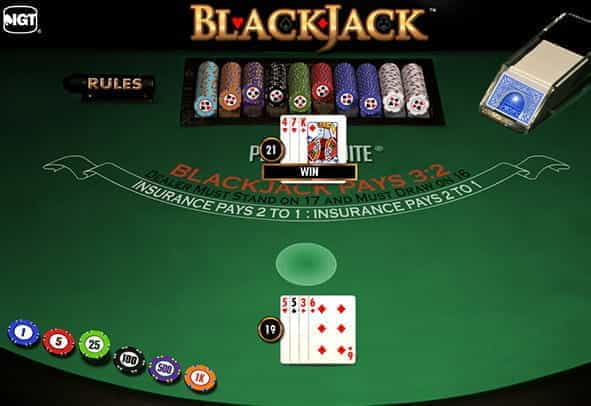 Player's Suite Blackjack demo
There are a number of things you'll notice in your personal game experience when you play Player's Suite Blackjack online. The most obvious of these is that the dealer's behaviour is different to many other online operators. Firstly, the dealer is obliged to draw on 16s and stand on 17s.
Additionally, there is only one re-split allowed per game. Once the split has been made, a bet will be doubled with one additional card drawn. There are also no side bets allowed. This keeps the gaming space easy to navigate which makes it perfect for a blackjack mobile gaming experience.
What You Need to Know to Play Player's Suite Blackjack Online
The rules of Player's Suite Blackjack are similar to the standard rules of Blackjack. Players are dealt a two-card hand which is totalled up. Kings, Queens, and Jacks are counted as ten points, Aces are counted as one or eleven points and all other numbered cards are counted as their value. The aim of the game is to reach as close as you can to 21 points without going over. Players are to ask dealers to 'hit' them with additional cards in their effort to earn more points than the dealer, who they are playing against. Players win by not busting and receiving a higher value than the dealer, or if the dealer busts.
The best thing about playing Player's Suite Blackjack for real money is that the RTP is a pretty generous, meaning that this is a good option if you are looking for a fair gambling product.
RTP

99.6%

Blackjack Pays

3:2

Decks

6

Multi-Hand

No

Insurance

Yes

Surrender

No

Split

Yes

Additional Rules

Dealer Draws on all 16s
Re-Split

Yes

Hit Split Aces

Yes

Double

Yes

Double After Split

Yes

Dealer Peek

No

Dealer Hits Soft 17

No

Side Bets

No

Best Player's Suite Blackjack Casino Grosvenor
There is a number of special features to enjoy in Players Suite Blackjack. These include the possibility to Split, Double and take Insurance. Firstly, Split gives you the option to split your hand into 2 new hands if you receive a hand of 2 cards of the same value. You can then double your initial bet and play both hands. You are also allowed one re-split per hand.
With Doubling, you can double down after the first cards are revealed. This means that you get another card and then stand, which in turn doubles your bed. With Insurance, you can buy insurance in case the dealer reveals an Ace. It allows you to pay half the value of your bet, although it pays 2:1 if the dealer gets Blackjack. Naturally, taking Insurance will slightly reduce your overall game RTP. Additionally, you can personalise your gaming experience by adjusting the speed, graphics, sound, and other details.
Play Player's Suite Blackjack for Real Money
To get the most out of your gameplay experience, we highly recommend you try playing Player's Suite Blackjack for real money. As the old saying goes, you need to be in it to win it, so once you're confident with the functionality of the game and the strategies offered in the free to play version, you can easily switch in to real money mode. Keep in mind that playing for real money will require you to create an account with the online casino operator of your choice. Once you've done this, you will be able to put your skills to the test and try out all of the cool features that were listed above, including Doubling, Splitting and Insurance.
On top of this, the promise of the generous RTP of 99.6% is an offer that cannot be ignored. Many other table and card games will not offer returns anywhere near as good as this, so we suggest you try out this variation of the classic Blackjack game. If your focus is RTP, though, you might want to look into video poker the only category that generally boasts higher returns than blackjack.
Player's Suite Blackjack
£20 Bonus FOR ALL NEW PLAYERS AT Grosvenor
Full T&Cs apply. First deposit only. Min £20 deposit. 5X wagering. See the operator's promotions page for full details. Always gamble responsibly.