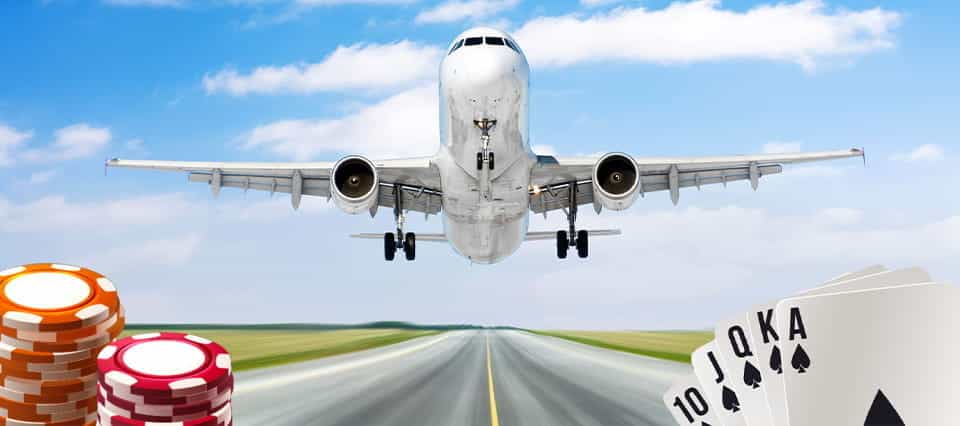 Casino Options at Each Major UK Airport
Now it's time to discuss the details. Depending on where you're traveling from and too will greatly affect your pre/post-flight casino experience. In the following section, we're going to discuss the exact details of each airport around the UK offering a substantial range of gambling options to clients. Of course, if none of the land-based casinos take your fancy, you can always go on your phone and play roulette or try the best blackjack casinos. If you are stumped for where to play, why not have a look at one of our top recommended casino sites?.
Without further ado, let's jump straight into the first airport on the list!
Grosvenor Casino at Luton Airport
Rating: 9/10
As any regular attendee of Luton airport will attest, this airport has fantastic gaming facilities in the form of slot machines and video games: but if you're after a truly splendid gambling experience, then you'll have to step outside the airport perimeter and visit the Grosvenor casino fortress. This fantastic gaming venue is the ultimate pre/post-flight gambling experience. Located just 2km outside the airport perimeter it is easily accessible for clients of the airport looking to have a bit of fun before their flight. If you're interested, you can learn more about the operator's online site by checking out our full Grosvenor review.
Birmingham City Airport On-Site Casino
Rating: 8/10
Clients traveling through the terminals of Birmingham International Airport will be very pleased to discover that the airport is home to a huge Genting International complex. Strictly speaking, the casino is not on airport property, you will have to walk about 5 mins from the terminal building to get there – so bad news if you're on an international connecting flight. For everyone else, you have access to a high-quality casino filled to the rafters with gambling classics.
London City Airport Gambling
Rating: 7/10
If you're in the vicinity of the London City Airport and have the inclination to gamble, then you simply have to visit the Aspera Stratford Casino. This wonderful venue is legendary in east London, and has become a central place for gambling and casino enthusiasts alike. The casino keeps its doors open 24/7, and inside you'll find a whole plethora of gaming options from live roulette, blackjack, baccarat and many other exciting games. The casino itself is located just 5km outside the airport. The carpark is packed full of taxis shuttling people back to the airport terminal, so no worries if you're short on time and only want to stop by to have a quick game.
Casinos Near Heathrow Airport
Rating: 6/10
The central hub of UK international travel. Heathrow is the busiest airport in the world. It connects the financial super-hub of London to the international markets. There are hundreds of flights landing and taking off each hour from this mighty port, but what are the options when it comes to casino gambling on the premises? Unfortunately, there isn't a genuine casino inside the airport, but there is the Voyager gaming room. Here you can play a variety of video games and fruit machines – if you're interested, head over to Terminal 3. Also worth noting, less than 2 miles outside the airport there are a couple of established brick & mortar casino venues that regularly serve airport clients. So if you're really keen to play, hop in a cab outside the airport building and get over there!
Coral Bookmakers at Stansted Airport
Rating 5/10
If you're traveling through one of the popular budget airlines to our from London, then the likelihood is you'll be porting at Stansted Airport. The airport is a very modern building with lots of amenities and shops to keep clients happy before the journey. In terms of gambling options at this airport, there are several considerations you need to make. Before entering security there is a well-equipped Coral bookmakers shop. Here you can play a variety of slot machines, video poker and casino games: also, you'll be able to watch live dog/horse racing and place any sports bet you desire. The only catch with this one is its location, it is before security, so bad luck if you're on an international connecting flight.
If you're unhappy with these airport casinos and have some time in London, you can always have a look to see which one of these options recommended by tripadvisor.co.uk might suit you best.
Our Ranking Criteria for UK Airport Casino Facilities
When we're judging the quality of UK airport casino facilities, we take into consideration a number of variables. In order to be objective and provide our readers with accurate and actionable insights about the services you can expect at each international airport, we broke our analysis down into three main components.
Accessibility: this is a primary concern of airport travelers. How far is the casino or gambling facility away from the departure gate? This, of course, determines the playing duration and other convenience concerns.
Gaming Options: an obvious but key factor in determining the best casinos at UK airports. Is this just a tiny room with a few slot machines, or a much larger established casino venue?
Atmosphere & Extras: we all love to get something extra for our buck. When it comes to casino gambling there are many features to consider. Gambling in a casino can come with many additional perks such as open bars, smoke-free rooms and restaurants. We considered all this into our rating of each venue.
Look Out for Top Casino Venues on Your Next Trip
With this comprehensive analysis of each casino venue available at UK airports, we're sure that you'll have a confident understanding of the options available to you. Whether you're traveling into the UK or departing the British Isles, there is always ample opportunity to relax and switch off before a long trans-continental flight. Look out for the venues listed above on your next journey to be in with a chance of turning that spare change into a sizeable chunk of cash. If you're traveling to somewhere far-away and exotic, check out our guide to the biggest casinos in the world for all your international gambling needs.