The 10 Casino Games with The Lowest House Edge
When you play online casino games for real money, you want to know that you are playing products that pay out well. Return to player rates (RTPs) can show you roughly how generous a game is. This page goes through each type of game to show you which are the casino games with the lowest house edge in Ireland.
As you can see from the table above, each type of game has a very different range of return to player rates. This means that you will find some slots that have higher RTP rates than some roulette variants, for example.
Our advice is that you should check out the individual rates for any game you wish to play to find the casino games with the lowest house edge. Here are the 10 casino games with the lowest house edge:
Blackjack – 0.13% – 0.70%

House Edge

Video Poker – 0.44% – 8.7%

House Edge

Craps – 0.46% – 5.50%

House Edge

Live Casino – 0.71% – 3.45%

House Edge

Slots – 1.00% – 23.10%

House Edge

Baccarat – 1.04% – 2.08%

House Edge

Keno – 1.25% – 25.00%

House Edge

Roulette – 1.35% – 6.22%

House Edge

Casino Poker – 2.16% – 6.34%

House Edge

Scratch Cards – 4.00% – 35.00%

House Edge
Of course, looking at casino gambling by game category is helpful though, as it gives you a very good insight into which titles are more likely to be generous to their player bases. Read on to find out more about each type of online casino game and casino games with the best odds. Let's count down from worst to best.
10. Scratch Cards: House Edge – 4.00% – 35.00%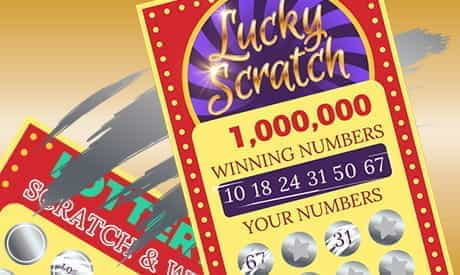 Although Scratch cards are by no means one of the casino games with the lowest house edge, they are a popular way to gamble in Ireland. Many different varieties being sold in shops up and down the country. At online casinos, you will find an even bigger range to choose from. You will find games with just about any theme you can imagine, allowing you to indulge whatever your tastes are. You can find lots of options here. The most important thing to note, however, is that scratch cards have the biggest range of house edge figures of any casino game category. This doesn't mean that you shouldn't play them, just that you need to be careful of which specific title you choose to play.
9. Casino Poker: House Edge – 2.16% – 6.34%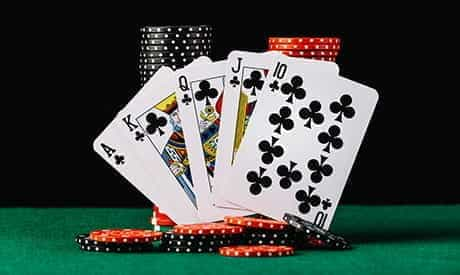 There are so many poker options online that it can get a bit overwhelming. We will cover video poker further down the page, but for now let's look at automated casino poker games. There is a large house edge range between the different types of casino poker. While you can find casino hold'em and oasis poker titles that have as little as 2.5% house edge or so, you'll struggle to find rates like that with Caribbean stud poker for example. Of course, finding the game with the lowest house edge Ireland players can enjoy isn't everything, but we do all like to get our money's worth. Also, you wouldn't be on this page if you didn't care about the return rate of games. So, if you want to find some suggestions of great casino poker games to play with high RTPs, then check out our dedicated casino poker page.
8. Roulette: House Edge – 1.35% – 6.22%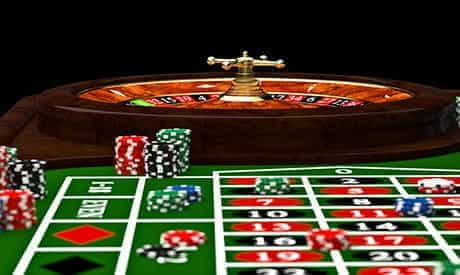 Roulette is one of the most popular casino games in Ireland. It's an integral part of all decent land-based casinos, and there are lots of great casinos with automated roulette games. In terms of returns, it is one of the lowest house edge games, with some variants having a house edge as low as 1.35%. The trick is to know which games to look for. One tip is to avoid American roulette variants, with a second zero position, as this significantly increases the house edge. You should also have a look at what kind of bets you are placing. In almost all games, the lowest house edge is on even-odds bets. While the payout is a lot higher on single numbers, the statistics of the game are clear, betting on red or black, or even or odd will work out better in the long run.
7. Keno: House Edge – 1.25% – 25.00%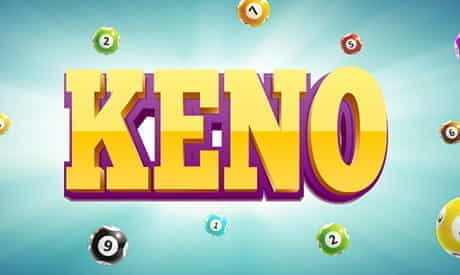 If you play keno in bingo or gaming halls, then you should not expect to find Ireland's lowest house edge figures. In fact, land-based keno can have a house edge that approaches 50% or so. This means that around about half of the takings from the game are likely to be straight profit and not return to the player base. Things are a little different in online casinos, where the house edges are almost always smaller than in person. Online keno games with low house edge can vary from 1.25% up to anywhere around about 25%. This means that it is imperative that you check the return and payout figures for a game before you start playing. With this size of variance, the effect it can have upon your taking can be pretty significant. Check out the most popular keno games and sites for ideas.
6. Baccarat: House Edge – 1.04% – 2.08%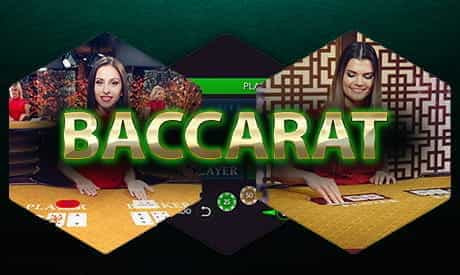 Whether you like to replicate the games of James Bond and play baccarat for large stakes, or if you simply enjoy playing a few hands now and then, making sure you are playing the lowest house edge casino games is important, so that you get your money's worth. Thankfully, lots of online baccarat games have excellent return to player rates. If you are careful and do your homework about the options, you will find games with low house edges, down to almost 1%. The main takeaway for this category is to remember that no commission baccarat games do not necessarily have better RTP rates. This is because the paytables are adjusted so that the house still makes a decent profit. Have a look at our online baccarat overview to get an idea of your options.
5. Slots: House Edge – 1.00% – 23.10%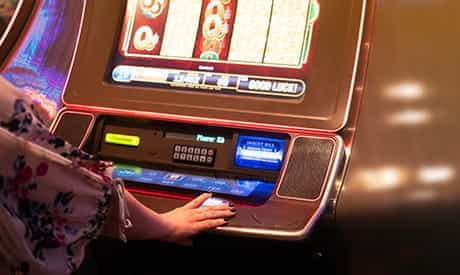 The first thing to say is that slots have a famously wide range of house edge stats. While games like Mega Joker boast up to 99% RTP, there are also titles that wallow down not much above 70%. The thing to know as well is that lots of game have different house edges depending on how you bet. Although it is not a hard and fast rule, it is best to avoid classic slots, as these tend to have much more variable house edges, while almost all of the world's most popular video slots stay under 10% comfortably. As with everything, it's best to check before you start playing. jump down the page to find out how to check RTPs of games.
4. Live Games: House Edge – 0.71% – 3.45%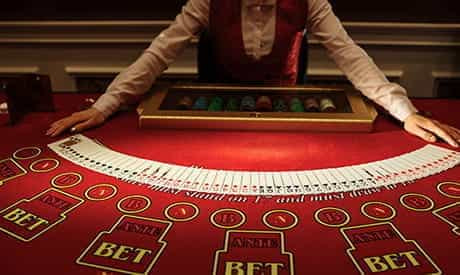 This category is a little tricky as, truth be told, live games encompass several different types of games. Aside from some special, game-show style products, with live games, you are basically talking about the same house edge numbers as for the automated versions of the game. So, live blackjack will have the lowest figures and poker will tend to have the highest. There is, however, some differences. While Irish live blackjack tables will have good RTP rates, they don't tend to outstrip their random number generated (RNG) counterparts. This makes sense, when you think about it, as the cost of production is much higher. Regardless, many of the live versions also deserve a position on our list of casino games with the lowest house edge.
3. Craps: House Edge – 0.46% – 5.50%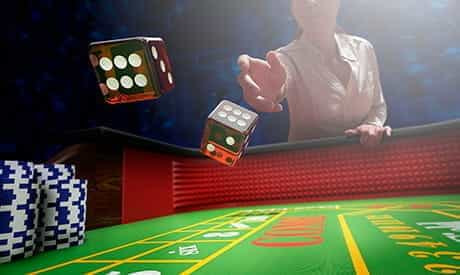 While craps is one of the most common games to find in US casinos, you won't find it that much at Ireland online casinos. This is a shame though as it offers a totally different set of gaming options than slots or other table games. As with roulette house edges, the various different possible bets all come with their own house edge. In general, if you play sensibly and take advantage of the best possible craps strategies, then you can find some great games with a craps house edge of 1%. For any casino game, this is an excellent figure to find. An important thing to not is that when you place an odds bet onto your existing come bet, there is no house edge at all – however, it cannot be placed without also placing the come bet, therefore the house edge still exists for your overall bet.
2. Video Poker: House Edge – 0.44% – 8.70%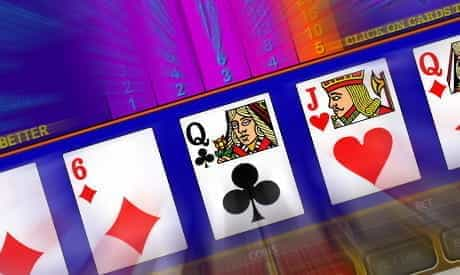 For those of you who are not familiar with video poker, it is quite a different set up than the games that see you sit down around a table and play against fellow gamblers. If you are unsure of how it works, then check out our guide to the game. On the topic of this page, though, the important thing is that some video poker games rate among the lowest house edge games in Ireland. While certain products can slip up in this respect, meaning that you will find some video poker titles with house edges up around 8% or 9%, you needn't settle for such nonsense. These games are all about quick, classic gambling. What you lose in quality of graphics and gameplay creativity, should always be paid for in RTP. As always, make sure you know exactly the RTP of your chosen game before starting to play, less you end up choosing a dud.
1. Blackjack: House Edge – 0.13% – 0.70%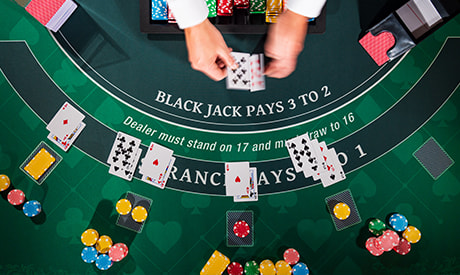 Blackjack is the ultimate and ever-classic table casino game. One of its biggest appeals is the fact that th low blackjack house edge put it on the list of the casino games with the best odds. While you may find an outlier or two, in general, automated (RNG) blackjack games should have a house edge of less than 0.7%. Any more than that and there needs to be a very good and entertaining reason for it to not meet the house edge blackjack Ireland player expectations. The lowest casino house edge of any game is Blackjack Switch, which comes in at just 0.13%. Of course, this figure relies on playing perfect strategy. This does not mean getting lucky, but simply playing the statistically recommended options at all times. Read our blackjack strategy page to find out more.
What is a House Edge?
The house edge is a number, expressed as a percentage, that explains to player how much of your wagered money the casino stands to keep with every bet. The lower the number is, the better for the player, and can form an important part of a gambling and budgeting strategy.
These numbers are decided by the casino software developer that produces the game, and therefore has very little to do with the actual casino at which you play the game. There are exceptions to this, of course, so always check the rules for the exact odds before playing.
The percentages are trustworthy figures, as regulation forces all developers to test all games with third-party agencies for full transparency. Organisations like eCOGRA and iTechLabs are well known agencies that test the low house edge games and their statistics.
Interestingly, the games with the lowest house edge are the games with the highest RTP. In fact, the numbers are simply the inverse of one another. Therefore, you will find plenty games with the lowest house edge at any of the best payout casinos in Ireland.
How to Find House Edge Information
There are a couple of other things that you need to know about house edges. As well as different variants having different return to player rates, the same game at different sites may well have a different house edge. This is because different specific rules may be applied on certain sites. It is always worth checking the RTP of a product on the site you wish to play on before you start gambling.
In order to check the house edge of a game, log in to your casino account, open the game and go to information or game rules. In the game info there should be a clearly listed set of rules, the list of payouts and a confirmation of the RTP or house edge. If a game does not have this information, our recommendation is that you do not play it. For ideas of the lowest house edge games in Ireland, check out the games with the lowest house edge.
Conclusion – Use Strategies to Get the Lowest House Edge
For games like keno and scratch cards, where there is not a lot of player input, the house edge figures can be taken quite literally. However, for other casino games with the lowest house edge, the overall rate will depend on the strategy that you use to play the game.
For example, choosing to play a 'Gamble' feature in a slot game will drastically increase the house edge to something like 50% – as opposed to the usual 0.5% – 23% of the main game. For games like blackjack, if you choose to make a silly move like hitting on a hand of 20, no house edge will save you. For more information on how to improve your game strategy, check out the links below.
Other Interesting Casino Topics
Frequently Asked Questions
No matter how long we make any page, there are always going to be questions left over unanswered. So, while we hope that we have answered what casino game has the lowest house edge above, we have given you our answers to other popular questions below.
What is the best casino game to win money?
The best casino game to win money is usually blackjack. It earns our number 1 place in our list of the games with the lowest house edge as it usually has a house edge of under 1%.
What are the casino games with the best odds?
The lowest house edge games at online casinos are typically blackjack titles. However, there are also plenty of slots and video poker titles that hold very good odds.
What game has the lowest house edge?
As with all types of casino games, the house edge varies from developer to developer and individual game to game. In general, however, blackjack has the lowest house edge at less than 1%.
What casino games have the worst odds?
In terms of purely the odds of winning, lottery games are by far the longest. But in terms of the worst house edge, scratch cards tend to have the worst numbers for players. To find something with better odds, check out the games with the lowest house edge.