UK Gambling Commission Publish Study on the Harms Gambling Has on Society
The UK Gambling Commission published its full report on the harms that gambling has on society yesterday. The 26-page document aims to enable the cost of "gambling-related harms".
Released on Tuesday, Measuring Gambling-Related Harms: A Framework for Action does not itself set out the costs incurred, but instead lays out how such a cost should be calculated. In addition, the report illustrates the different forms of social harm, from both an individual and a society-wide point of view.
The study was led by Dr Heather Wardle, and was carried out on behalf of the Responsible Gambling Strategy Board in collaboration with the UKGC and GambleAware.
The UKGC said that the report seeks to define gambling harms in such a way that can be helpful to policy makers and health officials, as well as setting a framework for how to deal with these problems going forward. Its main focus is how to "identify the most effective way to estimate the social cost of gambling-related harms".
While the majority of consumers can enjoy gambling without experiencing some harm, we cannot forget the devastating effects it can have on some individuals, families and communities. This report shows significant progress in understanding those effects and measuring the impacts on wider society and the economy as a whole– Neil McArthur, CEO, UK Gambling Commission
Dr Heather Wardle said that the report is a "dramatic step forward in our understanding of gambling". The report focusses on the areas that directly result in a cost to society, namely: loss of employment, debt, homelessness, crime, relationship problems, and health problems.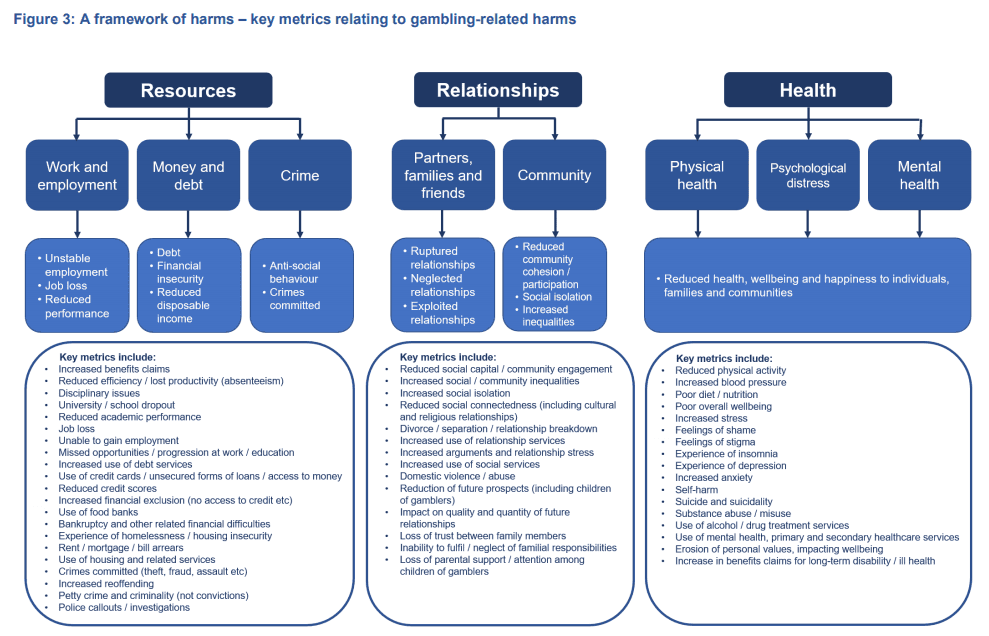 The problem with the report, as will surely be pointed out in the coming weeks by critics, is that many of the factors discussed are difficult to equate into monetary terms. The only solution suggested is more research. New reports, which focus on the harms caused to young people and children, are scheduled to be released this year, or in early 2019. With these new reports, the UKGC will hope to move closer to a firm structure with which to calculate the costs of problem gambling, but as it stands, they are still some way from achieving this goal. McArthur admitted that this is "very much a work in progress".
They are confident that this report is a large step in the right direction, however, with GambleAware CEO, Marc Etches, emphasising the importance of such research.
Problem gambling is a public health issue that can have serious economic and social consequences not only for individual gamblers but also family, friends, communities and society– Marc Etches, CEO, GambleAware