The Best Mobile Roulette Apps for Smartphones and Tablets
Those of you who like to play roulette will be pleased to know that games are not only available online, but also on mobile too. You will find hundreds of roulette apps for download. However, the majority are play money apps. They can be played for free and offer in-app purchases, yet you cannot win and withdraw any money on them. If you want to play mobile roulette for real money, casino apps are the answer. Here you will find the top casino apps with the best games.
The LeoVegas and 888casino apps are two of the best options for roulette players. They both provide a good selection of tables, and an exceptional assortment of live roulette games, including the Game of the Year 2014, Immersive Roulette.
Which Games are Available for Mobile?
When it comes to playing mobile roulette on your smartphone or tablet, the choice of games is usually pretty limited. Most casino apps will provide the classic French or European version only. Occasionally you will find American Roulette, yet there are rarely any other variants offered. In fact, in some cases, you may find no table games at all on a casino app, with the focus primarily on mobile slots. Yet fortunately, this is not always the case. Live Roulette is incredibly popular at online casinos, and the great news is that many operators provide an excellent selection of live variants that can be played on smartphones and tablets.
Typical Roulette Variants Available for Mobile Play
Live Roulette

Immersive Roulette
London Roulette
Auto Roulette

European Roulette

French Roulette

American Roulette

American Roulette Gold Series
Premium American Roulette
Evolution Gaming are the standout provider when it comes to live games. Its most famous and popular game is Immersive Roulette. The game features HD quality, numerous camera angles, and slow motion replays of the ball as it comes to land on the winning number. These unique features helped to earn the award of Game of the Year at the 2014 EGR Awards although this is the most interesting variant available on mobile from the developer. If you're looking for more unique variants I can recommend Multi Wheel and 3D Roulette from developer Playtech which are well worth checking out.
How to Play Roulette with Touch Screen
There are no differences in the game itself between the app and desktop. Occasionally, the graphics may not be quite as good on the mobile version – yet this is hardly noticeable, and helps to improve performance on slower devices. There is a significant difference though between playing on a PC compared to on a mobile device, and that is the layout of the game. Owing to the significantly smaller screen size on phones and tablets, the way the table is displayed had to be revised.
The most significant difference in the layout of a mobile roulette game is that the tableau and the wheel are found on separate screens. This provides the most user-friendly way to play the game, as with the larger tableau, you can easily and accurately place your bets on the table using your finger. Likewise, having a full-screen view of the wheel when the game is in play allows you to see every inch of the action, and watch the ball as it spins and comes to land. Whilst you are viewing the tableau, you can swipe to change to the view of the wheel, or to access various other options, such as the types of bets and their corresponding payouts. Once you have placed at least one chip on the table, you can start the wheel spinning with one simple click. Then, the view will automatically change to the screen with the wheel, so you can watch the game as it plays.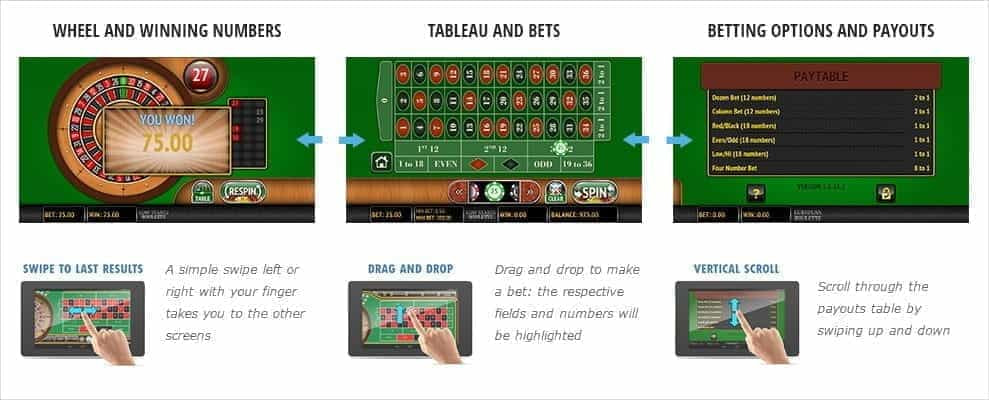 Depending on the variant, there may also be the option to place fixed call bets or neighbour bets on the racetrack. In order to keep the table layout as clear and user-friendly as possible, these options are usually accessed by swiping to another screen, or tapping on the settings menu. It is also useful when there is a rebet, or rebet x2 option available after a game. This is particularly helpful to those who play using a roulette betting system, as it is much quicker and easier than manually placing bets and doubling the bet amount each time.
Some Apps Allow you to Play Roulette for Free
Unlike desktop casinos, not all games can be played for free in an app. In fact, there are some mobile casinos that do not offer demo mode at all. For this reason, it is important for you to consider whether you want the option to play for free on your phone or tablet, or whether you will be satisfied with real money games only. Personally, I prefer to have the option to play for free. This allows me to try out new strategies before spending any of my own money. Also, sometimes, when I have only a few minutes to spare, I prefer to play in demo mode just for fun. Although you can't beat the thrill of playing for real money, I do not want to do so every time. For this reason, I really like the 888casino app. It allows me to play all games for free, whenever that suits me best. Of course, the only exception, as with all mobile casinos is live games – these cannot be played for free.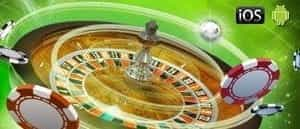 Free Play Demo-Mode
Many Roulette Games
Flawless Touch Operation
Are there any Minimum Requirements for my Device?
If you want to play roulette on your iPad or iPhone, you will find the minimum operating system requirements in the iTunes Store. More often than not, iOS version 6.0 or later is required. Of course, you can play directly in the browser of your device, without having to download the app using up your storage space. In this case, it is only the power of your iPhone or iPad which matters. In most cases, you will have no problems using a casino app if you are using an iPhone 4 or newer device. Older devices may not work with some mobile casinos. The best way to know for sure if the casino will work with your device is to try it out.
Software Requirements for Roulette Casino Apps

| Operating System | Minimum Requirement | Download From |
| --- | --- | --- |
| iOS | 6.0 or later | iTunes App Store |
| Android | 4.0 or later | Google Play Store |
As for Android, there are generally no minimum requirements relating to the version of the operating system. Until recently. you could not find real money casino apps available for download in the Google Play store. This is beginning to change though some operators still provide a native downloadable app for Android on their websites, such as LeoVegas and 888casino. Experience has shown that devices running on Android 2.3 or higher will usually have sufficient power to be able to play casino games. Yet due to the wide variety of devices that run on the Android operating system, it is difficult to give a definitive answer. Once again, the best advice I can give is to try it out for yourself to see if the games work on your device.
Generally speaking, a resolution of 1280 x 720 is recommended. Although roulette games will run with lower resolution, the usability and the graphics are not as good. In theory, the bigger the screen, the better the playing experience. Therefore, playing on a tablet is preferable to a phone, as you get a better view of the game, plus it is easier to place your bets accurately and precisely with a touch of your finger.