Our Look at the Best Darts Betting Sites of 2021
Darts is a sport that almost everyone has played. It's a tradition that has long graced every local pub and neighborhood bar. It has come a long way in recent years and now only the top athletes can be the best. It is now a sport the everyone wants to bet on. In this review, we will look at all best darts betting sites, and detail the criterion used to find the top ones. Below you will find our favourite five to get you started.
The Top 5 Darts Betting Sites
Throughout this page we will talk about a multitude of things and demonstrate clearly how you can choose the best online bookie yourself. You'll find that things like odds levels, markets, coverage, and other facets all play an important role. Obviously, we recommend the operators listed above, but read on to find how our experts came to this conclusion.
Which Darts Betting Site is the One for Me?
When it comes to choosing darts betting sites, you will realise you have lots of options to select. There are a number of factors which determine which bookmaker is the one for you. Whether you like to play on Darts Premier League or the UK Open, there are certain indicators which you can use to analyse an operator. Obviously, odds offered are important, as well as coverage of events, and types of markets available. These will often times be a personal choice, however, our experts will go into detail on each sector in order to demonstrate their importance.
Odds Levels at the Different Bookmakers
When it comes to darts gambling, the punters always want the best return on their bet. This comes directly from the odds levels on offer. How so? Well, simply put, the higher the percentage of the odds, the higher the return for the player. In essence, if a bookie only wants to payout at 85% they have a 15% margin of every bet they will keep, something that will automatically generate profit for them. For those playing very small stakes, this may not necessarily impact their returns, however, it becomes noticeable very quickly. Below you can see odds levels at the different online bookies.
Average Odds for the Best Darts Betting Leagues
Darts Betting Site
The World Championship
Premier League Darts
World Grand Prix
UK Open

Betfair

91.73%
92.25%
90.98%
90.03%

Ladbrokes

90.94%
91.02%
87.53%
89.78%

Betway

92.05%
90.94%
91.69%
90.02%

Betfred

87.08%
90.50%
90.94%
90.99%

William Hill

89.58%
91.79%
89.23%
88.65%
You will see that what is on offer is relatively consistent across the board. This is due to the fact that as there is much competition the top bookies can no longer afford to rip off the punter. We made these calculations using an average formula that is easily available across the internet. You will find that they are similar to sports such as tennis. This is due to the fact that they are a similar style of sport, with head to head games being played, and not much variance in results. Of course, odds levels can and do change, so it is best to keep up to date and have an eye across the board before you bet.
Competitions you Can Bet On
Betting on darts is generally available for all of the leagues that are on offer within the sport. That is, PDC World Championship, Premier League, World Grand Prix, UK Open, and the WGC Matchplay. These are the major tournaments that the professional take part in. Naturally, then, these are the ones that receive the most coverage and as a result more betting options.
If you are a hardened fan of the sport and this is not enough, other leagues such as the German Darts Championship, or the even others on the PDC European Tour. These aren't televised, so the coverage they receive is limited. Even so, the opportunity does exist to play on them if you have selected a top darts betting site to play on. All you have to do is keep an eye on the calendar, as rarely do the markets open until soon before the event starts.
Betting Markets on Offer
One of the top aspects of online darts betting is the possibilities you can choose from when making a wager. You might think you can only select a winner, and that'd be the end of it, but that is where you'd be wrong.
You can attempt to predict the correct score, the number of 180s to be thrown, the player with the highest checkout, handicaps. More intricate markets even include predicting the player with the most 180s, highest checkout and then losing. If you got that right, you'd be in for a massive win!
There are so many more possibilities, and this is what makes the sport so fun. Specials are also offered by the bookies and you really can bet on practically everything you would think of. The only thing left is choosing the correct one, it coming through, and you laughing all the way to the bank. All our bookies featured here do offer these markets, so we'd recommend you stick with them.
In-Play Betting
Similar to the live casino betting sites, in-play allows you to bet on events as they unfold right before your eyes. You see a player come up to the Oche, and see a bead of sweat trickling down his forehead, his palms are sticky, his knees look weak, you know he's going to throw away the leg. The tide of the match is turning, you wish you could take advantage of the odds and back the opponent whilst they are behind. In-play allows you to do this.
The beauty is encapsulated in this example. You placed a wager on the current loser, who then went on to win. Obviously, you predicted it before it actually happened and saw a chink in the armour of a bookie. You took advantage and won big. Look at the slide-show below and you'll see how it looks like in action.
Awesome and intuitive in-play platform

World-class in-play features

Fantastic in-play platform with stats and info

Top of the range in-play platform and navigation

Great user experience for in-play needs
One thing you may notice is that the number of markets is reduced in comparison to the pre-match ones. This is due to the evolving nature of the event when it is being played live, thus there are only certain markets that make it viable for a bookie to concentrate on. What's more many sites feature live streams or handy infographics for you to follow along. If you have a mobile you can also download their app to your phone and play on the go. This is the ultimate freedom for the average punter, and they can now play on the go, that is why the best darts betting sites have great in-play features. You can check out our list of the top mobile operators here.
Bonuses for Darts Betting Sites
At the top of the page, we listed the best darts sites and the bonuses to go with them. However, you'll also be pleased to know many bookies offer additional things such as free bets, enhanced odds, specials, or even flash markets. It means you can take advantage of many offers throughout the year, and many times they are tournament specific, so you have to keep an eye out for them. Even so, it is a great opportunity to take advantage of when they arise.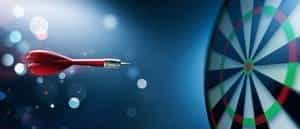 world-Class Darts Coverage
odds on That Offer
darts Specials
In the above box you can see our top-rated bookie. This is the one chose by our experts and provides you with the best value. They are continuously updating what they have on offer and we reckon you can't go far wrong playing here. So, go on, what are you waiting for? Check them out for yourself and you will see exactly what we are talking about.
Betting Strategy for Darts Gambling
From the darts betting sites reviewed on this page there is one thing we haven't touch on and that is a strategy to bet on them with. A great one for beginners, in particular, is ante post betting. This means predicting the tournament winner long in advance. Of course, this is very difficult, however, seeing as the competitions often take place over a few weeks, the odds at the beginning are very big, thus, you will get a very tidy return on your stakes.
For match specific wagering, it is recommended to look at things like number of sets to be played, especially if players are evenly matched, the likelihood is, this will be higher. Therefore, research is key, big names may be in poor form, so always be sure how they are performing before placing a wager.
Facts, History, and Information
Before you start playing on the darts, perhaps it is pertinent to look at some history and facts on the sport. Some of you may already know these, but even so it is essential to understanding where we are today. Check the boxes below to find out the best titbits!
The Darts Split

One of the defining aspects of the sport was the split in 1993. Originally the sport was governed by the British Darts Organisation (BDO), however 16 of the top players were disenfranchised by the direction it was going, they broke away and formed the Worlds Darts Council, later named the Professional Darts Corporation. After many fights they prevailed and has all the top events and players to this day.
Phil Taylor

The greatest ever player to grace the sport is Phil 'The Power' Taylor. Truly a legend, he has won everything, including 14 World Championships, (plus 2 with the BDO), Matchplay 16 times, Grand Prix 11 times, and many other smaller events. There is no one in the sport that can compare to his monumental achievements and when people speak of darts, they speak of him.
PDC World Championship

This is the event every darts player looks at on the calendar. To win here, is to announce yourself to the sport. Only the very best can succeed, and you have to average over a hundred to get to the final. Recent winners are Michael van Gerwen, Gary Anderson, and Rob Cross. Obviously, Phil Taylor is the one who has won the most, but the championship is more open since his retirement.
These are just some small stories and information, there is so much more to this prestigious sport. If you found these interesting, we assure you there is so much more to learn. Darts is a tremendous sport where only the top athletes can win, and as a result is one of the best to bet on out there.
Conclusion
Now we have come to the end of our journey. We hope you enjoyed what you found, and we hit the bullseye. Now it's time to check out, we know that you have the knowledge on how to choose the best darts betting sites. If this sport tickled your fancy and you want to look for other ones, check our dedicated sports betting page. Just remember our advice and you will be at the top of your game in no time. Good luck, and don't forget us when you win big! If you're interested in other types of betting and gambling, we cover other topics such as online poker.
Q&A / FAQ
If you have any further questions about darts betting, then go to our contact page and fill out the question form. Below, you will find the most popular questions that are asked.
Is virtual betting on darts an option?
As of yet, none of the operators featured here offer this service, however it is something to keep an eye out for in the future, as it could be developed.
What is a nine dart finish?
This is the ultimate set of arrows a player can throw. Each leg a player starts with 501, in order to get down to zero with nine darts, a player must throw a combination such as: 7 treble 20's, 1 treble 19, and a double 12 check out. There are 3,944 different ways of finishing with nine darts, but it is not easy at all.
What is an Oche?
The oche is the throw line where the player must stand behind when aiming at the dartboard. They can lean over it, but no portion of the foot should be protruding over it.