Bwin

Evolution Gaming Dealers
Excellent Support
HD Video Quality
The Bwin Live Casino: World-Class Live Dealer Games
Its regular casino product might not be a big player in this hectic and competitive market, but the bwin live casino can hold its own against any of the bigger, stronger and better-established horses in the race for online casino dominance. Why such a disparity? Two words: Evolution Gaming. The leading live dealer game provider is like a secret weapon for online casino operators in this market. Enlisting the expertise of Evolution Gaming all but guarantees you a successful live dealer suite, so let's dig a little deeper into this one and see what's what.
Bwin Live Dealer Suite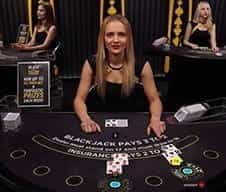 Eight Casino Games with lots of variants
Bwin Styled Games featuring yellow & black tables
Evolution Gaming Streams in HD from Riga, Latvia
Live Dream Catcher a casino gameshow game
I've been spending time with the bwin casino live games such as roulette, blackjack, casino poker and baccarat; I've assessed all aspects of bwin live. This review is the result of multiple hours of gameplay, research, and rigorous testing. Read on for information about the full game library, the bwin live dealers, any available bonuses, plus reader questions, answered.
Overview of the Bwin Casino Live Dealer Game Library
Jump into the bwin live games dashboard and you quickly notice that the games are grouped into five categories: roulette, blackjack, baccarat, poker and 'money wheel'. There was a time when live casino consisted of European roulette, a standard blackjack table, and a grainy feed with a slight delay. I can tell you now, those days are gone. In today's modern live casino suites, such as the one here at bwin, you'll find more than 15 roulette tables running at once, more than 50 simultaneously running blackjack tables, a handful of baccarat games, four exciting variants of casino poker, and the jewel in the live casino crown, the exclusive live Dream Catcher money wheel game.
Interesting Game Variations
Once you dip into the main tabs of bwin's live casino, you'll find plenty of variation within the game types themselves. For roulette, bwin offers its own black and yellow branded tables as well as Evolution staples such as the award-winning Immersive Roulette, VIP Roulette and Speed Roulette. Clubhouse Roulette, a relatively new addition to the scene, adds extra visual flair. It is under the blackjack tab, though, that the most diverse selection of live tables can be found. Again, bwin brings its own black and yellow tables to the mix, but games with a huge range of table limits can be found across the board here. In terms of casino poker, four games make up the collection: Caribbean Stud Poker, Casino Hold'em, Three Card Poker and the Evolution Gaming exclusive, Ultimate Texas Hold'em. Each feature different gameplay elements and side bets. Multiple variants of bwin live dealer baccarat are also available.
1/4Live blackjackThere's more than thirty blackjack tables, with a wide range of table limits available. The depth of choice and variety ensures ample opportunity for casual players and high rollers to get involved.

2/4Live Casino PokerLive casino poker is growing in popularity and bwin offers four different exciting twists on the fabled card game. Welcoming dealers help you settle in like you are in a real casino.

3/4Live RouletteEvolution Gaming's roulette games are award-winning, and bwin has a great selection available, including the ever-popular European roulette. Take your pick!

4/4Dream CatcherA truly unique online gaming experience, Dream Catcher is more like a game show than a casino game. This game can appeal to anyone who wants to try something a bit different for a change.
Different Table Limits of the Live Casino Games
Table limits might not seem like the most interesting topic to cover in a live dealer games review, but I always feel that this is an undervalued aspect when it comes to analysing any live casino. The minimum and maximum bets are crucial to players who are either looking to play on a tight budget, or want to bet big. Online operators know their market, and try to cover as many players as they can, but the table limits from casino to casino are not always uniform. You can see a breakdown of the full range of table limits at bwin live casino below.
Live Game Table Limits at Bwin
Roulette Games
Roulette Table Limits
Even Money Bets
Mobile Available
Live Roulette
1
£1 – £5,000
£1 – £5,000
Black & Yellow Roulette
1
£1 – £10,000
£1 – £10,000
Clubhouse Roulette
1
£1 – £10,000
£1 – £10,000
Immersive Roulette
1
£5 – £5,000
£5 – £5,000
VIP Live Roulette
1
£5 – £10,000
£5 – £10,000
London Roulette
1
£1 – £2,500
£1 – £2,500
Blackjack Games
Blackjack Table Limits
Side Bets
Mobile Available
Bwin Blackjack
9
£5 – £10,000
£1 – £1,000
Clubhouse Blackjack
9
£5 – £15,000
£1 – £1,000
Party Blackjack
1
50p – £200
£1 – £500
Blackjack Silver
9
£50 – £2,500
£5 – £1,000
Blackjack VIP
9
£20 – £15,000
£5 – £1,000
Casino Poker Games
Casino Poker Table Limits
Side Bets
Mobile Available
Casino Hold'em
1
£1 – £3,000
£1 – £3,000
Three Card Poker
1
£1 – £5,000
£1 – £1,000
Caribbean Stud Poker
1
£1 – £2,000
£1 – £200
Ultimate Texas Hold'em
1
50p – £500
50p – £500
Baccarat Tables
Baccarat Table Limits
Side Bets
Mobile Available
Baccarat
2
£2 – £15,000
£1 – £7,500
Speed Baccarat
2
£1 – £10,000
£2 – £7,500
Baccarat Squeeze
1
£5 – £5,000
£5 – £5,000
Baccarat Control Squeeze
1
£5 – £10,000
£5 – £10,000
Dream Catcher Games
Dream Catcher Table Limits
Side Bets
Mobile Available
Dream Catcher
1
10p – £2,500
N/A
As you can see from the table above, roulette, baccarat and casino poker are the games for players who want to bet the absolute lowest amount per hand or spin possible. Blackjack tends to appeal to players who are willing to risk a little more – with the exception of Blackjack Party, a laid-back version with two dealers and a colourful crowd of players. For high-rollers, roulette offers the best chance of landing really big wins as the upper betting limits are so high.
Playing Live Dealer Games on Mobile Devices
There was a time when the thought of streaming high-definition live dealer games to your mobile device seemed like a pipe dream, but we are now beginning to reach something close to parity between playing live games on mobile versus on a traditional desktop or laptop computer. This is largely down to the providers themselves waking up to the fact that mobile internet usage is such a big deal in the UK, and how much the market has been crying out for this service in the last couple of years. Today, Evolution Gaming-powered live casinos, such a bwin live, are not only available on both smartphone and tablets, but have been optimized in these markets. It's something that NetEnt, one of Evolution's main competitors in this field, is doing as well, and I expect we will continue to see the market move in this direction.
The Live Dealers
A key component of fun, professional live dealer games is the dealers themselves. After all, these games are not run on computer software or filled with fancy graphics and soundtracks. A huge part of the atmosphere and overall experience at bwin live casino is in the quality of the live dealers that man the tables and spin the wheels. Evolution Gaming's main studio is in Riga, Latvia, and thus, almost all of the dealers come from Eastern European nations. English is the language of live casino, so communication for UK players is not an issue.
Live Dealers at Bwin Dealers
Silvia

Favourite Games:

Casino Hold'em

Blackjack

Gary

Favourite Games:

Immersive Roulette

Baccarat Squeeze

Saki

Favourite Games:

Caribbean Hold'em

Dream Catcher

Adrian

Favourite Games:

VIP Blackjack

Clubhouse Roulette
All the dealers I came across when working on this review were super-professional, and brought a certain personality to the gameplay experience. Perhaps the most obvious place to see what I'm talking about in action, is during the Dream Catcher game. Here, the 'dealers' act more like presenters. The vibe is much more 'game show' than 'casino', and thus the host is required to bring a performance to the stream. The best in the business work for Evolution Gaming, and it shows when you dive into the bwin live games yourself.
Live Casino Bonuses
You are probably familiar with first deposit bonuses and the welcome bonus by now, in fact, if you'd like to check out bwin's welcome bonus, you can read my review. However, you may not be aware that online casinos occasionally offer a live casino bonus that is specifically designed for live dealer games. One of the reasons that there is a demand for such promotions is the issue of wagering requirement contributions. It is unusual, for example, for the welcome bonus to come with the conditions that live games count 100% towards your playthrough goal. Bwin casino does not currently offer a live casino bonus, but for a first-class company that does, check out LeoVegas' live casino offering. It is also provided by Evolution Gaming, so the experience is comparable to bwin.
Live Casino Software
As previously mentioned, bwin casino live is provided by Evolution Gaming. Since launching in 2006, the company has quickly risen to the top of this game and currently, in my opinion, leads the market for live dealer casino games. NetEnt and Playtech are making up ground, but Evolution remains king. The Malta-registered company has picked up so many awards over the last couple of years I'm not going to list them here. Choosing to play at an Evolution Gaming live casino is like choosing to drive a BMW or Mercedes, you just know you are in good hands.
Conclusion: One of the Best Live Casinos
Bwin casino live is without a doubt one the major players in the live casino space. A large part of this, of course, comes down to the fact that is powered by Evolution Gaming. The addition of the exclusive black and yellow bwin tables are nice, but at the end of the day, it's an aesthetic selling-point, rather than a gameplay or performance one. After spending a significant amount of time with this live suite leader, I feel confident in my recommendation of bwin live as a solid, first-class performer, and worthy of mention in the same breath as my favourite live dealer casinos in the UK today.
Review Summary for bwin Live Casino
Major Strengths
Quality live provider
Casino Poker games
Minor Strengths
Lots of tables and limits
Exclusive tables
Minor Weaknesses
No live casino bonus
Full T&Cs apply. This offer is only available for new customers in the UK and Northern Ireland. New players must be 18+ years of age and proof of identity documents may be requested for verification purposes. BeGambleAware. Play responsibly.
The only criticism I can throw at bwin live is that it merely highlights the faults of the regular casino. With so many other well-performing operators in this field, it is difficult to justify bwin over some of the competition when you are only getting half a product. However, if you are looking to play ONLY bwin live games, then this operator should totally be on your shortlist. For all other things bwin casino, check out my main review.
Questions and Answers
If something you've read in this review doesn't make sense, or you are looking for more answers about bwin, then please submit your questions to contact@online-casinos.com. Here is a common request sent by our visitors.
Can I try the bwin live dealer games for free first?
Unfortunately not. Due to the financial demands of providing live dealer casino games – the guys and girls dealing the cards have to be paid, after all – online operators do not offer free play, demo play or any other kind of free live dealer games at the moment.