Full Game Review + Play Playtech Baccarat Online for Free
With so many online casino games spread across the internet, it can be hard to know which one to play. Particularly when there is so little information about the different titles on the operator's websites themselves. This review all of these facts about the classic and classy card game, including the rules and how to play Playtech Baccarat online. You can then take your skills to the real time at our recommended site William Hill.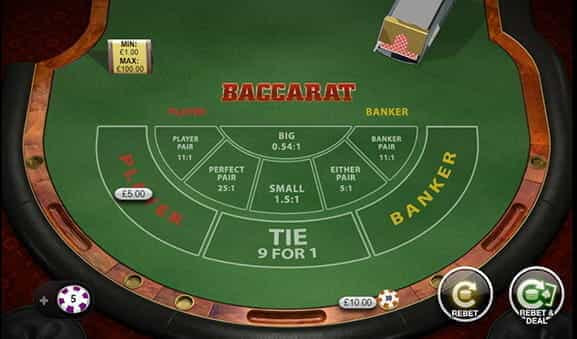 Up to £300 Bonus
Enjoy the holistic online gambling experience with one of the oldest operators.
Full T&Cs apply. Opt in required. Available 1x per customer. First deposit only. Minimum £10 deposit. Maximum £300 bonus. 40x wagering. Bonus expires 7 days from issue. New customers to casino page only.
By the end of this Playtech Baccarat game review, I aim to give you all the tools to help you decide if you want to play Playtech Baccarat online. This includes giving you a rundown of how the rules work and what buttons to press, as well as some alternative options for a twist on the classic. Also try out a free play demo of this title to practice your moves.
Playtech Baccarat Free Play: Right Here
There are many reasons why you should play a Playech Baccarat free play demo, the first of which is that it is, well, free! Entertainment without payment is rare, particularly in the casino industry. On top of that, though, is the ability to find out if you do want to invest your actual cash into the game or not.
There are lots of things you can only know about a game by actually experiencing it, such as the aesthetic features. Nothing will be able to explain what a picture looks like without seeing it, nor what a soundtrack sounds like. Have a go now.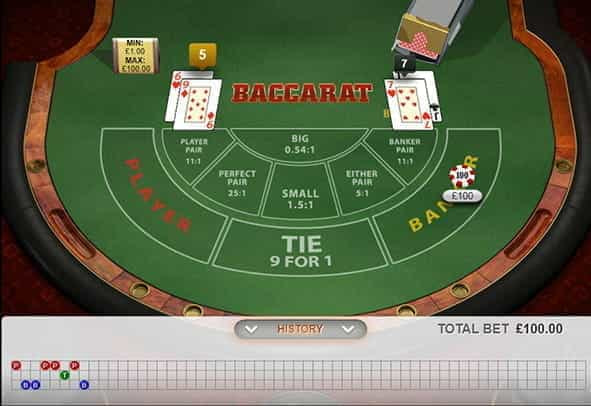 –
As you can see from the second you enter the game, the developer has clearly put a lot of effort into the design of the table. The soft green felt on the rounded table is emblazoned with various sections for the different kinds of bets you can make, which we'll explain in the next section.
There's no backing music, but there are some soft sound effects that add to the atmosphere and are a helpful confirmation of your actions. A cool feature is that you can change the colour of the table between four options, all delightfully supporting the smooth motions of the cards being dealt.
Overview of the Rules and Features
Learning to play Playtech Baccarat online is very easy – much easier than you might think considering the unique card values. The whole concept boils down to this: bet on if you think the Player or the Banker will have a better hand. Placing this wager is how you begin the game, as you must make a bet then select to Deal the cards. Keep in mind that although you are playing the game, you are not the "Player" – you can bet on either hand.
When the cards are dealt, the values of each hand will be visible hovering over them. This is when the confusing part of Baccarat is introduced. In a certain set of circumstances, the Player or the Banker may receive a third card, based on the values of the hands. Essentially, if the Player hand equals five or less, they will get a third card. If the Dealer's hand is six or less, they will get a third card if the Player's third card is of a certain value. If either has an eight, no more cards will be drawn, regardless of the other's value. To ascertain the hand value, it's important to understand that when the value reaches 10 by adding each card value to the other, it starts again. For example, if a player holds a 7 + 5, the hand is valued 2.
| | |
| --- | --- |
| Developer | Playtech |
| Player Level | Beginner |
| Jackpot | No |
| Decks | 6 |
| RTP | 82.93-98.94% |
| Min Bet | £1 |
| Max Bet | £100 |
| Special Feature | Side Bets |
In the Playtech Baccarat real money game, you also have the option to bet on a number of other types of hands. Though in the rules they are called 'side-bets', the fact that you do not have to wager on the base game to make one of these wagers means that's not really accurate. Whether or not you should make these other types of bets is explained more in the baccarat strategy guide.
Where to Play Playtech Baccarat for Real Money
If you've played a few hands of this title and are ready to switch to Playtech Baccarat real money hands, then you should head directly to a trustworthy and recommended online casino, like the one we have highlighted below. What makes a casino worthy of our recommendation? When you want to find where to play Playtech Baccarat – and this is non-negotiable – it must hold the proper licence from the responsible authority.
Once that is ticked off, we spend time investigating the casino's offering as a whole. This includes checking the variety and quantity of games in the portfolio that should support its Baccarat option, such as other table games, slots and a live dealer suite. We also make sure that you can play on your smartphone, should you choose to do so, and that the mobile gaming experience is as pleasant as the desktop site. There's also the matter of checking the types of promotions that are available and ensuring that it will boost your wallet rather than be a drain on it.
Playtech Baccarat
£300 Bonus*for New Players at William Hill Casino
Full T&Cs apply. Opt in required. Available 1x per customer. First deposit only. Minimum £10 deposit. Maximum £300 bonus. 40x wagering. Bonus expires 7 days from issue. New customers to casino page only.
Similar Baccarat Games to Try
If you've enjoyed this Playtech Baccarat free play demo and want to try something else of the same ilk, then feel free to check out some of the other baccarat variants. We have reviewed a number of games and they all have demos you can try, to see if something is more suitable to you.