Our Detailed Review of Zappit Blackjack Online
Zappit Blackjack online brings a unique twist to the classic casino game, potentially altering the outcome of the whole game from the moment the first round is drawn. This unique title from Scientific Games is loved by some and hated by others, so keep reading to see what makes this title inspire such different reactions from its players.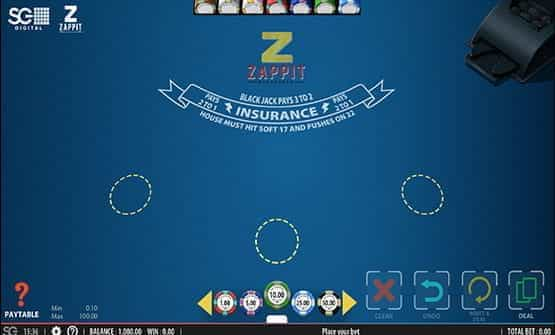 £50 bonus available
Play Zappit Blackjack at Grosvenor Casino and receive the welcome bonus.
Full T&Cs apply. Offers available on 1st Deposit only. Max reward £50 bonus. 5X wagering. Some games have different wagering contributions. Some games excludes bonus play.
Once you have finished reading this Zappit Blackjack review, you will have a through understanding of what to expect from the game. This is because we have covered everything about the game including the special features and wagering options, as well as provided you with a free version to try yourself.
Play Zappit Blackjack for Free
While we would never suggest players go straight to a paid version of a blackjack title without trying a free version first, we must stress the importance of this for Zappit Blackjack in particular. We suggest you play Zappit Blackjack for free because it contains alterations that affect even the House Edge.
In addition to this, it contains a special Zappit feature that needs to be tried first before it is understood. There is no point figuring out these elements while risking money, so take the chance to take the demo for a spin. This way if you do enjoy it, you can also figure out a suitable strategy.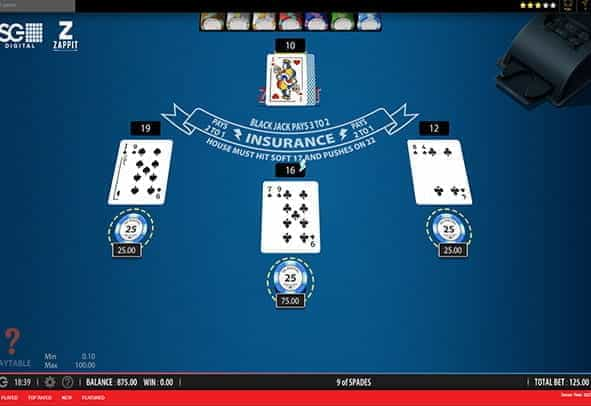 Zappit Blackjack
When you first open Zappit Blackjack online, you will notice that you have the chance to play three hands at once. There are no side bets in this game. If you want to not spend too much time on the time free version, we recommend playing three hands at once as it should allow you to trial more moves quicker.
The game design adopts a non-traditional, electronic casino vibe, going as far to include an automatic card dealer that shoots out the deal. The icons and animations are smooth and beautifully rendered, adding to the modern vibe of the game. This fits the game well, because as you'll discover, there isn't much that's traditional about this game.
Alternative Blackjack Games to Play for Free
Rundown of the Game Rules
This casino game employs standard blackjack rules to a certain degree. The aim of the game is to score the closest to 21 points without busting. Cards are valued differently, with Aces being 1 or 11 points, Face cards worth 10 and numbered cards worth their face value.
This game is different though, in that the Zappit feature allows players to discard their first two cards for a shot at better one's if they value the undesirable score of 15-18. These cards can be troublesome as they are easy to beat though the chances of busting when Hitting are quite high.
While this could be seen as giving the player an unfair advantage, the developers have evened the playing field with the addition of the 'House must hit soft 17' and 'Push on 22' rules. This means that if the Dealer busts but lands on 22 points, the game is a draw. Both of these skew the house edge in favor of the dealer.
Zappit Blackjack

| | |
| --- | --- |
| RTP | 98.87% |
| Blackjack Pays | 3:2 |
| Decks | 6 |
| Multi-Hand | Yes |
| Insurance | Yes |
| Surrender | No |
| Split | Yes |
| Additional Rules | Zappit feature |
| Re-Split | No |
| Hit Split Aces | No |
| Double | Yes |
| Double After Split | Yes |
| Dealer Peek | Yes |
| Dealer Hits Soft 17 | Yes |
| Side Bets | No |
| Best Zappit Blackjack Casino | Grosvenor |
The result of this is that the return to player rate is 98.87%, which considering blackjack games tend to hover around 99.5% or higher, isn't exactly great. In our opinion, there are games out there with equally unique features that don't sacrifice your chances to win. Regardless, this depends on individual taste.
As for wagering, a minimum bet of 10p per hand and a maximum of £100 applies. This is a very inclusive betting range and should appeal to low budget to mid-budget players. The inclusion of a double option and doubling on a split hand means that bets can be even bigger if you're feeling lucky.
Play Zappit Blackjack for Real Money
Did you take the game for a spin and like what you found? Then it's probably time to play Zappit Blackjack for real money. As the review covered, there are some very interesting features to this title that are bound to impress many players, so if you're one of them then we can see no reason why not to pay.
The game's aesthetic is easy to look at, with the animations and sound effects being particularly well crafted. The Zappit feature certainly adds an added element of suspense to the game, and while we're not sure that it's worth the lower House edge, it's still a welcome option when you do receive those dreaded hands.
The conclusion of this Zappit Blackjack review is that this title should appeal to players of all skill levels and most budgets. If you want to know where to play Zappit Blackjack online, we've provided a link to a casino that offers this and many other great blackjack games. Check it out now to take advantage of the generous casino welcome bonus while it lasts!
Zappit Blackjack
£50 Bonus FOR ALL NEW PLAYERS AT GROSVENOR CASINO
Full T&Cs apply. Offers available on 1st Deposit only. Max reward £50 bonus. 5X wagering. Some games have different wagering contributions. Some games excludes bonus play.