The Best Live 3 Card Brag Online Casinos for 2021
Far from its traditional roots in the 16th century, live 3 card brag now encapsulates the exquisite experience of classy casino gambling. Available to you from the comfort of your own home through the brilliance of high definition video streams, more and more punters are trying to find the best 3 card brag live casinos among the thousands of operators out there. Check out our top three recommendations in the table below and read on for details on why they stand out.
The Top 3 Live 3 Card Brag Casinos

| Best Casinos | Bonus Offers | Highlights | Rating/Review | Secure Link | T&C's |
| --- | --- | --- | --- | --- | --- |
| William Hill | £100 | Many Game Providers | | Play Here! | Full T&Cs apply. New customers only. Opt in required. 1x per customer. Max 50 free spins with 20x wagering. Stake £10 stake & get 100 free spins on completion with 20x wagering. Selected slots only. Free spins expire 24 hours after issue. Eligibility rules, game, location, payment method and currency restrictions and terms and conditions apply. |
| Betfair | £100 | Comprehensive Gambling Offering | | Play Here! | Full T&Cs apply. Minimum deposit of £10, x45 wagering, Roulette and blackjack 50% weighting. Bonus Valid for 7 days. Not available to customers using Moneybookers/Skrill or Neteller as a payment method. |
| Mansion Casino | £500 | Great Smartphone App | | Play Here! | Full T&Cs apply. New Customers. 5% cashback on day 1-7 deps, 10% on day 8-14. Max £1000 p/w. Max 1st deposit bonus £200, 2nd max £300. Min £20 deposit. 40x wagering, valid for 30 days. Game weighting, payment restrictions and betting limits apply. Casino Only.  |
As you can see, we've outlined the top three live 3 card brag online casinos and highlighted some of their main features for you in the table above. If this is enough information to help you make your choice, feel free to hop to it and start playing. Otherwise, read through this review for explanations of the different game variants and mobile play options.
What Makes a Good Live 3 Card Brag Site?
You may already be starting to notice that there is more to being considered an excellent 3 card brag casino than merely offering the game itself. I've dropped a few mentions of some of the other important judging criteria that we used to rank our best live 3 card brag casinos online, which I'll go into more detail about in the following few sections.
Most Popular Game Variants Available
Playtech is the online company that creates a version of this game, but there is a also variant called Three Card Poker that should be noted. You will also see the game called theree card brag at certain casinos, so be aware that these names all refer to the same type of game. Three Card Poker is a game that is exclusively offered by Evolution Gaming, as the gameplay is patented and currently owned by Shuffle Master – part of Scientific Games. The major difference is in the hand rankings. In Three Card Poker, the game follows traditional poker rankings with a Straight Flush as the best hand.
The Best Live 3 Card Brag Variant:

| Game Variant | RTP | Unique Feature | Languages | Best Casino |
| --- | --- | --- | --- | --- |
| 3 Card Poker | 96.63% | Poker hands rank high instead of the matching three cards in 3 card brag. | English | 888casino |
The other differences that you will notice between the two will be the style of the casino studios from which the games are streamed, as the two companies, of course, have their own setups. There will also be differences in where you can find the games, as the majority of online casinos tend to stick with Evolution Gaming suites and therefore will likely offer only the one option.
Current Software Developers
There is only one option to turn to when looking for live 3 card brag game developers: Playtech. This isn't necessarily a bad thing, though, as the company is one of the leading software firms in the online casino industry and its games can be found at some of the world's best operators.
1. Playtech Playtech is perhaps better known for its exciting and colourful slot games, in particular its titles themed after blockbuster Hollywood films. The studio brings this same level of charm and attention to detail to its live offerings, which are presided over by courteous croupiers. These include live casino poker and live Hi-Lo.
In the early days of online casinos, some providers required exclusive licencing agreements with operators, meaning that Playtech-powered websites could only offer games made by that developer. Though this has loosened up in recent years, the upshot is that Playtech-powered casinos will generally offer the provider's entire suite, making live dealer 3 card brag readily available.
Mobile Play Availability
All live 3 card brag that you'll find online will be optimised for mobile gameplay, thanks to the development team at Playtech putting a high emphasis on the importance of the handheld devices. Though the experience you'll have while inside the live game itself will be the same regardless of which casino you choose, the overall user design of each operator's mobile offering will differ.
When looking at what makes a good mobile casino option for live and RNG-based casino games, we make sure that the layout is simple and easy to use, with big buttons made for thumbs and useful search functions. We also make sure that all the options around payments and customer service are also accessible through the mobile casino app or optimised website. This means that when you play three-card brag on your mobile, you'll also be able to enjoy the many varied benefits that you normally would on a desktop site.
Live Dealer 3 Card Brag Bonuses: Are There Any?
Who doesn't like getting something for free? Whether it's digging in the cereal box for the toy or searching through online casinos for the best promotions, the concept of freebies is eternally enticing. Understanding this, operators use welcome bonuses to tempt new players to their sites, offering things like deposit match bonuses or free spins on selected slots. Unfortunately, this live game is generally not something that casinos bother making specific promotions around.
In this case, what you'll want to do when investigating the value of a casino bonus offer is look at the wagering terms and conditions for the game contributions. Many promotions exclude live 3 card brag online casino games from contributing towards wagering conditions, which means you'll never be able to fulfil the requirements by playing the live games. Instead, make sure you can play live dealer 3 card brag and still fulfil those terms.
General Look at the Casino
On top of important criteria like bonuses and game library, we also want you to consider the safety and security of your personal information when selecting an online casino. For example, we have identified that our top three live 3 card brag online casinos are all licenced by the responsible authorities, which hold them to a certain standard and ensure player protection. This will also mean the website is secured through the use of website encryption to keep data safe from hackers.
How to Play Live 3 Card Brag Online
There is some confusion out there about how to play live 3 card brag online, though you can rest assured that after the following sections you'll no longer be unsure. We'll cover the rules, betting and gameplay strategies, and tips on how to win.
Get to Know the Rules
Live 3 card brag has its roots in poker, so if you understand the values of poker hands then you're already in a good way. However, the major difference with this game is that the highest value hand you can have is three-of-a-kind, also known as a 'prial'. Players must place and ante bet for the game to begin, then they are dealt cards. After deciding if their hand is strong enough to likely beat that of the dealer, the player either continues the game by choosing the Play, or fold if the hand is not strong enough. The steps are very simple – just follow these three:
1
Step One
Place your ante bet to join the nest round.
2
Step Two
Decide whether you want to play or fold.
3
Step Three
Decide if you want to place a Pair Plus bet.
The live 3 card brag rules follow the exact same setup as that of the land-based versions you'll see out there, as long as you're sure to check that you're playing brag, not poker. Otherwise, you just need to decide the strength of your hand against the potential of that of the dealer. If the dealer doesn't have at least a Queen, she will forfeit and the Ante bet will get an even money payout, and the Play is a push.
Live 3 Card Brag Strategy
With this game you can only make one strategic choice: whether to play or to fold. If you have a good understanding of the value of poker hands, this will be a lot easier to know about the strength of your own. A basic strategy is to choose the play option when your hand is a Queen-6-4 or higher. Therefore, Play if you have a pair, King/Ace high, Queen high plus a seven or higher, or a Queen high with at least a six and a four. Following this generality is only a guide to the mathematical probability of winning and doesn't guarantee a winning hand in three card brag.
Tips for Playing Live 3 Card Brag Online
Every hand of gives you a 15-second decision-making window after you have been dealt your cards. This can add an extra element of pressure for when you need to weigh up the value of your hand, so here are a few tips to follow that should help to keep it simple.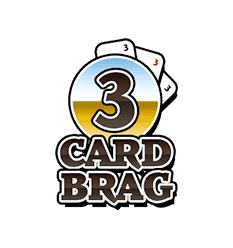 Live 3 Card Brag Top Tips:
1. Play on a Queen-6-4 hand or better
2. You can't bluff in live streams
3. Keep an eye on your budget and playtime during each session
4. Pair Plus bets will increase each round's volatility – use these with caution
5. Don't use any betting strategies – there's no foolproof way to win
Why Should You Play Live 3 Card Brag Online?
There are a lot of reasons why one would want to play live games, which include things like the ability to claim welcome bonuses, partake in promotions and of course, not leave the house. However, there are major difference between playing live 3 card brag online as to playing it in a land-based casino.
First of all, in a land-based gambling house three-card brag is generally a player versus player setup. This means that the dealer simply provides you with the cards and it is there to facilitate the game. Additionally, the concept of a 'poker face' is completely unnecessary when playing online. The dealer can see your hand as well as you can, and it will not influence whether or not they play – in live online 3 card brag the dealer plays with a Queen or higher, always.
If you are playing against other people in a land-based casino, your hand is a secret only to you, and you can use the art of bluffing to trick the other player into thinking you have a good hand. Conversely, your face may clearly show that you have a bad hand and provide the opponent with the upper hand.
Why You Should NOT Play Live 3 Card Brag Online
The fact that you play through the computer against the dealer and not other players removes your ability to bluff. This could give you an advantage over other players if you are good at knowing other players' tell signs. There is not nearly as much interaction between the Playtech live croupier and yourself in the online version, which can remove a lot of the atmosphere of the experience that you would be able to enjoy in a land-based three card brag game.
Conclusion
The best 3 card brag live casinos above have been selected because they meet our strict set of criteria across many aspects of the websites. While looking for the leading Playtech-powered live dealer suites, we've found that these online casinos not only tick all the boxes, but also give the player a fantastic all-round gaming experience with a wide selection of other games and game categories.
If you want to play live 3 card brag online, you will need to ensure that your chosen operator has a live dealer suite provided by Playtech, which is not necessarily the default provider, but it is the only recommended one. It can be hard to find out the provider before creating an account, so take your time to read up on the live game offer. By following our recommendations, though, the work is already done, and you can begin having fun immediately.
FAQs
There are always more people asking more questions than we expect to have answered when putting together our guides, and it is with zero hubris that continue to add and update them with answers. Below are some of the commonly asked questions about this fast-paced game.
What is live 3 card brag?
It's is a live online casino game that is produced by software developer, Playtech, and available at many operator websites. It is a poker-style game in a player vs dealer style, where the best hand is three-of-a-kind. All the action is streamed directly from the dealer's studio.
Can I play 3 card brag live for real money?
Yes, if you have an eligible player account at an online casino that has a live dealer suite of games provided by Playtech, you can definitely play live 3 card brag for real money. Make sure you visit the cashier to load funds before playing, and check if there are any bonuses you can take advantage of.
What is the best hand in live 3 card brag?
The best hand you can have in the Playtech version of this game is three threes. However, all hands that are three-of-a-kind will rank equally, so the value of the cards is actually immaterial. The next-best hand is a running flush.
What is the difference between 3 card brag and 3 card poker?
In live online 3 card brag, the highest-value hand is three-of-a-kind, as opposed to the winning Straight Flush in the poker version. In a land-based version of the game, 3 card poker plays against the dealer, and 3 card brag is player vs player.
Your Opinion Matters!