American Roulette Review – Game Features and Payouts
Many software developers have attempted to put their own stamp on the casino classic, roulette. The game has remained a fan favourite for decades, so developers are limited in how much they can change the game's rules. What they can do though, is create games with stunning graphics and handy usability. In this American Roulette review, we will look at all aspects of Microgaming's product. By the end, you should have all the info needed to start playing American Roulette online for real money.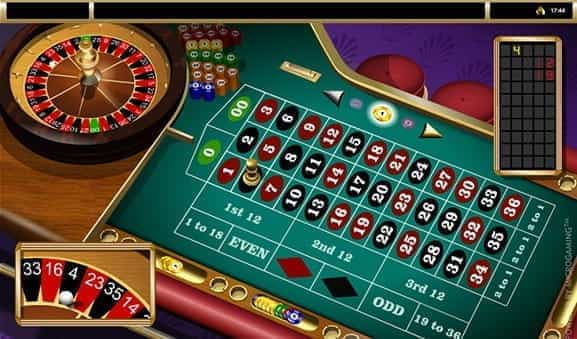 UP TO £150 BONUS Play American Roulette at 32 Red and receive the welcome bonus.
Full T&Cs apply. New accounts only. Min. £10 deposit, debit card and PayPal only. 50x wagering, game contributions vary. Max. stake applies. 7-day expiry. 18+. BeGambleAware.org.
To those new to the game, Roulette can look intimidating, especially with its numerous betting options. However, this review will show that the game is actually pretty straightforward. If you scroll down the page you will find information on how to play American Roulette, including an explanation of the American Roulette rules and payouts. If you are a hands-on learner, then you can take the American Roulette demo for a spin. The demo can be found below.
American Roulette Free Demo
There aren't many free things in this world, so when you find something that is free, you should take advantage of the opportunity. For example, you should give the American Roulette free demo a try before you wager your hard-earned money. You don't have to download anything or log in to an account. The game is playable right here on the page. With the demo, you can test out your own strategies, no matter how unorthodox, and see how you fair with no strings attached.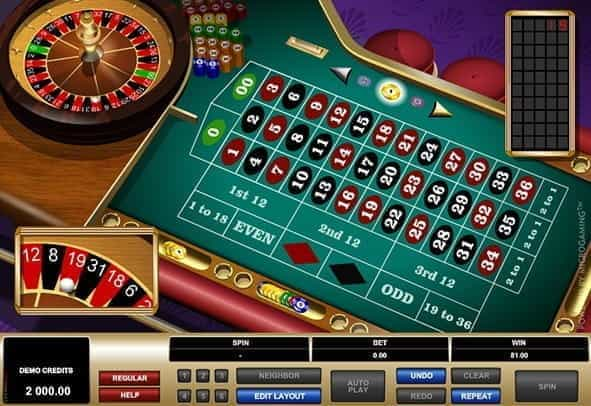 –
You'll never be in the wrong if you take the time to get familiar with a game before you start playing. It takes a while to grow accustomed to the rules and features of a new game, that's why I suggest you take a few moments to play the American Roulette demo so that you can test out new strategies, explore the features, and test different scenarios so that you don't encounter any big surprises when you start to play for real. The last step before you start playing is to read the game rules. I suggest you read them in their entirety, but if you want to see the basics, just scroll to the next part of this review, where I'll break down some of the basic rules and features of American Roulette.
American Roulette Rules
This Microgaming product shouldn't shock anyone familiar with the standard rules of roulette. A standard roulette wheel features 37 pockets, however this version has 38 pockets due to an additional double zero that is missing from both the European and French variants. The extra pocket decreases the odds of winning ever so slightly. This is reflected in the return to player rate, which rests at 94.7% (slightly lower than the standard 97.3% RTP). To win the game, you can either place an inside bet on a number or an outside bet on characteristics such as black, red, even or odd. You also have the option to place neighbour bets of up to eight neighbouring pockets. Unfortunately, the American Roulette game does lack a racetrack, which makes it hard to make called bets. Because of this, the game is geared a little more towards the experienced player, who is comfortable creating their own strategies. If you feel up to the challenge, I suggest testing out the auto play feature in the American Roulette free demo, to see how your strategies fare over time. Once you feel settled, you can use the expert mode feature to save some of your favourite bet layouts for easy and faster betting.
RTP

94,74%

Roulette Type:

American

Special Feature:

Expert Mode

Bet Limits:

£1 – £3,000
Racetrack:

No

Called Bets:

No

Fast Play:

No

Auto Play:

Yes
If you are a newbie to the wheel, I suggest you head over to my dedicated roulette page. There you will find info discussing the different variations, as well as find pages dedicated to strategies, rules, and mobile play. With regards to payout rates, this game is as standard as it comes. Inside bets and straight bets are the most challenging to win but result in bigger payouts. A straight bet pays 35:1 and a line bet (the lowest risk of the inside bets) pays 5:1. The outside bets pay the standard 2:1 for column or dozen bets, and 1:1 for wagering on black, red, even, or odd. The one thing that was annoying about this game is that the payouts are not displayed anywhere on the table and can only be found in American Roulette rules page that you can't view in-play.
Conclusion – Play for Real Money
When I sat down to write this American Roulette review, I had some high expectations. When a company as prestigious as Microgaming produces something new, you expect to find a superb game. Unfortunately, I was underwhelmed with this variant. The graphics are not up to par with what I have come to expect from Microgaming. Although this isn't the worst looking game I've played, I was distracted by the laggy wheel animation when you aren't playing. The game lacks music, which not always a deal-breaker, certainly could have added a little flair to a seemingly vanilla title. I also found that without a race wheel, placing bets was significantly more difficult. If you're looking for a better variant, I suggest playing 3D Roulette Premium from software developer Playtech. However, if you did like the American Roulette rules, I suggest playing American Roulette online at the casino recommended below.
–
UP TO £150 BONUSFOR ALL NEW PLAYERS
Full T&Cs apply. New accounts only. Min. £10 deposit, debit card and PayPal only. 50x wagering, game contributions vary. Max. stake applies. 7-day expiry. 18+. BeGambleAware.org.
Alternative Roulette Games to Play for Free