Double Ball Roulette Review – What You Need to Know
There are countless roulette games available on the internet these days. This is a great thing for you as a player, because it means that there will undoubtedly be a perfect version of the game to suit your exact gameplay style. However, the downside to cramming the marketplace full of options is that it can become difficult to find out enough about a game to know if it is the right one for you. That's why I write articles, like this Double Ball Roulette review, to help you in your decision-making process. I've gone one step further, though, and given you my top casino for playing the game below. So, feel free to head straight there if you have done enough reading for today.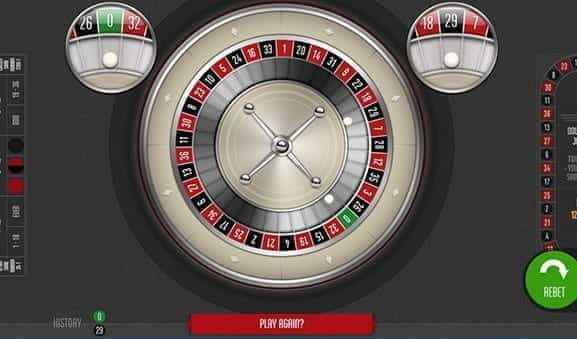 Developer:FELT
up to £100 + 50 FREE SPINS BONUS AVAILABLEClaim Rizk's welcome bonus when you sign up to play!
Full T&Cs apply. New Customer only. Min £10 dep. Neteller/Skrill excl. Max bonus £100. Wagering 40x on bonus amount within 30 days. Bonus max bet £5. Spins paid 10 per day.
If you think you might enjoy the excitement of two balls on one wheel, but you're not quite sure yet, you can try out the free Double Ball Roulette demo in the next section and read the full game rules below.
Play a Demo Game for Free
Playing games at a casino for real money can be very exciting. But you don't want to risk your money while figuring out exactly how an individual game works. I will take you through how to play Double Ball Roulette below, but first, you can try this demo version for free, with no worries.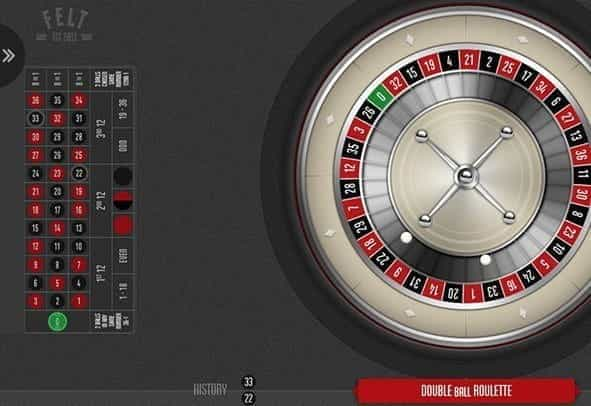 –
Now for the most important part of my Double Ball Roulette review: the rules of the game. For me, when I'm choosing a game to play, this is really the bit that matters.
The Double Ball Roulette Rules
The game appears just like most other European roulette games. There are both inside and outside bets, a single zero, and you can place your wagers on the traditional board or on the racetrack. The difference is hinted (ok… not just hinted but outright stated) in the title: there are two balls in the Double Ball Roulette game from FELT. The main thing this does is increases your chance of winning if you place your chips on a single number. But of course, the straight-up pay rate is lower, at 17-1 than the usual 35-1. But, if you like winning often, even if it is smaller wins each time, then you might have found the game for you.
Developer:

IGT

Roulette Type:

French

Special Feature:

Double Ball

Bet Limits:

10p – £2,500
Racetrack:

Yes

Called Bets:

Voisins, Tiers, Orphelins

Fast Play:

No

Auto Play:

No
The outside bets are also a bit different in how they work. Gone are the traditional even odds wagers in this game. You can still play on red or black, but there is the addition of the red/black option. To win on red, for example, both balls would have to land on a red number. The red/black bet would require one ball on each colour and pays at even odds. The colour wagers, however, pay at 3:1. The other additions are both balls on the same number bets. 'Any Same Number' pays at 35:1 if both balls land on the same number, regardless of what number that is. The 'Double Ball Jackpot' is the glitzy, flashy attraction that might grab your attention when you look at the Double Ball Roulette rules. The pay rate is 1200:1 if you correctly guess that both balls will land on the same number. Certainly, this is a massive rate. But, of course, the odds of this happening are pretty low, as you'd expect. You can play a little more cautiously and place a wager on both balls landing on the same dozen or the same column. These pay at 8:1.
Review Conclusion
With all of these betting options, it can be great fun to play this roulette variant, and it's certainly a little different from the usual traditional setup. You also get to take control and choose when to release the second ball. Where it lands is still very much down to chance, but it is great to take an active part in roulette, which is normally such a hands-off game. If, after reading this Double Ball Roulette review you feel like you have a grip on the Double Ball Roulette rules and are itching to get playing, you can head over to my recommended casino and play for real money. If you'd rather not bet on this variant, check out my other recent roulette variant reviews.
–
up to £100 + 50 FREE SPINSBONUSEXCLUSIVELY FOR NEW PLAYERS
Full T&Cs apply. New Customer only. Min £10 dep. Neteller/Skrill excl. Max bonus £100. Wagering 40x on bonus amount within 30 days. Bonus max bet £5. Spins paid 10 per day.
Alternative Roulette Games to Play for Free