Double Bonus Spin Roulette Review – A Little Added Extra
There's something mesmerising about a spinning circle. Watching the smooth lines twirling can bring out a feeling of calm, and is part of the reason why the shape is crucial to the pseudo-science of hypnosis. Funnily enough, hypnosis and the game of roulette both embrace the power of the circle's movement, both becoming popular in the western world in the mid 17th century. Coincidence? Probably. Either way, though the popularity of hypnosis has been somewhat relegated to cheesy magicians performing in casinos, the wheels continue to spin more than ever with regards to games on the casino floor. On that note, let's jump into this Double Bonus Spin roulette review.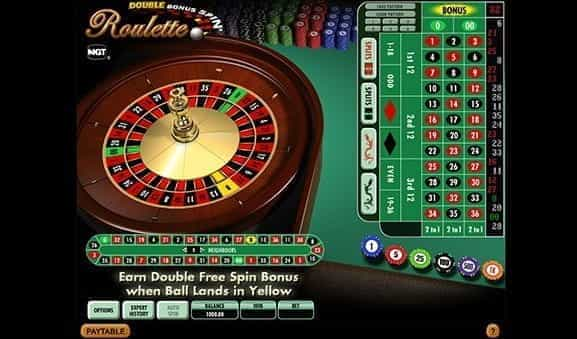 UP TO £100 BONUS AVAILABLEClaim Intercasino's welcome bonus when you sign up to play!
Full T&Cs apply.
The game of chance is equally as popular at online casinos, drawing hordes of gamblers to the countless variants that are currently available. I've been building a collection of roulette game reviews to help you sort through the options, including this Double Bonus Spin Roulette review you're currently reading. If you're just looking for a trustworthy casino to play Double Bonus Spin Roulette, you'll find a link to my favourite operator in the table above.
Play a Free Demo
Has it been a while since you've been mesmerised by the revolutions of a roulette wheel? It's probably a good idea to reacquaint yourself with the game by having a quick go at the Double Bonus Spin Roulette demo that I've added here – it's totally free to play so there's no downside. Though I can't promise you won't feel that hypnotic effect and be sucked in.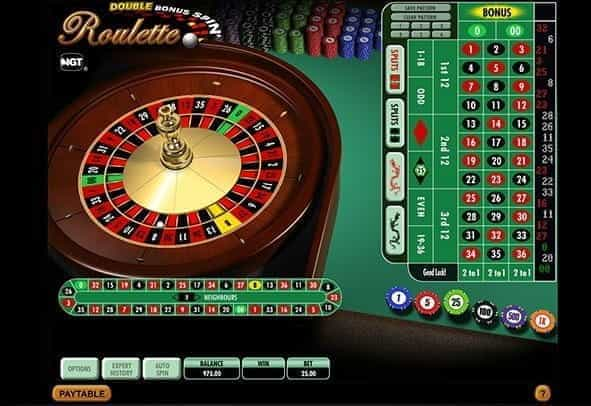 –
Made it out safely? Good stuff. The next phase is to understand what on earth was just happening. The wheel was spinning, there's a bit table of numbers and stencils of dragons and a big yellow bonus and it's all a bit much. Chillax – it's not as dramatic as it looks. I'll clarify the Double Bonus Spin Roulette rules in the next section, then you'll see.
Double Bonus Spin Roulette Rules Explained
The Double Bonus Spin Roulette rules are based on the American roulette rules, which essentially means that the wheel features both a zero and a double zero. This ever-so-slightly lowers the odds of winning when compared to a European or French variant, which feature only one green zero. Most of the clutter on the page is just the different betting options – the racetrack below the wheel allows you to bet on a number and a few of its 'neighbours'. The neighbours are the numbers to either side of one choice, and up to nine neighbours can be selected. These are not in numerical order, rather the layout matches the wheel's numbering system.
Developer:

IGT

Roulette Type:

American

Special Feature:

Bonus free spins

Bet Limits:

£1 – £1,000
Racetrack:

Yes

Called Bets:

No

Fast Play:

Yes

Auto Play:

Yes
The standard outside bets high/low, odd/even and red/black are all available and pay out at the standard 1:1. In fact, all of the payouts in the game are the standard ratios, which makes things nice and simple. There's also the splits and dragon patterns, which are just a pre-made pattern of different numbers. You can also save up to six of your own patterns, should you have a complicated preference that you tend to stick to each time. The fun addition to the rules that gives it its name is the bonus spin feature: if the ball lands on the yellow B, the wheel will disappear in a robotic motion and be replaced with a two-tiered special wheel. Spinning this wheel will set off the two concentric rings in opposite directions, providing two winning numbers for the ball's placement, giving you two chances to win. Have another play of the free demo above if you're still not sure, or re-read the whole Double Bonus Spin Roulette review, if you like.
Review Conclusion
Though the stereotypical hypnotist chants 'you are getting sleepy' as you watch his spiral turn, the opposite affect is more common in the Double Bonus Spin Roulette game. The moderately cluttered layout of the design and fast-paced action of gameplay – particularly in turbo mode – keep you wide awake and focused, always ready for the next spin. If you've read through my Double Bonus Spin Roulette review and you're now thinking this is a game that you want to play with real money, you can check out my recommended casino below and make use of its welcome promotions.
–
UP TO £100 BONUSEXCLUSIVELY FOR NEW PLAYERS
Full T&Cs apply.
Alternative Roulette Games to Play for Free