Dragon Jackpot Roulette Review – All There is to Know
Most trips to the Orient are inspired by a desire to experience something unique and exotic. Playtech seeks to capitalise on the mysteries of the region with one of the more unique roulette variants that I have ever played. This Dragon Jackpot Roulette review looks at the game, which features a beautiful red dragon-scaled roulette wheel and a progressive jackpot. If you feel up to the task of slaying the dragon, then click the link below. Playtech's various gaming products can be found at most legitimate online casinos, however, the link below takes you to my top casino to play the game online.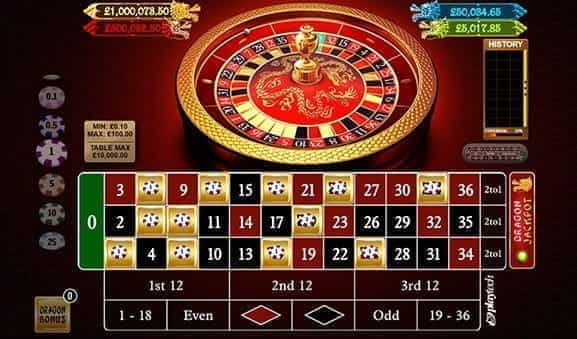 UP TO £500 BONUS AVAILABLE Play Dragon Jackpot Roulette at Ladbrokes and receive the welcome bonus!
Full T&Cs apply. 18+. New Casino players only. Deposit required. Bet £10+ on qualifying games. 40x wager reqs (bonus only) on selected games. Accept Bonus within 14 days. Bonus valid for 30 days. Certain deposit types excluded. Player restrictions and T&Cs apply.
In this review, you will read about the game's various features, its rules, betting options as well as read about the terms and conditions surrounding the title's bonus features (you heard me correctly, this roulette variant has bonuses). Hands-on learners will also be happy to find a free play demo in the next section.
Free Play Demo – Try Before You Buy
It is probably safe for me to assume that you are reading this review because you would like to try the title out before you spend real money. If you were to spend your hard-earned money while you are just learning to play, you may find yourself in a situation that you wished you had avoided. A few seconds after booting up the Dragon Jackpot Roulette demo, you'll notice something uncommon, perhaps even unfamiliar, for roulette. I'm talking about the Dragon Jackpot. Jackpots are usually found in slots, not table games. Because of this, it is safe to assume that this roulette variant doesn't play by the standard roulette rules . That is why I suggest you noodle around with the demo so that you get a feel for it yourself. You'll be happy with your decision to try it before you play for real money.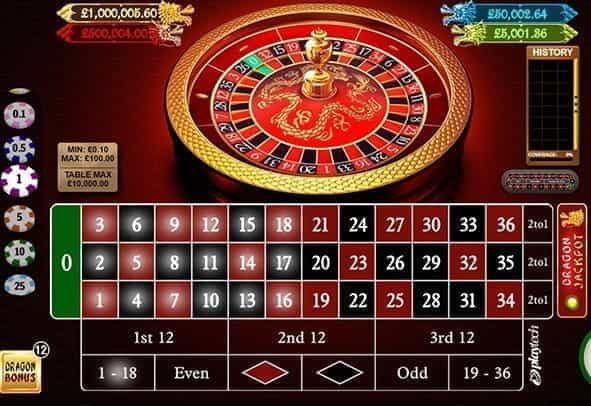 –
After experiencing the free version, you will most likely know whether or not you want to start gambling with real cash. Perhaps it was the graphics that appealed to you, or maybe it was the jackpot. Whatever it was, none of these things is as vital as a good understanding of the Dragon Jackpot Roulette rules. It is imperative that you familiarise yourself with the rules before you spend real money. The next section of my Dragon Jackpot Roulette review will explain some of the most important information you need before you play.
Dragon Jackpot Roulette Rules and Features
Thsi roulette variant is played according to the European Roulette rules. What I mean by this is that you will have a standard 37 pockets on the roulette wheel that includes one zero. When looking at the Dragon Jackpot Roulette rules, you'll see that the roulette variant features the normal inside and outside bets. To make betting easy, Playtech has included a race track on the table that allows you to wager on any number with a range of either 1-5 neighbours. You can also choose between either a Tier, Orphelins or Voisins Du Zero bets. Those are the basics rules. The game pays the typical 35:1 for straight bets and 1:1 for wagers on even/odd or red/black. Like all roulette games, the more numbers you place chips on on, the smaller the payout will be. All of this seems pretty standard, and it is, but to understand the bonuses of this Playtech product, you should pay close attention to the tees and cees.
RTP

97.02%

Roulette Type:

European

Special Feature:

Dragon Bonus

Bet Limits:

10p – £1,000
Racetrack:

No

Called Bets:

Voisins du Zero, Orphelins, Tier

Fast Play:

Yes

Auto Play:

Yes
The game has two special features. The first, and the one that the game is named after is a jackpot, which is activated at random with any spin (win or not), but the larger your wager, the larger your chance of winning. The Jackpot game is a progressive jackpot, which when activated takes you to a wheel, from which you collect three symbols of the same colour to win. The special feature can be turned off, which will save you a little bit of cash on each wager, but the amount is usually negligible and falls somewhere between 1-10p depending on the size of your stake.
Dragon Bonus
The other feature in the game is called the Dragon Bonus. To win this perk, you will place between one and 12 medallions on any number corresponding to one on the roulette wheel. If you place a bet on the medallion, and the ball lands in its corresponding slot, then you will be taken to a wheel. The wheel awards players with winnings 6x-20x their original bet. Warning, if one of these side-bets is won, the original bet payout is cancelled and you will only be paid on the bonus winnings. So you will not win your straight up payout of 35:1 if you win. To make things even more frustrating, you can only trigger the special round with a straight, split, corner, street or line bet. Low-risk wagers cannot activate the bonus. It is up to you to decide if the potential multipliers from the are worth risking your original payout. Other than these conditions, there isn't much more to the game. The RTP for Dragon Jackpot Roulette is 97-98.30%.
Conclusion – Play for Real Money
You have now made it to the conclusion of my game review, and I am sure you are ready to play Playtech's Oriental roulette variant. The game will be available at most legitimate casinos that carry Playtech games, but if you'd like to play at my top casino for the game, click the link below. If this title didn't tickle your fancy, feel free to check out my dedicated roulette page for information on other titles.
–
Up To £500 BONUSFOR ALL NEW PLAYERS
Full T&Cs apply. 18+. New Casino players only. Deposit required. Bet £10+ on qualifying games. 40x wager reqs (bonus only) on selected games. Accept Bonus within 14 days. Bonus valid for 30 days. Certain deposit types excluded. Player restrictions and T&Cs apply.
Alternative Roulette Games to Play for Free