Play Gold Roulette Online – Exciting Gameplay with High Stakes
With some incredible special features here, Wazdan has developed a game that will appeal to players who thrive in an exciting gaming environment and who relish the opportunity to really raise the stakes. Combining interactive design with unique special features, Gold Roulette online is a very enjoyable version of RNG roulette.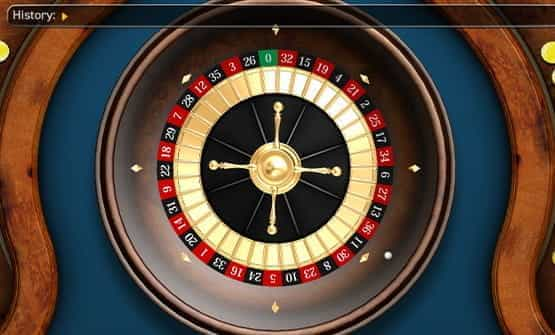 Gold Roulette
Developer: Wazdan
Up to £500 bonus available
Claim bcasino's welcome bonus when you register as a new casino member!
Full T&Cs apply. New players only. Bonus split over first 3 deposits. £20 deposit minimums. Debit cards only. 30X wagering on deposit + bonus. Expires after 7 days. Slots only. Some slots not allowed. Wagering contributions vary by game. Moving from low to high wagering slots not allowed. Max bet: £5. £5000 max winnings.
In this Gold Roulette review, we will outline the rules and special features included as well as giving you our top tips and tricks so you can get the most out of playing the game. We also delve into the pros and cons of this particular version, as well as showing you where you can go to play a free demo game of Gold Roulette online.
Play Gold Roulette for Free
While many readers of this review may be seasoned roulette players, when offered the chance to it is always worthwhile to take advantage of the opportunity to play a demo. You can play Gold Roulette for free before playing for real money.
We've done the hard work for you and found a demo game for new players. This demo game not only allows new players to get to grips with the game layout and additional special features, it also allows players the opportunity to explore new betting patterns and strategies without the risk of losing real cash.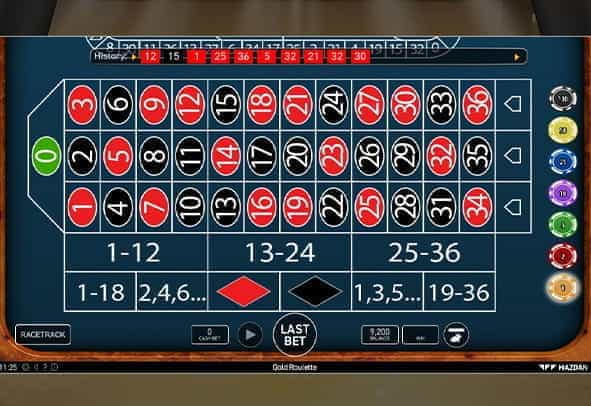 Gold Roulette
When first loading the demo game of Gold Roulette online players will notice how it differs a lot from other new online roulette games. With Gold Roulette, Wazdan has broken from traditional models of online roulette and developed a game screen where players can scroll through several game views while planning what bets to place. This design development not only solves the problem some roulette games run into of having an overcrowded screen, but also adds an exciting sense of dynamism to the game play.
Another element that immediately greets players is the ambient music and voices that automatically play as soon as the game is loaded, this is a nice touch from Wazdan to try and bring the online gambling experience closer to the real-life experience.
However for some this background noise coupled with the additional sound effects employed to echo placing chips on the table and the spinning of the roulette wheel can be a bit distracting – but fear not, for those who prefer a quieter gaming experience all sound effects can be turned off through the game settings menu.
Gold Roulette's Rules and Special Features
Gold Roulette online employs the traditional rules of roulette with the game play based off the European version of the game. Players 'win' a game of roulette and their bets by accurately predicting what numbered slot the roulette ball will land in at the end of each spin.
Bets can be placed directly on the roulette board itself on inside bets, the 37 numbers (0-36) or on outside bets which are group bets that cover a collection of numbers. More information about the odds of each of the bets and what group bets are available when placing outside bets can be found in the game rules under the settings task bar.
Players can also place bets along the game's Racetrack. The Racetrack sits between the roulette board and roulette wheel on the game screen and can be accessed by clicking on the Racetrack button found in the bottom left hand corner of game screen. The Racetrack enables other group or called bets to be placed.
Players can discover what numbers the called bets cover by resting their mouse over the different options, the corresponding numbers squares on the roulette board will then light up to show what that bet will cover. The Racetrack also enables players to place Neighbor bets, which allow players to select how many neighboring numbers will be included in that bet by using the selector to the right of the Racetrack.
Like many versions of online roulette Gold Roulette offers a solid RTP of 97.3%, this enables players to feel secure when potentially taking a new approach with their betting strategy. If you are looking for a way in which to plan your betting approach with this RTP in mind check out our dedicated roulette strategy page.
Gold Roulette

| | |
| --- | --- |
| RTP | 97.3% |
| House Advantage | 2.7% |
| Roulette Type | European |
| Special Feature | Gamble |
| Bet Limits | £10 – £10,000 |
| Racetracks | Yes |
| Called Bets | Yes |
| Fast Play | Yes |
| Auto Play | Yes |
| Best Gold Roulette Casino | bcasino |
Gold Roulette includes several special features, the most impressive of which is the inclusion of double or nothing gamble option. Each time a player wins a spin they are given the option to either collect their winnings or instead bet the winnings in a double or nothing gamble.
The gamble itself takes the form of a game of 50/50 chance by selecting either a black or red card. Should players guess correctly their winnings are doubled and they are given the opportunity to play for double or nothing again or cash out, however if players guess wrongly at any point in the gamble round, they lose all winnings up to that point. While this special feature definitely adds another level of excitement to the game it is not for the risk averse.
Other special features included in Gold Roulette include the fast play and auto play settings. Fast play enables players who want results faster to increase the speed of the roulette wheel's spin. While auto play allows players to preselect a number of spins that will automatically play one after the other, re-using the same preselected betting pattern.
Both of these features will appeal to players who abide by the philosophy that a good game is a fast game, both increase the speed of game play and will appeal to advanced players that are comfortable in their betting strategies.
Play Gold Roulette for Real Money
Now that you've had the opportunity to learn about the rules and special features and played a demo, you can have a look for where to play Gold Roulette for real money. We have included a recommendation below, where you can access lots of top games.
With a great selection of special features, including the exciting addition of double or nothing, Gold Roulette is a great game that utilizes the traditional roulette format in a new and forward-thinking design to make for an enjoyable gaming experience for players of all abilities.
If you have liked the experience of playing online roulette and would like to see what other formats are available, make sure you check out our dedicated online roulette page for more reviews and our top tips and tricks.
Gold Roulette
Up to £500 Bonus For all new players at bcasino
Full T&Cs apply. New players only. Bonus split over first 3 deposits. £20 deposit minimums. Debit cards only. 30X wagering on deposit + bonus. Expires after 7 days. Slots only. Some slots not allowed. Wagering contributions vary by game. Moving from low to high wagering slots not allowed. Max bet: £5. £5000 max winnings.