Your Guide to the Sic Bo Rules: How to Play
Sic Bo is one of the simplest games that you can play at a casino and yet one of the most exciting ones. In Sic Bo, good luck is all you need to win and if you are fortunate you can make a small fortune in no time! This guide will walk you through the Sic Bo rules in full and help you improve your game.
Jump to Your Chosen Topic:
As you can see, we have prepared a pretty detailed guide to the Sic Bo rules that will see you advance from beginner to a pro in no time! We will take a look at the basic and advanced rules of Sic Bo, the different bet types and their odds and we will also share some special tips and tricks with you!
How to Play Sic Bo – Basic Rules
Sic Bo is an ancient Chinese game of chance that resolves around the outcome of a three dice roll. And because luck is all you need to win at Sic Bo, there are no complicated strategies or game plans that you need to learn, before you approach the table. The game is, therefore, quite easy to play, once you learn how to read the table and is one of the best ways to spend your evening at the casino. Here are the four main steps to playing Sic Bo.
Place Your Bets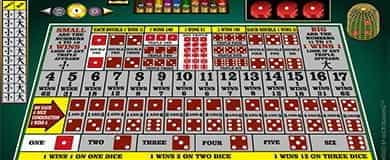 At the start of each play, you will need to announce your wager by placing your chips on the part of the table that corresponds to the bet that you would like to make.
Dealer Rolls Dice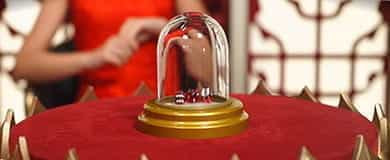 Once all bets are registered, the dealer will roll the three dice either by hand or by an automated electromagnetic roller. Unlike most other casino games, players don't get to touch the dice.
The Result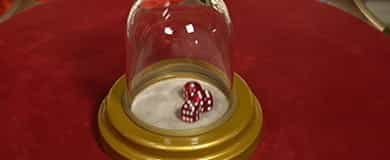 When the dice finally come to an stop, you will be able to seе whether you've won or not. And if you have, you will be paid according to the payouts on the table.
Bet Again and Try Your Luck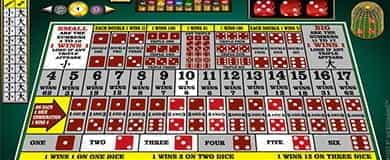 Having seen the outcome of the dice roll it is now time to make your next bet and hope that fortune will smile upon you! Afterall, it is all about good luck and having fun!
The Sic Bo game rules are pretty simple – you place a bet, the dealer rolls the dice and if you're fortunate you would have guessed the outcome correctly. Because you have no actual control over the dice, all you need to learn are the types of bets and their corresponding payouts. Thus, in the following paragraph, we are going to bring you up to speed with everything you need to know about the Sic Bo table.
Sic Bo Table – All You Need to Know
Due to the many possible outcomes of the dice roll, the Sic Bo table may look quite complicated at first, though once you get a basic understanding of the game, you will see that it is actually pretty straightforward. The bets are separated into different groups based on their payout odds.
The very bottom row consists of the single number bets. Moving up, you will see the combination bets, followed by the total bets. On top of the table, you will find the specific double, specific triple and any triple wagers. Finally, the two corners of the table are reserved for the small and large wagers, respectively in the upper left and right sides.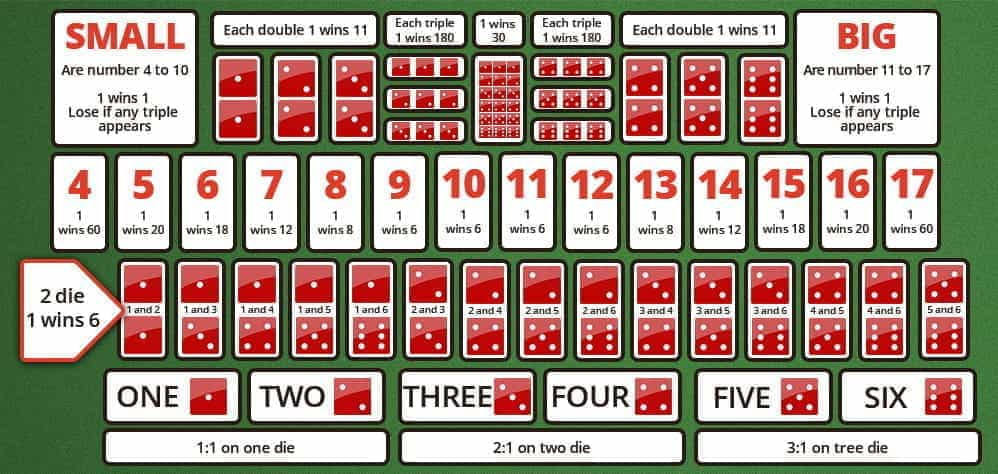 In the vast majority of casinos, both land-based and online, you will see the same table layout, with only the colours and the logos changing. Keep in mind, however, that at some venues you may encounter a slightly different table arrangement. All you have to do in those rare occasions is ask the dealers as they are there to answer all your questions.
An Overview of the Bets
As we already mentioned, the bet types are the only thing that you need to be aware of in order to play Sic Bo. That being said, you don't even need to know them by heart, as they are going to be laid out on the table in front of you. Still, we are going to take a closer look at them one by one, so that you have all the information you need to become a Sic Bo master!
All About the Available Bets
As you can see from the table down below, there are 8 main categories of bets on each classic Sic Bo table. Some of them will give you the chance to bet on a single number, while others will allow you to create more sophisticated combinations. Naturally, the payouts vary between 1x and 180x your initial bet, depending on the odds of such outcome actually happening.
| Sic Bo Bet | Wager |
| --- | --- |
| Single Number Bets | Bet on any number between 1 and 6 that will come up on the next roll of the dice. A number appearing twice pays double and three times pays triple. |
| Combination Bets | Betting on the chance that two specific numbers will appear in the next dice roll. Payout is 5x your initial bet. |
| Total Bets | The goal is to guess the total sum of the numbers on all three dice. Payouts can be 6x, 8x, 12x, 17x, 30x and even 60x. |
| Specific Double | The number that you select must appear on two of the three dice. If you guess correctly you will get 10x the amount that you've wagered. |
| Specific Triple | The same idea as with the specific doubles, though the number that you bet on must appear on all three dice. Payout is 180x. |
| Any Triple | To win this bet, all three dice must land showing the exact same number. Unlike the specific double and triple bets, any one number will count. |
| Small Bet | Similar to the called bets in roulette, the small bet covers the possibility that the sum of the numbers on all three dice is between 4 and 10. If you guess right you will double your bet. |
| Big Bet | The same as the small bet, however, this time you are betting that the sum will be between 11 and 17. Because the odds of that happening are the same, the payout is also 1:1. |
As you would have probably seen, the bets do differ quite a lot. And whilst there are certainly no good or bad ones, there are some that you should try to avoid, especially if you want to ensure a longer time at the table. The ones we are talking about are the specific triple, any triple and some of the total bets, as they are the hardest ones to get right.
Odds and Probabilities
Sic Bo, unlike most other games that you might find at a casino, has a relatively high return to player rate (RTP). This is great news for all of you gamblers out there, as the higher the RTP, the better chance you stand of winning. Moreover, the diversity of odds that it offers means that there are bets to suit every gambling style.
Talking about odds, it's good to know that each bet comes with its unique odds which also determine the probabilities as well as the house edge. In the table down below, you will find accurate and up to date information about the odds, probabilities and house edge that each betting category offers. Take a closer look and use the data to choose the wagers that will best suit your personal playing style.
| Sic Bo Bet | Odds | Probabilities | House Edge |
| --- | --- | --- | --- |
| Single Number Bets | 1-1 | 0.3472 | 7.9% |
| Combination Bets | 6-1 | 0.1389 | 12.43% |
| Total Bets | 6:1 to 60:1 | 0.014 to 0.125 | 7.4% to 15.3% |
| Specific Double | 12-1 | 0.0741 | 11.08% |
| Specific Triple | 216-1 | 0.0046 | 16.74% |
| Any Triple | 34-1 | 0.278 | 11.04% |
| Small Bet | 11/10 | 0.4861 | 2.78% |
| Big Bet | 11/10 | 0.4861 | 2.78% |
As you can see, the higher the odds that a certain bet has, the lower the probability of it actually happening. Moreover, low probability means higher house edge. This may seem quite obvious to the more experienced amongst you, however, we have noticed that the newer players can often get confused.
Advanced Rules – How to Play Like a Pro
In this next section, we are going to take a closer look at the intricacies of Sic Bo. You will get a chance to learn more about the table limits and strategies that may help you win more. Moreover, we will share some advanced tips and tricks that will take you from beginner to pro in no time!
Table Limits
First of all, we are going to take a look at the table limits. They are venue specific, so you should expect to see them vary from one casino to another. Due to the very nature of online gaming venues, they tend to offer higher betting limits on their games in comparison with their land-based counterparts and Sic Bo is no exception.
You can expect to see minimum bets starting from around £1 or even £0.50 and maximum bets reaching as much as £10,000 on some exclusive high-roller tables. What this means is that both low rollers and whales will have no trouble whatsoever finding a table that will suit their personal preferences. All that being said, we do recommend that you start with single number bets in the range of £1-£10 until you get a better feel of the game and become more confident in your skills.
Master the Rules – Special Tips
In this section, we are going to share some pro tips with you that will help you become a more confident player. We are sure that you will find them useful and that by following them you will get the most out of playing Sic Bo. Here are they:
1. Read the rules of Sic Bo thoroughly
2. Train your skills on a demo Sic Bo version
3. Start with the bets that give you the highest odds
4. Beginner players should preferably start with bets of £10 or less
5. Claim a bonus if the casino offers one
Last, but not least, there are different variants of Sic Bo, just like there are different roulette, blackjack or poker variants. We believe that you should experiment with them until you find the one that you like the most. Just keep in mind that each Sic Bo online game will have a unique RTP.
How to Play With a Strategy
As we've mentioned a couple of times already, Sic Bo is a game of luck. Such are the Sic Bo rules that you have no way of influencing the outcome of the dice roll. However, there are combinations that do come up more often than others. Take total bets for example. If you know a thing or two about combinatorics, you will be familiar with the fact that the 10 and 11 bets win the most. Similarly, a total of 3 or 18 is the rarest one to come up. If you'd like to find out more about Sic Bo strategies, then definitely check out the page that we've dedicated to them.
Play Online for Real Money
By now the game of Sic Bo has probably won you over with its advantageous spirit and you may wish to play it for real money. And despite the fact that there are thousands of online venues that offer it, not all of them are safe or fair. Thus, having covered all the important aspects of playing Sic Bo, it is now time to give you a recommendation for the best Sic Bo online casino to play the game at.
Sic-Bo
The Best Sic Bo Casino With PayPal
Full T&Cs apply. Minimum deposit of £10, x45 wagering, Roulette and blackjack 50% weighting. Bonus Valid for 7 days. Not available to customers using Moneybookers/Skrill or Neteller as a payment method.
Frequently Asked Questions
The last section in our Sic Bo rules guide is dedicated to the questions that players typically ask. We have found the three most frequently asked questions on the Internet and will try to give you short, yet helpful answers. Here are they:
How to Win Sic Bo?
Because Sic Bo is a game of luck, there is no real way to influence the outcome of the dice roll. However, there are some strategies and tips and tricks that may help you have a better time at the table. If you'd like to find out more check out the advanced Sic Bo game rules paragraph!
How to Play Sic Bo Casino Game
Sic Bo is an incredibly easy game to learn and play. The outcome of each round is decided solely by the dice, so all you have to do is place your bet, sit back and enjoy the thrill! If you're lucky you are going to win. Still, you can check our tips for Sic Bo too.
What Game Is Sic Bo?
Sic Bo is an ancient Chinese game of chance. The dealer rolls three dice and players have to guess what numbers will come up. The rules of Sic Bo are simple. All you have to do is place your chips on the part of the table that corresponds to the bet that you'd like to make.