Play Reel Rush 2 Online – Modern Online Slot
Going off the success of the first instalment, Reel Rush 2 online looks to be another absolute cracker of a slot. The setup is something unique, and the game is one that constantly keeps you on your toes. Coupled with its stunning graphics and layout, we think you'll love this.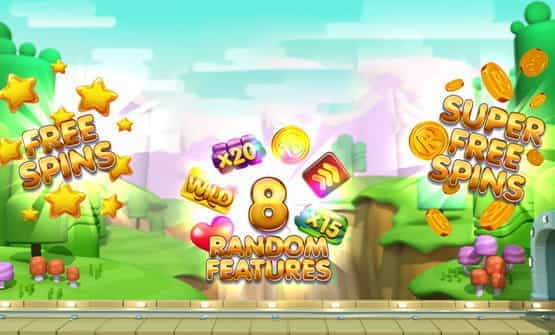 A £40 Bonus is available
Go to Mecca Bingo to claim your welcome bonus when you play Reel Rush 2 for real money!
Full T&Cs apply. NEW CUSTOMER MUST DEPOSIT AND SPEND £10 ON BINGO WITHIN 7 DAYS. £30 BINGO BONUS (5 X WAGERING) £20 SLOTS BONUS ON REEL KING MEGA (20 X WAGERING) AND £10 OF CLUB VOUCHERS.
We can safely assure you that one of online slots great providers NetEnt has done it again with this game. In this Reel Rush 2 review, we will outlay to you the basic gameplay, some of the cool features, the fabulous layout, and how you can maximise your enjoyment.
Play Reel Rush 2 for Free
Before you embark on this hellacious world, you may need to keep the training wheels on for some spins. We would like to encourage you to have a few spins of Reel Rush 2 for free. That way, you can get fully acquainted with the game before you put down real money.
As you try the free version, you will notice straight away the peculiar layout. The shape is more like a diamond and can reveal more reels sometimes. You may also notice two metres on the left and right, they begin to fill. It seems confusing at first, but with this review and a few free goes, you'll understand.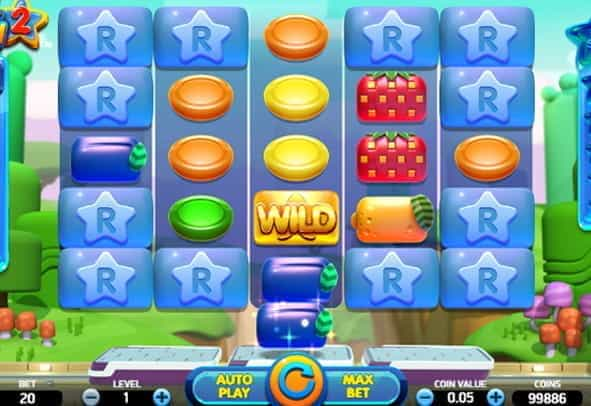 Reel Rush 2
When playing the free version, we can assure you it's much the same as when you play Reel Rush 2 for real money. Reel Rush 2 online is an explosion of colour and some really attractive looking symbols. The sounds are soothing, and video game-like. They pop, bubble, and whistle. When you start to win, they explode and get joyous.
The game is a real appeal to the sense, and the engaging graphics will have players wanting more. The symbols are cute, with some round colourful sweets and some square eye-catching fruits. As you progress, you'll notice more of the reels being exposed.
How to Play: Rules and Features
As you play the free version and start to understand the game a bit better, you still may feel slightly confused as to how to win big and activate certain features. Allow us to break it down for you in this Reel Rush 2 review. This video game-like slot is made to grab your attention.
It is a five reel and five-row style slot, with up to 45 paylines. However, the corners of the game are covered up initially. As you play, a winning combination activates a re-spin, and this, in turn, uncovers two positions on the reels. As this happens, it creates more opportunities to win. If you get consecutive wins, you get more re-spins. That makes more ways to win, which in turn creates more chances of free spins, it's a beautiful cycle.
The game is set at 50p per spin, but you can adjust coin value between 1p-20p, and bet level between 1-10. Therefore, you bet minimum 50p, and maximum £100. The maximum win is a huge 480,000 coins.
Reel Rush 2 Game Information

| | |
| --- | --- |
| Developer | NetEnt |
| Reels | 5 |
| Rows | 5 |
| Paylines | 3,125 |
| Volatility | Medium |
| Gamble | No |
| Free Spins | Yes |
| Jackpot | No |
| Return to Player | 97% |
| Best Reel Rush 2 Casino | Mecca Bingo |
Now I hear you ask, but the symbols, what do they mean? Well, we can help you with them. The colourful eye-popping symbols in this game ain't just eye-candy. In this game, the fruit is king, which feels like an homage to classically styled slot machines.
The fruit you want to see the most is the strawberry, as it has the highest payout at x1,000 for five on a payline. The pineapple is second highest with x500 for five. The star wild symbol can substitute for any symbol, making it even easier to make winning combinations.
There are no multipliers or scatters, unfortunately, and wins happen when you get three or more in a reel. It does have free spins, super free spins, random features, re-spins, tokens, random bonuses, to make one hell of a crazy game, and ample chances to win big.
Play Reel Rush 2 for Real Money
With so much going on in this game, we would like to advise you that as soon as you get to grips with the free version, you start to play Reel Rush 2 for real money. As stated up above, there are so many ways to win in this game, with all the special bonuses and features, you're bound to leave feeling entertained.
However, what stands to make you the most cash would be the free spins, and the increase it can have. When you begin in the diamond, there are 45 ways to win, but you can reach up to 3125 different ways to win. When you get that first free spin, it's 135 ways to win. With each free spin, you get it increases subsequently to 405, 675, 1125 and 1875.
On the fifth free spin, it awards you 8 free spins, which are played with all reels and rows open. This gargantuan outlay, it leads to the mind-boggling 3125 ways to win. Now tell us that doesn't make you want to know where to play Reel Rush 2? See the recommended casino below, or one of the best NetEnt casinos!
Reel Rush 2
£40 Bonus For all new players at Mecca Bingo
Full T&Cs apply. NEW CUSTOMER MUST DEPOSIT AND SPEND £10 ON BINGO WITHIN 7 DAYS. £30 BINGO BONUS (5 X WAGERING) £20 SLOTS BONUS ON REEL KING MEGA (20 X WAGERING) AND £10 OF CLUB VOUCHERS.
Slot Alternatives to Play
Now not many games can really compare to Reel Rush 2 online, and it is in the upper echelon of games by NetEnt. If you enjoyed this, you might not want to leave it. But if you choose to, we would like to suggest the equally colourful and highly engaging Starburst.