The Best Playtech Casinos, Games and Bonuses Reviewed
Playtech casinos have been in the game since 1999, and today it is the largest publicly traded online casino software supplier. Many online casinos fill out the bulk of their games libraries with popular Playtech slots and table games, such as the Age of the Gods series, Jackpot Giant and Buffalo Blitz. There are also plenty of blockbuster movie-related slots like Superman and Gladiator. This article highlights the best Playtech Casinos, each of which differs in terms of the size of their games libraries and welcome bonuses, as well as various other criteria such as mobile optimization and customer service.
Playtech's current portfolio of products features casino games, poker, bingo, live dealer tables and mobile platforms, as well as casual and fixed-odds games. In this review, I'll go in-depth into the topics that matter most to online casino fans. There will even be time for a free Playtech slot demo! If you're a newcomer to the online casino world, there might be a few things that I skim over, or terminology that I use which you may not be familiar with. If that might be you, I'd suggest first reading my beginner's guide to online casinos at the bottom of this page. This will give you an overview of everything online casino-related, from how to identify safe casinos through to how to make a player account to ensure your knowledge has a solid foundation.
The 5 Best Playtech Online Casinos
There's no denying that the casino scene is in a state of boom. I haven't seen a jump like this in both quality and quantity of competitive operators since the rise of online casinos in the late 90s. Playtech may have been a little slow to react to the market, but it has made up ground quickly. These top Playtech casinos have been thoroughly reviewed and are your best options for playing Playtech games today. If one catches your eye, feel free to click on its logo to be taken to a thorough review of the casino, or click on one of the Play Here buttons to head directly to the casino's website.
As with any saturated market, navigating the field of available products is extremely daunting for a newcomer. If you've ever been tempted with the idea of playing casino games online, but have frozen due to option paralysis, allow me to simplify things. Choosing one of these five best Playtech casinos is like buying a Samsung or an Apple smartphone. You know you are in safe hands.
Why Have I Selected these Casino Sites?
My process of selecting casino sites is highly detailed and has been developed over several years of playing, working and writing about this business. Of course, when deciding which is the best choice for yourself, gut-instinct plays a part. However, when choosing an online casino for somebody else, I feel objectivity is paramount, so I make sure to rank the casinos against the same strict criteria that I have outlined below.
These are the unique selling points that I feel Playtech casinos offer players today. My list of the best operators running Playtech software was compiled using these criteria, and in my opinion, these are the things that my top five choices deliver on above and beyond the competition.
Full Provider Licencing
For those of you who are new to the industry as whole, it's worth me pointing out that the way this business works is perhaps different to what an untrained eye might first assume. Casino sites themselves do not develop games. Slots, blackjack, roulette and live dealer tables are obtained directly from software providers like Playtech.
These stable partnerships between casinos and software devs are crucial to the way the industry operates. Given Playtech's longevity in the market, it has developed some long-standing relationships with some of the top casino brands in the country. As a result, its fully-licenced games are available at several top online casinos. Every different casino will have a different deal with the software developer, which will vary the number of games and the selection of titles available. This will mean that there will be some exclusivity deals among casinos for the rights to offer a Playtech slot game that no other operator can.
Bonuses Available at Playtech Casinos
The beauty of competitive markets such as this one where consumers have the choice between several similar services is that results in increased power for you guys, the casino players. The truth of the situation today is that there are lots of good casinos to choose from, with various new casino sites popping up, all drawing from the same big three software suppliers and a host of up-and-coming new developers. The thing that separates these casinos from each is the details. Welcome offers and promotions have become incredibly important in this context, as casino sites scramble to entice players using one of the main variables the operators themselves can control. To take advantage of this situation, always check casino offers for a deal that fits your player profile.
Watch out for wagering contributions and playthrough requirements. Even though two deposit bonuses might look equal on the surface, they can be completely different prospects. Similarly, not all bonuses are suited equally for all players. If you are a keen roulette buff, for example, you'll want to check how much your favorite game contributes towards inevitable wagering requirements before committing to any deals.
As an experienced reviewer of online casinos, I'll level with you – there is no 'best' casino bonus on the market. Sure, I can tell you that casino A offers £1,000, or casino B offers £20, but the reality is much more complex than that. For example, how many times you have to have to wager the bonus before you can withdraw any funds. Running £1,000 successfully through a slot machine 50x is not easy, for example. Finding the combination that works for you is key – all I can do is give you the information to help you make that decision.
Playtech Games: Overview of Categories and Top Titles
Playtech has built a reputation over the years for securing high-value licensing agreements with famous movie and TV brands and bringing them to the casino market in the form of gambling games. It's a shame that Disney pulled the plug on the developer's catalog of Marvel superhero games, but that hasn't stopped the company from continuing to deliver these types of games. Playtech games brands currently include DC Comics, MGM, NBC Universal and HBO. No other software developer active today can match the game developer in this corner of the market.
Top Playtech Online Slots
When the Marvel license was torn up, the creatives at Playtech's design department had to come up with something to replace one of its best-performing franchises. The result is the Age of the Gods network of online slots. The beauty behind these games is their interconnected nature. There are eight slot machines in total – Age of the Gods, God of Storms, Battle of the Gods, Goddess of Wisdom, Fate Sisters, Prince of Olympus, King of Olympus and Furious Four – each taking place in a different corner of Greek mythology, and a progressive jackpot available across all the games. This company develops a wide range of online slots, but the diamond in Playtech's proverbial slots crown is without doubt the Age of the Gods series of games.
You can try some of the company's top titles for free right here. Demo play is an excellent way to get to grips with the rules of the games, how wins are racked up and how the bonus rounds and special symbols react. Once you've gotten the hang of it, you can try the game for real money at one of the top five casinos and hunt that monster progressive jackpot.
The demo game above is only one title in Playtech's stuffed slots library. If its theme is not to your taste, I guarantee that there will be one available that has your name on it. Have a look through the slot reviews above, which will further expand your experience with the Playtech games. Unfortunately, the developer's website doesn't seem to offer free demo versions of its games on its website, however there are lots of videos you can watch to get a better idea of the gameplay style.
Play Age of Gods for Free!
Playtech Jackpot Slots: Massive Payouts
Jackpot slots are quickly becoming a staple for many online casino fans, and it's easy to see why. Progressive jackpots allow providers like Playtech to offer much bigger prizes to players by combining the contributions of several games into one collective pool of cash. As I've already mentioned, the Age of the Gods games are great for this, but Playtech also has a nice range of non-Greek mythology progressive jackpot slots.
This is just a selection of my favorite progressive jackpot games from this provider. Gladiator has a jackpot that builds quickly, due to its popularity. Beach Life and Jackpot Giant are visually appealing games that pay out big jackpots on a regular basis. Age of the Gods is the first of the series of related Greek franchise progressive slots, all of which come linked to the same jackpot pool. Choose your favorite theme and start spinning!
Card and Table Games: More than Standard Roulette and Blackjack
Dig a little deeper into the world of Playtech games and you'll soon realise that this software provider is about much more than slots. The company does an excellent job of getting the basics right, with traditional forms of both American and European Roulette, as well as blackjack and casino poker variants for card game fanatics. Outside of the expected regulars, the company also offers a library of modern twists on traditional game formats for the contemporary online casino player. Blackjack Switch is a game-changer for twenty-one fans, whilst Mini and Pinball Roulette provide similar variety in that space.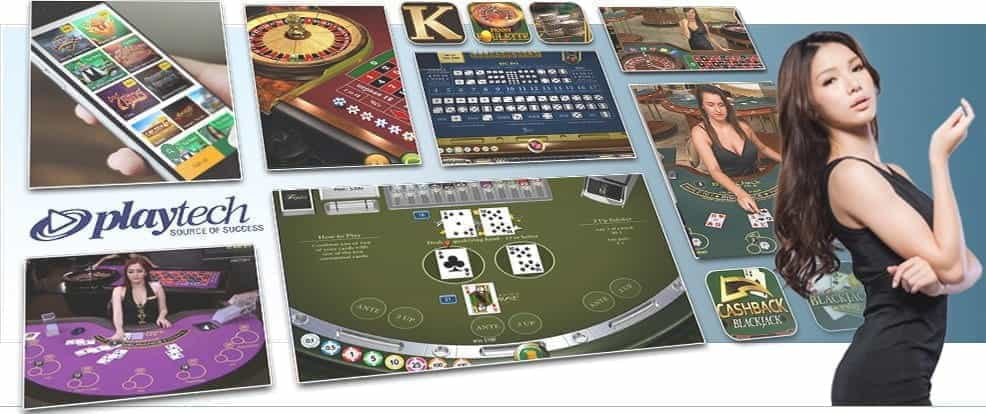 All of the top five best Playtech casinos will have a selection of table games both from this developer, as well as likely an assortment from other software providers too. This segment of online casinos is very popular, so the better casino operators understand that having a lot of variety with their table games is an important part of winning customers. Alongside the options from Playtech, you can also be on the lookout for options like craps and hi-lo from other developers.
Playtech Live Games
There's no getting away from the fact that Playtech used to lag behind the competition in terms of its live dealer experience. Since the move to its brand-new, state-of-the-art studio in Riga, Latvia in 2017 though, live dealer games from this software developer have taken a huge leap forward. New, HD cameras mean the streams are crisp and pretty, whilst green screen technology has added depth to the experience. There's also a completely new user interface with added statics menus and usability features. Playtech can finally hold its own against the like of Evolution Gaming and NetEnt in terms of its live offering.
Not only has Playtech caught up to the competition in the live space, but it has taken things to a new level with its latest game – Live Age of the Gods Roulette. The game includes the chance to win the huge progressive jackpot that features across all the Age of the Gods slots and this roulette game. This is a first for live dealer casinos.
Playtech RTPs – Some of the Highest on the Market
Return-to-player rates, or RTPs as they are more commonly called, may not be the most exciting of conversation topics, but they are the backbone of everything that happens behind the scenes at an online casino. The RTP rate, working closely with a random number generator, controls how much money is paid out to players in winnings. Why should you care about all of this? Because a casino game's RTP can tell you a lot about how fair the game is, how likely it is to reward your play, and how legitimate the casino that carries is operating. Playtech is fully licensed and offers competitive RTPs on all its casino games.
Other Providers That You'll Find Alongside Playtech Titles
The big three software developers play a big part in the online casino market, but just like we have seen in other video game industries, smaller independent developers are starting to make their mark with innovative games. The competition is growing all the time, with new games being added on a seemingly daily basis.
The different Playtech casinos will all feature games from various different software developers – the four above are only a small selection of the huge number of developers out there. It may be worth a look through some of the other specific reviews I have available to see which combination of software and games is the most appealing to you.
Playtech Mobile Casinos
You simply can't survive in the modern online casino market without providing a pretty good mobile service as well. Playtech overhauled its mobile platform in 2012 and, as a result, dramatically improved its ability to achieve parity across the desktop and mobile versions of its best games. The new system is built on HTML5, making it compatible with both browser-based mobile gaming access and downloadable, native apps. When I evaluate a Playtech mobile casino or any mobile gaming platform in general, I'm not looking for bells and whistles and additional features. I want to take my games on the go, and I want to experience to be the same as what I'm used to at home. In this regard, this software dev delivers without fuss.
Games are available for both iOS and Android devices and when using the browser-based version of a Playtech-powered casino, you'll find a like-for-like experience on your smartphone or tablet as you would on your laptop or PC. When downloading native apps, the library of games tends to shrink. The mobile casinos themselves are completely dependent on the design from the operator, and will, therefore, vary wildly in terms of layout, usability and available deposit methods.
Jump back to my top five recommended casinos that offer Playtech mobile games!
Beginners' Guide to Playtech Online Casinos
If you've stumbled across this page but are something of a newcomer to the world of online casinos, don't despair. I've put together this helpful guide to online casino basics that will give you a really solid foundation from which to develop your understanding of the sector. You can use the navigation links below if you only need a refresher on a single subject, or continue reading for a thorough explanation of each topic.
Playtech Casino Software – A Level above Land-Based Gaming
I think most people remember the excitement they got when entering their first land-based casino. The dealers in their formal wear, the lights and pings of slot games, these things all led to a scintillating experience. For a long time, there was nothing better than the real thing. This may no longer be the case. Online casinos now offer many things that are not feasible for land-based casinos to offer. If you're still not convinced by online casinos or are still harking back to the days of pub fruit machines, allow me to highlight some of the reason why Playtech casino software trumps land-based gambling products hands down, every time.
Huge Online Game Catalogue
Walk into a land-based casino and you might find 10, maybe 15 if you're lucky, different slot machines, a single roulette variation, classic blackjack and maybe, just maybe a casino poker table game. Log in to an online Playtech casino and you've got hundreds of games at your fingertips, including live dealer games. A land-based casino simply doesn't have the space to offer 500+ slot machines or the staff to man 20+ versions of roulette. Both financially and practically, land-based casinos cannot compete with online operators in this area.
Safe Casino Environment
I'm not going to pretend that the internet doesn't have its shady side. Dodgy online casinos exist, but you won't catch one hosting a Playtech game. When people ask me how to pick an online casino that I guaranteed to be a safe and trustworthy casino, I always tell them the same thing; look for the software provider. The developer is subject to endless fair and transparent testing and RTP reports. It simply wouldn't survive if it didn't comply with the strict legislation.
Anonymity
Land-based casinos often require registration to enter or are peppered with CCTV and ways to monitor who you are and how much you play. Online casinos can be played almost completely anonymously. I would never recommend signing up with a fake name as it can restrict your ability to withdraw winnings, but your real name will never be shared with anyone, you can play under an alias, and if you don't want to hand over your card details you pay with an e-wallet such as PayPal.
Bonuses and Loyalty Schemes
Whether it be bonuses, regular promotions, VIP programs or loyalty point schemes, online casinos powered by Playtech just have a lot more options available for rewarding customers. With fewer overheads and an ability to be quicker-to-market with new ideas and innovations, the industry moves much faster online than it does on land. Try popping into your local land-based casino and asking for a welcome bonus or some free spins and see how you get on!
How to Spot Reliable Playtech Casinos
Looking beyond our list of top Playtech casinos, there are several factors to keep in mind when you wander off scouting for reasonable Playtech casinos by yourself. An absolute must-have in a valid UK Gambling Commission (UKGC) licence. If you can't find the license number on the casino website, or the operator in question on the UKGC online database, get yourself out of there as quickly as possible. There should also be a responsible gambling presence on the site, as required by law. If you are gambling in a different regulated market, make sure the operator holds certification for your jurisdiction.
Regulation of gambling in certain countries is extensive. Don't be put off that many online casinos that are based in Malta or Gibraltar. Gambling companies do this for tax reasons. However, no matter where they are based, if your country has a regulated market, the operators still have to comply with the heavy hand of the legislation if they want to operate in your region.
Registering at Playtech Gambling Sites
Registering at a Playtech casino is quick and simple. There are a couple of things that you will need to gather before you sign up, but all the best online casinos today have streamlined the process, making it fast and easy. Each operator has its own quirks, but you can take it as given that you will need a valid email address and postal address, which you will be asked to confirm, and a valid payment method to make a deposit into your new online casino account.
It's worth noting that online casinos may ask for a proof of identification before it will allow you to withdraw funds from your online bankroll. This is to comply with legislation regarding underage gambling and money laundering, and is an often an unavoidable part of gambling online. There's really nothing to worry about, and your personal information is never shared with a third party.
Paying with PayPal at Playtech Casinos
There's never been more options available to players in terms of making a deposit to an online casino. Credit and debit cards are popular, and a whole host of e-wallets, prepaid cards and cryptocurrencies have entered this space more recently, but paying with PayPal remains the go-to banking method for so many online casino customers to this day.
The main advantage of using PayPal for your Playtech casino deposits and withdrawals is that it does not require you to give your bank or credit card details to the operator. PayPal handles all the nitty gritty details, whilst the only thing you will need to provide the casino is your PayPal email address. The American company, which rose to fame during the eBay boom, today has almost 300 million customers. That kind of pedigree breeds trust, and people like need trust when it comes to moving their money around. In addition, deposits and withdrawals are processed within 24 hours by PayPal, with minimum deposits from £10 with most online casinos and world-class security for customers, it's easy to see why so many players still choose PayPal as their primary banking method.
Customer Support at Playtech Casinos
All of my top Playtech casinos have several customer service routes should you need help with your online casino account. I'm a huge fan of a live chat feature, and tend to choose this option over calling up or sending an email – it just feels more immediate and more efficient to me. Fortunately, live chat is becoming more and more common on the online gaming scene.
Several online casino offer language support for changing your default language from English to one of up to 14 common spoken languages. However, getting live chat, email or telephone support in another language other than English can be difficult, depending on the language you'd prefer. Some casinos only have a couple of employees speaking Russian employed for their live chat, so it may depend on their working hours whether or not they are available.
Playtech Company Information
Founded in 1999, Playtech constitutes a long-standing player in this business. The company still has its official headquarters on the Isle of Man, but has branched out into other countries since its launch. Playtech floated on the London Stock Exchange in 2006, with a valuation of more than £550 million. Today, the company employs more than 5,200 people and earns revenues of more than £600 million. The company acquired several high-profile subsidiaries over the years, including PT Turnkey Services for £125 million in 2011 and Aristocrat Lotteries for around €10.5 million in September 2014.
Playtech recently launched its brand-new live casino studios in Riga, Latvia, and, as a result, is finally in a place to compete with the live dealer specialists Evolution Gaming. The move was the largest ever live casino customer migration scheme seen in this industry, and Playtech is really investing in the future of the industry right now. The company also offers a range of online bingo and lottery-based services and products, as well as social gaming and land-based betting terminals. Playtech is also an active member of the Remote Gambling Association (RGA), an organisation that has helped to develop a code of practice for the industry regarding age verification processes and the social responsibility software developers and operators have.
Any of the top five Playtech casinos is absolutely going to be a safe and friendly option for your online gambling needs. If for any reason you've read through this article and decided that one of these Playtech online casino sites is not for you, I'd suggest you have a think about exactly what are the deciding factors you're using to identify your ideal casino. From the other online casino reviews you can find a considerable number of pages with different methods of sorting though casinos. Whether you're looking for the best welcome bonus or the best mobile apps, there will be a way I can help you find the perfect option.
Playtech News and Updates
Playtech is a fast-moving company that is constantly innovating and pushing the industry forward. To keep up to date with all the latest Playtech news, breaking stories and announcements, check out our dedicated news section. This will also update frequently with news from the best Playtech casinos, as well as other operators that feature the company's titles on their websites.
By keeping up with the most relevant of this domain's news, you'll be up to date with all things online gaming and casino sites and reviews. The gambling world is a whilwind of activity, and the fast-paced environment guarantees a thrilling experience for Playtech fans and others alike. Bookmark this page for a quick access to online casino news and never miss a beat!
Playtech FAQs
I get asked a lot of questions regarding Playtech casino software and online casino here at Online-Casinos.com. Here are the most frequently asked enquirers from our readers, and our best answers. If you think of a question that hasn't been covered in the above article or one of the FAQ below, feel free to get in contact with me by sending an email to contact@online-casinos.com and I'll get back to you when possible.
Can I play Playtech games for free?
Absolutely! Most Playtech slots, blackjack and roulette games include a freeplay mode to allow players to get to grips with the rules and gameplay features. You cannot, however, enjoy Playtech live casino games without wagering real cash – although you can sit and watch the live streams without placing any bets if you wish to do so.
Is Playtech casino software available at every casino?
No. Online casinos strike deals with one or several software developers to host their games. The days of operators being exclusive to one software provider are number, and more and more smaller devs get involved in the scene, game libraries today are more of an eclectic mix of games from all corners of the market. To ensure that you can access Playtech titles, try one of our recommended Playtech sites.
How are Playtech casinos tested for fairness?
Playtech software powers hundreds of online casinos and is certified by the internationally recognised GLI testing company. It's also regulated, like very gambling operation on these shores, by the Gambling Commission, and holds an official certificate of prior approval from the Alderney Gambling Control Commission. Click for more info on how to spot reliable Playtech casinos.