Bet At Home

Generous Welcome Bonus
More than 70 Jackpots
PayPal Accepted
A Detailed Bet-at-Home Live Casino Review
In recent times, there has undoubtedly been a shift in players' attitude towards online gaming. Whereas before, online punters were content with the software-produced games of the past, once you get a taste for the real thing, it's difficult to go back. This bet-at-home live casino review will put the operator to the test against all of the criteria I use to decipher which live casinos are king of the hill, and which ones you should probably just avoid. The criteria I like to focus on in particular are the games selection, the table limits, mobile optimisation and the quality of the live dealers themselves.
Bet-at-Home Live Dealer Suite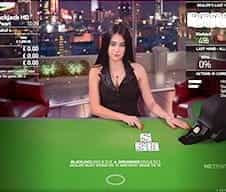 Play Live Roulette & Blackjack with different table limits
Different Variants Blackjack Pro & Roulette Pro
Intuitive Interface featuring useful statistics
Professional Dealers & an upbeat atmosphere
My objective here is to provide you with the most realistic depiction of what you would expect if you were to sign up and play at the bet-at-home live casino. I never sugar coat any of the areas I feel can be improved and will even go as far as to recommend alternative casinos, should they perform better in specific areas. Well then, without further ado, let's get this thing going.
The Bet-at-Home Live Game Collection
As you might expect, it's vitally important that for any aspiring live casino to provide a plethora of quality live games to choose from. I'm afraid in this aspect, the bet-at-home live game collection is a little lacking. At present, the operator only hosts two different types of casino games – roulette and blackjack. That means no baccarat, sic-bo, casino hold'em and more. That's not to say that every casino has access to all these other games, but in my mind at least, it suggests that the live gaming category for bet-at-home is maybe not considered a priority for the casino right now. At present, there are nine different bet-at-home live games to pick from. The bet-at-home casino live collection is provided by the software provider, NetEnt, known for producing quality casino games. However, the provider would not be as well regarded as live gaming behemoths Evolution Gaming. From the NetEnt live casino lobby, players can sift through the gaming options and variants, as well as get a sneak preview of who the live dealer is and what the table limits are for that particular game. While this collection of games is by no means the best you might find on the internet today, the games are high enough quality to keep you engaged and entertained.
Live Game Variations
As I mentioned before, the bet-at-home live game collection is a little lacking in quantity with only roulette and blackjack games there to play. The roulette category features various off-shoots including VIP Live Roulette, Live Roulette Pro and Rocket Roulette. It's a little disappointing not to have variants like French Roulette or Speed Roulette which tend to be pretty common these days in the live gaming sphere. I'm afraid to say, the live blackjack selection doesn't really offer much variety either. At present, punters can play the original Live Blackjack, VIP Live Blackjack and Blackjack Pro. Whilst the VIP and Pro variants may offer a little more appeal to the high-rolling market, again, I can't help but feel this is a half-completed gaming selection. All in all, I would say there is certainly room for improvement here. If you're looking for a casino with a greater selection of live games, I'd recommend checking out LeoVegas live casino as it has seven different types of games with well over 20 tables to choose from.
1/3Live BlackjackTry your hand at beating the experienced bet-at-home top live blackjack dealers in this excellent version of the classic game of twenty one. You can't get closer the real casino experience than this.

2/3Live RouletteJoin the action and spin the wheel, accopanied by the friendly bet-at-home live casino dealers. Watch the ball fall in real time with this authentic live version of one of the world's most famous casino games.

3/3Live Roulette ProLooking for a challenge? Step up to the wheel and take on the Live Roulette Pro game. Play roulette like the pro's in the suped up version of the iconic casino game.
Table Limits
It's not all doom and gloom for the bet-at-home live casino, one area where the operator actually really excels is the range of table limits it offers to its customers. With minimum bets as low as 50p, whilst the maximum bets can go all the way up to £20,000. The lowest betting limit of 50p can be found at the Rocket Roulette table. Across all of the tables, the lower end limits are 50p, £1, £5 and £10, whilst the maximum bets range from £100, £1,000, £5,000 and finally, £20,000. So there really is something for everyone. You can check out the complete list of tables you will find at the live casino below, with the additional table limit information.
Overview of All Bet-at-Home Live Tables
Roulette Games
Roulette Table Limits
Even Money Bets
Mobile Available
Live Roulette
1
£1 – £20,000
£1 – £20,000
Rocket Roulette
1
£0.50 – £100
£0.50 – £100
German Roulette
1
£1 – £5,000
£1 – £5,000
Automatic Roulette
1
£1 – £20,000
£1 – £20,000
VIP Live Roulette
1
£1 – £20,000
£1 – £20,000
Live Roulette Pro
1
£5 – £20,000
£5 – £20,000
Blackjack Games
Blackjack Table Limits
Side Bets
Mobile Available
Live Blackjack
1
£1 – £5,000
N/A
VIP Live Blackjack
1
£10 – £10,000
N/A
VIP Common Draw Live Blackjack
1
£10 – £5,000
N/A
Live Blackjack Pro
1
£5 – £10,000
N/A
The range of table limits on offer with this casino are really quite extensive when compared to other operators. In general, table limits for the bet-at-home live games tend to be quite low and not as varied as the regular versions of these games. Another casino I recently reviewed, with a substantially higher number of live games only offered table limits ranging between £1 and £50 on every game. So, the limits on offer from bet-at-home live casino area really pretty good.
Optimised Mobile App
I'm happy to report that the bet-at-home live casino web application has been optimised for mobile and tablet devices making the gaming experience just as fun when you are on the go than when you're sitting with your feet up at home. All of the same live games are available via your phone which you can seamlessly swipe between due to the focus on mobile user experience design. I've tested out most of the live games on my phone and I have to say, I've been thoroughly impressed with the results so far. If you would like to learn more about the mobile gaming available this operator, you can check out my dedicated bet-at-home mobile casino review. If you are really into mobile gaming, you can also check out my guide to the best mobile casinos in the UK today.
Meet the Bet-at-Home Live Dealers
Apart from the casino's games on offer, I think it's fair to say that the next most important thing for players who want to play live games is building a good repour with the live dealers. The bet-at-home live dealers are provided by NetEnt and are given high-intensity training in real playing environments before they are allowed to deal a game online. All of the dealers speak fluent English and they encourage interaction with the players. That said, if you are not that fussed on that sort of thing, they won't be offended if you just want to play the games. Below, I have provided a few profiles of the best dealers at the bet-at-home live casino so you can gain a bit of insight into the type of people you can meet and play with at this online casino.
Meet the Bet-at-Home Live Dealers
Daniel

Favourite Games:

Blackjack

German Roulette

Eva

Favourite Games:

Rocket Roulette

Aris

Favourite Games:

Roulette Pro

Blackjack Pro

Ellie

Favourite Games:

VIP Roulette
Live Gaming Bonuses
Unfortunately, there is not yet any specific bonuses or promotions tied to the live casino. That said, this has not really become common practice among many of the casinos yet so I would not necessarily view this as a fault of the casino. If you are interested in the bonus offerings from this operator, I would suggest you check out my review of the bet-at-home casino bonuses for more details on this topic. If that doesn't wet your whistle, why not take a look at my guide to the top casino bonuses in the UK today?
Live Gaming Software Providers
The bet-at-home live casino is provided by the gaming industry beast, NetEnt, a player in the market for over 20 years. The company has amassed numerous awards for its slot based games and branded movie title games, such as the recently released Planet of the Apes slot. Whilst there is no doubting the company's heavyweight status in producing great games, I believe that more time could be spent in producing quality live games. The NetEnt live casino game selection is limited to only two games – roulette and blackjack. All this being said, it is the quality of the bet-at-home live games that is impressive rather than the quantity. Every game is backed by a smooth and easy to use interface as well as being streamed in HD quality. The software provider puts a lot of emphasis on the setting and background of the live casino environment so that it resembles that of a first-class, real-life casino experience. The user interface features unique features such as your gaming history and statistics to further the overall game playing experience.
Bet-at-Home Live Casino Conclusion
Whilst conducting this bet-at-home live casino review, there were various points about the operator that impressed me. The games are provided by the software gaming industry behemoth NetEnt and are delivered in an extremely high-quality environment. The range of table limits are some of the widest I have seen in a live casino with bets as low as 50p and as high £20,000. So there really is something for everyone with this operator. The bet-at-home live dealers are charming and take a lot of care and pride in creating a polished and friendly environment in which to play your favourite games.
Review Summary for Bet-at-Home Live Casino
Major Strengths
Quality live dealers
Award-winning software
Major Weaknesses
Only blackjack and roulette
Minor Strengths
Intuitive user interface
Minor Weaknesses
Low overall number of tables
Unfortunately, there are a few weaknesses which need to be highlighted. The lack of gaming options here is a real disappointment for me. Whilst I don't doubt that roulette and blackjack games are by far the most popular form of live gaming, the operator clearly needs to up its game and start providing more types of games. To be fair, this may be more of a software provider issue as these other types of games are just not available in NetEnt's repertoire right now. I think overall, the bet-at-home live casino is not one of the highest performing live casinos in the UK market today. However, the real plus for this casino is its wide range of slots games, high-security standards and daily casino tournaments. To find more information on this operator, you should read my original bet-at-home casino review.
Questions and Answers
For this review, I have tried to cover all of the major things I felt you needed to know about the bet-at-home live casino. That being said, if you feel I have left anything out or you have any questions about the points I have covered, please feel to get in touch with me at contact@online-casinos.com and I will get back to you as soon as I can.
Can you play live casino hold'Em at the bet-at-home live casino?
As I mentioned before, unfortunately, this operator currently only offers live versions of roulette and blackjack. If this changes, I will be sure to update this page.